Over the last two years, the work from home culture has become increasingly popular. Software updates and new gadgets these days also revolve around increasing our WFH efficiency. And WWDC 2021 has been no different. The iOS 15 update covered a major chunk of it, from FaceTime updates to Quick Notes. But what caught the user's attention is that FaceTime now works with Android and has many similarities to the popular conferencing app, Zoom.
One cannot help but notice the striking similarities in the app. So I thought, why not make a detailed comparison about it?
But, before that, let's have a glance at the redesigned FaceTime.
What's new in FaceTime?
FaceTime has received a ton of new updates. From becoming available to all (Android and web) to introducing Spatial Audio and Grid Mode, it seems like a different app altogether.
Here is a summary of some of the remarkable features FaceTime has to offer:
Android and web browser support.
Portrait Mode for better video call quality.
Spatial Audio for background noise elimination for better sound quality.
SharePlay to stream audio and video content with friends across various devices.
Better integration with apps like Messages, Photos, and Music.
Hold up!
This may be the event hangover talking, but I have seen these features before. A lot of add-ons resemble the already popular video-conferencing app Zoom here.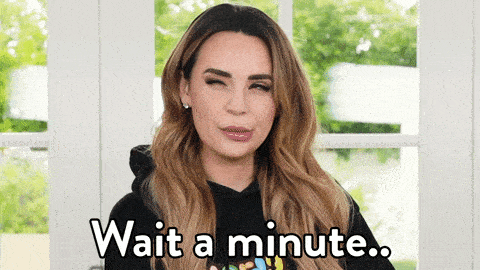 But, what about Portrait Mode and Spatial Audio? Zoom does not have such high-impact features. Well, neither of the apps are perfect; each comes with its flaws. Let' compare them and pick out the winner.
FaceTime vs. Zoom: Device compatibility
Zoom is fairly compatible with all devices. Be it Android or iOS; the application works just fine. For macOS, though, you need to have a macOS 10.9 or later.
FaceTime has always been Apple-exclusive, but every device can access it with the iOS 15 update. To experience most FaceTime features on your iPhone, you will have to upgrade your device to iOS 15 or later.
FaceTime vs. Zoom: Video quality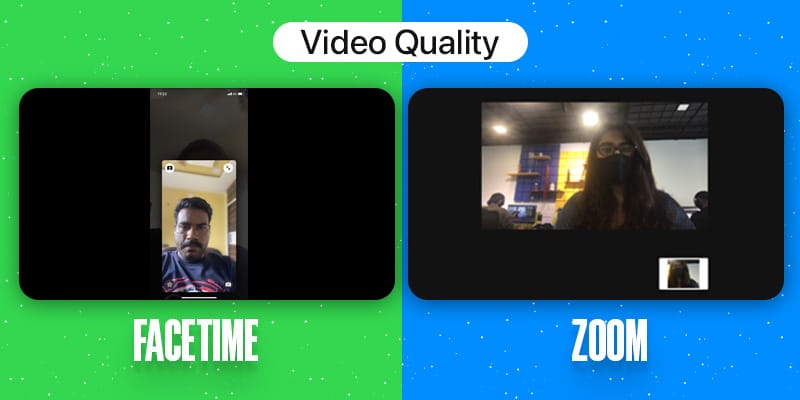 Zoom is known to have decent video quality. It provides up to 1080p HD quality for video calls. However, Zoom calls may not be suitable for recording videos. I have tried conducting video interviews over Zoom for my podcast. However, the final output wasn't that impressive.
On the other hand, FaceTime is now offering video calls with Portrait Mode, which means the background can be blurred just like your portrait photos.
FaceTime vs. Zoom: Audio quality
Zoom calls have a pretty decent audio quality for both audio and video calls. Although it offers high fidelity audio and background noise cancellation, it doesn't work quite well. If I had a penny for every time my Zoom meeting was disrupted with background noise, I would be having a nice side-hustle going on there.
FaceTime has promised Spatial Audio and voice isolation with iOS 15 or later updates. Now you might wonder, how would Spatial Audio even matter on FaceTime?
While you are on a video call with your friends or colleagues, you will hear their voice from their side of the screen. For instance, if person X is sitting on the left side, you will hear his voice coming from the left. This feature will be beneficial to eradicate the monotonous behavior that has gotten into our system with increasing video meetings.
As a matter of fact, it will be a step closer to real-life meetings. Voice isolation works as a background noise cancellation feature. It eliminates the noise as much as possible so that the receiver can focus on your voice.
I tested both the features but wasn't quite satisfied with the output. However, since it is in beta mode, the issues should be resolved by the official launch.
FaceTime vs. Zoom: Grid Mode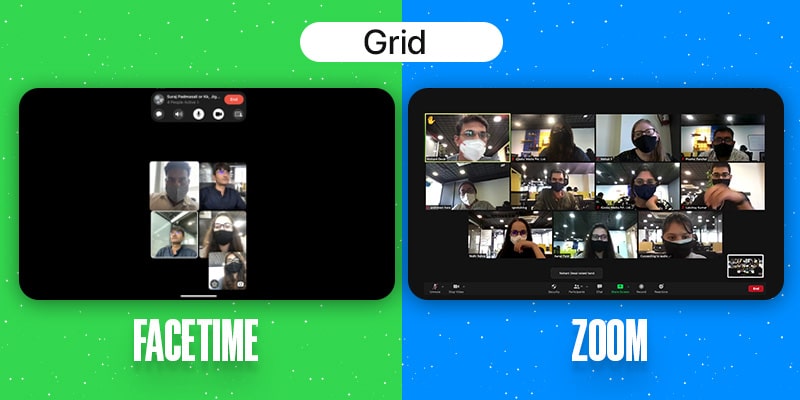 Zoom has always offered a grid view in its calls. To switch to grid view, you have to select 'Gallery View' on your device. You can view up to 49 participants in the gallery view.
FaceTime, on the other hand, recently offered Grid Mode for all the devices. While my research couldn't give me a number, but from what I see, it may work fine with six people in a frame.
One of Zoom's remarkable features has been screen sharing while on a call. This lets you give presentations online or just give your friends a sneak peek at your laptop screen.
However, you cannot listen to audio or stream videos while sharing a screen on Zoom. Thus, you have to shift to Netflix Party for virtual movie streaming data nights or watching a movie with your friends while being on the same screen.
With iOS 15 updates, you now have a new feature called SharePlay. This works best if you ever wanted to watch a movie or listen to songs while being on the same call. Once you FaceTime them, head to an audio streaming app like Apple Podcast or a video streaming app like Disney+, and you will automatically see a prompt that lets you share the content across.
Not just that, if you wish to stream content on a bigger screen, you may continue watching your movie on your TV while staying connected with your friends on FaceTime. Pretty dope, isn't it?
While I was beta testing, SharePlay was buggy and lagged a little. For what it's worth, the public launch will have the issues fixed.
FaceTime vs. Zoom: Pricing
Here is one area in which FaceTime has the upper hand. FaceTime is free to use, and you can have the call for as long as you want. Clarity on the number of participants has not been provided yet. But I am assuming six-eight should be the right number.
On the other hand, Zoom calls are free to use only if the calls last for forty minutes or lower. If the time exceeds that, you need to buy a premium version. You can have 100 participants with the free version; you will have to go premium for more participants than that.
Price:
FaceTime: Free
Zoom: $14.99/host/month
FaceTime vs. Zoom: Security and privacy
Apple has been keen on its privacy for a very long time. FaceTime does not disappoint either. The calls are protected by end-to-end encryption, which means no one apart from the sender or receiver can access the data.
On the other hand, Zoom calls have had tons of security and privacy issues. Till 2020, Zoom could do almost anything with your data, creating a backlash amongst users. However, this issue is resolved now.
Does this mean Zoom is unsafe to use? No, Zoom is safe to use in most cases. However, FaceTime emerges as a winner comparatively.
Should I use FaceTime or Zoom?
With most of the features compared, the dilemma stands still. The resemblance is uncanny too.
However, since we are so accustomed to using Zoom for all professional gatherings and meetings, switching may take a while. I will continue using Zoom for professional work because of the participant limit and several other features discussed above.
However, FaceTime will be a better approach for personal leisure time with friends and family. I cannot wait to try the public launch. What are your thoughts on the same? Let me know in the comments below.
Read more:
An entrepreneur by heart, I am obsessed with the world of Apple. I survive on Apple products and their updates. Over the last five years, I have been writing all kinds of content that are remotely connected to Apple and sharing across digital platforms. When not writing, you will find me on the court playing basketball or in my room playing the sitar.