Over the past several years, MacBooks have been a de facto choice for professionals. The MacBook Air and Pro cater to a different set of audiences. Things can get confusing as both models are available in multiple variants. That's not all; Apple has added the M1, M1 Pro, and M1 Max chips to the mix.
The 2021 MacBook Pro is a game-changing machine. Apple stuck to the basics. This meant bringing backports, including headphone jack, HDMI port, SD card slot, and MagSafe charger.
Let us put both MacBooks under the scanner and decide which one you should buy.
Design decisions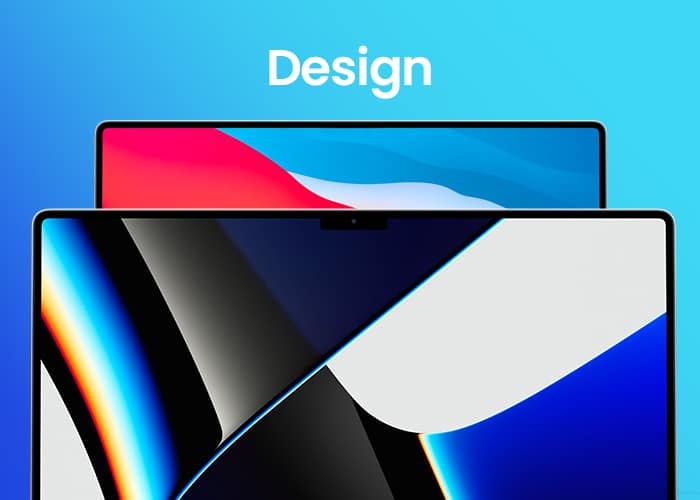 MacBook Air design has changed little in the recent past. Apple has retained signature taper design resulting in 0.16inch at its thinnest point. The M1 MacBook Air boasts slim bezels, a robust scissor-switch keyboard, and a much-loved gold color.
The 2021 MacBook Pro flaunts slimmer bezels and a notch at the center. Apple has ditched the troublesome Touch Bar in favor of the old-school function key. Newly added connectivity ports, MagSafe, and front-firing speakers have been added to the bulk. The latest MacBook Pro is thicker and heavier than its predecessor.
Talking numbers: The MacBook Air weighs only 1.4Kg while the Pro weighs 1.6 kg (14-inch) and 2.1 KG (16-inch). Furthermore, the Air has a smaller footprint as compared to the Pro. That said, Pro's extra weight shouldn't deter a power user. I only wish Apple offered MacBook Pro in other shades.

The display drama
Both the MacBook Air and Pro don't differ much regarding displays. The MacBook Pro is available in 14-inch and 16-inch displays. Meanwhile, the MacBook Air can be had in a 13.3-inch Retina display.
The 16-inch MacBook Pro display is perfect for creators. You get unparalleled screen real estate at 3072 x 1920 resolution. Owing to the smaller display, the resolution on the 14-inch variant is capped at 2560 x 1600.
Apple's True Tone technology alters brightness and colors to match the ambient lighting. All variants of MacBook Air and Pro offer True Tone technology. The MacBook Pro surges ahead with Liquid Retina XDR display, 1,000 nits brightness, and 120Hz ProMotion display.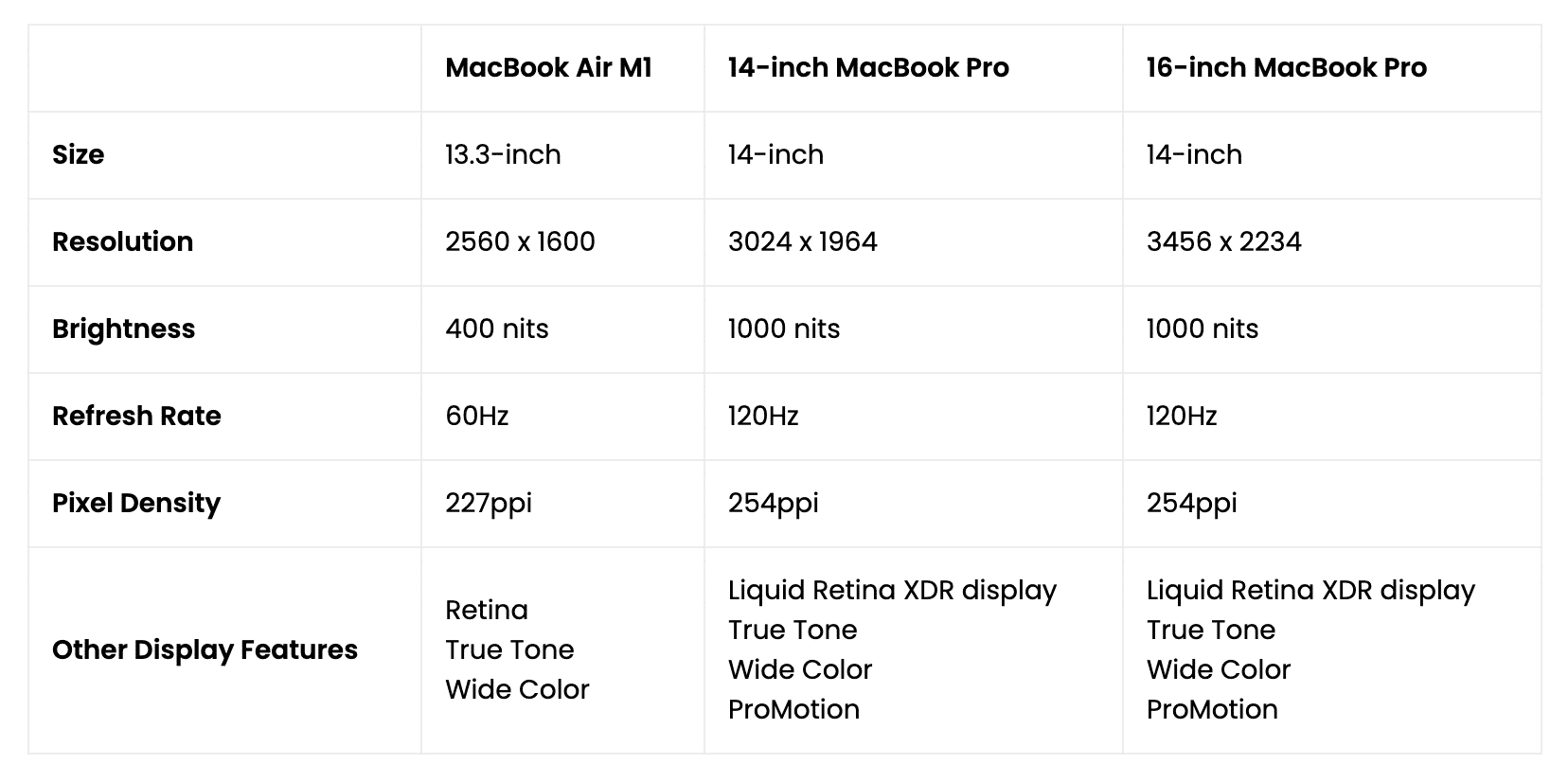 Which is the best chip for you?
Choosing the right configuration for MacBook can get tricky. Especially since Apple has added M1 Pro and M1 Max to the mix. We have listed the chips and detailed which one you should buy.
M1: Make no mistake, the M1 is a decent chipset with higher power efficiency. The M1 comes with an 8-core CPU, 7-Core GPU, and 16-core Neural Engine. You can choose up to 16GB of unified memory and 2TB of storage. The M1 chip is best for casual browsing, education, and bloggers. Interestingly, it is also capable of basic video editing and casual gaming.

M1 Pro: The M1 Pro has 10 CPU cores and 16 GPU cores. Other highlights include a 16-core Neural Engine and media engine that supports ProRes. You get 200GB/s of bandwidth and up to 32GB of unified memory on the storage front.

The Neural Engine handles machine learning work. Get the M1 Pro if your work involves GPU-intensive tasks like 3D visualizations and video editing. The chipset supports up to 20 4K ProRes video streams and two external displays.

M1 Max: M1 Max takes most definitely a notch above. It offers up to 32 GPU cores with a double memory bandwidth of 400GB/s. Power users can choose up to 64GB of unified memory. The M1 Max is for those who prefer performance over anything else. Tasks like augmented reality model rendering, creating music, or working with large files is a breeze.

M1 Max simplifies complex workflow like Multicam video editing. The M1 Max is the best option if your work involves motion graphics, 3D, augmented modeling, and editing 4K videos. Furthermore, you can play back up to five 8K ProRes video streams. Lastly, the M1 Max supports up to four external displays.
MacBook Air vs. MacBook Pro: Hardware under the hood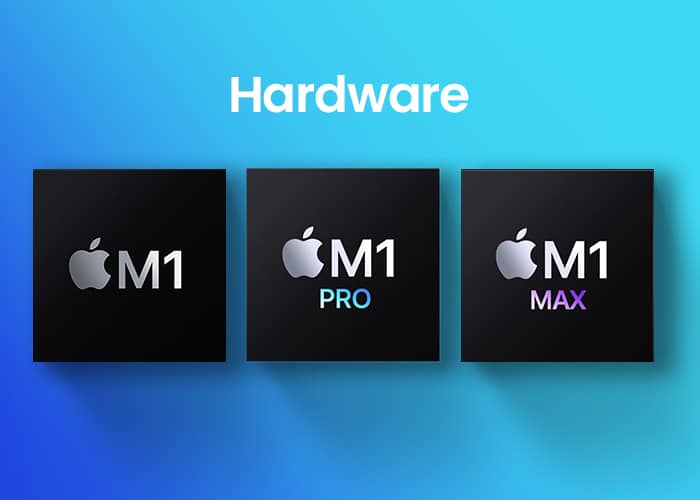 The MacBook Air is the first Mac to be powered by M1. Apple's custom M1 chipset crushes competition in all aspects. The performance is unparalleled, and so is the efficiency. All gains without any tradeoffs. Geekbench scores tally at 1705 and 7413.
The 2021 MacBook Pro is available with two powerhouses. You can choose between M1 Pro or M1 Max. RAM options range up to 32GB for the 13-inch variant. Meanwhile, the 16-inch variant can be had with 64GB of RAM. Unsurprisingly, the MacBook Pro scores 1447 (single-core) and 12237 (multi-core score) on Geekbench 5.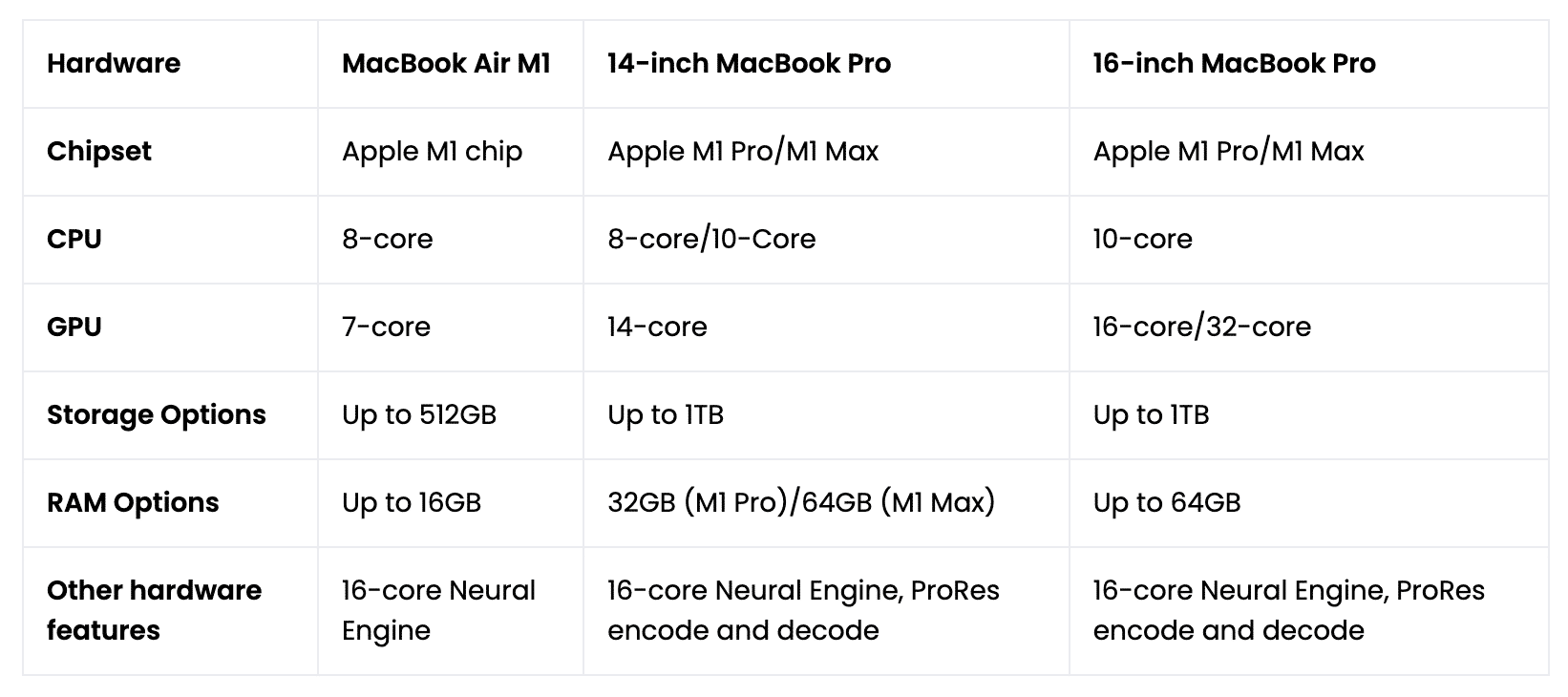 MacBook Air and MacBook Pro benchmarks
More than often, benchmark tests do not indicate real-world performance. That said, they are still a fair reflection of how well a machine could perform. Broadly speaking, the benchmark is divided into single-thread and multi-thread performance. Let us take a look at MacBook Air and MacBook Pro benchmarks.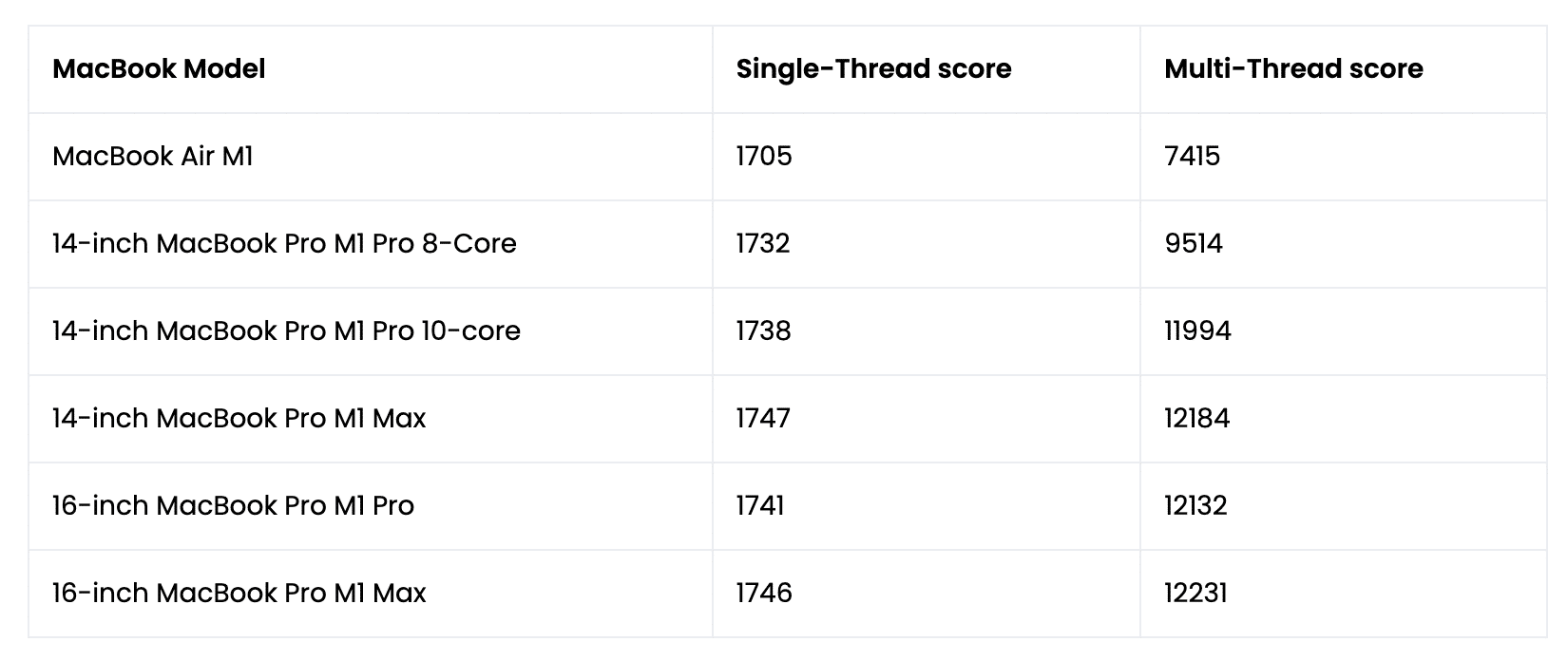 Why shouldn't you buy Intel-powered MacBook Air and MacBook Pro?
Unless you live under a rock, you already know that Apple has transitioned to M-Series chipsets. That said, you might chance upon an Intel-powered MacBook. I have some solid reasons why you need to steer away from buying new Intel-powered Macs.
The M1-powered Mac cannot natively run apps developed for Intel. This means the developers have to take extra efforts to make it work. In due course of time, it will no longer be feasible for developers. Meanwhile, the number of Intel-Mac's will dwindle. In a year or two, you will be left with an expensive Mac with limited app support.
Apple is fast transitioning to an M-series chipset. We have M1, M1 Pro, M1 Max, and now the M1 Ultra within a short span. Furthermore, Apple Silicon machines will get longer macOS update support. Go for Apple Silicon if you plan to use Mac for more than two years.
Connectivity ports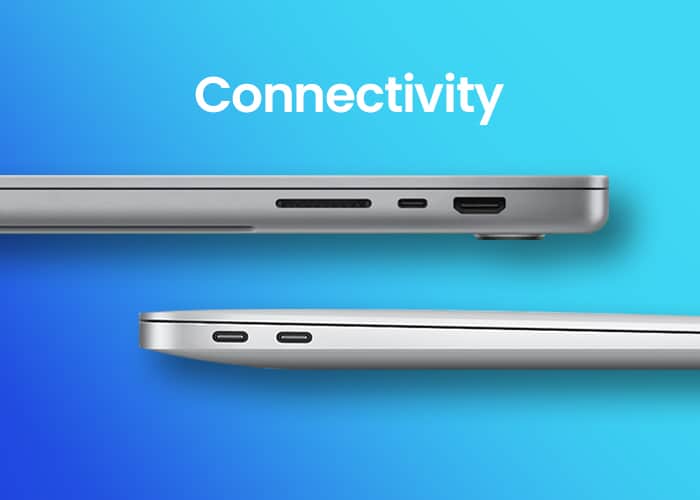 The MacBook Air comes equipped with two Thunderbolt 3 (USB Type-C) and a 3.5mm audio jack. For everything else, you have to use a dongle. However, you can use Thunderbolt 3 and connect to an external monitor and other accessories.
MacBook Pro is the best choice. On the 14-inch and 16-inch MacBook Pro, you get four Thunderbolt 3 (USB Type-C) ports, audio jack, SDXC card slot, HDMI, and MagSafe 3 port, especially if your work involves connecting a camera, memory card, or external monitor.

Which MacBook has better battery backup?
The switch to the M1 line of processors has done wonders to MacBook battery backup. The MacBook Air is rated to last for 14 hours. On the other hand, the new MacBook Pro can last up to 15 hours.
For the first time, MacBook Pro supports fast charging. The 16-inch MacBook Pro supports up to 100W of fast charging over the MagSafe charger. Please note the 16-inch MacBook Pro doesn't support fast charging over USB-C. Putting things into perspective, MacBook Pro can charge from 0-50% in just under 30 minutes. Meanwhile, the MacBook Air takes about 51 minutes for 0-50%.
Keyboard and ergonomics- adieu TouchBar
Apple has finally swapped the troublesome butterfly keyboard to the scissor switch. The Magic Keyboard offers very good feedback and feel. The keyboard layout is centered around reducing fatigue and muscle pain.
On the keyboard front, not much has changed in MacBook Air. Meanwhile, Apple has retired the Touch Bar in favor of the physical function key. The Touch Bar is only available on older MacBook Pro. Many complained that Touch Bar didn't offer the tactile feel and missed function keys. For this reason, Apple reinstated function keys on the new MacBook Pros.

The pricing conundrum: Value for money
Nothing is too expensive or too cheap. Buying decisions are always very personal and subjective. The price you pay depends on the features you need. Thankfully, both MacBook Air and Pro are available in various variants.
MacBook Air M1 prices start at $999 and go up to $1249. The 14-inch MacBook Pro M1 Pro prices start at $1,999 and go up to $2499. The 16-inch MacBook Pro base version is priced at $2499, while the top-end variant costs $3,499. Check out the table for MacBook Air and MacBook Pro complete pricing detail.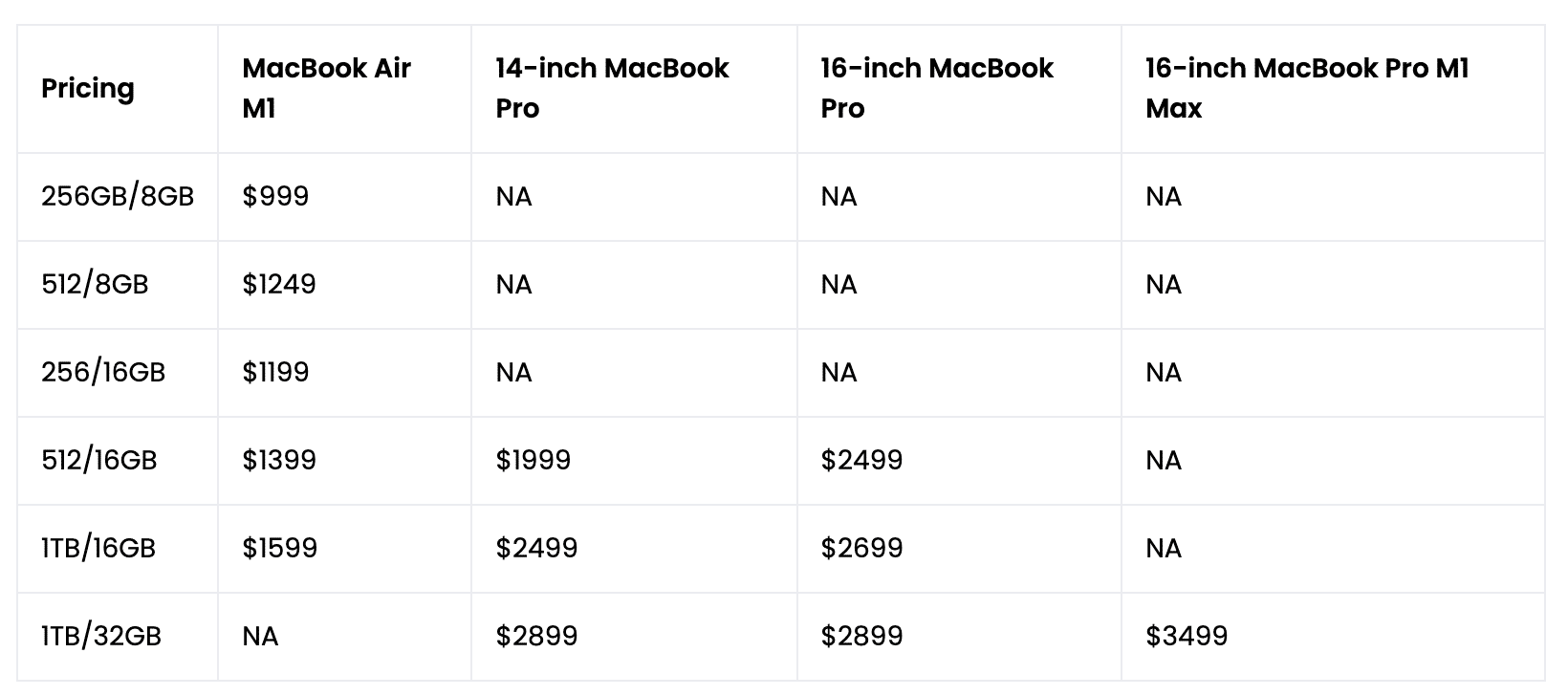 Which MacBook should you buy?
There is no definitive answer to this. It depends on your workflow and budget. I believe there is the best Mac for every professional. It is very helpful when we list our requirements. Use the same to see which Mac suits your needs. That said, let us eliminate the stress associated with choosing a new MacBook.
Who should buy MacBook Air?
MacBook Air is the best laptop for nearly everyone. It is best suited for students, marketing professionals, bloggers, and others. The M1 upgrade has added much-needed computing horsepower. Simply put, MacBook Air is more than enough if your work doesn't entail graphic-intensive tasks. Silverlining can play games like Civilization 6 and Counter-Strike: Go at a lower setting.
Who should buy MacBook Pro?
MacBook Pro is aimed at those requiring a lot of processing power. Video editors, engineers, designers, and photographers can go for the new MacBook Pro. It offers class-leading hardware in a relatively compact form factor. New MacBook Pro is the fastest laptop Apple has ever mode. There is very little that could go wrong.
Head over to the nearest Apple Store and take a better look at both the MacBooks. Make a note of your requirement. The above points help you make an informed decision. Tell us which MacBook did you buy in the comments below.
Now wear your thinking cap and cherry-pick the best MacBook Air or MacBook Pro variant. As detailed, avoid buying a new Intel-powered MacBook Pro or MacBook Air. The Apple Silicon chips boast industry-leading performance and efficiency. Which MacBook did you buy? Let us know in the comments below.
Read More:
Readers like you help support iGeeksBlog. When you make a purchase using links on our site, we may earn an affiliate commission. Read Disclaimer.