Apple's M1 chip has brought some major performance gains with the Macbooks launched in 2020. From a killer, faster performance to affordability, everything was taken into consideration.
With the 2021 Spring Loaded event, we now have a new competitor – the iPad Pro. With both the devices boasting Apple Silicon chip as their base, it will be exciting to compare M1 iPad Pro and M1 MacBook and see which one wins!
Note: I have compared M1 iPad Pro 12.9 inches with M1 MacBook Pro 13 inches here.
But first, is it fair to compare two products from different lineups? Let's understand.
Is a Mac better than an iPad?
When the first MacBooks were released, we wanted to use them for every activity possible. Be it gaming, writing, communicating with the team, even sending emails, for that matter.
The first few versions of the iPad were viewed with a presentation device, and maybe to gift it to our kids or grandparents. However, over the years, iPads have proved to be as compatible, and boy are they growing. I am sure you are as excited to test the two most innovative gadgets powered by the M1 chip.
Let's start with their hardware specifications.
M1 iPad Pro vs. M1 MacBook Pro: Hardware
| | | |
| --- | --- | --- |
| | M1 iPad Pro | M1 MacBook Pro |
| Processor | M1 8-core | M1 8-core |
| Storage | 128GB, 256Gb, 512GB, 1Tb, or 2TB | 256GB, 512GB, 1TB, or 2TB SSD |
| RAM | 8GB or 16GB | 8GB or 16GB |
| Graphics | Integrated 8-core GPU | Integrated 8-core GPU |
| Neural Engine | Integrated 16-core | Integrated 16-core |
| Wi-Fi | Wi-Fi 6 | Wi-Fi 6 |
| Speaker | 4 speaker audio, Dolby Atmos support | Stereo speakers with high dynamic range, wide sound, and Dolby Atmos support |
| Mics | 5 studio-quality mics | Studio quality 3-mic array with directional beamforming |
You get the phenomenal M1 chip with an 8-core CPU that delivers outrageously fast performance. The 8-core GPU enhances graphic performances by up to 40% in both devices.
This means that both M1 iPad Pro and M1 MacBook Pro can intricate AR models, enjoy gaming, and observe graphics at high frame rates. One might notice differences in microphones and speakers in both devices, but they don't make much of a difference in the output for everyday use.
M1 iPad Pro vs. M1 MacBook Pro: Display
M1 iPad Pro
M1 MacBook Pro
Type
Liquid Retina XDR
Retina
Screen Size
12.9 inches
13.3 inches
Resolution
2732 x 2048
2560 x 1600
Aspect Ratio
4:3
16:10
PPI
264
227
Nits (brightness)
600 nits max brightness
1000 nits max full-screen brightness
1600 nits peak brightness (HDR)
500 nits
Retina Display
Yes
Yes
True Tone
Yes
Yes
P3 wide color
Yes
Yes
ProMotion Technology
Yes
No
If you are looking for a high-resolution screen, better display, and smoother screen, iPad Pro is your winner. With Liquid Retina XDR display, amazing levels of brightness, and ProMotion technology, iPad emerges as a winner here.
ProMotion Technology is flexible up to 120 Hz, making the texts look crisp and the images smoother. This technology automatically adjusts the display while scrolling. Thus, smoothens the experience and also saves battery.
M1 iPad Pro vs. M1 MacBook Pro: I/O
| | | |
| --- | --- | --- |
| | M1 iPad Pro | M1 MacBook Pro |
| Connectivity | 1 USB-C/TB port | 2 Thunderbolt port/TB ports |
| Bluetooth | 5.0 | 5.0 |
| headphone port | No | Yes |
Both the devices have negligible differences when it comes to their input/output systems. This is the first iPad Pro to have a Thunderbolt port, finally! On the other hand, MacBook Pro has two ports, leaving more room for data transfer and charging at the same time.
Sadly, our iPad does not come with a headphone jack, which means you need a new pair of AirPods if you don't have one already!
M1 iPad Pro vs. M1 MacBook Pro: Camera comparison
M1 iPad Pro
M1 MacBook Pro
Camera
5 element lens
Wide: 12MP, ƒ/1.8 aperture
Ultra-wide: 10MP, ƒ/2.4 aperture
720p FaceTime HD output
Video output
4K video recording at different fps
One external display with up to 6K resolution at 60Hz
The iPad Pro camera has undoubtedly become a great dinner table conversation because of its diversity. The five-element lens has high clarity and ultra-wide focus.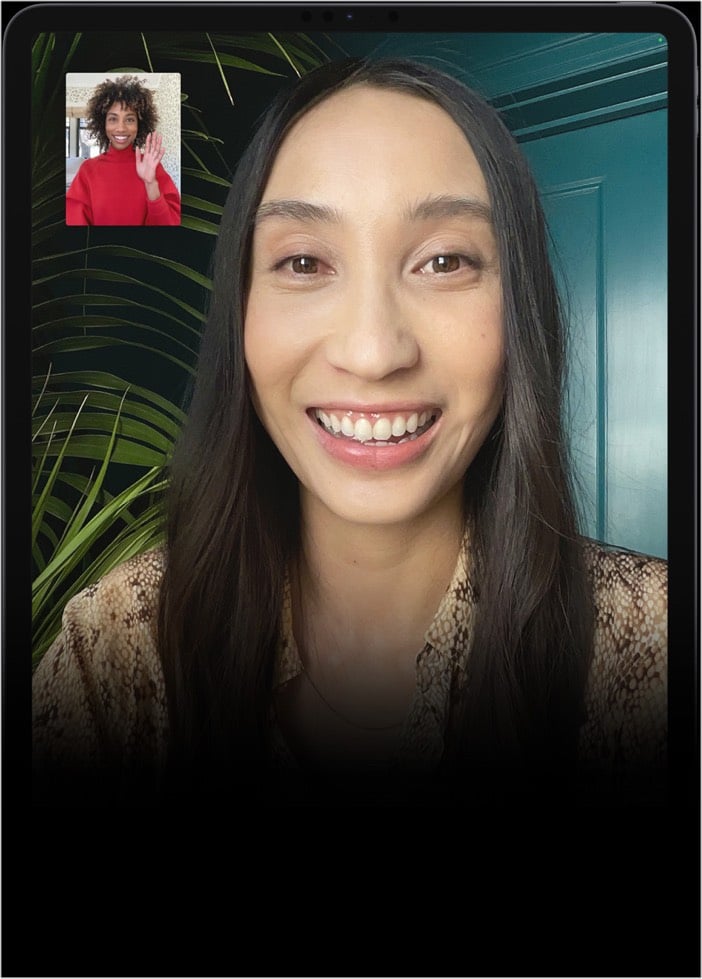 The ProMotion Technology and Ultra-Wide lens curate Center Stage technology for video calling. It helps you stay in focus, significantly improving the video calling quality.
On the other hand, MacBook Pro comes with a 720p regular output camera, good enough for FaceTime. But not otherwise!
If you create videos or video call more often, M1 iPad Pro is the one for you!
M1 iPad Pro vs. M1 MacBook Pro: Battery life comparison
With a USB 4 port in M1 iPad Pro, the charging experience is going to be on another level. It is way faster than all the previous iPads. The gadget will provide up to 10 hours of usage with 100% charging, whereas MacBook Pro delivers up to 16 hours of battery time.
Hence, M1 MacBook Pro is a clear winner here!
M1 iPad Pro vs. M1 MacBook Pro: Performance
With both the devices featuring an 8-core M1 chip, the performance is 50% faster than the previous respective models. In fact, Apple claims that M1 iPad Pro is 1500 times faster than the first iPad launched in 2010.
M1 MacBook Pro, on the other hand, has defeated every competitor within its range and is being regarded as revolutionary in terms of performance. It will be an interesting site to view which of these beat the other. Theoretically, their configurations are the same.
I can only comment on the performances after having a hands-on experience on the iPad. But it looks like the fight is going to be a tough one.
M1 iPad Pro vs. M1 MacBook Pro: Pricing
iPad Pro 12.9 is priced at $1099 for the Wi-Fi model and is being sold at $1299 for Wi-Fi + Cellular model (128GB).
MacBook Pro, on the other hand, starts at $1299 and goes all the way up to $2299 for the highest configuration (2TB/16GB).
Surprisingly, both the gadgets come in the same range, making the iPad price a little questionable. But, considering the features it has to offer, this may be a good steal.
However, I would recommend going for M1 MacBook Pro if you are looking for a more affordable option. For a Mac-like setup of an iPad, you will have to buy its accessories like a keyboard and stand, which could make it expensive.
M1 iPad Pro vs. M1 MacBook Pro: Ultimate purchase guide
I must say, both the devices make a great deal and are revolutionary purchases in their respective categories.
That does not mean you should buy the one that outperforms the other. You need to put a lot of factors into consideration to make a purchase.
Let me share this with my example. I write blogs for my website, do basic designing stuff, and record and edit my podcast. Thus, I need a device that has a good camera and video recording quality, faster performance with my audio recording and editing software, and excellent battery life.
Thus, I would go for M1 iPad Pro because the video output for my podcasts will turn out great with its Center Stage technology.
If I were to edit the videos, I would have chosen M1 MacBook Pro because of faster processing and rendering. Don't worry; I am going to help you make the best purchase depending upon your industry.
I have tried to cover all the mainstream industries; if I am missing yours, connect with me in the comments, and I will help you out.
Gaming
Both the gadgets are running the same hardware, making the graphic performance comparable. Of course, different operating systems and display sizes have the same resources to utilize, making it a tough choice.
iPad Pro can give you a stunning visual gaming experience, but MacBook Pro can give you a smoother experience. A Youtuber who goes by the name MrMacRight tested 25 games with M1 MacBook Pro and was more than satisfied with the results.
Of course, you can work with M1 iPad and connect it to Magic Keyboard, but the feeling changes that way. So you should undoubtedly go for M1 MacBook Pro for gaming.
Content Creation
If you are a content creator and need to shoot/record a lot, stick to iPad Pro. The features are meant to enhance your productivity.
With the TrueDepth Camera and wide-angle lenses, this laptop-tablet hybrid is the gadget you are looking for.
If you are wondering whether to upgrade from the iPad 2020 to iPad 2021, I would recommend not to. But if you are considering an upgrade, iPad Pro 2021 would be a worthy choice as it delivers faster performance, way smoother than previous renditions.
Business
If you are leading your business or working a corporate job, MacBook Pro is the right choice for you.
Keeping aside the specifications, you will need a device with an attached keyboard. Having an iPad with a Magic Keyboard and Magic Mouse can be inconvenient for all the typing work you have to do.
Depending on your requirements, you can also grab an M1 MacBook Air if Pro is on the expensive side for you.
This video will help you make the right decision
If you are into Marketing or Sales and have a lot of presentations to look forward to, you need to have an iPad to create an impression around your client.
Education
If you are a teacher/student or remotely connected to the education sector, M1 iPad Pro should be your pick.
iPads, from the time of Steve Jobs, have always been focused on improving the education sector. While we have come way ahead now and iPads can now substitute any laptop easily, the root cause remains the same.
Gets your kids the latest iPad or use one to teach your kids. The specifications are just right for you, and the device will also be handy.
Coding/Development
If you are a developer (software, web, app), you should get the M1 MacBook Pro.
It is fairly convenient to have a single unit to work on your codes, test your device and make your product.
Theoretically, iPad makes a good substitute, but it will be impractical to use one for coding purposes.
I hope this guide helped you make an informed decision. Call it M1 iPad Pro or M1 MacBook Pro; both are revolutionary devices and the first of their kind. See which one works out the best for you.
I have been working with my M1 MacBook Pro for a long time now and have been overly satisfied with the results. Being the tech curious person that I am, I know I will spend my dollars on M1 iPad Pro too.
What are your views on the devices? Let me know in the comments below.
Read more:
An entrepreneur by heart, I am obsessed with the world of Apple. I survive on Apple products and their updates. Over the last five years, I have been writing all kinds of content that are remotely connected to Apple and sharing across digital platforms. When not writing, you will find me on the court playing basketball or in my room playing the sitar.