The 2021 MacBook Pro has embraced many internal and external changes, from letting go of the Touch Bar to the re-addition of MagSafe. While most changes are being appreciated, there's one that is not going down that well. Yes, I am talking about the notch. Users didn't love it on iPhones, and they aren't loving it on Mac either.
But did you know that there are multiple ways to hide the notch from your MacBook Pro? Let me show you!
1. Go fullscreen mode
The quickest and simplest way to hide the notch is to open the app in fullscreen. The setting automatically turns the menu bar black, hiding all its contents, including the notch. And since most native and third-party apps support fullscreen mode, it is pretty universal as well.
To enable fullscreen mode on any app, click the green round (fullscreen) button from the window's top left. You can also engage the fullscreen mode from a keyboard shortcut; press Control + Command + F.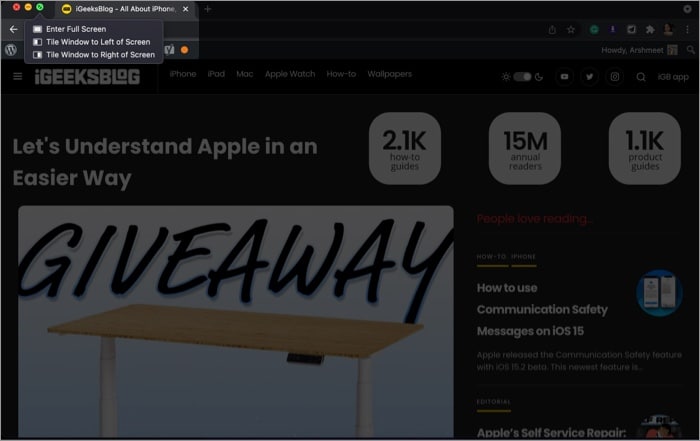 If you need to access something from the menu bar, hover the cursor over the area. The menu items will reappear, and you can select the one you need. And when you are ready to exit the fullscreen mode, click the green or red button or press Control + Command + F.
Special tip: The notch also magically vanishes when you invoke split view in Mac. So, multitask your way into notch-less-ness.
While hiding the menu bar works for most apps, it fails for apps that extensively use items from the menu bar. In some scenarios, the camera notch ends up concealing menu options, which can be quite disturbing.
Luckily, Apple has realized the issue and incorporated a neat feature that automatically scales the app's menu bar area to fit under the notch area.
Launch the Application folder.
Right-click the app you want.
Select Get Info from the contextual menu.
Under the General section, check the box next to Scale to fit below built-in camera.
Close this window and restart the app; it will auto-adjust according to the notch area. Notably, this doesn't apply across the system; you'll have to enable the setting individually for each app.
3. Use third-party apps
A great thing with trouble in Apple's paradise is that there can be an app for it. And luckily, for all the notch-haters, there are indeed some great apps.
I. TopNotch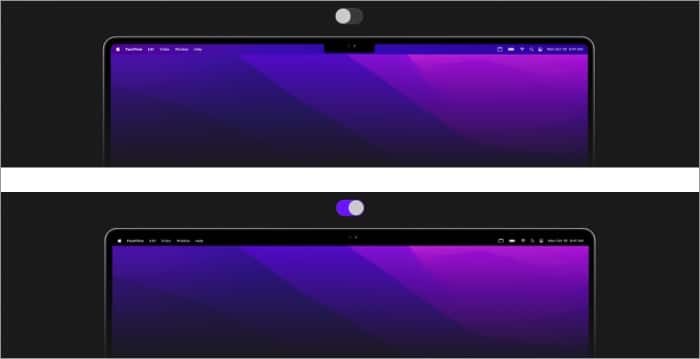 A simple app that promises to make the MacBook Pro notch disappear like a ninja. It boasts a toggle that turns the menu bar black when enabled and efficiently hides the notch.
It can modify both static and dynamic macOS wallpapers and keep the notch under wraps for as long as you want. Additionally, it supports multiple displays and allows you to add rounded corners to your wallpapers to match the rounded corners of the MacBook Pro.
Price: Free
II. Forehead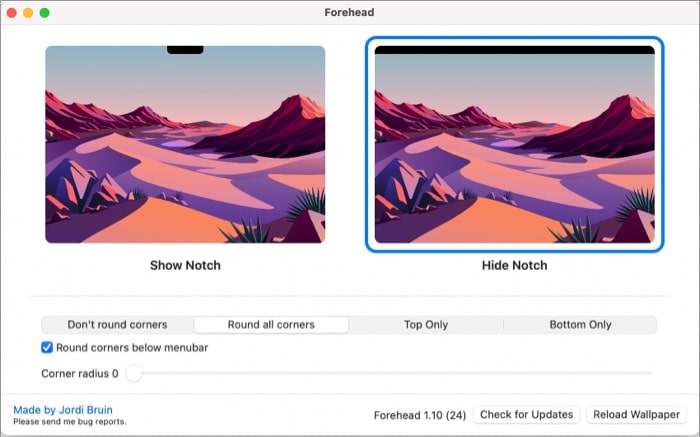 Indie developer, Jordi Bruin, loves the new notch. However, he knows not many will accept the change as easily. So, he converted it into an earning opportunity and developed Forehead. The app modifies your current wallpaper to add a black backing, which hides the notch.
Interestingly, it takes the concept of the rounded edge to another level with up to 100 corner radius, an option to start rounding corners below the bar or round just the top or bottom corners.
Though it doesn't support dynamic wallpapers yet, the developer might release that in later updates.
Price: Free
III. De-Notch-ifier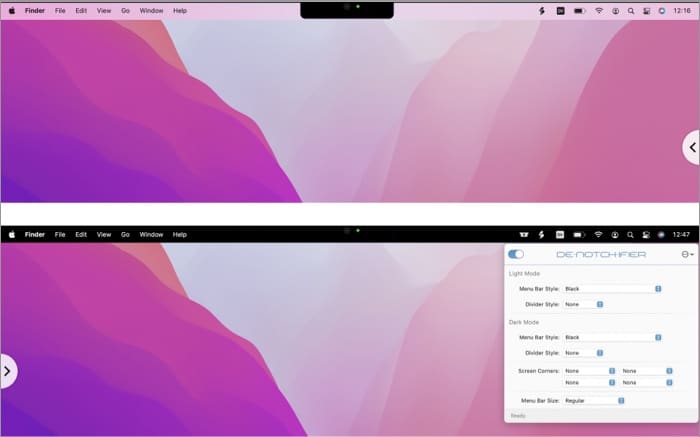 While you are at it, why shouldn't you have more fun with the menu bar? De-Notch-ifier can easily de-notch your MacBook Pro with one tap. Alongside that, it could assist in bringing more colors to the menu bar, 50 shades of red, orange, green, or grey.
What's more? You can even set different menu bar colors for Light and Dark modes and decide how rounded you want the corners. Plus, you get a 14-day trial, so you can test it to your heart's content before putting down that dollar.
Price: $9.95
Bye, Bye notch 👋👋
In all honesty, I think we all should give the notch a chance. After all, the iPhone 13 is still carrying a notch (albeit smaller than before). So we can safely assume the MacBook Pro notch is here to stay, and we better start embracing it.
The good thing is, we can hide it whenever we want!
For more amazing Mac hacks, check out the listings below.
Readers like you help support iGeeksBlog. When you make a purchase using links on our site, we may earn an affiliate commission. Read more.
A self-professed Geek who loves to explore all things Apple. I thoroughly enjoy discovering new hacks, troubleshooting issues, and finding and reviewing the best products and apps currently available. My expertise also includes curating opinionated and honest editorials. If not this, you might find me surfing the web or listening to audiobooks.