Voice changer apps are pretty popular. They use modulation to change your voice and can also alter voice on apps like Discord or create funny videos for YouTube. However, these apps are especially useful for gamers, as while gaming, it becomes imperative to mask your gender and reduce exposure to cyber-bullying, blackmailing, and other threats.
On the other hand, these apps can also be used to play pranks on your friends! In this article, let's check out some of the best voice changer apps for Mac.
1. Clownfish Voice Changer – Editor's choice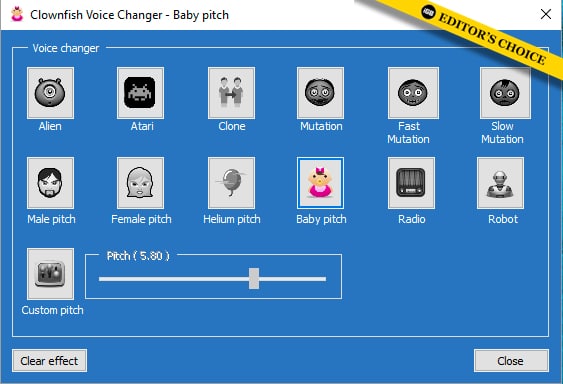 Clownfish is a gaming-centric voice changer. The Chrome extension changes your voice in real-time. It integrates seamlessly with popular apps, including Google Hangout, Discord, Skype, etc. I am particularly fond of the inbuilt text-to-speech converter.
What I liked is that you can edit specific parts of the soundtrack. Furthermore, the inbuilt text-to-speech feature works with great accuracy. The list of voice effects includes alien, atari, clone, mutation, fast mutation, slow mutation, male pitch, female pitch, helium pitch, custom pitch, etc.
Moreover, Clownfish alters the soundtrack across Steam, Skype, Hangouts, Viber, Ekiga, Jitsi, Mumble, Discord, etc.
Pros
Easy to use
Custom pitch feature
Cons
Limited presets
Lacks advanced features
Price: Free
2. MorphVox JR – High on accuracy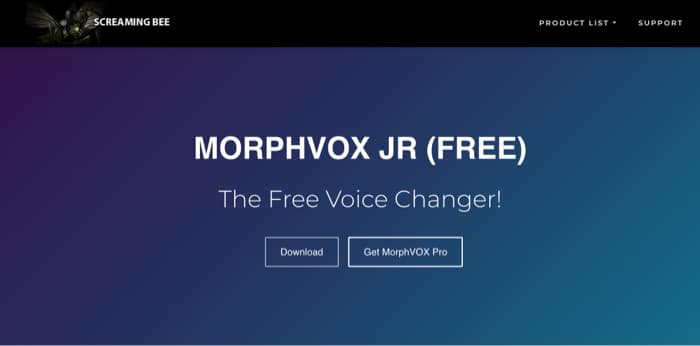 MorphVox JR (Free) is Mac's extremely popular voice changer app. The MorphVox Pro is a better option if you are a professional. On the other hand, MorphVox VR is completely free. It offers a limited set of features for casual users. You can choose between Man, Tiny Folks, and Woman voice.
I had a lot of fun using MorphVox Jr. The app can record high-quality audio whilst weeding out background noises. It is a light application and uses very few computing resources.
If needed, you can also add a catchy background score to your track. The hot-swap mode lets you change your voice instantly. Super useful when you are on a call. MorphVOX reserves a custom pitch feature for the pro version.
Pros
High-quality audio
Eliminates background noises to some extent
Cons
Limited functionality
Lacks custom pitch option
Price: Free (MorphVox Pro 4 starts at $39.99)
3. Voxal Voice Changer – Gamer's delight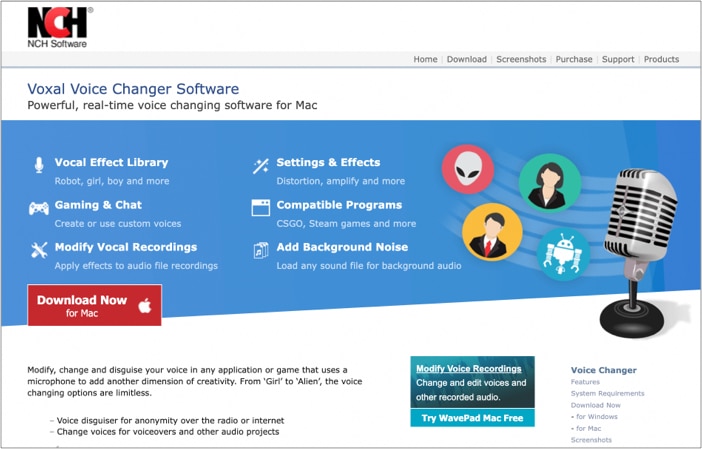 Voxal Voice Changer is the most comprehensive of the lot. It is compatible with major VOP apps and game streaming services. It offers plenty of voice effects segregated into People, Fantasy, Sci-Fi, Strange and Silly, and effects. The bottom line is that there is something for everyone.
Voxal Voice Changer lets you listen to your modified voice in real-time. This way, you can tweak it if needed. You can set the stage by adding background noises. Or prank your friends by adding funky background noises to the mix. It is best to create voices for characters in audiobooks.
Pros
Custom voice option
Add background noises in real-time
Lightweight application
Cons
Some voice effects lack accuracy
Doesn't eliminate background noises
Price: Free (home edition), Commercial price starts at $34.99
4. Voicechanger.io – Get creative with voice effects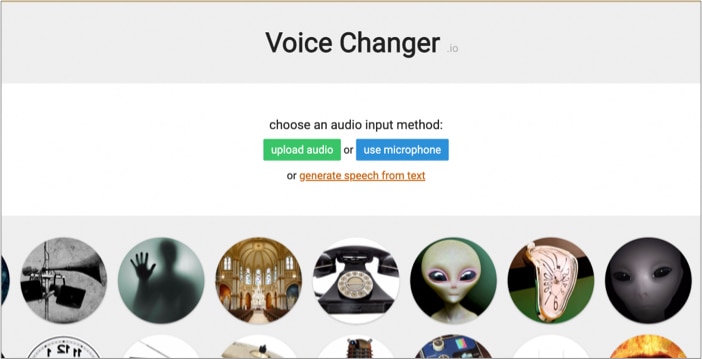 Voicechanger.io started as a hobby project. In its current form, the service is limited. However, Voice Changer offers captivating sound effects, including alien, anonymous, Sonic The Hedgehog, and more. Just go to their website and give it a go.
The Voicegenerator feature is useful for creating audio from text. The best part, it is completely free and offers decent offline support. Furthermore, you can adjust pitch speed and download Google TTS audio format. However, I noticed that the quality of downloaded recordings was not up to the mark.
Pros
Easy to use
Unique voice effects
Tool to create custom voice
Cons
No real-time support
Lacks support for apps like Discord, Zoom, etc
Need to upload audio for conversion
Price: Free
5. Voice Spice – Add funky accents to your voice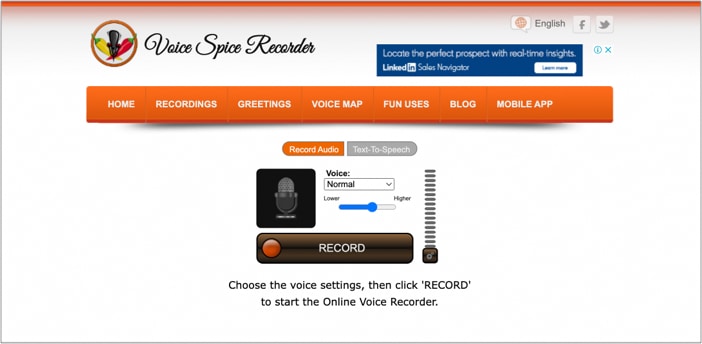 Voice Spice Recorder is a basic free voice changer for Mac. You can type anything, and text-to-speech will convert it into another language and gender. You can also record audio and add voice effects in post-processing. I was impressed with the accuracy of the accent.
One of the biggest downsides is the lack of real-time features. Each time you have to wait for processing. And if the audio is not up to the mark, you have to redo it from scratch. With Voice Spice Recorder, you can directly upload recordings to the cloud.
Pros
Capable Text-To-Speech feature
Add location details to recordings
Cons
Fewer voice effects to choose from
Doesn't support VOIP apps
Price: Free
6. Female to Male Voice Changer – Simplifying speech therapy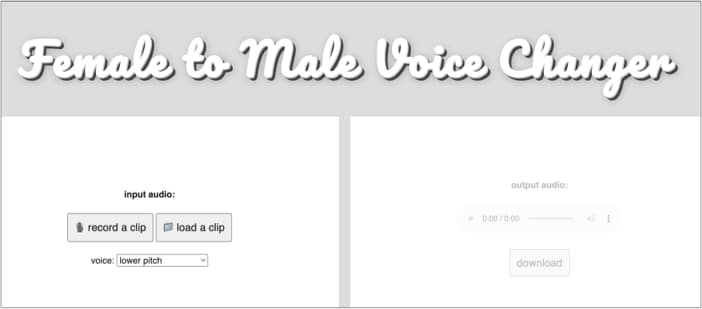 Female to Male Voice changer is centered around changing a male voice into a female. Choose from different voice options like mountain troll, extremely low pitch, slightly higher pitch, even higher pitch, much higher pitch, extremely high pitch, and chipmunk.
The app can be used on the browser. You can also upload pre-recorded audio clips. The app can be used on the browser. You can also upload pre-recorded audio clips.
Moreover, the tool is suitable for voice therapy or change pitch. It is especially useful for those who have undergone reassignment surgeries.
Typically, speech therapy involves listening to others' voices and learning from them. The app helps people understand how their voice would sound after modulation. The sample is used to practice speech therapy.
Pros
Browser-based
Downloadable file preview
Cons
Real-time feature missing
Price: Free
Try Female to Male voice changer
Why should you use a voice changer app?
Some might be wondering why we should use a voice changer app. The Voice changer app can be helpful in many scenarios. You can use it to create professional-grade content. Or use it for casual purposes. Below are some of the use cases for voice changer apps for Mac:
Use Voice Changer to prank your friends
Some people use it for privacy
Get creative and make some engaging videos
Gamers can mask their voice in chats
More affordable than hiring voice-over artists
The best part is using these apps to change voice on Discord. No matter what, it is always a good idea to have a dependable voice changer by your side.
How to change voice on Discord?
Most of the voice changer apps support Discord. Select a voice effect, and you are good to go. You can sound like a guy or girl on chats. Clownfish Voice changer works well with Discord and Voxal Voice Changer. New to Discord? Check our in-depth Discord guide.
I hope you had fun trying out voice changer apps on Mac. Make sure that you use it responsibly. Misuse of the voice changer app could land you in trouble with the law. Share your experiences with voice changer apps in the comments below.
Read More:
Readers like you help support iGeeksBlog. When you make a purchase using links on our site, we may earn an affiliate commission. Read Disclaimer.