Do you have ambitions of becoming a musician? Or do you like to dabble in audio editing as a hobby? Either way, you're probably in need of some excellent audio editors that can break new ground and expand your horizons. If this sounds like you, you're going to love this list of the best audio editing software for Mac.
While other PCs can work well with these apps, the apps run efficiently on MacBooks. This is thanks to the superb computing power and software optimization that only Apple is known for. So, let's dive into the list and check out these apps, shall we?
1. Logic Pro – Editor's Choice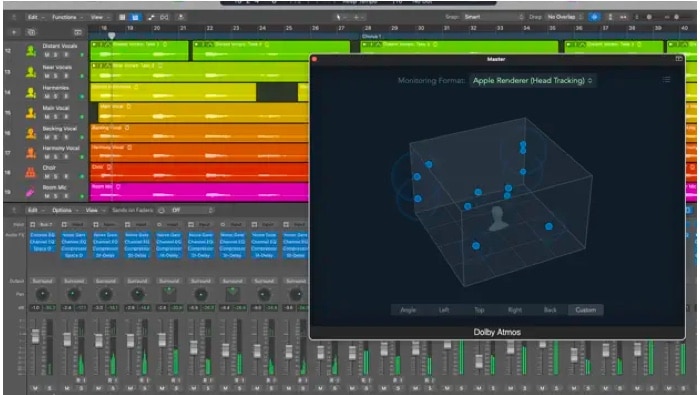 For professional music producers who use MacBook, there's little reason to go beyond Logic Pro. This audio editing app is designed specifically for Mac. The proverbial saying "a match made in heaven" stands true for Logic Pro and your MacBook.
The app features all the tools that you'd need for audio editing. This includes, but isn't limited to, tools for songwriting, editing, and mixing. Moreover, the app is relatively easy to use, thanks to a modern interface that works in tandem with the tools themselves. Apart from this, you'll find samples, instruments, loops, and effects to experiment with for your song.
To put things into perspective, Logic Pro has over 5900 instrument and effect patches, 1200 instrument samples, and almost 15,000 loops designed by Apple. Overall, you can't find a similar wholesome toolkit to edit your audio on Mac.
The only major con of this software is that it's significantly expensive. Not everyone can afford to shell out close to $200 for the software.
Pros
Value for money
Thousands of effect patches, instrument samples, and Apple loops
Not too difficult to use
Price: $199.99
2. Audacity – Supports many file formats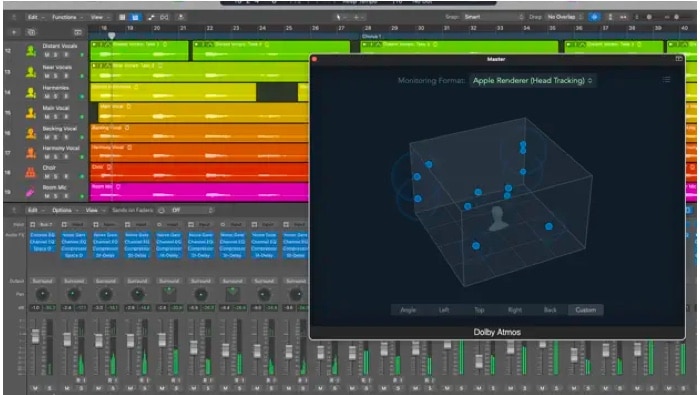 There's no bigger disappointment than paying for an audio editing app to find out that it doesn't support some file formats. Fortunately, with Audacity, you won't have to worry about this issue. This audio editing software for Mac supports all the major file formats, as well as some of the less-used formats out there. Moreover, it's free to use, open-source, and supports multiple PC platforms.
Another major advantage of Audacity is that it's easy to use. Regardless of your level of expertise, Audacity ensures that audio mixing and editing become something that even a beginner can manage. Additionally, it doesn't take up much storage space in your Mac. Furthermore, its open-source nature allows third-party integrations for your projects as well.
The only issue with Audacity is that you'll have to work slightly harder to lay multiple tracks together.
Pros
Huge range of file format support
Very convenient to use
Takes up less storage space
Cons
Difficult to lay multiple tracks
Price: Free
3. Adobe Audition – Great for podcasts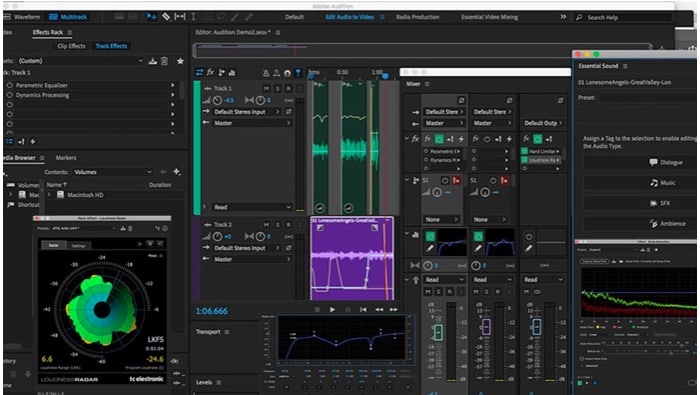 Adobe produces some of the best software suites you'll find on the market today. However, Adobe Audition has become a favorite of audio engineers, streamers, and more specifically, podcasters. While there are plenty of other tools you can use as a podcaster, Adobe Audition's all-rounder performance takes it to the top of the list.
This audio editing software for Mac has pretty much everything that you need. Whether you want to add a background score to your podcast intro or edit various podcast segments, Audition can cover it all.
Moreover, if you've been facing issues with background noise or white noise during your recording sessions, Adobe Audition's audio clean-up tool is one of the best available today. Without a doubt, the best podcasts available today have used or still use Adobe Audition as their audio editing software!
However, I wouldn't recommend this tool to beginners, as it can be quite difficult to use. Moreover, it works on a subscription service that can be expensive in the long run. Nonetheless, if you're a podcaster and have money to spare, Adobe Audition is the way to go!
Pros
Great for editing podcasts
One of the best audio clean-up tools
Has the best premium features
Cons
The subscription model makes it expensive in the long run
Price: Free (In-app purchases start at $31.49)
4. WavePad – Decent free features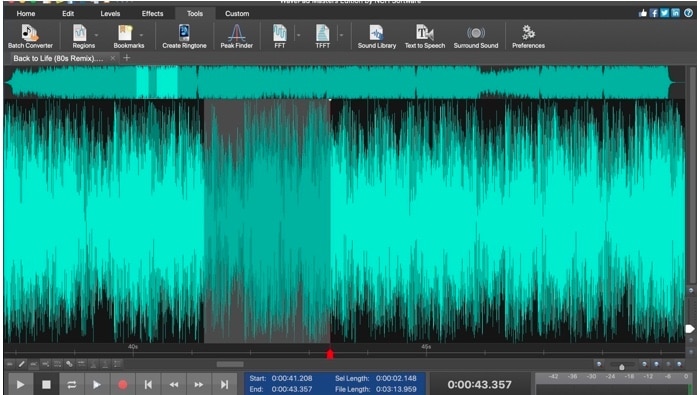 Free audio editing apps for Macs tend to hold all of their best features behind expensive paywalls. However, if you want a taste of premium audio editing without spending the big bucks, WavePad could be what you're looking for. This app is completely free to use, with in-app purchases for other features.
In terms of audio file format support, WavePad provides support for multiple file types, such as AAC, AMR, GSM, OGG, MID, and M4A, to speak of a few. Apart from this, you can use effects such as echo, amplification, and noise reduction to edit your soundtracks. WavePad also features Audio Units which give its users access to thousands of different tools and effects.
Overall, this app is quite versatile and flexible in its usage and can be utilized for multiple different types of projects.
Pros
The free version has good features
Supports many file types
Audio units give access to thousands of effects
Cons
The premium version is quite expensive
Price: Free (In-app purchases start at $99.99)
5. RX Post Production Suite 7 – Best for professionals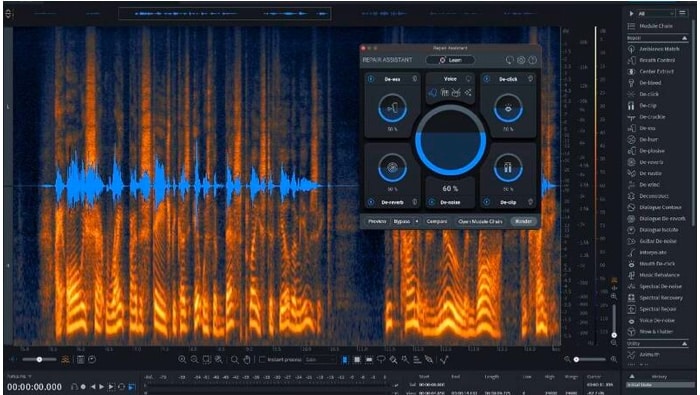 If you're a professional music producer and want the absolute best tool for audio editing on Mac, RX Post Production Suite 7 should be your first pick. This tool is only used by advanced users and audio editors who work on big-money projects. After all, this tool comes from the brilliant minds at iZotope, which has been leading the audio editing field for a few decades.
With the seventh iteration and update to the Production Suite, this audio editing software for Mac provides even more potent tools that take audio editing up by a notch. You'll find tools such as RX Advanced, Neutron 4, Insight 2, and Nectar 3 Plus, among others. Combine them together, and you have pretty much everything that you need for post-production audio.
Moreover, all the tools that you're using provide visual feedback. This gives you a decent idea of what you may need to change or where you're going wrong. Basically, as a professional audio editor, there's little else that you need.
However, this audio editing app is far too expensive for most people. Beginners will also have to face a steep learning curve when using the app's tools.
Pros
One of the most comprehensive audio editing software for Mac
Excellent for post-production audio
Support for thousands of plugins
Cons
Steep learning curve
The premium version is priced exorbitantly
Price: $999
6. Fission – Can process audio in batches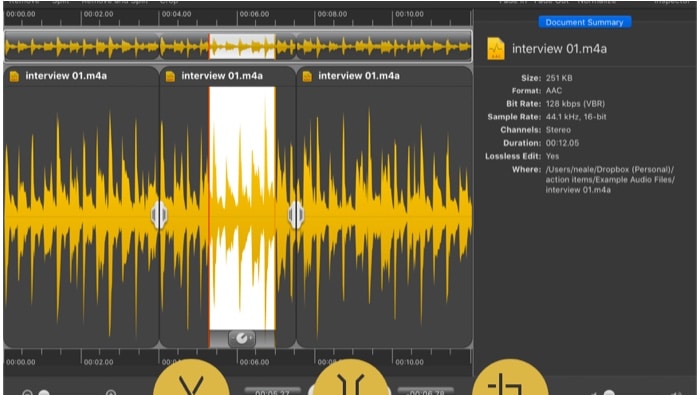 Sometimes, you'll have to produce audio in bulk instead of working on intricate audio. In such cases, it can be challenging as most audio editing apps don't allow batch processing of audio. However, Fission provides this capability and makes you work smarter, not harder.
You won't find too many advanced tools in Fission. It's a very simple piece of software designed to edit and create lossless audio. From cutting and trimming the audio to editing audio metadata, Fission provides the necessary tools for you to process audio easily. Nonetheless, it shines when you have to process plenty of audio files together and change them to various file formats, such as .aac, Apple Lossless, or even FLAC.
With Fission, what you see is what you get. This editing tool is designed to process audio faster and therefore lacks the more complex features you might see in other audio editing apps for Mac.
Pros
Convenient to use
Can process audio in bulk
Perfect for lossless audio editing and processing
Cons
Doesn't have too many advanced features
Price: Free (In-app purchases start at $35)
7. ocenaudio – Best for beginners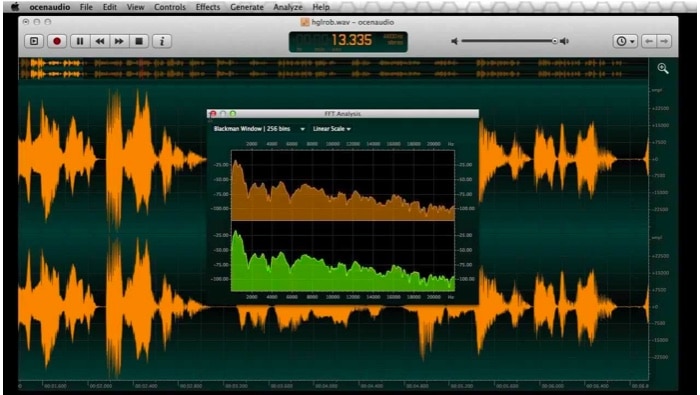 From the advanced post-production process of RX Production Suite 7, we move to ocenaudio. This Mac audio editing app is perfect for beginners who want to understand the concept and nuances of audio editing. Furthermore, the editing app is free to use, thanks to its open-source nature.
The user interface for ocenaudio is very clean, with no complicated buttons or options to overwhelm the user. Despite this simplicity, the developers have ensured that there's some element of modernity in the overall UI. Apart from this, you'll find the basic audio editing tools, such as track cutting and the ability to preview effects in real-time.
You'll also be able to work on large projects with this tool, as it can handle bigger files than most other editing apps. This is a nifty addition, considering others fail to handle files of multiple GBs. To sweeten the deal, ocenaudio also supports Virtual Studio Technology plugins.
In terms of disadvantages, you won't be able to edit or process multiple tracks together. Considering the importance of this feature, advanced users may be disinterested in the app quite easily.
Pros
Perfect for beginner-level audio editing
Can handle large file sizes
Also supports VST plugins
Cons
Can't process multiple tracks together
Price: Free
8. GarageBand – Syncs with iCloud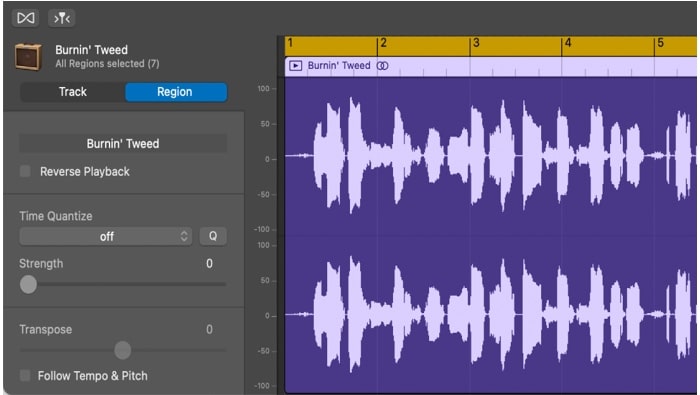 For a completely free audio recording and editing tool on your Mac, GarageBand is a pretty decent option. Moreover, if you're a beginner who wants to explore the world of audio editing, you can use GarageBand to start your journey.
Despite being a free app, it comes with all the necessary tools you require for audio editing. Moreover, it comes with a simple interface that doesn't perplex users or create unnecessary complications. Along with this, beginners can make use of the visual EQ to understand the process better and rectify their mistakes.
Although it comes with a host of features, its biggest flex has to be the fact that it syncs with iCloud. You'll be able to import or export all your songs directly through iCloud on GarageBand. Whether you want to experiment with a new song or want to save your remix, GarageBand's iCloud integration is a boon.
However, since the app is free, users will find that plenty of top-tier features are missing from the audio editing software.
Pros
Decent option for beginners
Completely free to use
Syncs with iCloud to import or export data
Cons
Doesn't have most of the advanced features
Price: Free
9. Reaper – Constantly improving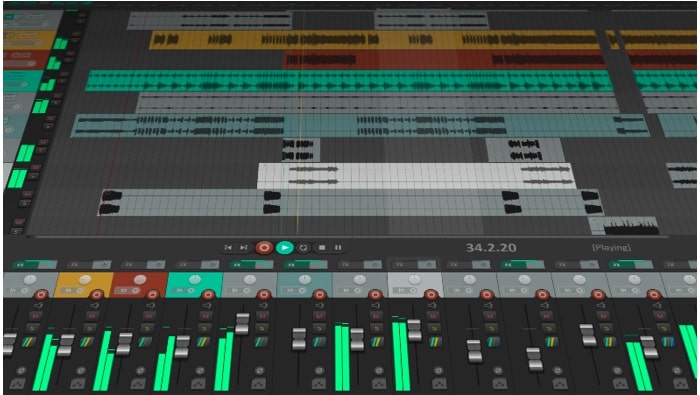 Most audio editing apps for Mac scarcely release updates. They add new features to a new version and charge the full cost. However, with Reaper, you won't have to worry about this issue. Reaper is one of the most advanced music editing software out there. For a one-time cost, you'll get plenty of the premium features that you'd find in the more expensive editing apps.
For example, Reaper is so tightly coded that you'll be able to install it from anywhere – whether that's directly from the cloud or through a portable drive. Moreover, it supports all the bit depths and sample rates imaginable. If that's not enough, Reaper also supports thousands of third-party plugins for virtual instruments.
Nonetheless, what truly sets Reaper apart from the competition is its constant updates. You'll frequently receive updates from Reaper after the full purchase. These updates will contain bug fixes, interface improvements, and even new features. The best part? These updates are frequent and FREE.
My only gripe with Reaper would be that it has a steep learning curve. Beginners will find it quite complex to use.
Pros
Constantly adds new features, improvements, and fixes
Provides support for third-party plugins
Has plenty of top-tier features
Cons
Not the easiest tool to use for beginners
Price: Free (In-app purchases start at $60)
Summing up
If you want to edit your audio to produce a few masterpieces, you're going to need the right tools for the job. With this list of the best audio editing software for Mac, you'll reach a few steps closer to your goal. I've covered these apps based on varied use cases. If you have any recommendations, let me know in the comment section below. I'll be sure to check them out!
Read more:
Readers like you help support iGeeksBlog. When you make a purchase using links on our site, we may earn an affiliate commission. Read more.
Anirban is a literature post-grad who delves in philosophy and postmodern novels when not writing on tech and gaming. His love for research is only trumped by his love for chai and heavy metal.