Whenever I am too stressed and can't sleep at night, my go-to solution is listening to white noise. Besides the all-night-long soothing ambient sounds, white noise also blocks disturbing surrounding sounds (snores, traffic, etc.).
However, finding the right background sound is not that easy. There are some built-in background sound options on iPhone, but you might need something better. To assist you in choosing the best white noise app for iPhone or iPad, I have compiled a list of my favorites.
But before that, let's know the scientific reasons behind the benefits of white noise for sleeping.
How does white noise aid sleeping?
White noise consists of frequencies the human ear can hear continuously. It turns out that constant sounds like waves, a circulating fan, and steady rain positively impact the human mind. According to research, white noise may enhance sleep quality by lowering the hearing threshold.
Besides, it lessens the symptoms of ADHD in youngsters and can even somber up a crying baby. The idea is so popular that there is a "Sleep" category on Apple Music, with a ton of white noise tracks for sleeping.
Having said that, let's jump into the 9 best white noise apps:
1. Calm – Editor's choice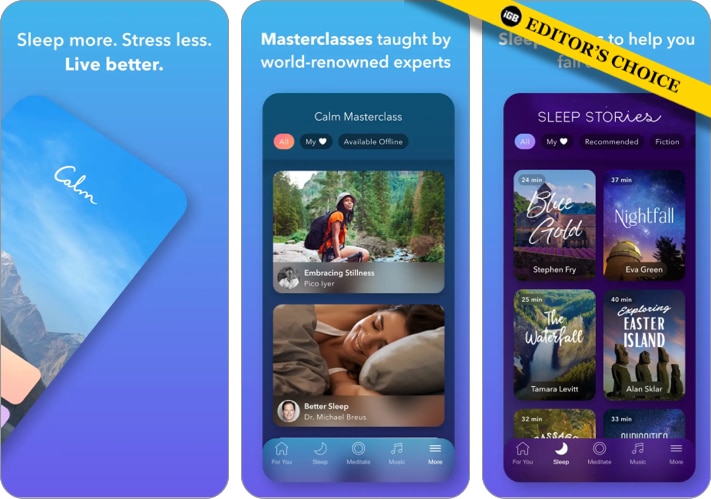 Calm is an award-winning meditation app that deals with anxiety, sleep deprivation, and productivity. To improve sleep and strengthen your concentration, it offers a vast collection of stretching routines, breathwork, sleep stories, white noise, guided meditations, etc.
Even leading psychologists and therapists endorse Calm for its soothing white noises. It's best to improve concentration, relaxation, and sleep. You may choose from more than 100 unique Sleep Stories, including well-known actors like Matthew McConaughey and Stephen Fry.
These bedtime tales help to put you to sleep soundly and deeply. Also, specialized soundscapes for sleep include babbling brooks, heavy rain, and ocean waves. You can use the app on iPhone, iPad, Apple Watch, and Apple TV. But the free version has very limited usage, and the premium is a bit expensive as a white noise app for iOS.
Pros
Special soundscapes for sleep
Lots of sleep stories
Easy to use
Cons
Pricey subscription
Limited free content
Price: Free (Premium subscription starts from $14.99)
2. Headspace – Best sleep meditation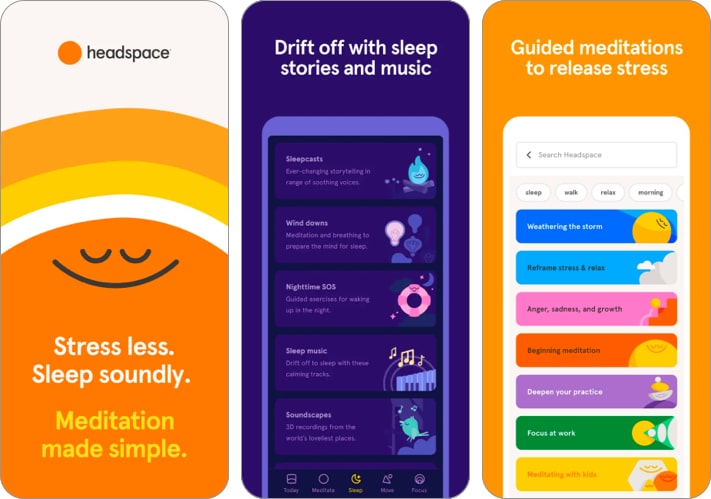 Like Calm, Headspace is a meditation tool offering relaxing sounds and white noise. The app offers a great UI with lovely small drawings and darker hues for eye comfort. It provides a one- or two-week trial, so you may test them out and determine if you want to pay for it.
You will find 500-minutes long white noise in Soundscapes, Sleepcasts, or Sleep Radio. The SoundScape contains six categories with over 40 tracks like Ocean Time, Way of the Forest, Winter Days, Traffic noise, etc. The best part is all soothing music is in 3D, and optimized sound flows. But you can't add your sound layers to downloaded music.
The Sleepcasts feature turns off the narrative and plays the background noise only with guided images. There are more than 50 Sleepcasts available. I discovered that the 45 minutes of Sleepcasts were enough to put me to sleep. But I needed to hit "Begin" and then "Play" every time playing sounds. Also, it takes a while to buffer at first and stops playing if I leave the app.
Pros
12 Focus music stations
Integration with Apple Health
Good interface
Cons
Inconvenient to use daily
Don't run in the background
The free version provides very limited content
Price: Free (Subscription starts from $12.99)
3. BetterSleep – Feature-packed app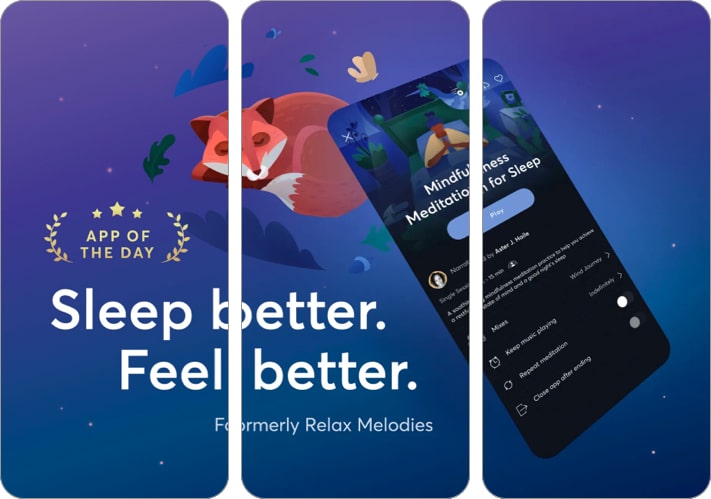 The BetterSleep app, previously known as Relax Melodies, improves your sleep with over 300 calming sounds. You can find categories like a crackling fire, wind, ocean, rain, birdsong, etc., natural noises, and white noise for sleeping, such as hairdryers, aircraft, vacuum cleaners, and fan noises.
Besides, it offers sleep stories, guided meditations, breathing exercises, and a section for people's favorite mixes. I liked the customization choices in designing soundscapes. With its user-friendly bedtime reminders, sleep tracker, sleep recorder, and quality sleep sounds, you can understand and improve your sleep. 91% of app users report improved sleep after only one week.
Pros
Integrated sound mixer
Sleep recorder and tracker
Brainwaves feature
Regular app content updates
Cons
Only 2 sleep stories and 4 meditations are free
Too many notifications
Price: Free (Premium starts from $9.99)
4. White Noise Deep Sleep Sounds – Best for babies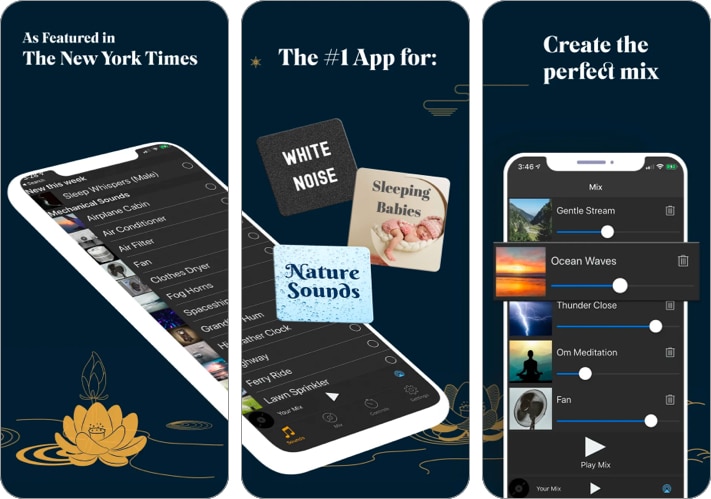 This app is best for helping sleep troubled adults and babies with irregular sleep patterns. In the free version, you will find over 25 adjustable white noise and deep sleep sounds of the rain, the crickets, frogs, distant thunder, waves of the ocean, etc.
However, I feel some sounds repeat after every ten or so, which feels less authentic. I liked the autoplay feature, which starts the track when the user opens the app again. Without premium, you can listen to white noise for 8 hours, mix two sounds together, and set a timer.
The app can run in the background, so you can use any other app. If you want to customize your soundscape, you'll need to subscribe. After that, add additional mixes and include an extra-long fade-out for an hour.
Also, the premium version only has a Brainwave function with high-quality 3D stereo sound. Besides, you may get 60 premium sounds and eliminate advertisements.
Pros
Specific white noises for babies
Widget and AirPlay 2 support
Autoplay last track
Price: Free (Subscription starts from $1.99)
5. Portal – For an immersive experience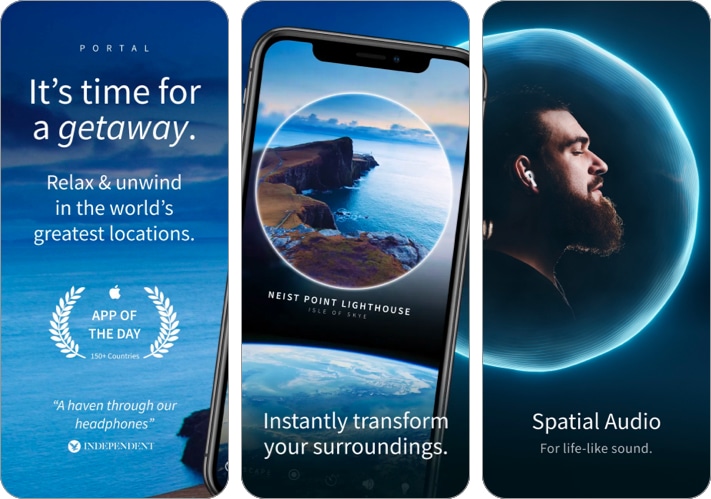 Portal is an immersive soundscapes app that reduces stress and enhances your sleep and mental health. It uses immersive technology, like spatial audio, intelligent lighting, and retina-quality motion images. So, the user will feel serene places like a tropical beach in Thailand, the Amazon Rainforest, the Himalayas, etc.
It has 6 free portals and all over 49 immersive true-to-life spatial audio tracks of the world's most stunning and tranquil places. You may use the audio mixing features to incorporate your preferred podcast, audiobook, music, etc. Besides, the sunrise wake-up alarm is perfect to start your day.
I personally liked using the app for its award-winning UI with stunning aesthetics and easy-to-use navigation. The Siri Shortcuts support is another great feature that enables you to use voice control and one tap. I used the Pomodoro concentration and sleep timer to maintain my attention.
To know more about the Portal app, read our detailed review here.
Pros
Immersive technology
Support for Siri Shortcuts
Smart light connectivity
Cons
Visual sync with room lights needs improvement
Price: Free (Membership starts from $9.99)
6. Sleep Sounds by Sleep Pillow – Simple and minimal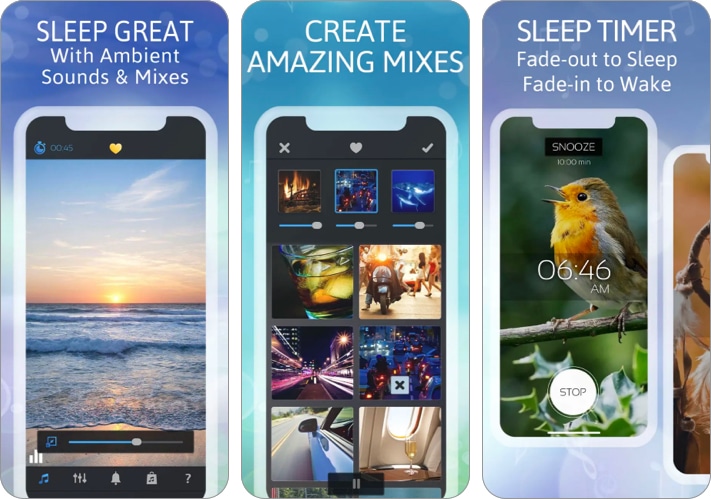 If you don't need a lot of fancy features, Sleep Sounds app from Sleep Pillow is the ideal free white noise app for iPhone. Each high-quality soundtrack has its own graphic; when you tap on it, the sound starts playing non-stop. You may set a timer to turn off the sound and use other apps while listening to your favorite soundscape.
The free edition only has around 8 realistic tracks, including the most popular white noise for sleeping like a rainforest, soft rain, and beach waves. You may buy more than 280 audio clips and 300,000 combos from premium sound mix packages. Out of all the free noises, I felt the rain and ocean waves were the most soothing.
It also has a sound mixer, alarm clock, and all-night-long sleep timer. You can change the volume levels of each component in your mix and save it. The free version allows you to mix three sounds maximum and save only customized tracks. I found it has limited content, unlike others.
Pros
Pre-mastered highest quality audio
User-friendly with basic features only
Moody nature images for each track
Cons
Can't turn off the phone
Sleep mode is full of ads
Price: Free (Subscription starts from $4.99)
7. Rain Rain Sleep Sounds– Free app with no ads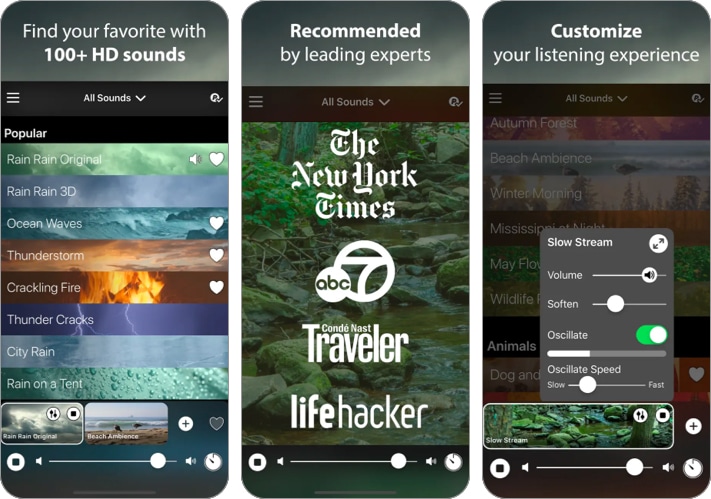 Who doesn't like the rhythmic sound of rain? The app comes with a range of water sounds ranging from the noises of a washing machine, a dishwasher, and a faucet to the ocean waves, thunderstorms, and other rain noises. You may choose from 50 free HD sound effects, like rain on a tent, city rain, or windy storm.
My favorite is the sound of flowing water, streams, and birds over the ocean. You can combine different sounds and adjust sound speed and loudness. The soften option helps to modify each sound's pitch. I will praise the sleep timer with a fade-out feature that remembers a user's preferences and begins on its own every time.
This white noise app has AirPlay, Bluetooth, and background audio support and works without the internet. The premium at only $4 per month offers over 60 more sounds. After signing up, there is a free trial period of one week.
Pros
No audio or video ads
Unlimited playback time
Good customization options
Cons
Sound volume glitches sometimes
Price: Free (In-app purchase starts from $1.99)
8. myNoise – 10 color-coded sliders
The myNoise app provides over 200 interactive soundscapes and background noises like rain noise, binaural beats, temple bells, etc. It has a special customization procedure to align white noise to your hearing thresholds. Hence, you can create sounds with lower decibel levels and alter the hue of your noises, including white, pink, and brown.
Pink noise sounds like constant rain or wind, white noise is similar to radio static, and brown noise is significantly harsher, such as a raging river. The app also has an alarm for a gradual wake-up and a sleep timer to turn off the music. I loved the "I'm Feeling Lucky Button," which provides a new variety of sounds.
The best part is listening to music on Spotify while hearing rain noises. As per my experience, the website has more sounds than the app. You can buy any single track in return for $1 in the app. With the paid "All you can hear" bundle, you can access 250 generators and 40+ calibrated sounds.
Pros
Color-coded calibrated noise generator
Best to use with headphones
Cons
The website is better than the app
Price: Free (In-app purchase starts from $0.99)
9. ShutEye – Built-in snore detector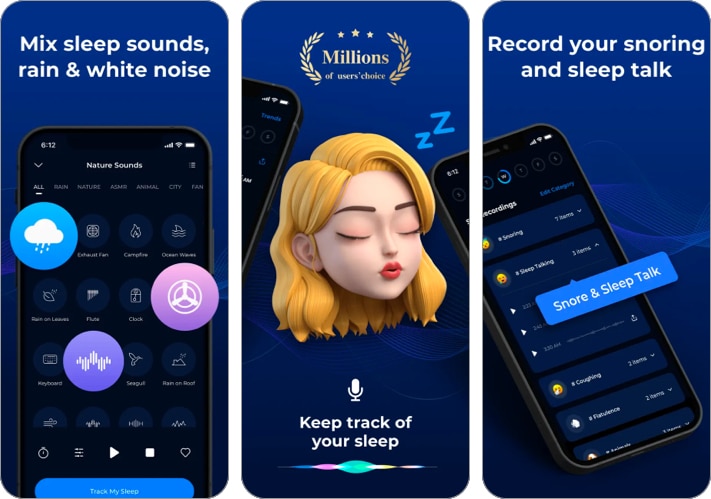 ShutEye's sleep tracker and calming background sleep noises offer a broad range of options to aid in getting deep sleep. You may listen to a bedtime tale to relax and gently awaken with a smart alarm. The various options, including white noise and natural sounds, allow you to create your own mix.
The integrated sleep monitor comprehends your sleep patterns from a scientific standpoint. Besides, the snoring detector lets you know how loudly you snore at night. You may analyze everything from your Apple Health app. I liked the ShutEye sleep tracker widget. It allows you to monitor your sleep with one-swipe right from your home screen.
Pros
Scientific sleep analysis
Sleep tracker widget
Snore and sleep talk detector
Cons
Lacks smart sensors
Turn on/off manually
Faulty sleep tracking
Price: Free (Subscription starts from $3.99)
FAQs
Q. Is it OK to listen to white noise all night?
White noise has frequencies at equal intensity. Therefore, it can cover up intense, disturbing sounds that activate your brain while sleeping. But loud white noise levels that exceed the permissible decibel level can damage hearing. Therefore, while it may be tempting to keep the white noise on all night, it is not advised.
Q. How do I use my iPhone as a white noise machine?
You may use your iPhone as a white noise machine and listen to soothing music for the whole night. To do so, open Settings → Accessibility → Hearing → Audio/Visual → Background Sounds. Now just turn it on.
So, that's all, folks!
Using a white noise app for iPhone is a convenient and helpful way to fall asleep. Besides, additional features like sleep tracking and breath analysis improve your sleep quality and get relief from anxiety and stress. My favorite one was Portal. Which one helped you in getting to sleep? Let me know in the comment section below.
Read more:
Readers like you help support iGeeksBlog. When you make a purchase using links on our site, we may earn an affiliate commission. Read Disclaimer.