The introduction of the new Vision Pro headset has likely eclipsed every update and new feature introduced in WWDC 2023. Amid these, one you may have overlooked is the latest version of Apple TV software – tvOS 17.
After two years of just giving minor updates, Apple has finally given tvOS a major revamp with an array of fascinating features. In this article, I'll walk you through all the new features of tvOS 17, the devices that will support it, and its release date.
tvOS 17 supported devices
Apple TV HD
Apple TV 4K (first generation)
Apple TV 4K (second generation)
Apple TV 4K (third generation)
New tvOS 17 features
Here are all the features arriving on your Apple TV with tvOS 17.
1. Completely redesigned Control Center and Profiles
Before we get to the Control Center, one noticeable update to the tvOS is the addition of another app slot in its Dock, giving you six instead of the original five apps housed in the Apple TV Dock.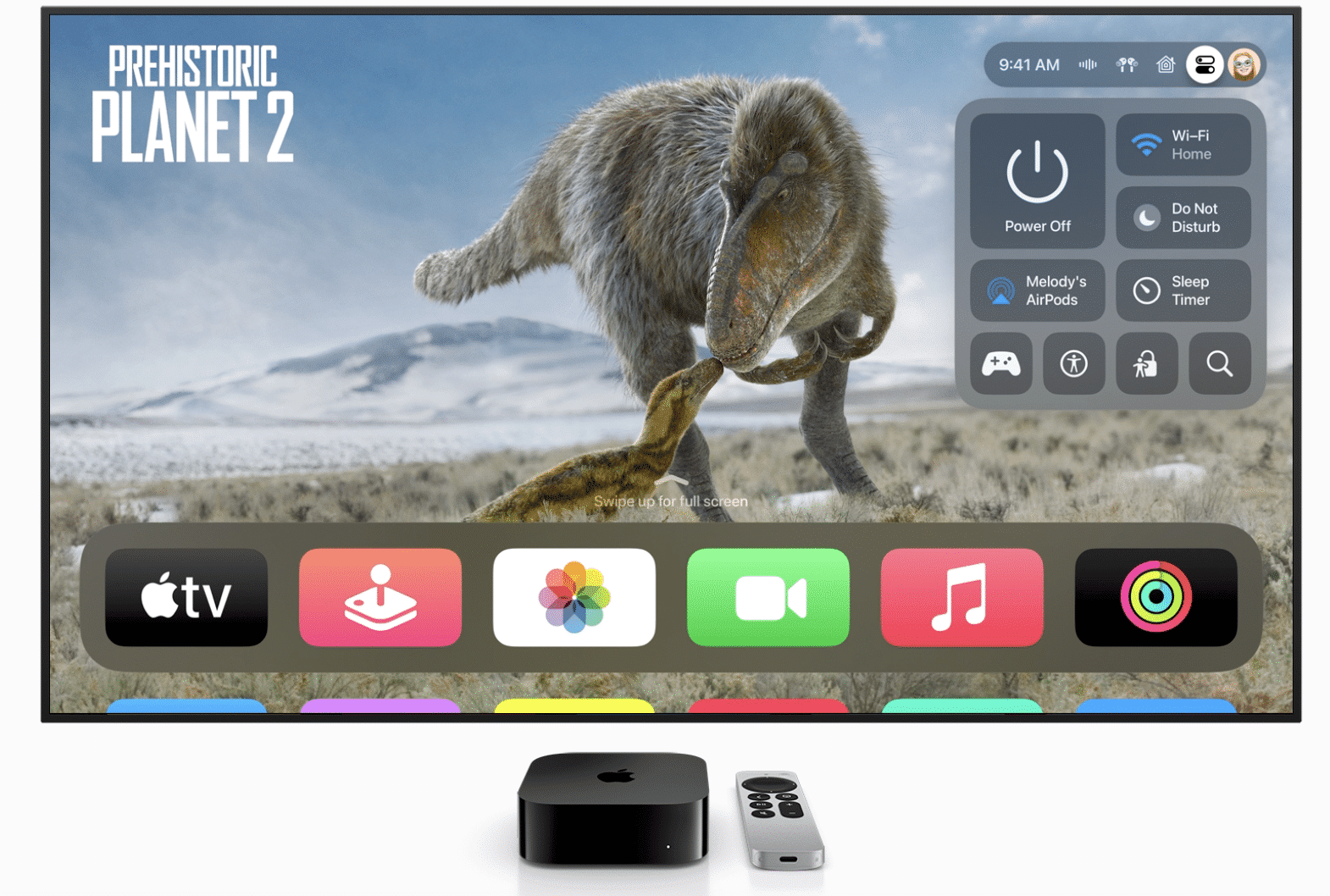 The Control Center in tvOS 17 resembles the one found on iPhones, featuring multiple panels. Having such a Control Center on an Apple TV enhances the ease of navigating through different settings and controls.
Another nifty feature has been brought to the Apple TV remote shortcut on your iPhone. With fast Profile Switching when brought closer, the iPhone remote can now instantly wake up its corresponding Apple TV. Additionally, with machine learning, Apple TV will give personalized recommendations based on the shows you recently watched.
What's more, you can customize your user profile by modifying the system language and pairing your own set of AirPods for a more personalized experience.
2. Locate Siri Remote with iPhone
You can expect a more robust integration within the Apple ecosystem on tvOS 17. Aside from letting you access your own Apple TV profile, the Apple TV remote in your iPhone also enables you to locate your Siri Remote (2nd generation or later).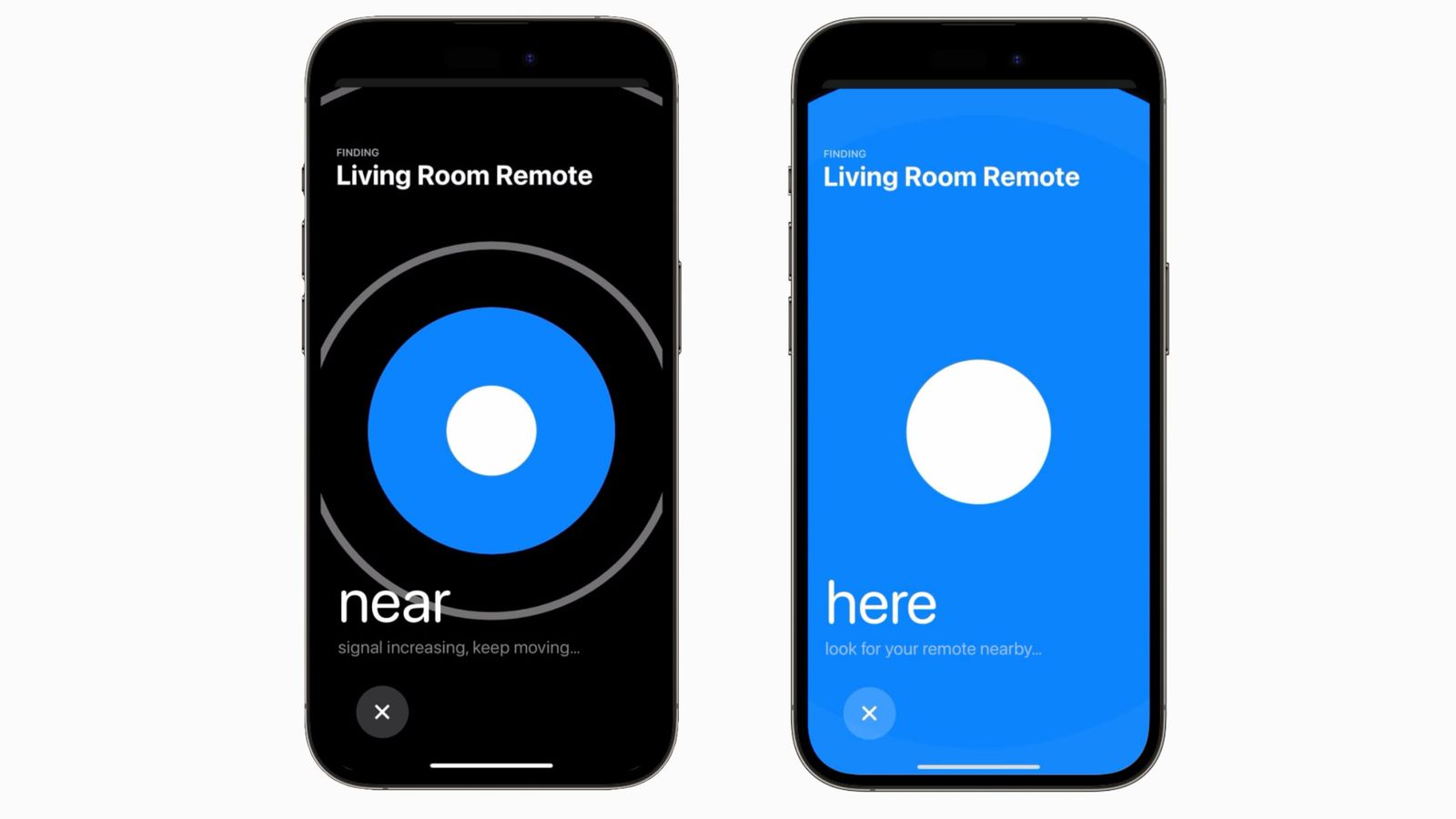 As you get closer to the remote, you'll see an onscreen circle growing in size to indicate that you're nearer—very similar to the Hot and Cold game we used to enjoy as kids.
3. FaceTime comes to Apple TV 4K
The home's living room is the best place to engage in meaningful conversations with family members. With tvOS 17, users can now FaceTime on their Apple TV 4K.
With the software update, you can now initiate calls directly from the TV or start them from your iPhone or iPad and hand them off to your Apple TV. The device uses Continuity Camera and leverages your iPhone or iPad's camera and mic to let you enjoy your call on a much bigger screen.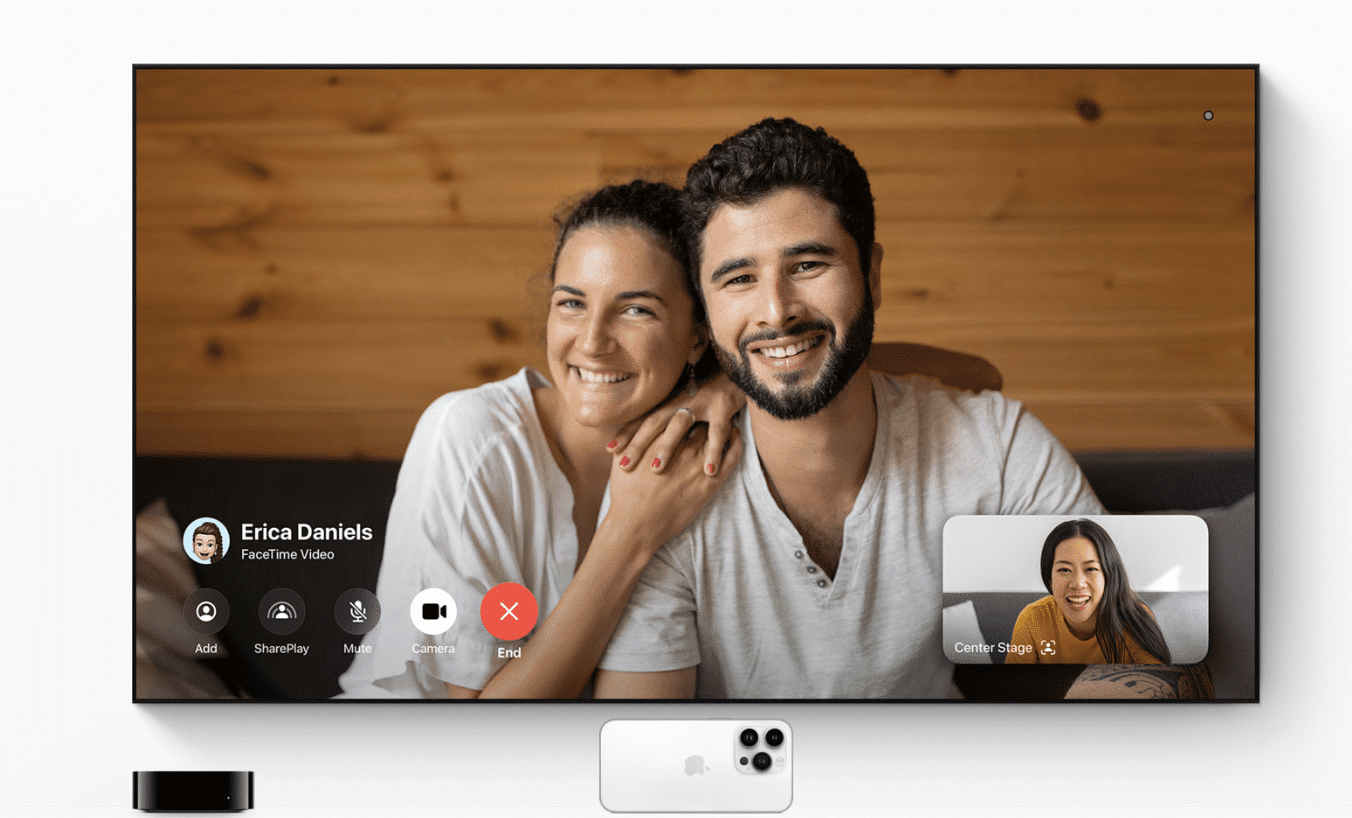 Center Stage uses machine learning to keep you and anyone else in the conference call in the frame. Plus, you can also expect the onscreen effects triggered by a gesture that comes in with iOS 17 and iPadOS 17 on your Apple TV!
FaceTime on a TV seems a good idea — but an even better idea? SharePlay. With Split View for Apple TV, you can hop on a FaceTime call and have a SharePlay session with them to enjoy your favorite series or shows simultaneously.
4. Third-party app support
Apple's support for FaceTime is not restricted to just that. In the near future, popular video conferencing apps such as Zoom and Webex will also be available on tvOS.
Apple also granted developers access to Continuity Camera APIs, allowing them to integrate the camera and microphone of iPhones or iPads into their apps on Apple TV. This exciting development paves the way for more immersive entertainment and shared experiences on the platform.
For example, Apple Music Sing, an app that lets users sing along to their favorite songs, will leverage Continuity Camera so that users can see themselves onscreen and put on fun filters as they sing the beat.
While competitors like Google/Android TV have long allowed third-party VPN apps on their TVs, Apple is finally catching up. tvOS 17 now lets you download third-party VPN apps to your Apple TV. Before this, the only way to use VPN on your TV is to run the VPN through your router or share a VPN connection from your computer.
Having a VPN on your Apple TV makes streaming and conferencing more secure (it keeps your activities hidden from your service provider) and removes regional restrictions in streaming apps—which means you can access your favorite shows that aren't originally available in your region.
5. Turn Memories into Screensavers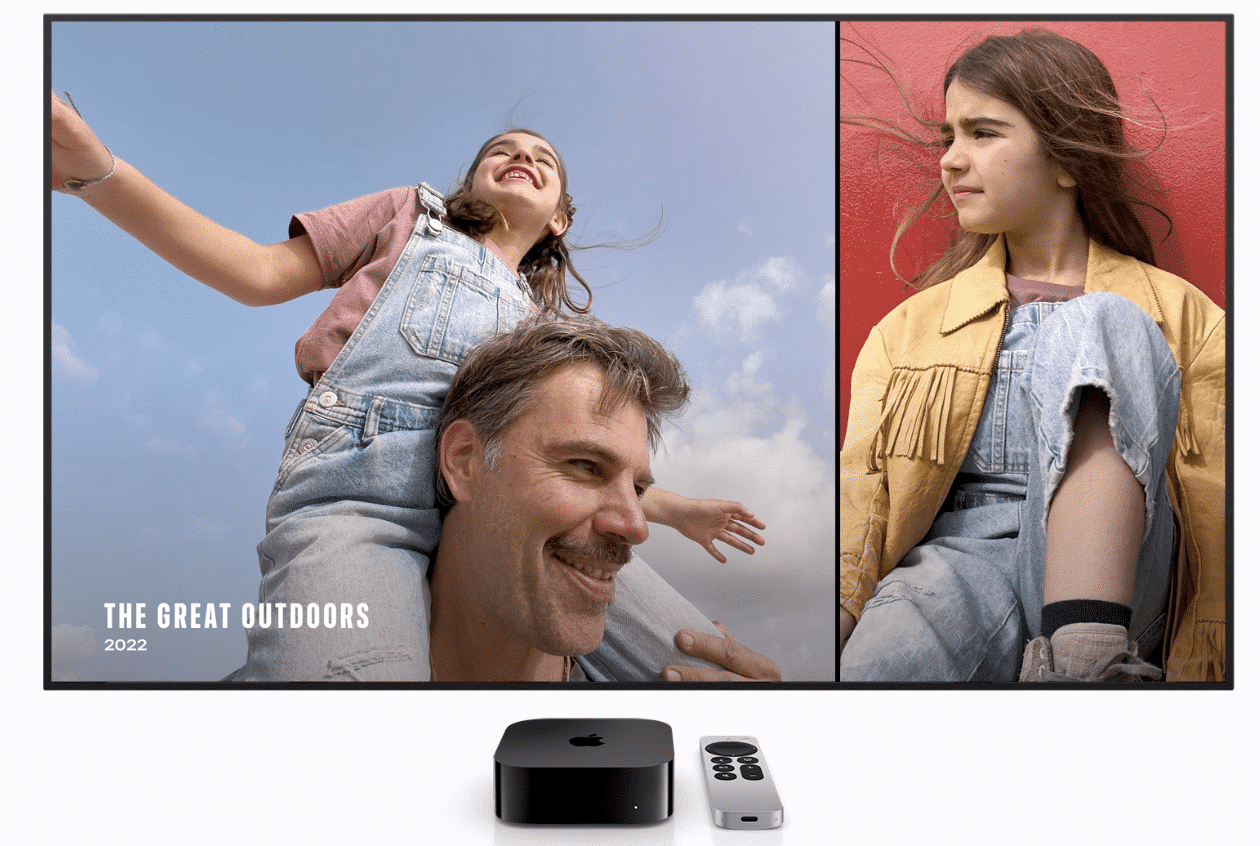 Aside from streaming videos and shows, reliving memories and old clips is always more fun on the big screen. With tvOS 17, you can now enjoy your curated Memories from your personal library or shared memory on your Apple TV. If you don't want your own pictures, you can also view Apple's collection of sceneries.
6. Other tvOS 17 features
While the ones above are already awesome, tvOS 17 also brings several minor improvements that further enhance the Apple TV experience:
Enhanced dialogue: This feature isolates the dialogue from the surrounding background noise, bringing it to the forefront to make it easier for users to hear and understand the words amid the music and sound effects.
Dolby Vision 8.1 support: This update provides users with a more cinematic experience by offering surround sound with dynamic metadata across a broader range of shows.
Apple Fitness+ tweaks: With this update, Apple Fitness+ lets you have a personalized workout or meditation schedule based on factors such as workout type, day, and duration. Audio Focus enables you to bring the music or the trainer's voice to the forefront; Stacks allows users to seamlessly select and complete multiple meditations and workouts.
tvOS 17 release date
As of writing this article, tvOS 17 is only available in its Developer Beta form.
The stable version of tvOS 17 is expected to roll out in September 2023, along with the launch of new iPhones.
Interestingly, Apple recently announced that anyone can sign up for the Developer Program free of cost and then test the latest Apple TV software.
How to install tvOS 17 developer beta on Apple TV
Launch Settings on your Apple TV.
Choose System → Go to Software Updates.
Select Get Beta Updates.
Proceed by agreeing to the terms.
Now, if you're eligible, you'll be given the option to choose tvOS 17 Developer Beta.
That's it! You can now update your TV to the latest version available.
Wrapping up…
The Apple TV used to feel more than a standalone device outside the Apple ecosystem. But tvOS 17 happily introduces it to the group, with Continuity Camera expanding the possibilities of what a smart TV can do.
What Apple TV feature are you looking forward to? Share them below!
Read more:
Readers like you help support iGeeksBlog. When you make a purchase using links on our site, we may earn an affiliate commission. Read more.
Rachel loves anything Apple —from iPhones, to Apple Watches, to MacBooks. She is also a medical writer and a ghostwriter for various publications.