You have been watching your favorite movies, playing games, and listening to your music on Apple TV. But do you care for your premium device? If not, think about your Apple TV accessories. These accessories not only protect your smart TV but also enhance your viewing experience. I have taken enough care to select a peripheral that matches the excellence of your premium set-top box. Now you can elevate your home entertainment to the next level with the best Apple TV 4K accessories.
1. 4K HDMI Cable from Belkin
Connect your Apple TV to your TV with a 4K HDMI cable from Belkin. You can also use this cable with your streaming devices, gaming consoles, Blu-ray players, projectors and more. This cable supports the 4K/120Hz resolution and frame rates.
Enjoy transfer speeds up to 48Gbps and Dolby vision and HDR 10 compatibility. This 6.6 feet (two meters) HDMI cord comes with a two-year limited warranty.
USP: 48Gbps transfer speed
Check out on Amazon
2. SteelSeries Nimbus Wireless Game Controller
This game controller is specially designed for Apple TV. The controller boasts 40+ hours of rechargeable battery life, which allows you to play your favorite games for hours together on Apple TV.
Check that the Menu button on the controller; this button helps you navigate contents instantly. Do you have a partner, who can play with you? Now connect two controllers for multiplayer gaming.
USP: 40+ hours rechargeable battery life
Check out on Amazon
3. AirPods 2
If you don't want to disturb others while watching your movie on Apple TV, you can connect AirPods 2 to your Apple TV. Apple launched its second-generation AirPods with H1 chip and wireless charging facility.
In case the AirPods 2 is not in your budget, you can also go for the first generation of AirPods. Alternatively, you can pick up a wireless charging case alone and use your current AirPods.
USP: Wireless charging case
Check out on Apple
4. Siri Remote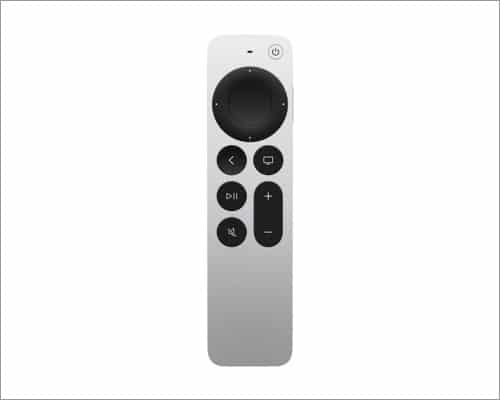 The 2nd-gen Siri Remote boasts a great new design for easy and precise control of your Apple TV 4K and Apple TV HD. It's got an innovative touch-enabled clickpad to click titles, swipe through playlists, and find just what you're looking for.
The circular gesture on the outer ring keeps things intuitive and smooth, so you can quickly move through a movie or show to find the scene you're looking for. Of course, it's Siri-enabled to help you find things with your voice too.
USP: Complete control
Check out on Apple
5. Sony X9000F 2.1ch Soundbar with Dolby Atmos
Watching movies with 3D surround sound is an incredible experience for you and your family. You can enjoy this on Sony Sound Bar with Dolby Atmos and wireless subwoofer. Its seven sound modes give you the full joy of movies, music, gaming, news, and sports.
To connect this sound bar with your Apple TV, you need an HDMI, HDMI ARC, or HDMI eARC. Once the connection between your Apple TV and soundbar is established, you will have unlimited fun. With a click of the button on remote, you can convert any audio into the immersive surround.
USP: 71.2 surround sound
Check out on Amazon
6. Beats Studio 3 Wireless Headphones
Pure adaptive noise cancelling (ANC) is one of the glaring features of Beats Studio 3 wireless headphones. When you are consuming your choice of content, you only listen to dialogues and music, and not noise. With a strong battery life of up to 22 hours, you can continue watching movies and TV shows on your Apple TV.
Apple has installed W1 chip in these wireless headphones. This chip ensures seamless setup and switching for your Apple devices.
USP: 22 hours of battery life
Check out on Amazon
7. Anker Bluetooth Keyboard
Anker is one of the leading brands of Apple accessories. This Bluetooth keyboard is ergonomically designed to reduce wrist pain while you are typing. Enjoy cable-free and clutter-free connection with your Apple TV.
QWERTY layout has dedicated function keys to increase your typing speed. It's auto sleep/wake function saves battery life.
USP: Long-lasting battery
Check out on Amazon
8. ReliaMount Apple TV Mount
Fix your Apple TV right behind your TV and enjoy watching movies and TV shows. ReliaMount is a perfect Apple TV mount you can attach to the back of your television using a special adhesive.
This mount is compatible with all Apple TVs including the latest Apple TV 4K and 2nd, 3rd, and 4th Apple TV generations.
USP: Compatible with all Apple TVs
Check out on Amazon
9. elago R1 Intelli Case
Made of durable and soft silicone, this Apple TV Siri remote case is a perfect fit for your fourth and fifth generation TV remote. This Intelli case provides the best grip and drop protection to the remote.
You can attach your TV remote to any metal (and television) surface as the case is equipped with magnet technology. Even after installing the case, you can access all the remote functions quickly.
USP: Magnet technology
Check out on Amazon
That's all friends!
Wrapping up…
Apple TV is an excellent source of entertainment, and therefore, it requires special care. Although not all accessories can protect your 'hobby device,' they can certainly better your TV watching experience.
Related Posts:
Which of the above Apple TV accessories do you like the most? Share your feedback with us in the comment section.
Readers like you help support iGeeksBlog. When you make a purchase using links on our site, we may earn an affiliate commission. Read more.
Jignesh Padhiyar is the co-founder of iGeeksBlog.com, who has a keen eye for news, rumors, and all the unusual stuff around Apple products. During his tight schedule, Jignesh finds some moments of respite to share side-splitting content on social media.