A keyboard gives me the extra comfort to operating my Apple TV in my room. I can put my keyboard on my lap or keep it on the armrest of my chair. You can also experience this comfort by purchasing one of the best Apple TV Bluetooth keyboards from this list.
1. iPazzPort
iPazzPort has designed this wireless keyboard that can be handled easily with your hands. Once you connect this keyboard with your Apple TV, you can quickly type buttons to search contents and sign into apps.
The best thing about this Bluetooth keyboard is that you can also use Siri Remote as one side is for voice search and another side is for keyboard search. This compact keyboard doesn't occupy much space and you can use it comfortably.
USP: Mini size design
Check out on Amazon
2. Apple
When it comes to Apple products, saying anything about the product's quality is meaningless; everyone knows how premium quality the company offers. Let me start with the typing feeling using the Magic keyboard; it was incredibly soft and smooth. Of course, Apple products are a bit pricey, but they deliver comfort, durability, quality, and best-in-class customer support.
Apple's Magic keyboard can last for 30 days after a full charge. With the built-in batteries, you won't need to replace them as you do with other keyboards. You get a Lightning to USB cable in the box, which is used to charge the keyboard and use it as a traditional wired keyboard.
USP: 30-days battery backup
Check out on Amazon
3. Logitech
Logitech is a leading accessory maker, high-quality manufacturing products for the Apple eco-system. This wireless Bluetooth keyboard is ultra-portable and light; you can go anywhere as this keyboard fits in your pockets, purse, or briefcase.
While watching your favorite movies or TV shows, you may spill your drink on the keyboard. This durable keyboard is made of fabric skin, which protects it from spills, dirt, and drops.
USP: Spill-resistant
Check out on Amazon
4. Macally
Macally brings a multisync keyboard for your Apple TV. You can connect this wireless keyboard with three Bluetooth enabled devices simultaneously to achieve maximum productivity at home or office. This ultra-slim keyboard has 110 keys, including 20 shortcut keys, presets, and a number pad.
With only 15mm of thickness, this keyboard is convenient. Use this keyboard for three hours every day and you can keep using it for three months with its built-in rechargeable battery. Its fast scissor flexors enable users to type quietly.
USP: Quiet typing
Check out on Amazon
5. Fosmon
Here's an innovative and compact QWERTY keyboard with a touchpad that provides comfort coupled with the freedom of wireless connectivity. It's compatible not just with your Apple TV but all of your other devices, too, such as your phone or PlayStation.
It has an operating range of approximately 33ft/10m, and the rechargeable battery offers up to 10 days of working time and up to 50 days of standby time. Moreover, it is backlit so that it can be used in the dark too. It comes with a limited lifetime warranty.
USP: Good range and battery backup
6. Arteck
This elegant LED keyboard with two brightness levels and an auto-sleep feature is designed to optimize power usage. It is compatible with all major operating systems, and the rechargeable battery gives up to six months of life at a stretch when used for a couple of hours each day.
Further, it is sleek and ultra-thin plus lightweight. This compact size makes it easy to carry around with you wherever you go. Lastly, the keys are incredibly responsive, which makes it a breeze to use.
USP: Beautiful Colors
Check out on Amazon
7. IKOS
The foldable design of the IKOS keyboard impresses users. When you start typing content, you feel the comfort, as each key is set independently. There is little chance of you pressing multiple keys at the same time.
IKOS uses a unique PlayXTend battery that allows you to use the keyboard for eighty hours once you charge the battery for two hours. The smooth keypress invites you to type more content.
USP: Smooth typing
Check out on Amazon
8. Logitech EasySwitch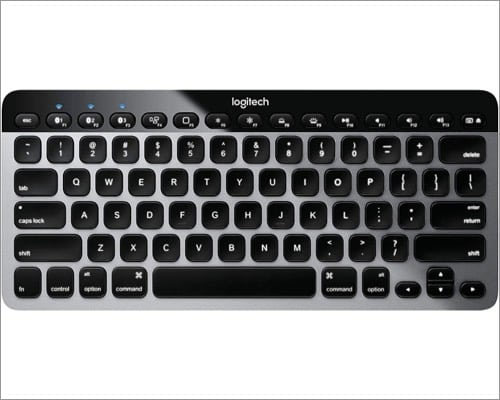 This is a high-end Bluetooth keyboard that's perfect for your Apple TV and other devices. It would be an excellent choice for working from home.
With the touch of a button, you can instantly toggle between typing on your Mac, iPad, and iPhone. It has a range of up to 30 feet (9 meters) for your devices.
Further, the sharp, bright backlit eyes make sure you can type easily, even in the dark.
USP: sturdy and sleek
Check out on Amazon
9. Rii
This one is a bit of a gamer's keyboard when looked at for the first time. But it has all the features that you may want while using it with Apple TV. It has a trackpad for easy navigation in addition to many other features. The trackpad also supports finger-gestures to get things done quickly.
The battery life of the keyboard is long-lasting as it automatically sleeps after noticing inactivity of 3 minutes. Pressing any key will wake it up. Also, the keys have LED-backlit, useful while watching TV in the dark. Lastly, the keyboard is available in a few colors to suit your interior.
USP: Trackpad with finger gesture support
Check out on Amazon
That's all, mate!
So Which Keyboard Are You Going to Buy!
Apple TV is mostly used for entertainment purposes, and therefore, a Bluetooth keyboard for your smart TV has to be compact. You should be able to keep the keyboard on your leg, night-stand, or on the armrest of your chair. Which Bluetooth keyboard can give you all the comforts?
You may like to explore more accessories:
Readers like you help support iGeeksBlog. When you make a purchase using links on our site, we may earn an affiliate commission. Read Disclaimer.