To enjoy movies and games on your new Apple TV 4K, don't depend on the TV's built-in speakers. Instead, get the finest soundbars to enjoy audio output compatibility up to Dolby Digital 7.1. So, if you are looking for the best soundbars for Apple TV 4K, here's my curated list.
1. JBL Bar 5.1 – Editor's choice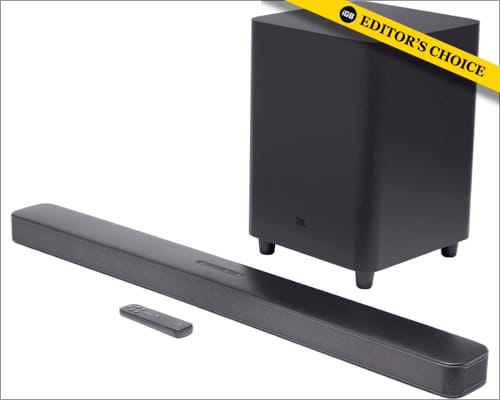 The JBL Bar 5.1 is a wireless 5.1 home theater system with a soundbar. So, it provides movie and music listening experiences thanks to integrated Dolby Digital, Dolby Pro Logic II, HDR 10, and DTS technology. The soundbar has two detachable battery-powered wireless surround speakers with up to 10-hour runtime.
Besides, you will get 510W total system power and a 10″ wireless subwoofer. You can connect your 4K TV through an HDMI cable. Also, the soundbar has JBL SoundShift to switch between the TV and your phone or tablet. The best part is it's a soundbar that works with an Apple TV remote. Chromecast, Airplay2, Bluetooth, and Alexa multi-room audio are also supported.
Pros
JBL SoundSwift technology
Up to 10 hours of playing time
Thrilling base with crispy highs and punchy lows
Cons
No built-in voice booster for audio clarity
Check out on: Amazon
2. Bose Smart soundbar 900 – Modern technology equipped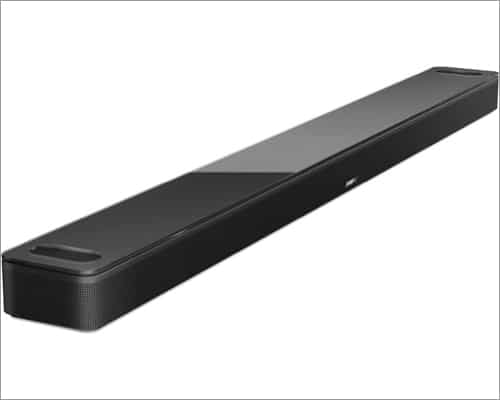 A soundbar must provide a theater-like experience, and Bose Soundbar 900 is ideal for this. The Dolby Atmos with this one offers a level of realism that no other soundbar can match. Exclusive Bose technologies enhance music by isolating instruments, conversations, and effects. So you can immerse yourself in your 3D movies and games.
Also, unique PhaseGuide technology beams multi-directional sound to diverse sections of your room. Besides, the cabinet has nine speakers, including two new upward-firing dipole transducers. You can use your voice to control your entertainment and acquire information with Alexa and Google Assistant. The noise-canceling microphones work together even when your music is playing loudly.
Additionally, the Bose Voice4Video technology enhances your Alexa speech skills. Because of Wi-Fi, Bluetooth, built-in Chromecast, Apple AirPlay 2, and Spotify Connect compatibility, you can wirelessly stream all of your favorite music services. You may listen to your audio via the Bose Smart Soundbar 900 if it's accessible on your mobile devices.
Pros
ADAPTiQ technology for audio calibration
Versatile Bose Music app
Exclusive Bose Voice4Video™ technology
Cons
Have connectivity issues, especially with Alexa
3. Samsung HW-S60B 3.1ch soundbar – With game mode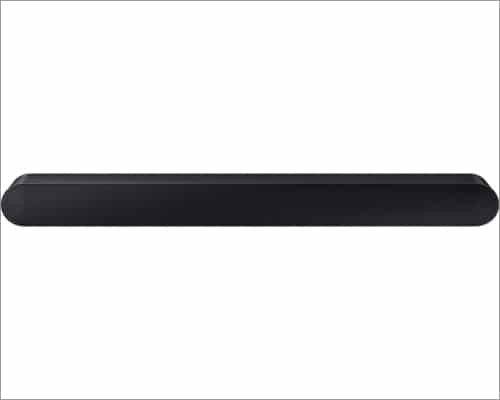 Samsung is the first brand to launch a wireless Dolby Atmos soundbar. It generates genuine 3D sound by projecting it from all around you. And DTS Virtual: X improves your listening experience without needing additional speakers. It ranks among the best soundbars for Apple TV 4K because of the true 3.1ch adaptive sound.
You can enjoy audio with 1 subwoofer and 2 up-firing channels working together. Besides, the Q-Symphony technology syncs audio with your TV for a smooth experience. Also, it dynamically tunes audio with improved speech clarity to keep up with action-packed games and movies. If you are a game lover, this soundbar is for you.
The game mode provides directional audio in accordance with the action onscreen. Additionally, you may connect two smart devices simultaneously and share the sound tower. I like using Alexa's built-in features like music playback, delivery alerts, and weather updates. Alternatively, use AirPlay to broadcast from an iPhone or iOS device.
Pros
Built-in center speaker
Q-symphony technology for better sync
Virtualized 3D sound
Check out on: Amazon
4. Sonos Arc soundbar – Exclusively for Apple users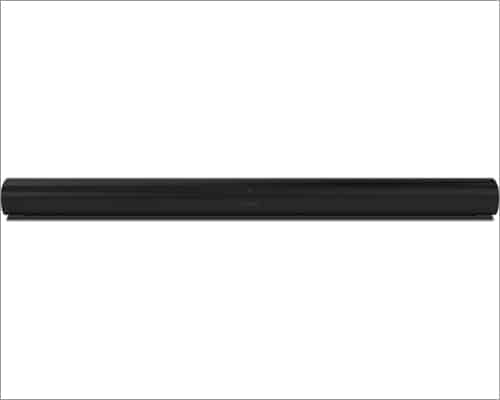 The brand-new Sonos Arc offers amazingly realistic 3D sound, including Dolby Atmos. Enjoy voice control, the Sonos app, and Apple AirPlay 2. Its enhanced Trueplay tuning technology enhances the sound of the room's specific acoustics. Also, when the TV is turned off, use the Sonos app or Apple AirPlay 2 to stream music, radio, podcasts, etc., from your favorite services.
I love its elongated design, smooth contour, and seamless facade to attach to the wall or sit beneath the TV. Besides, Amazon Alexa is integrated into. The interesting fact is Arc was particularly calibrated with the assistance of Oscar-winning sound specialists to accentuate the human voice. To have clearer communication, enable voice enhancement in the app.
Pros
Cinematic audio
Touch controls
Enhanced Trueplay tuning technology
Cons
The Sonos app needs more work
5. Sony HT-A7000 7.1.2ch soundbar – Higher-end premium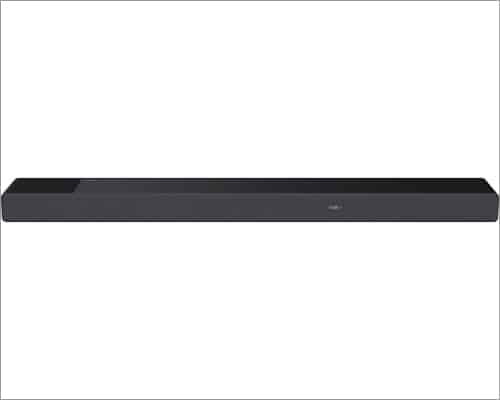 Sony offers a room-filling audio experience. You can enjoy your movies or games with the Dolby Atmos, DTS:X technology via the Vertical Surround Engine, Hi-Res Audio, and 360 Reality Audio. Also, the Sound Field Optimization adapts to your surroundings for better audio crispiness. Besides, it has 8K and Apple TV 4K audio passthrough support.
Therefore, the Immersive Audio Enhancement turns ordinary audio into approximately 7.1.2 Ch Vivid graphics and fast-paced game action. You can stream music via Bluetooth, Wi-Fi, built-in Chromecast, Spotify Connect, and Apple AirPlay 2. Also, you can use Google Assistant and Amazon Alexa.
Pros
360 Spatial sound mapping
Sound field optimization
8K HDR support
Cons
Expensive
No sound woofers
6. Vizio V-Series™ 2.1 Home Theater – Sleek design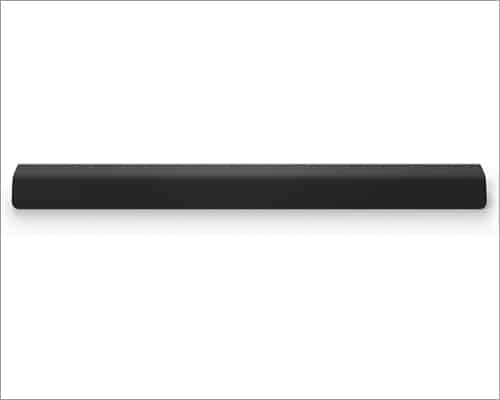 VIZIO has been filling homes with amazingly immersive audio for almost a decade. Though small and compact, you will get brilliant clarity, stunning dynamics, and compatibility with Dolby Audio and DTS Digital Surround combined for performance. Also, DTS Virtual:X delivers a virtualized 3D sound.
So, this soundbar transforms any material into an extraordinarily immersive experience. It has HDMI ARC and Bluetooth connection. Its minimal modern design suits well with any setting. Besides, with 2.1-channel sound, you can enjoy a powerful, room-filling, genuine stereo experience.
Pros
Built-in Subwoofer
4 powerful speakers
Compact design
7. Polk Audio Signa S2 Ultra-Slim TV soundbar – With wireless sound woofers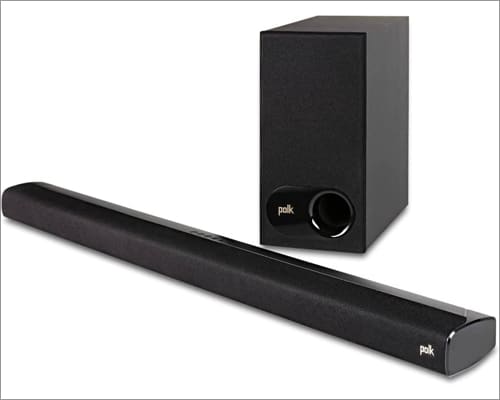 Polk Audio offers an ultra-slim sound bar with a wireless subwoofer included. Its five full-range speakers produce beautiful rich sound with deep bass. Also, an exclusive voice adjusts technology with Dolby Digital improves sound quality and decreases voice delays.
Besides, it is a little over 2″ tall, so you can simply wall-mount it. With its universal compatibility, you can plug in any audio source by HDMI ARC, optical input, AUX, etc., or wirelessly stream music from your favorite streaming applications like Pandora, Spotify, and others straight from your iPhone or other Bluetooth-enabled devices.
Pros
Easy setup with universal compatibility
Low profile design
Deep Base technology
Cons
The remote looks bulky and outdated
The auto turn-off feature is buggy
Check out on: Amazon
8. Majority Bowfell Small soundbar – For minimal lovers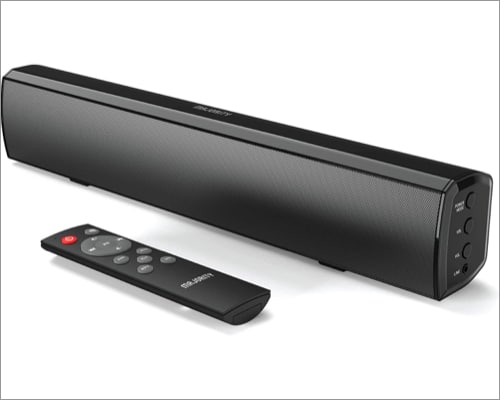 The Majority Bowfell is the most compact one among this list of best soundbars for Apple TV 4K. It has a built-in subwoofer and cutting-edge audio technology for authentic cinematic surround sound. Besides, the powerful 50-watt speakers improve your binge-watching or gaming experience with clear and sharp audio.
Also, you may connect it to your phone, TV, PC, laptop, projector, monitor, Blu-Ray, or DVD player through AUX, Optical, or Bluetooth. To go totally wireless, use the controls on the side of the soundbar or the included remote to alter the volume, equalization settings, source, and much more.
Pros
Built-in EQ controller
Optical and RCA connection support
Touch controls
Cons
Volume levels are glitchy and depend on signal strengths
Check out on: Amazon
9. Bestisan soundbar – Get different sound effects
Bestisan 28" soundbar is highly adjustable regarding treble and bass controls. It offers deep bass with increased power. So, you can enjoy lossless audio transmission and 360-degree sound. I liked its DSP Technology which provides you with three options for sound effects: news, movie, and music.
So, you may choose based on your present scenario. Besides, there are multiple settings on the high-sensitivity remote control. You may use the reset button on the remote to revert back to the factory settings. Also, the powerful anti-interference technology allows you to have a high-quality home audio system experience.
Pros
DSP technology
Adjustable bass
Supports multiple connections
Cons
Poor Bluetooth connectivity
Check out on: Amazon
So, that's all, folks!
The best sound system for Apple TV transforms your room into a theater so you can immerse yourself in the 3D world. If you play games on Apple TV, soundbars are ideal for you. Therefore, which Dolby Atmos soundbar would you choose? Let me know in the comment section.
Readers like you help support iGeeksBlog. When you make a purchase using links on our site, we may earn an affiliate commission. Read more.
Ava is an enthusiastic consumer tech writer coming from a technical background. She loves to explore and research new Apple products & accessories and help readers easily decode the tech. Along with studying, her weekend plan includes binge-watching anime.