Wireless charging has saved us from searching for the cord and plugging it into the Lightning connector. So, just switch on your MagSafe or Qi charging pad and drop the AirPods on it. This handy experience inspired me to get the best wireless charging cases for AirPods in my quest for a cable-clutter-free life. Let's get started!
How do the wireless charging cases for AirPods function?
The AirPods and AirPods 3 cases contain a built-in Qi wireless charging receiver to function with any wireless charger. So, when you put it on the pad, your AirPods start juicing up. Besides, they have a smart chip to combat risks like short-circuiting. Your wireless earbuds are thus well protected from typical risks. Additionally, these AirPods cases provide much-needed protection against unintentional drops.
1. Incase Woolenex case – Editor's choice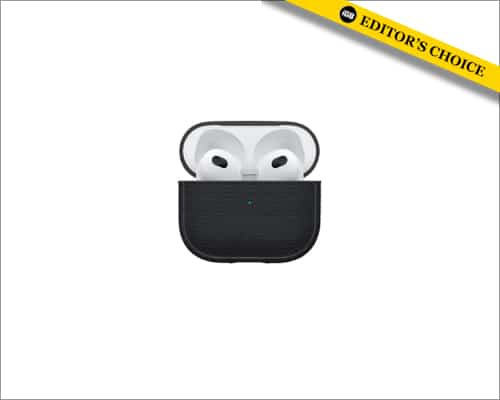 The Incase AirPods Case with Woolenex provides protection and supports quick charging of your AirPods. This slim, lightweight case is made of a refined fabric blend with excellent impact and weather resistance. Actually, an injection-molded Bayer Makrolon polycarbonate shell is fabric wrapped.
So, you will get a soft, smooth in-hand feel and a better grip with protection from bumps and scratches. Besides, your AirPods' glossy charging case is not damaged with the case. Also, the precise cutouts allow for LED light visibility and easy Lightning cable connectivity.
Pros
Fabric wrapped case
Lightweight
Durable
Cons
May wore out after prolonged use
Check out on Apple: AirPods | AirPods 3
Check out on Incase: AirPods | AirPods 3
2. Spigen Rugged Armor AirPods case – 360-degree protection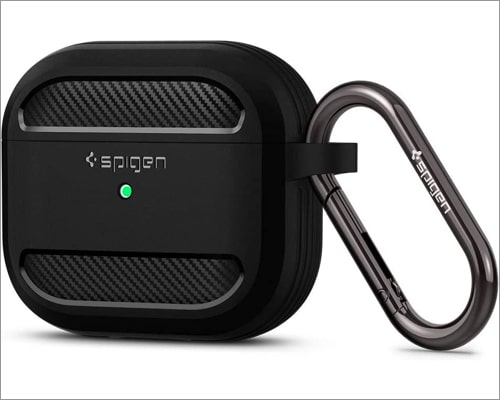 If you want tough protection for your AirPods model, choose Spigen's Rugged Armor. With a reasonable price tag, it features a stylish design with a carbon fiber-like matte exterior that repels dirt and fingerprints. Also, the textured bumper offers a good grip, and the dual-layer hybrid polymer provides excellent protection.
When I tested it, the case consistently gave me premium drop protection thanks to Spigen's Air Cushion technology. Besides, your AirPods will never slip off as the case is a 0.1" trimmed fit. And you can easily check the battery status as the LED light is properly visible. I liked its strong carabiner that offers simple portability for everyday use. The accessory is available in black, gray, and green for the AirPods 3.
Pros
Hybrid Polymer technology
Air cushioned sides
Precise fitting
Cons
The top cap comes off
Can't hit the pairing button
Check out on Amazon: AirPods | AirPods 3
Check out on Spigen: AirPods | AirPods 3
3. Woolnut leather case – Luxurious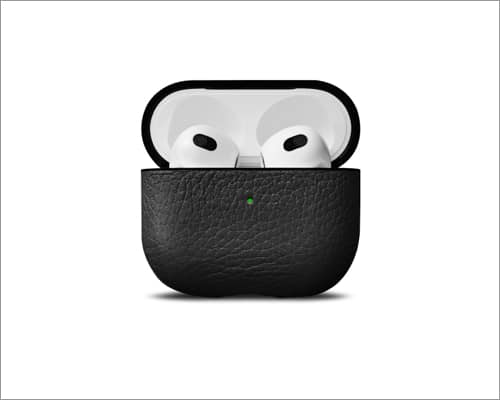 As you know, I love leather cases for all my devices and accessories. Woolnut has made the case with full-grain Scandinavian leather. So, it will develop a stunning patina with usage and time. Also, the Swedish-design two-piece body and polycarbonate shell provide a sturdy appearance and good drop protection.
The protective microfibre lining on the inner side ensures a snug fit. Besides, you can easily install it thanks to the small stickers attached to the case lid. And with the case on, wireless charging is simple, and the charging light is always visible thanks to a little circular notch in the casing. Also, the case's bottom has a cutout for the Lightning port.
Pros
Full grain leather
Neat stitching
Gel tapes on the top cap
Check out on Amazon: AirPods
Check out on Woolnut: AirPods
4. ESR HaloLock magnetic soft case – MagSafe-compatible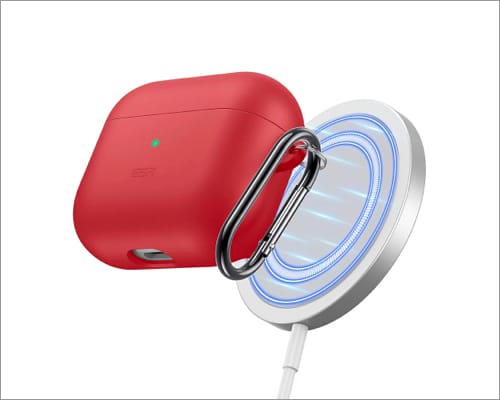 If you are looking for a MagSafe-compatible case for your AirPods, here it is. The silky-smooth matte-finished case offers quick and simple place-and-go wireless charging with durable protection and a good in-hand feel. Altogether, the powerful magnets ensure a secure connection with MagSafe charges and accessories.
Also, the two-part design without a hinge is easily accessible. Besides, the flexible shock-absorbing polymer prevents scratches and safeguards from bumps and drops. Also, an adhesive cover and carefully crafted edges fit your charging case snugly, protecting it and preserving its good looks. The attached carabiner ensures you never lose them again.
Cons
The lid doesn't completely open
Check out on ESR: AirPods 3
5. Casetify mirror case for AirPods – Eco-friendly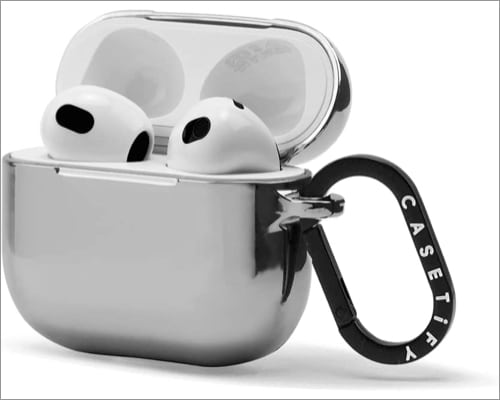 CASETiFY AirPods cases offer 360-degree impact protection with slim fits. Besides, it's compatible with wireless charging. So, keep your battery fully charged and ready to go, whether wirelessly charging or connected through a Lightning cable. And the best part is it's made of recycled PC plastic and is 100% recyclable as CASETiFY is pledged to eco-friendliness.
Besides, the 1.2mm slim fit ensures a snug fit on your AirPods charging case. The case comes with a Luxe metal ring. So, you will not lose your priceless AirPods and get enhanced convenience with no rust. Also, you can customize the case on CASETiFY's official website. Cool, isn't it?
Pros
Heavy duty protection
1.2mm slim fit
Customizable
Cons
The glossy finish gets scratched
Check out on Amazon: AirPods 3
Check out on Casetify: AirPods | AirPods 3
6. Gear4 Apollo Snap AirPods case – Water and dustproof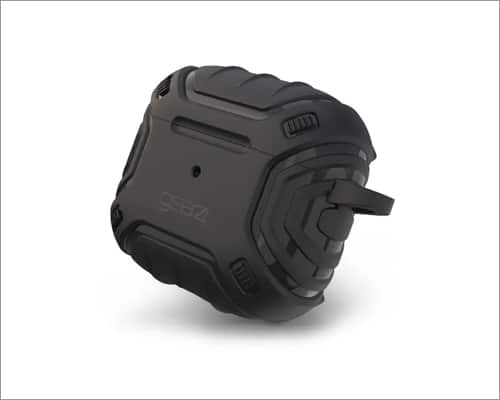 The magnetic Apollo Snap case is compact, lightweight, and rugged to shield your AirPods from tampering and loss. So, it offers 360-degree protection against drops, liquids, dust, and damage – thanks to the sturdy polycarbonate shell. Besides wireless charging, you may attach any magnetic accessories to the casing using the magnets on the rear.
Also, the convenient design fits effortlessly in your purse or pocket. The side patterns provide a good grip and avoid slip-offs, and the patented D3O Technology ensures the case is unbreakable. Besides, you may connect it to your backpack or belt loop with the attached carabiner. So, it is always within reach.
Pros
360-degree protection
D3O® Technology
Limited lifetime warranty
Check out on Zagg: AirPods 3
7. Twelve South leather protective case – Vintage look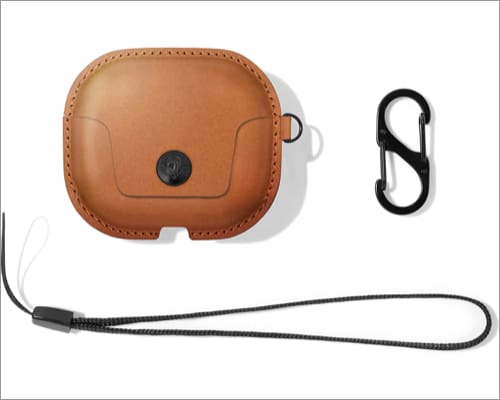 To keep your expensive AirPods safe and sound, slide them into the stylish Twelve South AirSnap wireless charging case. So, when your battery is low, you can use Lightning to charge your AirPods or just put it on a wireless charger without taking the case off. Besides, it comes in two options: genuine full-grain leather and thin twill.
Also, the Scarlet and Olive limited edition twill has new brass hardware and is woven from a luxurious and comfortable textile finish. The strong metal snap closure ensures your case is always closed, adding another layer of protection. Actually, AirSnap is a convenient built-in swivel clip to connect your AirPods to anywhere, like your backpack, handbag, or belt loop.
Pros
Reinforced edge stitching
Metal snap closure
Brass hardware
Cons
Little expensive
Not form-fitting
Check out on Amazon: AirPods | AirPods 3
Check out on Twelve South: AirPods | AirPods 3
So, that's all for today, folks!
The wireless charging cases are no doubt convenient for daily use and also protect them from scratches, drop damages, splashes, and dust. Which case got your eye? Let me know in the comments. Also, explore more about your AirPods below…
Read more:
Readers like you help support iGeeksBlog. When you make a purchase using links on our site, we may earn an affiliate commission. Read more.
Ava is an enthusiastic consumer tech writer coming from a technical background. She loves to explore and research new Apple products & accessories and help readers easily decode the tech. Along with studying, her weekend plan includes binge-watching anime.