While skateboard games are a niche interest, they make for an excellent sports game. They are exceptional in creating the feel and rush you get when you're skateboarding in real life. Even if you can't ride the concrete wave in reality, you can do so virtually with these best skateboard games for iPhone and iPad. Let's hop on!
1. Turbo Stars – Editor's choice
Turbo Stars is one of the better skateboard games for iPhone you can find today. It has fast-paced gameplay that will test your reaction times.
The only way to progress is to get first place in each track. You can pick up multiple items while racing to increase your speed and control. You can also throw your opponents if they're close to you and make the competition easier.
Coins and keys strewn throughout the tracks will help you unlock various items in-game too. Furthermore, there's the opportunity to customize your character the way you deem fit. Overall, it's a fun game that will help you pass the time during long and boring commutes.
However, the game can be frustrating at times due to constant ads popping up.
Price: Free (In-app purchases start at $1.99)
2. True Skate – An excellent skateboarding simulator
Very few games can provide an authentic skateboarding experience. True Skate is one of those games. The game's simulation mechanics are realistic and will challenge you thoroughly.
To perform tricks, you'll have to flick the screen and make the right moves to ensure that a trick is successful. A small mistake will ensure that the trick isn't performed at all. Moreover, the game features all the real-world locations that you can find in the world's most famous skating cities.
The biggest issue I have with True Skate is that it doesn't offer a proper version, even after you pay an initial amount. The rest of the game has to be bought through in-app purchases.
Price: $1.99 (In-app purchases start at $0.99)
3. Tony Hawk's Skate Jam – Detailed career mode
Tony Hawk's skateboard games have been stalwarts of the genre for a surprisingly long time. I still remember booting up my favorite, Tony Hawk's American Wasteland, on my old PC, and playing it for hours.
Thankfully, you get an amazing Tony Hawk iPhone skateboard game through Tony Hawk's Skate Jam. Like other Tony Hawk games, there's a career mode to play through and create one of the best skaters. The career mode is highly detailed and allows you to make a name for yourself in the skating world.
Compete in multiple Skate Jam events against veterans and younglings to prove your mettle. The gameplay is great, with a multitude of moves you can perform and chain together to create a signature combination.
The controls are difficult to master, though. This makes the learning curve slightly steep.
Price: Free (In-app purchases start at $3.99)
4. Touchgrind Skate 2 – If you like challenges
Touchgrind Skate 2 is one of the more difficult skateboard games out there. When you load the game for the first time, it won't look that difficult. However, once you start playing it seriously, you'll realize that it will take some time to get habituated to the physics-based gameplay.
From ollies to powerslides, the range of tricks you can perform by flicking the skateboard properly is astounding. Moreover, higher scores and completion of challenges guarantee new unlockables such as skateparks. Furthermore, you can play the game online with your friends through the multiplayer component mode S.K.A.T.E.
The game doesn't feature unique modes, though. Once you master the game, it can get monotonous.
Price: Free (In-app purchases start at $2.99)
5. Skate Up – A unique take on skateboarding
Skate Up isn't your usual skateboarding game. While this game focuses more on figure skating, it's unique and follows similar principles to skateboarding. This is why I've listed it here.
If you remember watching beautiful figure skating performances such as those of Mariah Bell, you can see how much effort and grace is put into the sport. With Skate Up, a fair bit of this grace and elegance is represented.
The game allows you to perform some breathtaking moves as you try to achieve the highest scores possible. If you're interested in trying something new, this game is worth giving a shot.
Unfortunately, the game has some glitches, such as crashing. Hopefully, the developers can iron these out in future patches.
Price: Free
6. Snowboard Party: World Tour – Extreme sports game
Skateboarding comes in the form of an extreme sport too, with snowboarding a widely popular sport. If you want to experience how snowboarding works, at least virtually, there's none better than Snowboard Party: World Tour.
This game is one of the best skateboard games for iPhone. It's got plenty of content on offer too, with over 250 objectives to complete, panned over 21 locations. Additionally, you can customize the look of your player through multiple unique outfits, such as zombie and alien.
Furthermore, you'll never get bored due to the number of modes it has. These range from Time Attack to Freestyle to Half Pipe. Extreme sports in a mobile game have never been more fun!
The game suffers from glitches, however. Multiple users have reported objectives that are near impossible to complete due to the game mechanics.
Price: Free (In-app purchases start at $1.99)
7. Skateboard Party: 3 – Gorgeous visuals
Most skateboard games for iPhone and iPad don't utilize the hardware of the medium properly. Either they stick with a unique aesthetic sense, or the graphics seem dated. With Skateboard Party: 3, you get some astounding visuals for a mobile skateboard game.
Besides, skating legend Greg Lutzka features in the game. He's featured significantly in the game's Career Mode, where you'll have to complete over 70 objectives to rise to the top of the skateboarding ladder.
You can also choose from 16 different skaters and customize their appearances according to your liking. More importantly, playing the game is easy as it supports most game controllers, and the button layout can be changed to whatever makes your playthroughs more comfortable.
Unfortunately, the game tends to crash quite often and features too many ads in the free version.
Price: Free (In-app purchases start at $0.99)
8. Skate Space – For the minimalists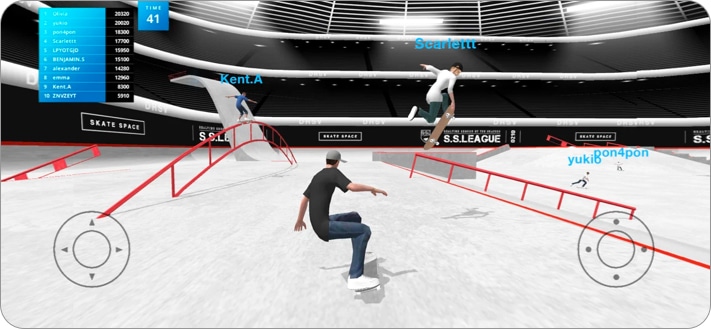 Looking at most skateboard games for iPhone and iPad, you'll realize that part of their appeal comes from the flashy aesthetics and graphics. With Skate Space, you get the exact opposite – minimalism.
The game's graphics and user interface are elegant, with no clunky HUD (Heads Up Display) to break the flow. You can customize your skater and even the skate park you're playing.
Let your imagination run wild and give you the space to create monstrous skateboard tricks out of thin air. Make your skate park as complex as possible, and try out multiple tricks for the highest scores. Additionally, you can also join the multiplayer and battle with up to 10 friends for the highest scores.
However, the game features too many microtransactions.
Price: Free (In-app purchases start at $0.99)
9. Faily Skater – Casual skating game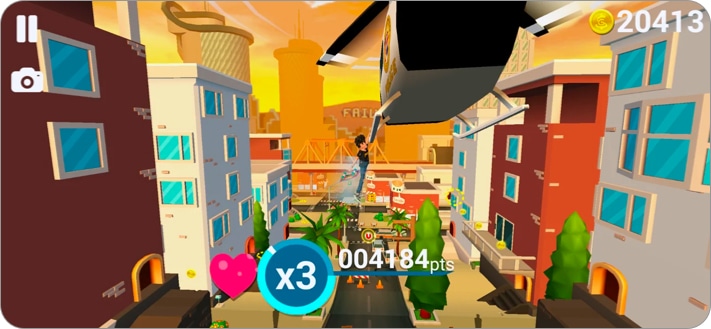 Playing Faily Skater will remind you of the colorful world design of Subway Surfers. The game is immensely fun to play, thanks to excellent physics-based gameplay and hilarious crashes.
In terms of the gameplay, it's quite similar to the many endless running games on the market. The objective is to reach the highest score possible and avoid obstacles along the way. As you keep playing, you'll keep collecting coins, boosts, and other in-game resources.
As you build up your combo, the game gets more absurd by the minute. You could be skateboarding and hurtling through "San Fran Faily" one minute and hanging on for dear life at the side of a helicopter the next minute.
Like any other game that follows the freemium model, Faily Skater features too many ads.
Price: Free (In-app purchases start at $0.99)
10. Flip Skater – Halfpipe happiness
Flip Skater doesn't provide you with an entire skate park. However, it provides you with a halfpipe for performing the "gnarliest" tricks.
The gameplay is simple enough – you have to slide down the halfpipe, gather enough speed to reach a proper height, and pull off the best tricks possible. The more tricks you perform and land successfully, the more points you'll acquire.
There are multiple environments, and the game's simple aesthetics make it a fun game for casual players. You can also unlock different characters and skateboards to match your sense of style.
The coin system in the game isn't great, though. Players have reported that the in-game rewards and collectibles are too low.
Price: Free (In-app purchases start at $1.99)
Summing up
So, these were my picks for the best skateboard games for iPhone and iPad. If you are interested in the massive and exciting world of skateboarding, these games will give you an exciting peek into this adrenaline-fueled world.
If there are any other skateboard games you like that haven't been listed here, share them in the comments, and I'll be sure to try them and add them to this list!
Read more:
Readers like you help support iGeeksBlog. When you make a purchase using links on our site, we may earn an affiliate commission. Read Disclaimer.