Imagine that you had a pretty bad day at work. Things may not have gone according to plan, and you feel like you've not had a handle on things throughout the day. Pretty depressing, right? What if, in a virtual world, you could control every aspect of a character, from their work to their clothing to their behavior?
Sounds enticing to have that much control over something at the end of the day, doesn't it? If you're a fan of casual games that don't need you to mash buttons repeatedly and instead offer nuance as you play, this list of the best life simulation games for iPhone and iPad is for you. Let's jump in!
1. The Sims Mobile – Editor's choice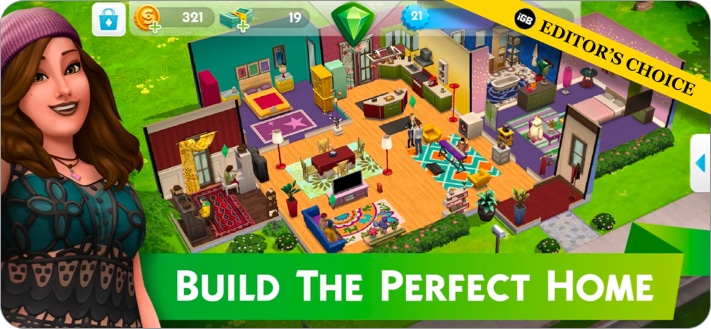 If you think of simulation games, there's none better than The Sims. This casual yet fun franchise has entertained people for over 20 years and is now available for your iPhone.
The premise is simple enough – you create an avatar and control their entire life. You can customize their clothing and personality based on your preferences and have them play out daily actions. This includes going on dates and working a regular job.
You can also build a home and personalize it for your avatar. Is your avatar a tenured professor who likes classic, Elizabethan architecture? Or are they a corporate magnate who prefers a minimalist approach? You decide.
Your avatar can interact with other Sims online and build relationships. If they find that special someone, they could even start a family, and you'd see their entire lives unfold before your eyes.
The game requires "energy" to play, and at the start, you're given 30 energy. This might seem less for longer in-game events and could be an attempt at microtransactions.
Note: The Sims FreePlay is also available for those gaming enthusiasts who prefer their simulation games to be more realistic. For example, if your avatar goes to work for 8 hours, 8 hours will pass in the real world until your avatar returns from work. If you're a fan of this real-time simulation mechanic, you could try the game.
Price: Free (In-app purchases start at $2.99)
2. BitLife: Life Simulator – Complete simulation freedom
BitLife isn't like other simulation games. You will not see stylish aesthetics or environments in the game. Essentially, it's similar to the retro games featuring text-based adventures.
The game offers you total freedom in the way you manage your avatar. From choosing your gender to deciding the nature of your relationship with your immediate family, there's plenty of content to explore.
The game is mostly based on choosing from various options in different situations. Since these situations can be unique, a single playthrough may not be enough. Moreover, every playthrough can result in different outcomes. So, there's a lot of replayability.
The character customization options could have been more expansive, however. Nonetheless, this is a great game for quick playthroughs.
Price: Free (In-app purchases start at $0.99)
3. Harry Potter: Hogwarts Mystery – Best fantasy life simulator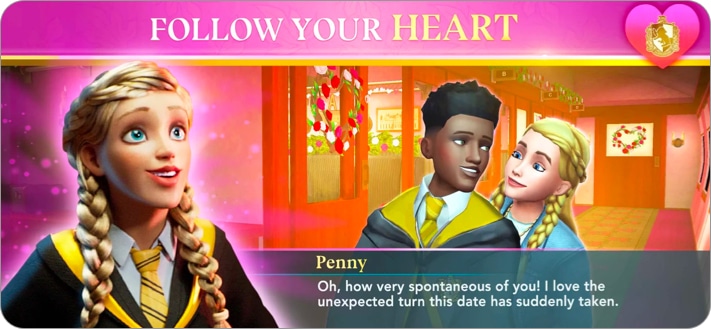 I grew up reading the Harry Potter books and watching the movie adaptations. While Harry Potter games have been available on PC for a long time, the games have lacked a certain role-playing and simulation element. Harry Potter: Hogwarts Mystery attempts to rectify this.
This is a complete journey through Hogwarts, in which you can customize your character and decide which House they get to join. You can attend lessons in Defense Against The Dark Arts and Charms, among others.
The choices you make in the game will determine the type of life your character has at the most famous wizarding school in history. Will you betray the love of your life for more power, or will you choose to use your wizarding powers for solving mysteries and making Hogwarts a better place? The choice is completely yours.
One of the major issues of this game is the energy system. Hopefully, the developers will iron this out in later updates.
Price: Free (In-app purchases start at $0.99)
4. 100 Years: Life Simulator – Unpredictable life simulator
100 Years – Life Simulator is a unique game. While it simulates life to some extent, the main goal is to grow as old as possible.
There are two paths you can take, leading you to unique scenarios based on your chosen gender at the game's start. It features different events in all stages of life, from year 0 to year 100.
Since the main objective is to survive, the developers have made the playthroughs slightly difficult to incorporate some challenges. How you face those challenges is up to you.
Unfortunately, the game doesn't offer much freedom for a life simulation game.
Price: Free (In-app purchases start at $2.99)
5. Paradise Island 2: Resort Sim – Build your tourist resort
This game incorporates a mix of business game elements with a life simulator. While you don't have to handle the intricacies of an avatar's life, you will have to build the best beach resort in the world!
The game gives you an entire island to work on. Do you remember those unforgettable summer days, partying until late at night? Your task will be to build a resort so that the people in-game can experience the summer of their lives.
Choose from over 300 building designs, and add a resort, restaurants, attractions, and rides for the people on the island. There are mini-tasks given every day to challenge players and gather rewards.
You can compete with your friends online to check whose island has the highest turnover at the day's end. Another great thing about this game is that you can play it offline too. So if you're on your way to work on a gloomy Monday morning, you can create an unbelievable summer for the folks in-game.
Unfortunately, the game still suffers from crashes and bugs. So, I'd recommend you either wait for an update patch or brave it out during gameplay.
Price: Free (In-app purchases start at $0.99)
6. Fallout Shelter – Post-nuclear life simulator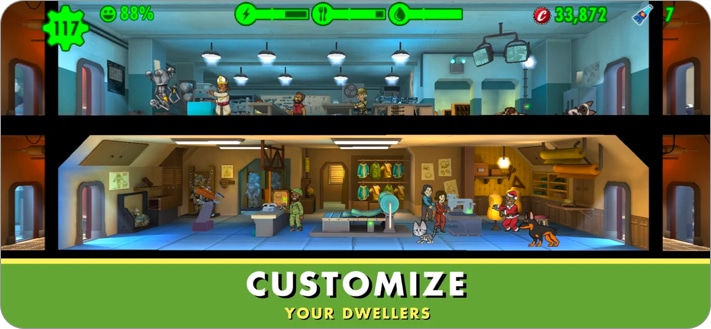 The Fallout franchise has been the go-to RPG for generations. It made its entry into the mobile gaming scene with Fallout Shelter in 2015 and hasn't looked back since.
You're the Vault Overseer, and you will have to ensure that all the Vault Dwellers under your command live a long and relatively happy life, considering the post-apocalyptic circumstances.
Craft new items from useless scraps, and build your Vault life little by little. Give unique tasks to different dwellers to ensure that each day in the Vault runs smoothly. You can also send dwellers out into the wasteland to explore and find useful places or supplies.
The dangers of the post-apocalypse life may come to the Vault as well, and you will have to protect both the life you're trying to build and the dwellers themselves.
You might face issues with the camera movement and inventory management in-game, however.
Price: Free (In-app purchases start at $0.99)
7. Godus – Livin' like a God, literally
Life simulators often let you play god by choosing how your avatar behaves or lives their life. But what if there was a game that let you play literally as a God, living their life? Godus is that game.
You are a god tasked with creating a landscape and inhabiting it with civilization. You can reshape the landscape to fit your needs or aesthetics.
Plan the layout of your landscape and instill civilization into it. As a god, you can perform miracles to create or destroy. How you play will shape how civilization progresses and how the land changes. The more miracles you perform, the more followers you gain.
Your followers will also venture out into the unknown to discover the world. How and what they discover is completely up to you. Several players have faced issues with the game crashing, though.
Price: Free (In-app purchases start at $2.99)
8. Animal Crossing: Pocket Camp – Best life simulator game for kids
While most life simulator games tend to be for adults, I've got one here that your kids can enjoy. Animal Crossing: Pocket Camp is a great kids' game if you're looking for something to entertain your children with.
The main area of the game concerns a campsite, and it's up to the player to decide how they decorate it. From open-air cafes to venues for concerts, there are plenty of options to choose from.
You can befriend animals around the campsite and watch your animal kingdom grow in tandem with your campsite. For decorating your campsite, you're spoilt for choice with over 1000 pieces of furniture. You could also decorate the campsite according to the unique themes that the game provides.
I have a gripe with the game, though – there needs to be more variety in the animals found around the campsite.
Price: Free (In-app purchases start at $0.99)
9. Choices: Stories You Play – Content champion
This life simulator game provides you with different stories to play out. Each story has a bunch of different endings, based on your choices throughout the game.
If you're a fantasy nerd, the game has you covered with a fantasy arc in which you compete for the crown. Like Grey's Anatomy? Play out your version of a hospital romance with the Open Heart storyline.
These are just a few of the stories that are available in-game. You can browse through many storylines and check out their different endings. This lends a substantial amount of replayability to the game as well.
Unfortunately, the game is rife with microtransactions needed for a more fulfilling gaming experience.
Price: Free (In-app purchases start at $1.99)
10. Tiny Tower – Family-friendly 8-bit life simulator game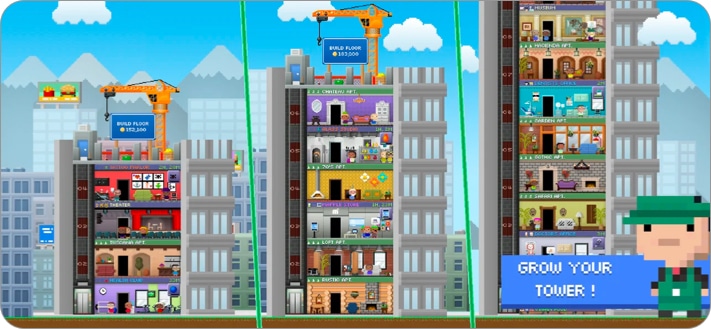 Are you a fan of 8-bit aesthetics that reminisce the old school games of the 1980s? If so, you're going to love Tiny Tower. This is a fun game for all family members, regardless of their age.
The objective of the game is to construct the tallest skyscraper. You have to complete objectives and gather enough resources to build more floors. But wait, what's the point of just building floors without attracting citizens?
That's right – you will have to attract citizens to inhabit your building and even provide them with different jobs. The more citizens with jobs, the more money you gain from them. The game has a simple premise, and the 8-bit pixel aesthetic adds another layer of intricacy.
However, if you're up for just a casual gaming night, Tiny Tower may not be for you as it demands a lot of effort and attention to detail.
Price: Free (In-app purchases start at $0.99)
That's it!
PCs and consoles already have some famous life simulator game franchises. It's only a matter of time before the mobile gaming industry catches up with their console counterparts as well. For now, I hope you've liked this list of the best life simulator games for iPhone.
What are your thoughts on games of this nature? Do you prefer something more fast-paced or laced with strategy? Comment your thoughts and opinions below!
Read more:
Readers like you help support iGeeksBlog. When you make a purchase using links on our site, we may earn an affiliate commission. Read more.
Anirban is a literature post-grad who delves in philosophy and postmodern novels when not writing on tech and gaming. His love for research is only trumped by his love for chai and heavy metal.