Whether you create content for Instagram, YouTube, or the big screen, removing background from images and videos has become an integral part of the mix. And hence, green screen apps for iPhone are also becoming super popular.
I have ventured to test various green screen iPhone apps to find the best. And here are some of the apps that I truly loved and enjoyed using. But before that, let me start with the basics!
Things to note before you pick a green screen app
The concept of a green screen is pretty simple. You cover the background and other objects in a single shade, typically a bright green or blue color, and record the video or click images.
Later on, in the editing table, the color is selected and keyed out of the scene; i.e., it magically vanishes, leaving a blank space. You can superimpose the video/image over any other background or video.
What features should I look for in a green screen video editor?
While the green screen refers to the process of recording the video, chroma-key is the technical term used to describe removing a specified color hue. So, when searching or exploring an app, look for this term.
Additionally, some apps use the term overlay to describe the effect. It is also better if the app has a multi-track timeline, blending modes, masking, color correction, opacity, etc.
9 Best green screen apps for iPhone and iPad in 2022
1. Videoleap Editor by Lightricks – Editors' choice
If you're a fan of creating innovative, experimental videos, Videoleap is one of the best apps to keep by your side. It boasts a comprehensive green screen/chroma key composition feature that lets you refine background removal.
You can start by picking the color, adjusting its intensity, and even dropping a shadow into the remaining frame. However, the best part is the special effects and filters, blending modes, and masking options available within the app.
I have used the Kaleido effect in the above screenshot. You can also animate these filters and effects to pan in or out. Overall, the apps lend you many options and complete freedom to build a simple or out-of-the-box video.
Pros
Easy-to-use interface
A variety of special effects
Unlimited undo/redo
Stock green videos and overlays
Price: Free to download (7-day trial, in-app purchases start at $5.99/month)
2. iMovie – Simplest green screen app
iMovie is Apple's answer to third-party video editing software. It is adept with a minimal, streamlined design, intuitive multi-touch gestures, Apple-designed templates, and themes.
The green-screen removal is super easy and mostly automatic. You can, however, reset and adjust the intensity as per preference. Furthermore, you can easily switch between the picture-in-picture, split screens, cutaways, etc.
And though a pretty basic app, it performs exceptionally well. Although, you'll miss the array of filters, effects, animations, etc., available in the competitor apps. But if you're a beginner exploring the world of chroma screens, it is a perfect starting point.
Pros
Minimal, user-friendly interface
Great for beginners
Free to use
Cons
Limited stock assets, features, etc.
No advanced editing tools
Price: Free
3. KineMaster – Advanced green screen editing app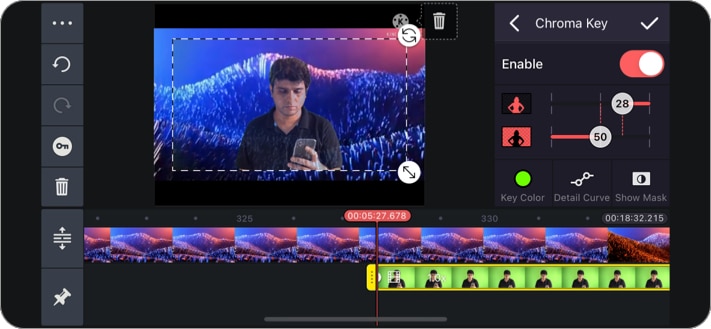 Though an iOS and iPadOS app, KineMaster takes the approach of Mac/PC video editing apps, complete with a landscape timeline view. It lends you advanced-level options for almost everything, including the chroma key.
You can select a suitable key color, manage the intensity, view the mask, and edit the curve. You get plenty of blending, mixing, and animation options alongside stock images, stickers, special effects, text, etc.
I won't really call it too complex but expect a learning curve to understand all the features packed into the mix if you're a beginner. Also, KineMaster has some professional-like music editing options. So, give the app a shot!
Pros
Desktop-like editing experience
Built-in recording feature

A variety of export options (4K 2160p at 30FPS)
Cons
Watermark in the free version
Slightly complex UI
Price: Freemium with watermark (Subscription for $3.99/month)
4. Motion Ninja – AI-powered green screen editor
Motion Ninja lends you the ninja techniques to make 3D, pop-artist, fancy videos. Designed to enable smooth keyframe animations, the app boasts over 300+ effects, preset templates, AI filters, and more, including the chroma key.
It's as easy as dragging and selecting the color, and the rest is done automatically. You can edit the intensity and shadow to refine the selection. Plus, a quite accurate AI-powered cut-out auto-detects people in the video and cleans out the background.
And thanks to powerful multi-layer management, actions undo/redo, backward/forward, and others become a breeze. The app's benefit is that you get to play with lots of effects, filters, and animations. So, each video can have something unique and special.
Pros
Smooth green screen removal
Quite accurate AI-powered cut-out
300+ Effects to play with
Multiple export option
Price: Freemium with watermark (Subscription for $3.99/month)
5. CapCut – Free green screen editor
CapCut is a jack of all trades. You'll get almost every feature needed to edit videos from filters, effects, stickers, text, audio editing, speed, framing, and chroma key. What's more? You can overlay or add masks to multiple videos.
You can easily pick the chroma key color and adjust its intensity and shadows. Furthermore, it is also quite easy to manage the opacity of the video, blending modes, and more.
It even boasts an array of high-quality effects, filters, stickers, fonts, etc., that'll help you make standout videos. And the best part is that it is not locked under freemium shazam; every tool and feature is free to use.
Pros
Easy to use UI
Smooth multilayer-timeline editing
Packed with helpful features and tools
Free
Price: Free
6. PowerDirector – Feature-packed editing app
Staying true to its name, the PowerDirector app packs a punch. It boasts various video editing features under its hood, including a chroma key, blending modes, masks, effects, and filters.
In the chroma key section, you can pick the background color to remove, plus play around with the range (intensity) and denoise options. Other than that, you can also drop borders and shadows and change the video's opacity within the app.
Interestingly, you also get an option to edit the video in portrait or landscape mode. I tested the app both ways, and after an initial learning curve, everything else was smooth sailing.
And while beginners might get overwhelmed seeing all those options, PowerDirector is a great fit for intermediates.
Pros
Packed with features
Edit in portrait or landscape mode
Smooth UI
Great for intermediate and pro-level users
Cons
Most effects are locked under premium
Watermark
Slightly expensive
Price: Freemium with watermark (Subscription for $5.99/month)
7. Video Star – A powerful green screen editing app
Video Star is a pretty advanced video editing app, and green screen editing is one of its perks. What's wonderful is that you get to edit multiple keyframe layers and apply the chroma key to multiple videos/photos, up to 15 layers.
However, the app has named the feature Add Mask instead of the chroma key. And you can erase the background in a certain shape, color or free-hand eraser. You can add stickers, GIFs, text, and whatnot.
But, there is a slight issue here. The app's interface is quite complex, and features such as keyframing are hidden under layers of options. So, you'll have to hunt for tools you want/need at least initially.
Pros
Advanced video editing features
Multi-layer chroma key
Supports other colors as well
Super affordable
Cons
Quite complex UI
Green screen is limited to the paid version
On the expensive side
Price: Free to download (Subscription for $4.99/year)
Bonus: The best real-time green screen recorders
The above apps just help you edit the videos. However, the below two apps allow you to record green screen videos directly using the app.
8. Chromavid – Best green screen app for beginners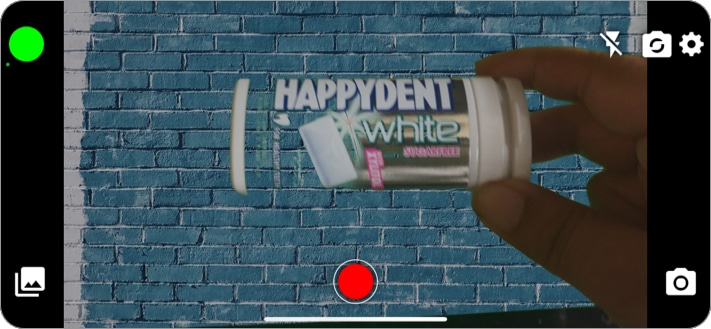 Chromavid is a simple and effective app to record interactive green screen videos with a real-time chroma key. So, instead of removing and then putting a desired backdrop in the post, you can directly record the video with that backdrop.
And not just green, you can use a red, blue or yellow color background. The app boasts a pretty minimal and no-nonsense UI, perfect for young kids making their school projects or exploring content creation.
However, the app just records the video. You'll have to move the video into another app to make edits, which is a bit meh! Some simple features like crop, trim, filters, etc., could have made it a good package.
Pros
Record with real-time chroma key
Very simple, kid-friendly UI
Supports other colors as well
Super affordable
Cons
No other editing options
Not updated in a year
Recording limit in the freemium version
Price: Free to download (Subscription for $2.99/year)
9. Green Screen by Do Ink – Best for educators and students
Though not from the same developers, you can call this app an advanced and paid version of the Chromavid app. It lets you record green screen videos in real-time with a multi-layered effect.
You can add three layers of effects, images, and more into the mix. You can choose almost any chroma key color and its intensity. Additionally, you can use the crop and mask tools to erase unwanted areas.
The app even lets you record videos in high definition (up to 4K), trim videos, mix audio tracks and mix photos or videos from the camera roll into the live video.
Most importantly, it boasts a super simple UI. Thus, I bestowed it the title of the best green screen recording app for educators and students.
Pros
Easy-to-use
Add up to three layers
Real-time chroma key with any color
Value for money (one-time payment, no subscription)
Price: $4.99
That's it!
I love how easy video editing, especially technical tasks like green screen, has become these days. And whether you're a beginner, hobbyist, or professional, these apps can be a real asset. Let me know which green screen app for iPhone you prefer the most and why? I would love to know your take in the comments below.
For more interesting and helpful apps, check out these articles:
A self-professed Geek who loves to explore all things Apple. I thoroughly enjoy discovering new hacks, troubleshooting issues, and finding and reviewing the best products and apps currently available. My expertise also includes curating opinionated and honest editorials. If not this, you might find me surfing the web or listening to audiobooks.