Some people can type hell for leather, but we have to agree that it's not everyone's cup of tea. How would it be if you could type as fast as you speak? Well, why think when you can execute! While iPhone's native Notes app can handle your basic transcribing needs, it lacks added functionality.
So, here's a list of the best speech-to-text apps for your iPhone!
1. Evernote: Notes organizer – Editor's choice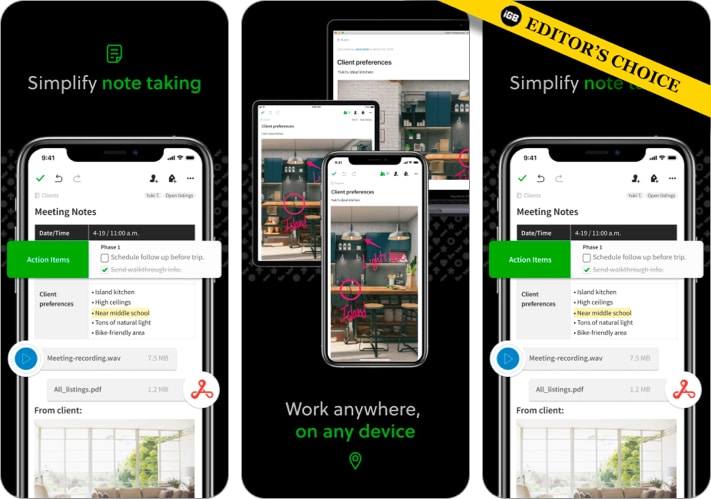 Evernote is a widely used application for note-taking. However, it serves multiple purposes like clipping articles, scanning documents, and also allows adding content (pictures, videos, audio, etc.) with notes.
Open the virtual keyboard and tap the mic below the return key to dictate text. You can now dictate, and it'll not only be converted but also sync across your devices.
If you're a student, you can use the app to take notes, track them, and even create separate notebooks. Further, you can also bring people, projects, and ideas together with shared Spaces. This is especially helpful for businesses or if you are working on a group project. Evernote also has multiple other features and is free to use.
Pros
Scan and convert handwritten notes
Transcription works flawlessly
Numerous useful templates
Note linking
Excellent organization system
Cons
Cannot save data offline
Lean cloud storage
Cannot sync with more than 2 devices with the basic plan
Price: Free
2. dictate2us Record & Transcribe – Fastest transcription service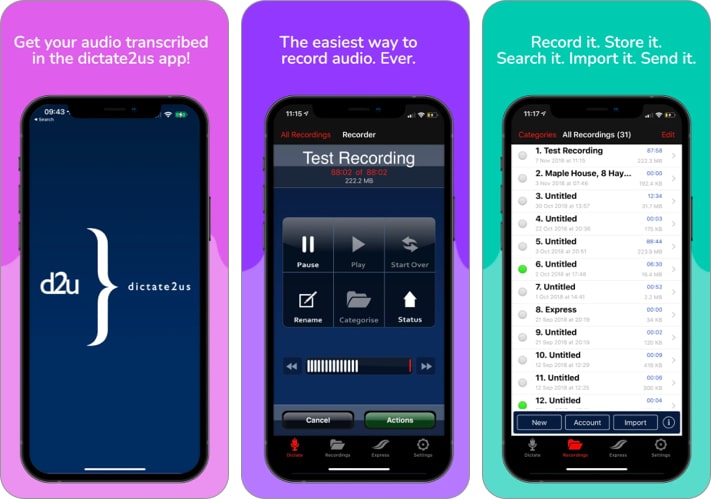 Dicatate2us is one of the leaders in transcription services, and you can get the audio transcribed within an hour regardless of the time, 365 days a year. You can record letters, reports, case notes, interviews, etc.
All you need to do is save a recording which will get uploaded to the platform. A person, yes, an actual person, will sit and transcribe the audio, after which an editor will check if there are errors, and then the Google doc file will be sent to you.
Dicatate2us can be downloaded for free, and you get a $15 free trial credit. After the trial ends, you are charged a minute rate depending on the turnaround time. D2U uses military-grade encryption, so you need not worry about confidential data being hacked.
Pros
Military-grade encryption
Fast turnaround time
$15 Trial credit
Cons
Can't transcribe instantly
Expensive
Price: Free ($15 trial credit)
3. Transcribe: Speech to Text – Instant transcription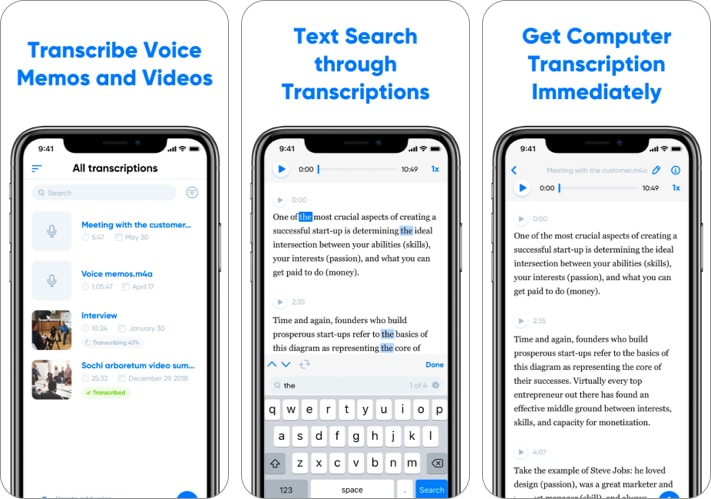 Some people repeatedly listen to their voice memos as reminders. However, listening to the whole message to get to something you want to hear might be a time-consuming event, and Transcribe comes in. It is among the fastest transcription apps. A tap of a button is all it takes to transcribe your audio or video files.
It lets you transcribe any voice or video file into text. All is done with the help of AI. You get 15 minutes of the free trial, after which you will need to either upgrade to the Pro version or buy add-on hours. Transcribe Pro offers features like exporting files in TXT, PDF, and DOCX formats. You also get 5 hours of transcription every month and can save up to 50GB of files on its cloud.
Pros
Instant transcription
Supports both audio and video files
Supports multiple file formats
Cons
Not great for longer duration transcriptions
Users have reported frequent app crashes
Price: Free (In-app purchase starts at $4.99)
4. Rev Voice Recorder & Memos – Simplified design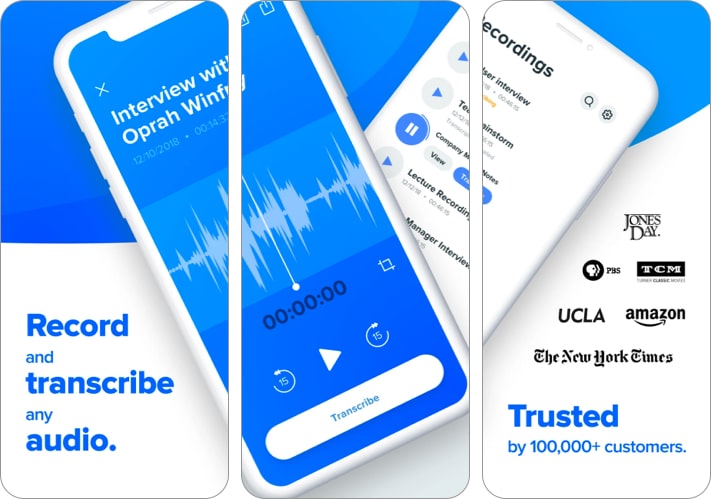 Rev Voice is yet another transcription service that people have employed to transcribe audio. The company claims a 99% plus accuracy rate alongside fast turnaround times. You can get a 30-minute recording transcribed under 12 hours.
The Rev Voice app has a clean and minimal user interface. Besides transcribing audio, it also lets you record audio, trim the audio, etc. You can use the recorder in the background, and it will automatically pause when you receive a call.
While the application is free to download, Rev charges 1 credit for a minute of audio transcribed, and if you avail of their services through their website, it'll cost you $1.50 for a minute of audio transcribed. You can also view the progress of your order, and once done, you'll receive it in your email inbox and the app.
Pros
Affordable rates
Effortless editing
High accuracy rate
Clean UI
Cons
The subscription model would make the service more appealing
Turnaround times are longer
Price: Free (1 credit costs $1.99)
5: Dictation: Speech to text – Translate your transcription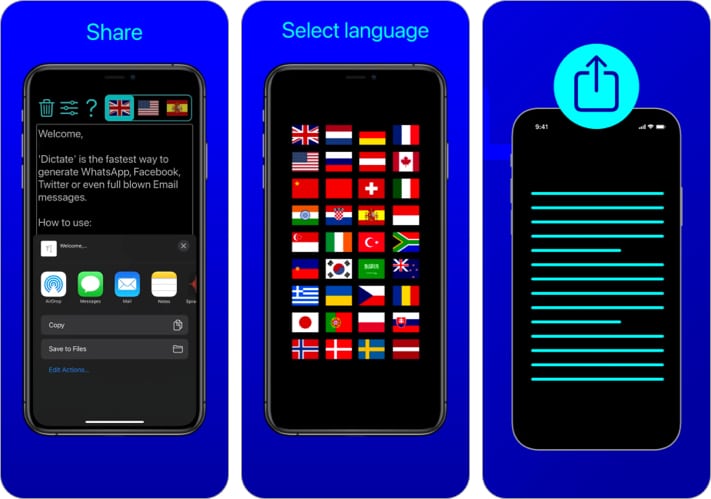 Dictation serves one purpose, converting speech to text, and it does the job quite decently. But there are instances where it might miss a few words. You can not only record audio in the app but also import audio files.
Further, translation is a unique feature offered by Dictation. It supports over 40 languages. All you have to do is tap a button to translate the transcribed text.
The app also has iCloud Synchronization. Once turned on, you can dictate text from your iPhone, iPad, Apple Watch, etc.
Besides, you can also share the text across several social media platforms like Twitter, WhatsApp, etc. However, the app is infested with ads. You will need to upgrade to the pro version to get rid of ads, costing $17.49 per year.
Pros
Translation with support for 40 languages
Works flawlessly across multiple iOS devices
Cons
Cluttered UI
Infested with ads
Price: Free (Pro version costs $6.99 per month)
6. Day One Journal: Private diary – Journalling made fun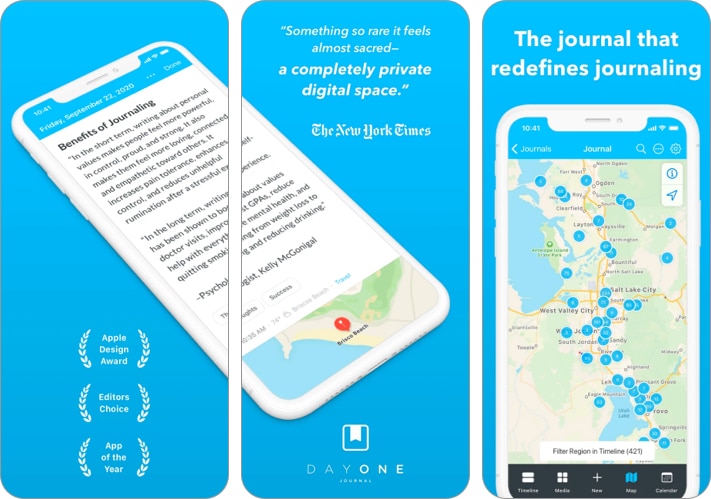 If you want to get into the habit of maintaining a daily journal but have been postponing the idea for a long time because you find writing to be a tedious process, Day One Journal is here to help. You can add notes to your journal at any time of the day as the app provides speech-to-text services.
It's not just words; you can also add videos and images alongside handwritten entries or drawings to your journal. However, this feature is limited to the premium version. You can also take notes from your Apple watch. If that was not enough, you could also send text messages or emails to your journals. Pretty impressive, right?
Pros
Easy to use
Clean UI
Supports and integrates images, videos, etc., in the journal
Cons
Can only be used as a diary
Price: Free (Premium costs $3.99 per month)
7. Otter: Transcribe voice notes – Best for businesses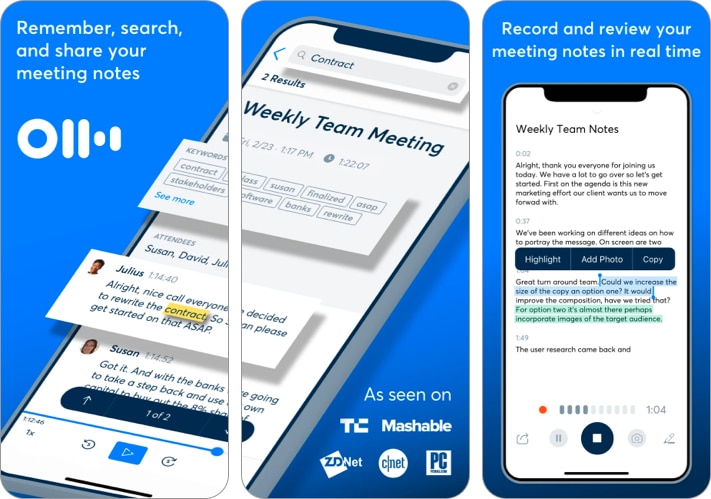 Otter works flawlessly for transcribing text and is an excellent tool for personal use. But it shines more when put to use in a corporate environment. You can automatically take notes (through speech to text), save these notes, and share them with everyone on the team.
Another great feature of Otter is that it provides live captioning to the deaf or people with special needs. The app also lets users highlight text, and the punctuation is quite accurate.
The integration of Otter with iOS helps you start recording through Siri shortcuts and syncs notes with the iOS calendar, contacts, etc. You can also record with AirPods. The app offers all these features for a limited amount of time as a free trial, after which the Pro subscription offers 6000 transcription minutes per month. A great overall app for businesses!
Pros
Caters to specially-abled users
Great iOS integration
The free plan is good for personal use
Cons
Transcription is a hit or miss for longer audio files
No support for images in notes
Price: Free (Premium Costs $12.99 per month)
Wrapping up!
Well, this was my list of the best speech-to-text apps for iPhone and iPad, which are beneficial for both students and professionals. If you found the right speech-to-text app that suits your requirements, share your thoughts in the comments below!
Read more:
Readers like you help support iGeeksBlog. When you make a purchase using links on our site, we may earn an affiliate commission. Read Disclaimer.