Japanese animation works have surpassed many expectations. They have now permeated countries worldwide with great storylines, memorable characters, and superb animation. Moreover, games based on different anime series have also become popular. Hence, if you are a fan, this list of the best for iOS anime games will hook you.
However, you can try these games if you aren't an anime fan. Who knows, you might become one gradually!
1. Another Eden – Editor's choice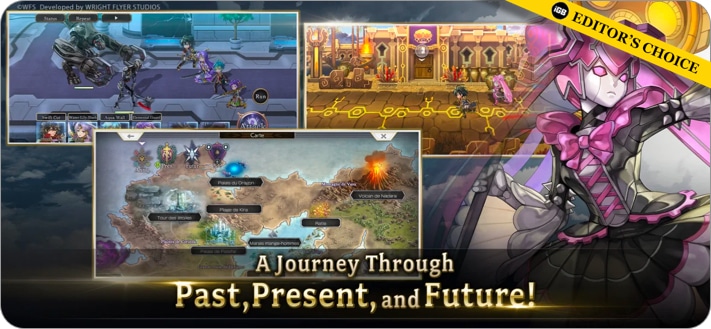 Another Eden is a revolutionary anime role-playing game with a unique storyline. The player has to travel between the past, present, and future which are interconnected, and interact with important characters to progress in the game.
Further, the battles in the game are turn-based. Thus, bringing in some aspects of strategy. While it is primarily a side-scrolling RPG, a fully 3D environment is rendered in battle sequences.
The game is also fairly lengthy, with over 80 chapters to play. So, it'll keep you engrossed for a long time. Moreover, the developers keep adding more content frequently.
However, some of the in-app purchases necessary for progression are expensive. So, be wary of extra costs when playing.
Price: Free (In-app purchases start at $0.99)
2. Dragon Ball Legends – Best anime fighting game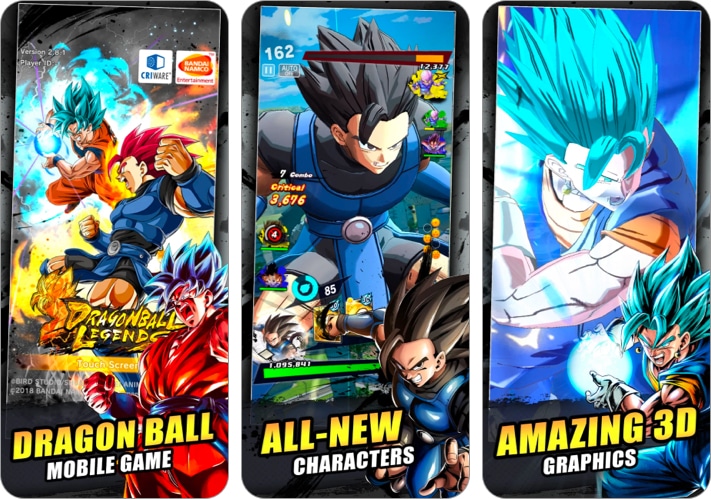 Dragon Ball has been one of my favorite animes since childhood. And Dragon Ball Legends is the franchise's latest entry into the mobile gaming scene. The RPG features all the iconic characters from the anime and manga, as well as the epic action sequences that we have all grown to love.
What's more? Akira Toriyama, the series creator, has designed a brand new character for the game with a backstory.
You have to take control of Shallot, a mysterious new character. Next, team up with other characters and help regain Shallot's lost memories. The controls are kept simple, making the 1v1 fights a combination of strategy and timing.
There's also card-based gameplay. Overall, if you're a Dragon Ball fan, you must play this game. However, if you want to play online against other players, know that there's no in-game chat feature.
Price: Free (In-app purchases start at $0.99)
3. MHA: The Strongest Hero – Alternative anime fighting game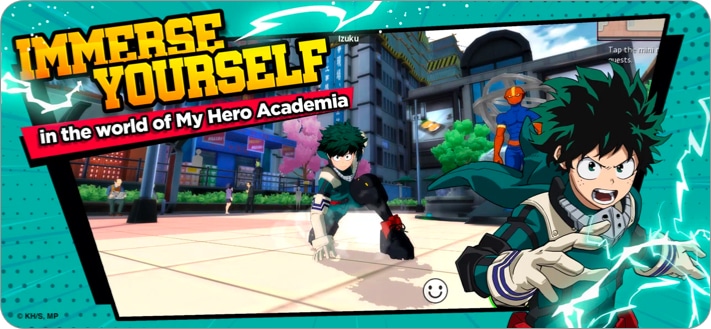 My Hero Academia was released in 2016 as a TV series and had been going strong ever since. It's become extremely popular globally. Naturally, a gaming tie-in would be expected.
However, MHA: The Strongest Hero requires you to watch the movie for The World Heroes Mission Crossover. After watching, you can better play the movie characters in this epic RPG.
Further, you can join hands with other players globally and fight the villains of My Hero Academia. Choose and upgrade your character, equip your favorite gear, and feed them to become the strongest hero possible. You can play through missions inspired by scenes from the series. Moreover, there are daily events and rewards as well.
The game is relatively new. So you might encounter some bugs and direct translation errors. Nonetheless, the developers are pushing updates frequently.
Price: Free (In-app purchases start at $0.99)
4. Yu-Gi-Oh! Duel Links – Best anime card game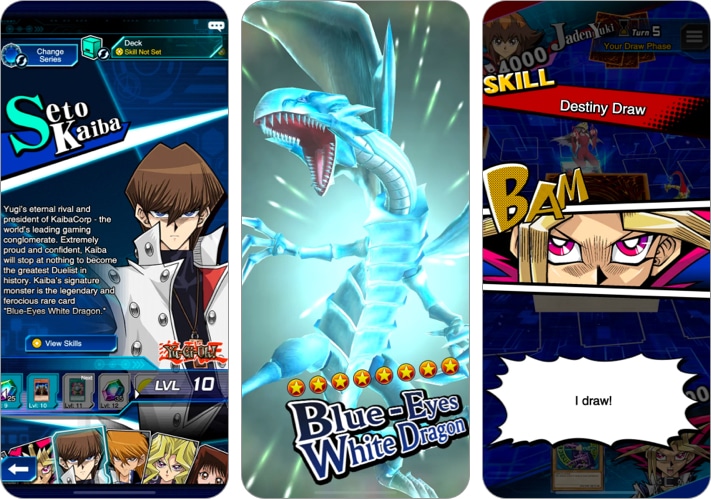 I remember watching Yu-Gi-Oh! in the early 2000s, being mesmerized by the card-based battles. While the series did not air on TV for too long, Yu-Gi-Oh! Duel Links brings back some memories.
The gameplay is based on trading cards, and you will have to duel against the characters from the show and other players. The game is beginner-friendly, and it won't take you too long to get habituated to the controls.
Progress through the game to build the strongest deck of them all. You can also complete Stage missions offline to get rewards that you can use in other Duels.
The online features are nifty, with Ranked matches and PvP duels to engage you. However, players have complained about slightly frustrating freemium mechanics. So if you want to play this game online, you'll have to be wary of trolls and spammers.
Price: Free (In-app purchases start at $0.99)
5. Bleach: Immortal Soul – Alternative anime card game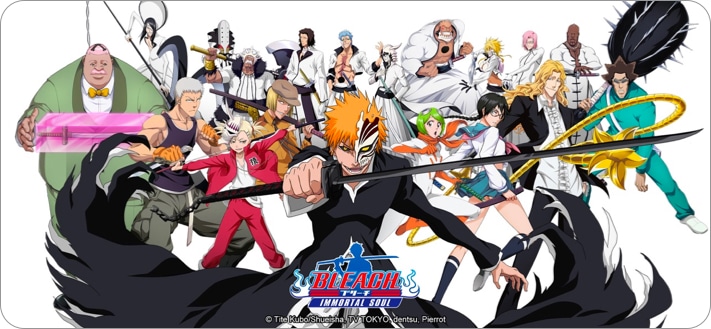 Bleach is another highly popular anime that has caught on with the rest of the world, being dubbed into numerous languages. For fans, Bleach: Immortal Soul is nothing less than a boon.
The card-based gameplay combines an original storyline and main characters to produce an enjoyable experience. You can progress to collect more powerful cards.
Based on how you play, you can upgrade specific cards to create some aces up your sleeve. Moreover, there are turn-based battles that will test your timing.
Further, Quick Time Events are aplenty, and the quicker you react to the prompts on the screen, the better your and your team's chances of surviving.
For those wondering about the amount of content, you won't be disappointed. There's a Story Mode, Roguelike mode, and Instant Battles for playing against other players online.
However, the game has had instances of random difficulty spikes. Hopefully, this should be patched out with future updates.
Price: Free (In-app purchases start at $0.99)
6. One-Punch Man: Road to Hero 2.0 – Best offline anime game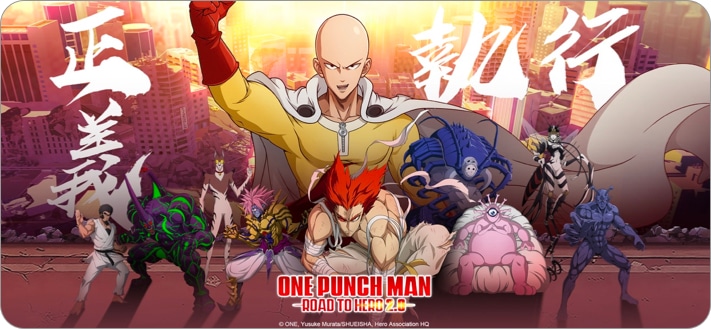 When One-Punch Man was released in late 2015, it soared to popularity, thanks to its unconventional plot and hilarious scenes. One-Punch Man: Road to Hero 2.0 also brings these aspects of the anime to a mobile game.
Here, you don't have to become the hero. Instead, you have to assemble the right team of heroes to face an unprecedented disaster level. There's card-based gameplay that relies heavily on strategizing your moves.
The Story Mode is entertaining and features characters and events from the anime. For online gameplay, there's a PvP tournament to participate in, as well as endless towers of enemies in the Extreme Trial mode.
However, one of the issues that I've found is that you will need to grind a lot to progress in the game. Be prepared to exercise patience!
Price: Free (In-app purchases start at $0.99)
7. ONE PIECE Bounty Rush – Anime battle arena game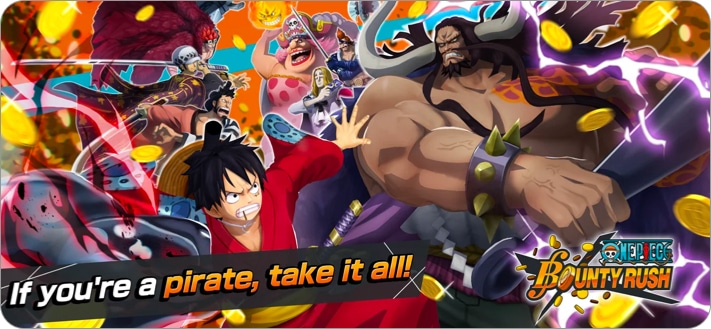 Battle arena mobile games have become popular amongst fans with Pokemon UNITE. And if you are into the genre, you should try ONE PIECE Bounty Rush.
The objective is to battle your opponents while looting as much treasure as possible. There are two teams, with 4 players each. You can take control of the likes of Luffy and Zolo.
Each character has their special move sets based on their character type. For example, you can choose an Attacker archetype if you like playing aggressively. Strategize with your friends to decide the individual roles and counter the opponents' team.
There are iconic locations to choose from, and the graphics are masterfully rendered to keep it consistent with the anime's visual style.
While you may want to become the next Pirate King, there are issues. Players have reported that characters such as Oden are unplayable and break the game. So you might want to steer clear of these characters.
Price: Free (In-app purchases start at $0.99)
8. SwordArtOnline: IntegralFactor – Best anime MMORPG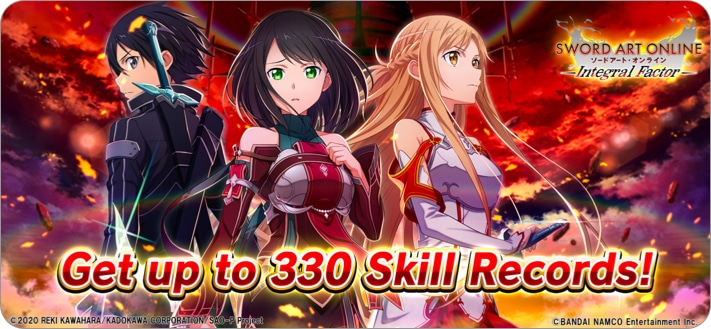 If you like MMORPGs and anime, SwordArtOnline: IntegralFactor could be your next favorite. The game puts you in the shoes of an Assault Team member, imprisoned with other players. You and your teammate Koharu have to reach the 100th floor of Aincrad.
On your way, you have to battle numerous enemies and complete unique quests. If you're already a fan of the anime, you're in for a special treat with different stories and "what-if" scenarios to play through.
You also have to strategize with other assault team members to defeat enemies. Each enemy has its strengths and weaknesses, and you can only destroy the enemies through teamwork.
Price: Free (In-app purchases start at $0.99)
9. NARUTO X BORUTO NINJA VOLTAGE – Best anime strategy game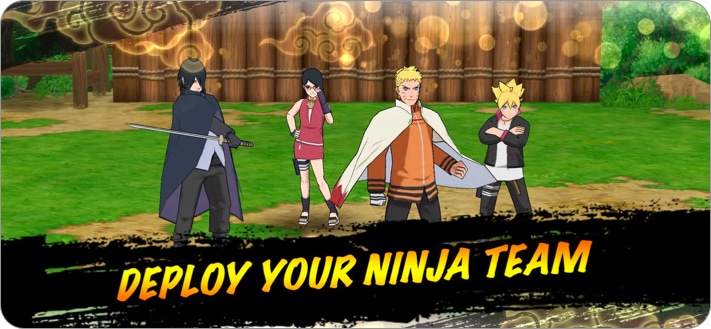 Anime-based strategy games are hard to come by. They tend to skip important elements or are poorly executed. NARUTO X BORUTO NINJA VOLTAGE attempts to change this.
The game has all the iconic characters from both Naruto and Boruto across all generations. There are intense battles to partake in, along with tower defenses and fortress building.
Moreover, you don't have to do it alone. The game features a co-op mode where you can team up with friends to defend your village from opponents.
Additionally, you must grow your village by procuring more resources and attacking other villages to establish your dominance. Train your shinobi and upgrade their skills to create a formidable army.
There's a lot of action as well, with shinobi versus shinobi battles where you can use the ultimate ninjutsu. Go online and team up with other players to complete missions and destroy Giant Bosses.
Remember that some characters have been termed as overpowered by many players. You might encounter such instances where the difficulty spikes up.
Price: Free (In-app purchases start at $0.99)
Play your favorite anime!
With the release of new, popular anime, there are bound to be more anime games for mobile devices. But until then, these games make for the best anime games for iPhone.
Do you love animes and their games? Share your answer in the comments below!
Read more:
Readers like you help support iGeeksBlog. When you make a purchase using links on our site, we may earn an affiliate commission. Read more.
Anirban is a literature post-grad who delves in philosophy and postmodern novels when not writing on tech and gaming. His love for research is only trumped by his love for chai and heavy metal.