Tired of losing fantasy draft contests to lifelong experts? Looking for a simpler, more rewarding way to enjoy fantasy sports? Bounty Sports: Fantasy Pickems is your ticket to having fun and winning big, as long as you can call which teams will win.
Let's take a closer look at how to use the app, where to get it, and everything else you should know.
Where to play?
You have two options for playing Bounty Sports: Fantasy Pickems. Firstly, you can download the mobile app to play on your iPhone or iPad. This option is easy to use whenever and wherever you want.
Alternatively, you can also visit Bounty Sports' website to play from your browser. This option provides a solid overview of contests, balance, etc. You'll also find more information on their website, such as what rules will follow if a game is postponed or canceled.
Bounty Sports: Fantasy Pickems gameplay and UI
We'll showcase both versions so you can get off to a good start with your pickems.
Mobile version (iOS)
After downloading the app from the App Store, tap its icon to run it. You'll need to create an account to redeem your free $5 and start joining contests. Tap the middle icon on the navigation bar (Live Contests) to be redirected to the account signup page.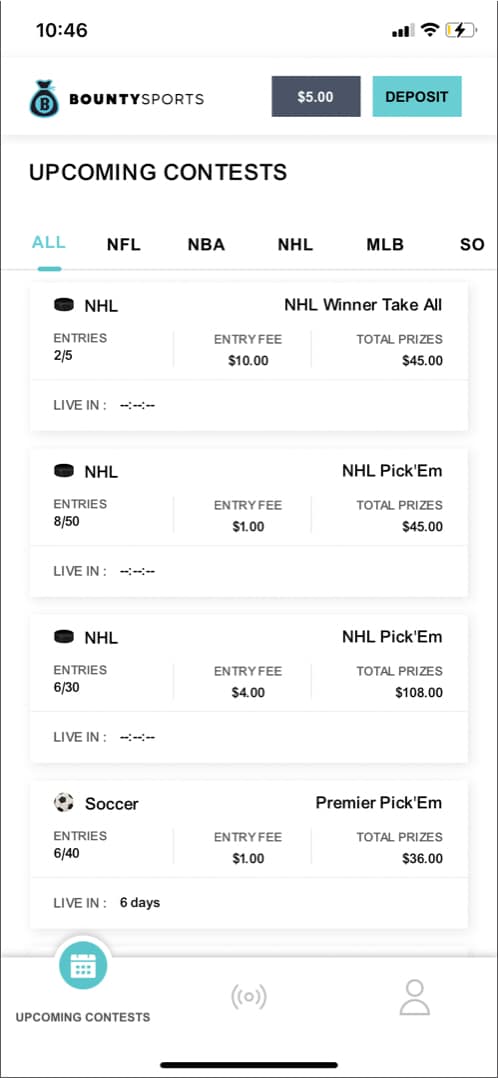 After creating an account, $5 will automatically deposit into your balance, ready for you to bet with. Select the left icon on the navigation bar (Upcoming Contests) to see available contests to enter. You can filter contests by sport at the screen's top. You can also see details such as the date and time the contest takes place, the number of entries, the entry fee, and the total prize payout.
Once you find a contest that you'd like to enter, tap its card.
Select each team or athlete you think will win the listed competitions.
Tap ENROLL at the screen's bottom.
Tap CONFIRM to confirm your entry. It's that easy—you just selected your pickems!
When a contest is live, you can find it and live results under the LIVE CONTESTS tab.
If you want to deposit more funds, there are a few ways to go about it. You can tap the DEPOSIT button at the top of the screen. OR,
Head to your PROFILE (right icon on the navigation bar).
Tap VIEW MORE → BALANCE → DEPOSIT.
Select the amount you want to deposit and enter your card or PayPal details.
Tap DEPOSIT NOW, and you're off the races.
Withdrawing works the same way: navigate to your PROFILE and tap VIEW MORE → BALANCE → WITHDRAW.
Browser version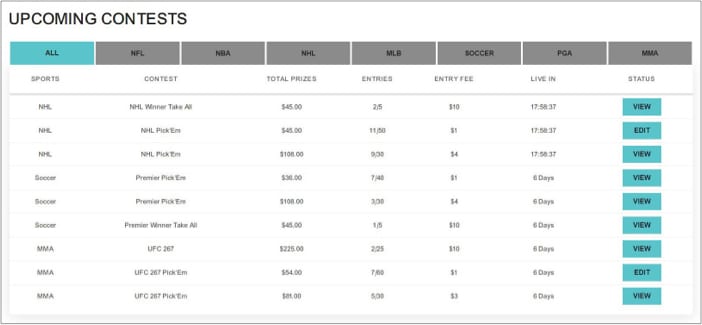 Head to the Bounty Sports website and log in or create an account.
Click CONTESTS and browse the list until you find one you'd like to enter.
Click VIEW to be taken to the pickems page.
Select your lucky (hopefully) winners and scroll down to click ENROLL.
Click OKAY to confirm your entry.
You can see stats about the contest at the page's top, such as the starting date and time, entry fee, payout, and the number of entries. As you can see, the browser version is pretty similar to the mobile version, right down to the deposit and withdrawal processes.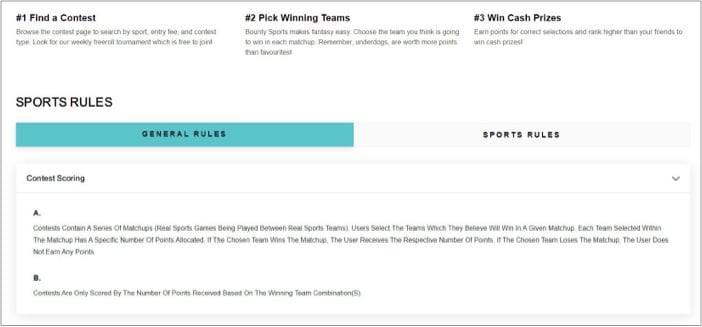 One advantage the browser version has is the HOW TO PLAY section, which features general rules about contests, information about Bounty Sports, specific sports-related rules, and more.
You can also check out the teaser of the game to get a better idea.
Fantasy sports shouldn't be more complicated than this. Bounty Sports makes it easy for sports fans of all backgrounds to have fun cheering on their favorite teams or athletes.
Bounty Sports: Fantasy Pickems – Our verdict
iGeekometer
User interface
Features
Performance
Value for money
Bounty Sports: Fantasy Pickems is an entertaining add-on to enjoying sports and fueling your competitive edge (especially if you play against friends!). Its intuitive interface simplifies the pickems process to the easiest it can be—you can make your selections and enroll in a contest in under a minute. Not bad at all!
Pros
Easy to use
Don't need extensive sports knowledge to play
Constantly updating contests
Win cash prizes
Responsive and detailed
Cons
Would like to see a larger contest pool
Bounty Sports is definitely worth a look if you're in the market for a fun fantasy sports app that doesn't require players to eat, sleep, and breathe sports statistics. Have any suggestions for apps we should review in the future? Let us know in the comments!
Read more:
Readers like you help support iGeeksBlog. When you make a purchase using links on our site, we may earn an affiliate commission. Read more.