Apple has dominated the tablet market with its impressive lineup of iPads, but Google is gradually making its presence felt in this arena. The latest addition to Google's arsenal is the Pixel Tablet, which has generated significant buzz with its range of features. Scheduled for release on June 20, 2023, this tablet aims to be a compelling alternative to iPad (10th generation).
That brings us to the burning question: Does the Pixel Tablet rival the iPad? To find the answer, let's compare and analyze these tablets, assisting you in making an informed decision for your purchase.
Pixel Tablet vs iPad (10th gen) – Specs
| | | |
| --- | --- | --- |
| Criteria | Google Pixel Tablet | Apple iPad (10th generation) |
| Size | 10.2 x 6.7 x 0.3 inches | 9.79 x 7.07 x 0.28 inches |
| Weight | 489.8g | 477g (Wi-Fi), 481g (Wi-Fi + Cellular) |
| Display | 11-inch (2560 x 1600 pixels) 16:10 LCD | 10.9-inch (2360×1640 pixels) Liquid Retina display |
| OS | Android 13 | iPadOS 16 |
| CPU | Google Tensor G2 | A14 Bionic Chip |
| Storage | 8GB RAM; 128GB, 256GB | 4GB LPDDR4X RAM; 64GB, 256 GB |
| Colors | Porcelain, Rose, Hazel | Silver, Blue, Pink, Yellow |
| Ports | USB-C and 4-pin accessory | USB-C |
| Cameras | 8 MP front and rear | 12 MP front and rear |
| Battery | 27Wh battery; Up to 12 hours | 28.6Wh lithium‑polymer; Up to 10 hours |
| Price | $499 (128 GB), $599 (256 GB) | $449 (64GB), $599 (256GB) |
Pixel Tablet vs iPad (10th gen) – Design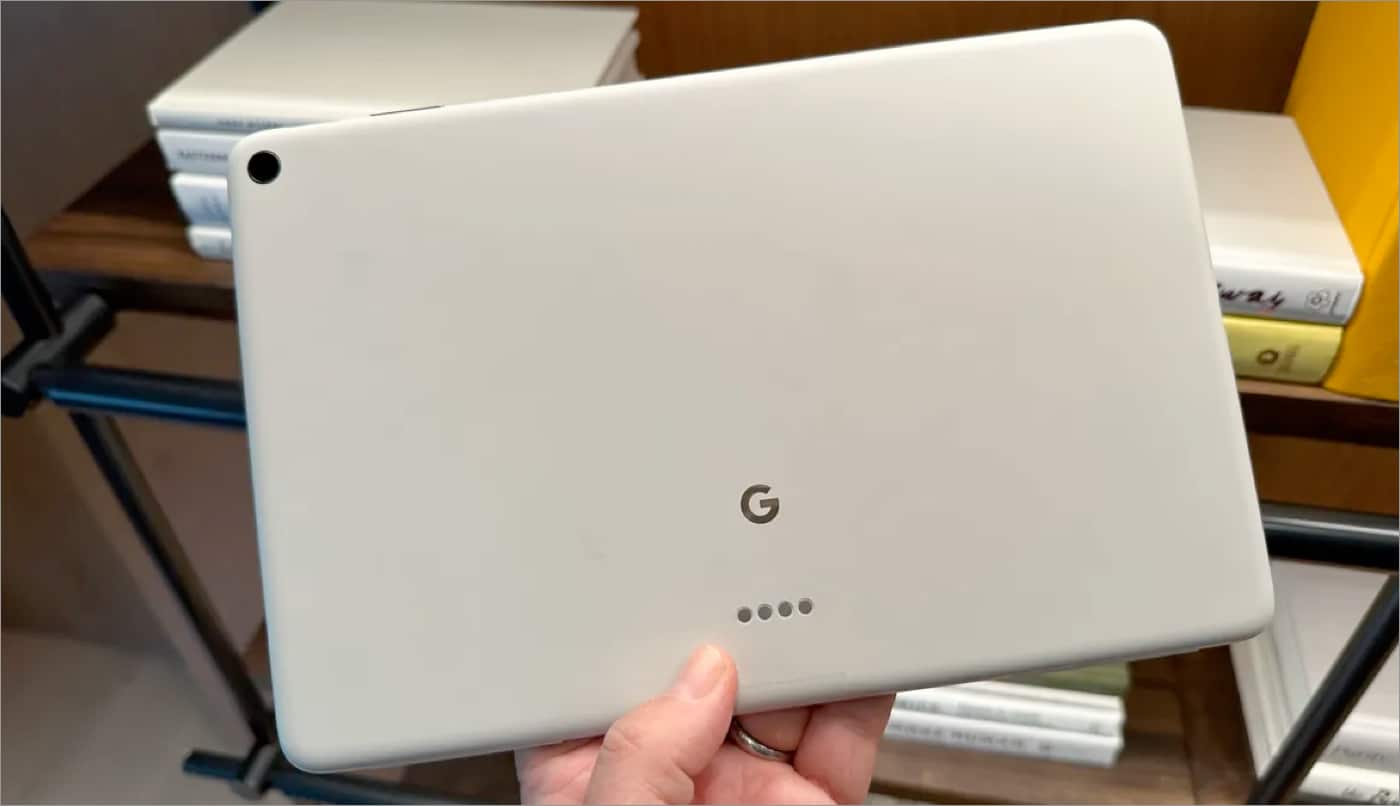 Same but different! That is how I would like to describe the designs of the Google Pixel and Apple iPad (10th generation).
Google Pixel Tablet features a robust aluminum body with a nano-ceramic coating, adding a porcelain-like look and feel to the gadget. In addition, you get three unique finishes – Porcelain (beige), Rose (Pink hue), and Hazel (Olive) – to choose from.
A white bezel surrounds the display screen for Porcelain and Rose finishes, whereas a black bezel skirts the Hazel-hued Pixel Tablet. Also, the round edges of the gadget make it easy to hold. So, if you are someone who burns night oil Instagramming, these curvy edges will be bliss. You have an 8MP selfie shooter set in landscape orientation for the camera.
At the back, Google Pixel Tablet houses the pogo pins, which connect it to the charging speaker dock (more on that later). In addition, the back side has a power button with a built-in fingerprint reader, volume rocker, and USB-C port. Furthermore, a physical privacy button placed on the tablet lets you disable the cameras and mics easily. Moreover, a glow-up Google logo is on the back of the tablet.
Coming to iPad (10th Gen), the tablet carries a straight-edged aluminum chassis, which has been around since 2018. Regarding display, you get a screen without the Home button taking a substantial space on the front. The broader display with hardly noticeable black bezel gives an edgy finish to the iPad. Moreover, funky colors like Silver, Blue, Pink, and Yellow allow you to pick an iPad that ticks your vibe.
One of the USPs of the design is the 13MP rear camera that sticks out. However, some might find it difficult to lay the iPad flat on any surface. Also, with iPad (10th Gen), Apple has done its first experiment with landscape orientation for the camera.
Unlike Pixel Tablet, iPad has a pogo-pin connector, the Smart Connector, placed on the left edge.
Winner: TIE!
Pixel Tablet vs iPad (10th gen) – Display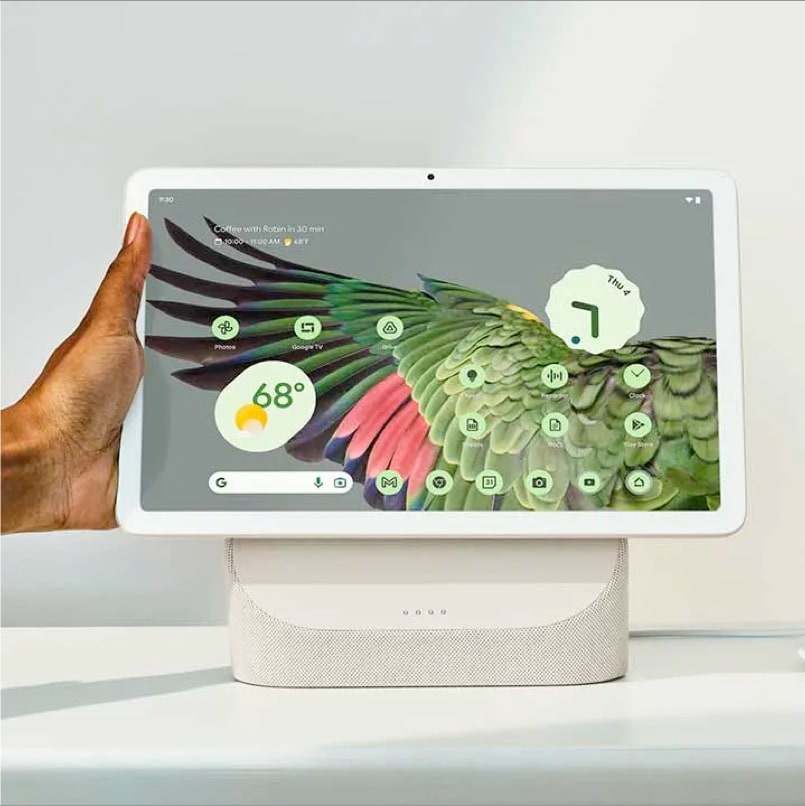 Regarding the displays, both Google Pixel Tablet and iPad (10th gen) carry Liquid Crystal Display (LCD) panels, ensuring a quality viewing experience.
Precise sharpness, negligible geometric distortion, and flat-screen shape are the main perks of an LCD screen. In addition, a refresh rate of 60Hz and a brightness level of up to 500 nits is shared by both gadgets.
The Pixel Tablet offers a 2,560 x 1,600 pixels resolution, whereas the base iPad model gives a 2,360 x 1,640 pixels display. With 276 PPI against iPad's 264 PPI, Google slightly sweeps ahead of Apple.
The tablets are pretty similar in size, with Google Pixel being 11-inch and iPad measuring 10.9-inch. Clearly, Pixel is taking the lead here with a small margin. However, the presence of True Tone on the Apple tablet makes up for the slight loss. FYI, True Tone is a blessing for users sensitive to blue light.
Winner: TIE!
Pixel Tablet vs iPad (10th gen) – Camera
Tablets are generally stereotyped to be lacking a good camera setup. This comes from the fact that most people use tablets for productivity or studies. However, I think Google Pixel Tablet and Apple iPad break these taboos by offering a reasonably impressive camera setup.
For instance, the Pixel Tablet boasts an 8MP camera on the front and back for quality picture and video captures. In addition, both the shooters on Google Pixel allow you to capture 1080p video at 30 frames per second (FPS).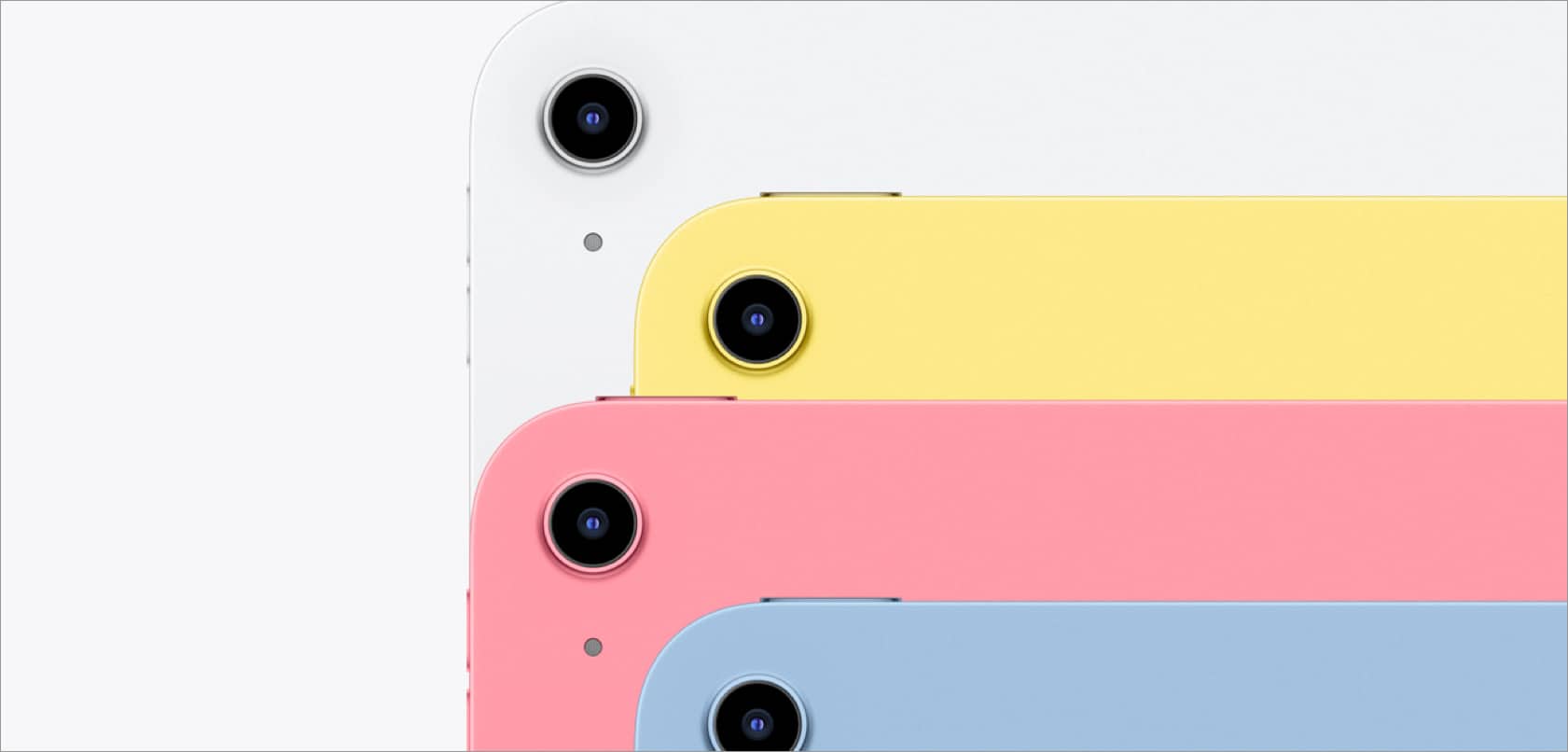 Also, you can access the Portrait Mode via the front camera to make your pictures pop out from the background. A big Bingo! Other camera settings available on the Pixel Tablet include video stabilization, photo-unblurring, and the Magic Eraser (accessible via the Google Photos app).
Contrarily, iPad (10th Gen) houses a 12MP selfie and rear camera setup. Both lenses can shoot high-definition 4K videos at 60 FPS. Moreover, the camera at the front offers Center Stage support – a feature that uses machine learning and the front camera to keep you in the center of the screen, even when you are on the move. So you are always in the frame with Center Stage! Luckily, the feature is present in Pixel as well.
Overall, if your education or business requires you to hold video conferences quite frequently, iPad is a better option.
Winner: iPad (10th gen)
Pixel Tablet vs iPad (10th gen) – Processor and performance
The Pixel Tablet and iPad (10th generation) live up to their expectations by providing robust processors. You can find a Google Tensor G2 chipset on the Android tablet and an A14 Bionic processor on iPad (10th gen). Both the chipsets ensure high-end performance during extensive usage.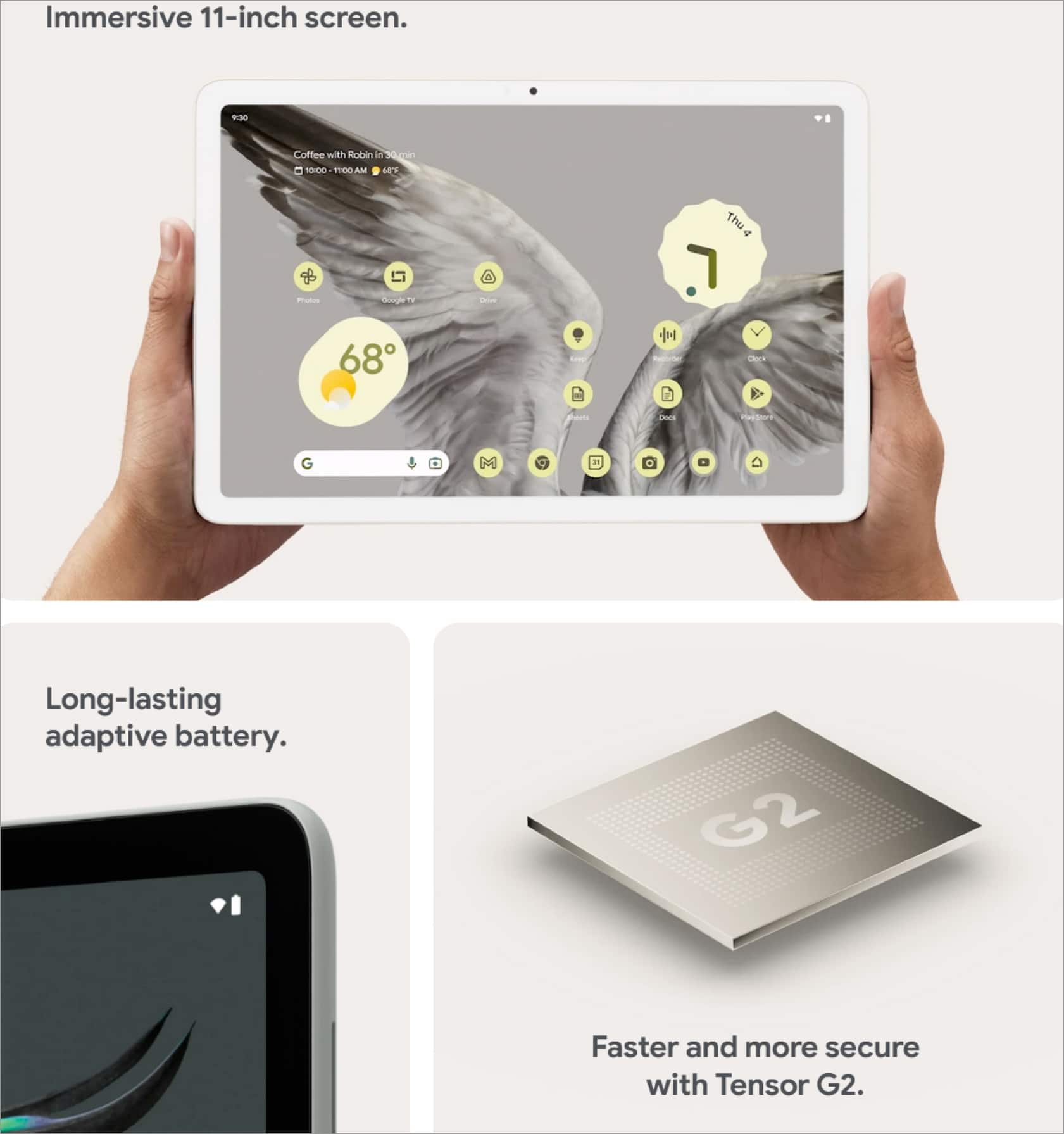 Notedly, the Tensor G2 chip offers the tablet an impressive AI-like functional capacity. The Pixel Tablet is also the first tablet to sport the Tensor G2 chip, synonymous with Google Pixel 7 and 7a.
When it comes to RAM, Google takes a big lead against Apple. With Google Pixel Tablet, you get 8GB RAM storage, while iPad packs 4GB RAM. Despite this, you might not find any substantial difference in using the gadgets for everyday use.
The iPad (10th gen) obviously comes with the benefits of the Apple ecosystem, while the Google Pixel Tablet is optimized for 50+ Google apps. Based on the security front, Apple's App Store is more accessible and trustworthy when compared to the Google Play Store.
The software face-off depends more on your devotion to Google or Apple. If you currently use Android, you will appreciate Pixel. However, if you are an Apple geek, your biased self will push you toward iPad (10th gen).
Note: Switching your data and purchases from one platform to another will involve a lot of work.
Winner: iPad (10th gen)
Pixel Tablet vs iPad (10th gen) – Battery life and charging
Google Pixel comes packed with a 27Wh battery which might be a significant turndown for many users. However, the software giant might have gotten the clue and promoted the tablet, claiming it would offer up to 12 hours of video streaming in a single go. On the other hand, Apple's 28.6Wh battery support can let you stream videos for up to 10 hours in a stretch.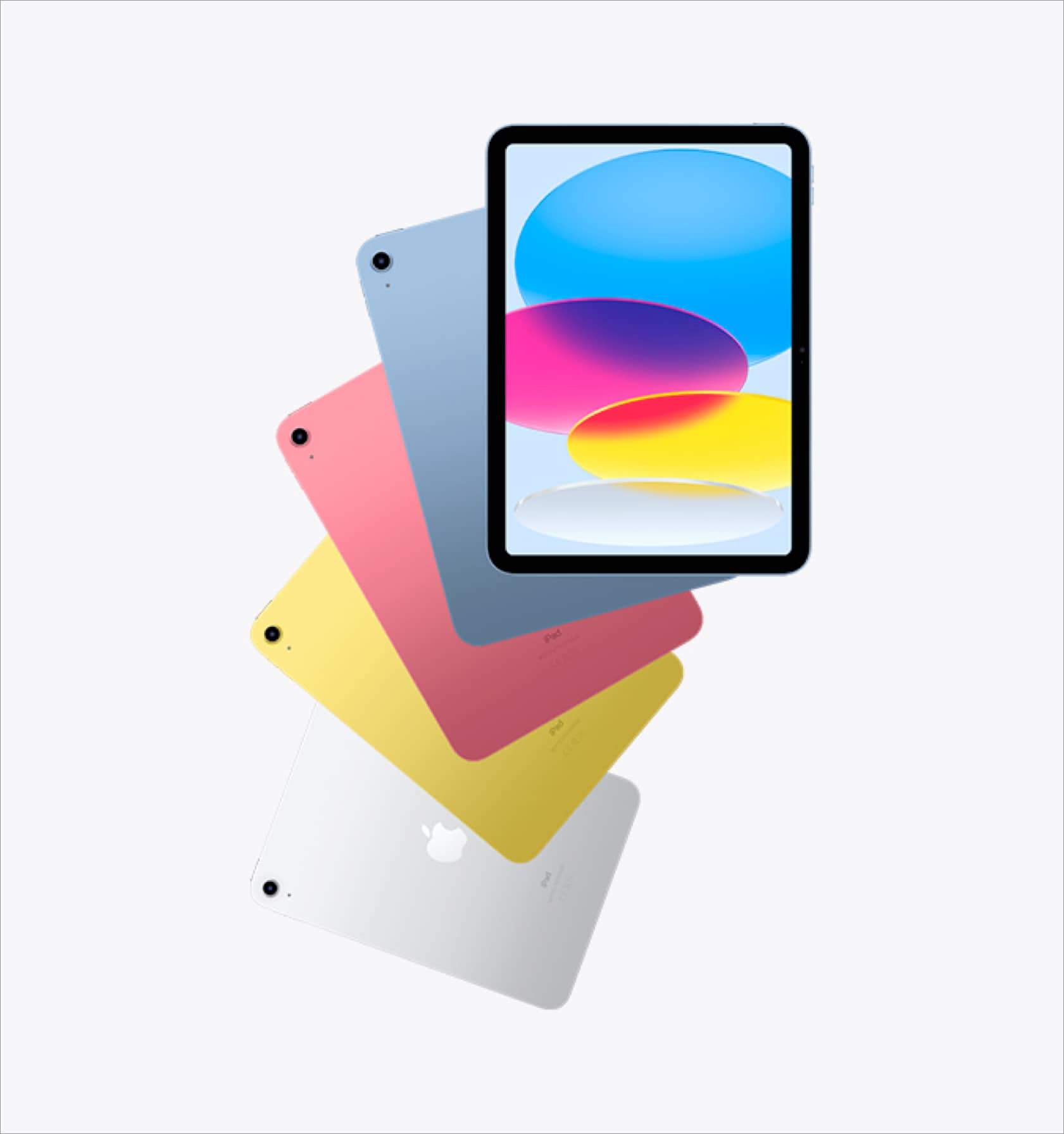 One of the most compelling features of the Google Pixel Tablet is bundling a Charging Speaker dock in the retail packaging. When you place the Pixel tablet on the dock, it charges the gadget via the spring-loaded pins, and the dock also has a speaker that ensures smooth audio routing.
Additionally, docking the tablet enables the 'Smart Home Hub Mode,' a feature that allows you to send music or videos to play on another device, like your smartphone. This facility comes easily because of the built-in Chromecast support on the tablet.
On the other hand, Apple gives a 20W adapter in its retail package carrying the iPad (10th generation). So, when all things are considered, we have a clear winner in this segment.
Winner: Google Pixel Tablet
Audio
If you are the personal DJ of your family, Google Pixel Tablet might pull your attention. The Android tablet has four built-in high-quality speakers perfect for your musical expeditions. In addition, the Charging Speaker Dock accompanying this gadget has a single 1.7-inch full-range speaker. Google claims that the speaker can deliver four times the bass of the tablet's speakers to bless you with a bombastic musical experience.
Apple iPad (10th Gen) carries one speaker on each side when used in landscape orientation.
Winner: Google Pixel Tablet
Support for accessories
The Google Pixel Tablet supports Universal Stylus Initiative 2.0 (USI 2.0). This facility adds extra features which are not available in a basic stylus. A USI 2.0-powered stylus is compatible with several devices like tablets, laptops, etc. Further, it also includes features like NFC wireless charging, improved color palette, pressure sensitivity, enhanced tilt functionality, etc.
While Google Pixel keeps options open for users to choose their stylus, Apple iPad has limited flexibility. Surprisingly, the iPad (10th generation) only works with the Apple Pencil (1st generation). Apart from being pricey ($99.00 on Amazon), the stylus also has complicated charging.
The Android tablet offers complete support for Bluetooth keyboards. On the other hand, your Apple iPad (10th generation) works well with the Magic Keyboard.
Unfortunately, Google provides no first-party keyboard case with the Pixel tablet. This can be a big bummer for Google because bundling keyboard accessories with tablets has become common for brands.
Winner: Google Pixel Tablet seems a pocket-friendly purchase here.
Pixel Tablet vs iPad (10th gen) – Price and availability
You can preorder Google Pixel Tablet on Google's official website or Amazon for a starting price of $499 in the U.S., in three different color variants: Hazel, Porcelain, and Rose. The price of the Apple iPad (10th Gen) (base model) in the Apple Store is $449.
Moreover, you can purchase Apple Pencil 1st generation and Smart Folio for iPad (10th Gen) from the Apple Store. The stylus will cost you $99, whereas the folio will cost you $79. The cost of a Magic Keyboard Folio is $249 in the Apple Store.
Which one should you buy?
Google Pixel Tablet and Apple iPad make for nearly-perfect tablets if you seek a more prominent display and better functionality. The advantages and disadvantages of both tablets characteristically decide their usability for you.
For instance, if you need a tablet for office work, like video conferencing, iPad with its 13MP camera and A14 biochip, will be your perfect companion.
On the contrary, if you want a gadget that works for all your family members, then Google Pixel should be your pick. This tablet will allow your kids to play games while transforming into a hub for your smart home.
Moreover, Apple has been in the tablet space for years now. So, to drag users away from the Apple Ecosystem, the Pixel Tab has to comprehensively beat iPad in each segment – which is not the case right now!
I hope this comparison review between Google Pixel Tablet and Apple iPad (10th generation) will help you find your perfect tech companion easily. Do let me know your pick in the comments section.
Read more:
Readers like you help support iGeeksBlog. When you make a purchase using links on our site, we may earn an affiliate commission. Read Disclaimer.