A few big players have dominated the tablet market, with Apple's iPad leading the way. Regardless, other manufacturers continuously attempt to make their mark in the market — one such newcomer is the OnePlus.
Although OnePlus has released several smartphones, its latest release is its first foray into the world of Android tablets. Up until now, no Android tablet has been able to rival the performance of Apple's tablets. So, will the newbie OnePlus Pad be able to compete with iPad (10th gen)? Let's explore how the two tablets stack against each other and determine which is ideal for you.
OnePlus Pad vs iPad (10th gen) – Specs
Before we get into the nitty-gritty, look at the basic specs the two tablets can offer.
| | | |
| --- | --- | --- |
| | OnePlus Pad | iPad (10th generation) |
| Size | 10.2 x 7.5 x 0.3 inches (258 x 189.4 x 6.5mm) | 9.79 x 7.07 x 0.28 inches (248.6 x 179.5 x 7mm) |
| Weight | 552g | 477g (Wi-Fi) 481g (Wi-Fi + Cellular) |
| Display | 11.6 inches (2800×2000 pixels), 144 Hz Display | 10.9 inch (2360×1640 pixels) Liquid Retina display |
| OS | Android 13 (OxygenOS 13.1) | iPadOS 16 |
| CPU | MediaTek Dimensity 9000 | A14 Bionic Chip |
| Storage | 8GB LPDDR5 RAM; 128GB | 4GB LPDDR4X RAM; 64GB, 256 GB |
| Colors | Halo Green | Silver, Blue, Pink, Yellow |
| Ports | USB-C | USB-C |
| Cameras | 8MP front, 13 MP rear | 12 MP front and rear |
| Battery life | 9,510mAh Battery, 67W SuperVooc;Up to 12.5 hours | 28.6 Wh lithium‑polymer;Up to 10 hours |
| Price | $479 | $449 (64GB), $599 (256GB) |
OnePlus Pad vs iPad (10th gen) – Appearance and design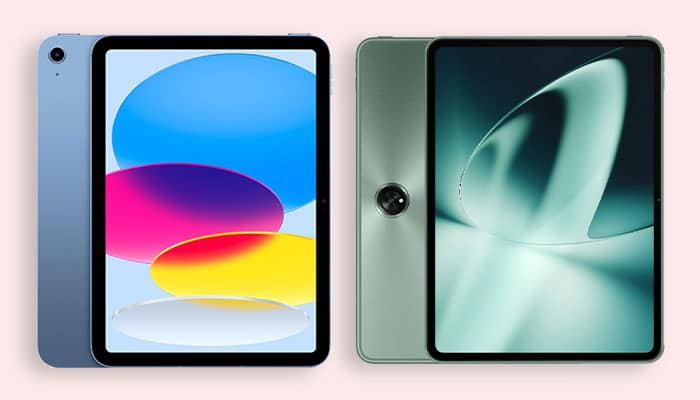 Both tablets offer a modern, sleek design with an aluminum chassis at the back and glass at the front.
Both come with power and volume buttons and speaker cutouts. However, Apple ditched the old Home button in the iPad 10th generation, resulting in a screen nearly edge to edge but still with noticeable bezels. Another plus point is the iPad's Power button with a built-in Touch ID — this makes unlocking and making purchases a very swift process with the iPad.
The iPad also ditched the curved edges that come with its predecessors and now has straight sides like the iPad Air and Pro ranges, giving it a clean, modern look. In contrast, the OnePlus Pad has curved edges along its sides and bottom, which is more ergonomic and comfortable to hold. The weight difference is minimal, and both tablets are lightweight and compact.
One stark difference in the design would be the enormous 13MP rear camera of the OnePlus Pad. It comes with an eye-catching black circle that sticks out, which makes it impossible for the tablet to lay flat on any surface.
Also, the camera placement is rather odd when in portrait mode, but it would make sense if you're holding the tablet in landscape mode.
If you're into bold colors, you'll love the iPad color selection of Silver, Yellow, Pink, and Yellow. In contrast, the OnePlus Pad offers a more sleek, regal Green Halo design.
Both tablets have a USB Type-C port and ditched the 3.5mm headphone jack.
OnePlus Pad vs iPad (10th gen) – Display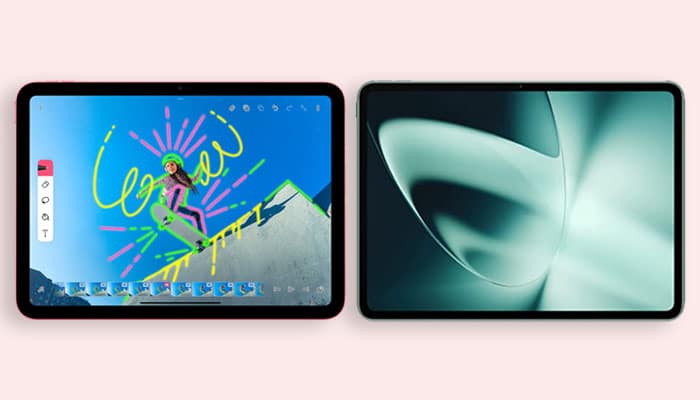 When it comes to display, the two tablets are equally bright, offering a peak brightness of 500 nits. But when it comes to size, the OnePlus tablet has a slight advantage with a slightly bigger 11.6-inch display compared to the iPad's 10.9-inch.
OnePlus Pad also brags about its 144Hz refresh rate, which you won't get with the iPad. The Apple device still offers 60Hz refresh rate.
While this sounds great for the OnePlus Pad on paper, there's minimal difference in terms of viewing experience.
OnePlus Pad vs iPad (10th gen) – Power and performance
It's tough to compare the power of the two processors, given that they work on different platforms. The A14 Bionic processor powers the iPad 10th gen, while the Android tablet comes with a newer Dimensity 9000 SoC.
However, benchmark tests show that the iPad 10th gen supersedes the OnePlus Pad in overall CPU performance and video transcoding tests.
This is probably owed to the fact that the iPad, and all Apple devices for that matter, have chips integrated within the Apple ecosystem. Having hardware paired with its own software promises a more optimized performance, so you can expect the iPad to give a smoother experience overall.
While the OnePlus Pad has a bigger RAM (8GB) than the iPad's 4GB RAM, you'll probably not notice much difference in everyday use.
Both tablets can handle graphics-heavy activities, but the OnePlus Pad's high refresh-rate display may give you a better viewing experience.
Software
One of the biggest edges the iPad has over all other tablets is the refined feel from the seamless UI, apps dedicated to the iPad, and the smooth way it integrates within the Apple ecosystem.
Additionally, most users use their tablets as an additional screen for their laptops and desktops. This gives another edge to the iPad, which uses the Sidecar feature to work efficiently with Mac.
Here are all the iPads and Macs that support Sidecar.
While the OnePlus Pad has a clean UI, it still needs work to match the iPad's.
Audio quality
If you're an audiophile, you may prefer the OnePlus Pad's Omnibearing Sound Field technology, which aims to provide optimum sound quality in any direction with its four powerful speakers (two on each side when in landscape) that also support Dolby Atmos for premium audio quality.
Meanwhile, the iPad 10th generation houses one speaker on each side when in landscape mode.
OnePlus Pad vs iPad (10th gen) – Camera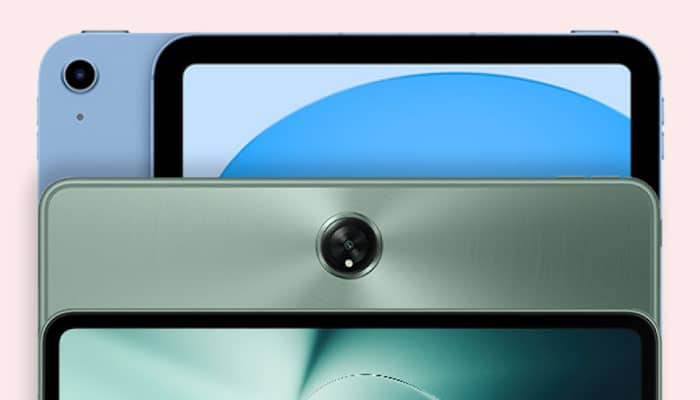 While tablets generally don't need great cameras, most tablets are used for online video conferencing for work or school. The OnePlus Pad has a 13MP rear camera and 8MP front-facing camera, while the iPad 10th generation houses a 12MP front and rear camera.
This makes either device an excellent choice for taking pictures and video chat.
OnePlus Pad vs iPad (10th gen) – Battery life and charging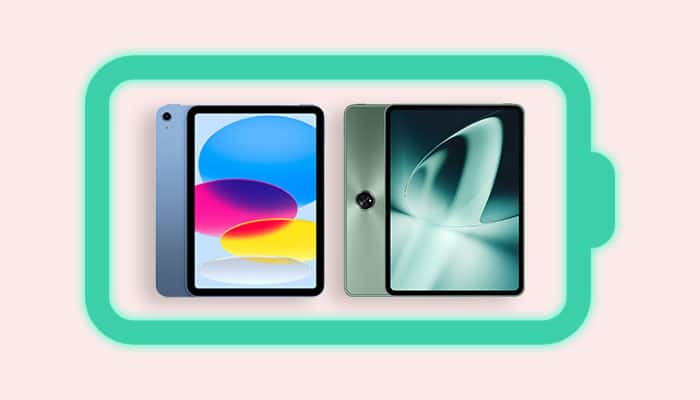 The iPad's 28.6 watt-hour battery can last up to 10 hours of video playback. Meanwhile, the OnePlus Pad can last up to 12.4 hours of video playback with its 9,510 mAh battery.
A game-changer would be OnePlus Pad's 67W SUPERVOOC, which only takes an hour to make a full charge. In contrast, with a 20W wired charging speed, the Apple device may take longer to go from zero to 100.
Support for accessories
When it comes to accessories, the OnePlus Pad is better in terms of charging. One big downside of the iPad 10th gen is that it only supports the Apple Pencil 1st generation, which is very awkward to charge compared to the OnePlus Pad's Stylo, which you can charge just by snapping it to the flat top portion of the pen — no additional adapter needed!
Both devices offer keyboard support, making both tablets great alternatives to notebooks. The iPad works well with its Magic Keyboard Folio, while the OnePlus Pad has its OnePlus Magnetic Keyboard.
Both attach via pogo pins and have trackpads. However, the Magic Keyboard Folio has two separate pieces, while the Android keyboard resembles the early Apple Smart Keyboard.
The downside of the OnePlus Magnetic Keyboard is that it only works by placing the tablet in a slot above the keyboard keys, which means you only get one viewing angle.
In contrast, the Folio doesn't have a slot to put your iPad into. This allows you to prop it at different viewing angles.
OnePlus Pad vs iPad (10th gen) – Price and availability
The OnePlus Pad costs $479, while the iPad costs $449. The accessories are sold separately.
The OnePlus Pad's stylus costs $149, while the case costs $39. The Apple Pencil and Folio case is also sold separately, costing $99 and $249, respectively.
Aside from the Magic Keyboard Folio, here are other folio cases for the iPad 10th generation that you should check out.
Which tablet should you buy in 2023?
The two tablets have their own advantages and disadvantages over the other. However, if your primary use for the device is work-related tasks such as video conferencing or content creation, the iPad 10th generation may be a better choice, thanks to its integration with the Apple ecosystem.
Meanwhile, if you plan to get a tablet for gaming and audio quality and graphics matter to you, then the OnePlus Pad could be a better choice. Additionally, if the price is an essential factor in your decision, the OnePlus Pad will cost you less.
Ultimately, it all depends on your needs and preferences. Consider the features of each device carefully before making a decision. Both are excellent choices for tablets, and so whichever you choose, you will have a good experience.
Read more:
Readers like you help support iGeeksBlog. When you make a purchase using links on our site, we may earn an affiliate commission. Read Disclaimer.