With Micro USB to Lightning adapters, you not only get a quick data transfer option from one platform to another but also fast charging even with an Android accessory. If you're having a hard time finding the right product, here're my best Micro USB to Lightning adapters. Let's have a look at the entries, shall we?
1. AxPower OTG micro USB to iPhone cable – Editor's choice
Connector type – Micro USB
Length – 1 foot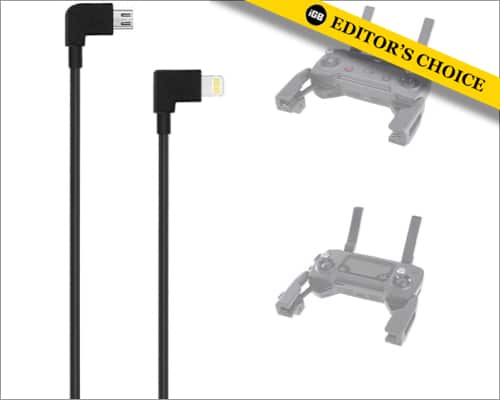 This Micro USB to Lightning adapter from AxPower is probably one of the more durable and sturdy adapters you'll find. The cable is made from premium PVC material to reduce the chances of snapping or tearing.
It also supports fast charging, backed up by the durable materials used in its manufacturing. Moreover, there's a certain versatility here, especially if you're a photographer and use a drone. Lastly, the length of the cable isn't much, but it gets the job done at one foot's length.
You might face issues with the customer service, though. Several customers have reported receiving defective pieces.
Pros
Great build quality
Durable
Quite versatile
Cons
Customer service is lacking
Check out on: Amazon
2. Zoyuzan 3-Pack Lightning adapter – Value for money
Connector type – Lightning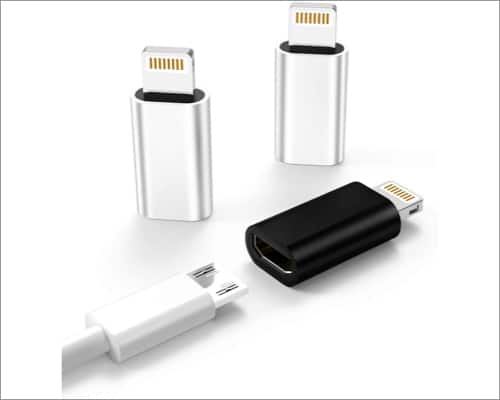 This 3-pack Micro USB to Lightning connector from Zoyuzan won't burn a hole in your wallet. Moreover, there are three pieces provided for the Lightning connector plug.
The plugs are made from high-quality alloy, durable enough in pressing situations. Nonetheless, even if one breaks, you'll have extras to ensure that your work doesn't stop.
Furthermore, this product supports fast charging, making it an easy option if you don't have much cash to spend and need immediate relief. Lastly, the manufacturer provides a 12-month warranty as well!
Since the Lightning connector plugs are small, you'll have to be careful not to lose them.
Pros
You get three for the price of one
Decent build quality
Fast-charging option
12-month warranty
Cons
The small size makes it difficult to keep track of the adapter
Check out on: Amazon
3. VisionTek MFi-certified adapter – Universal compatibility
Connector type – Lightning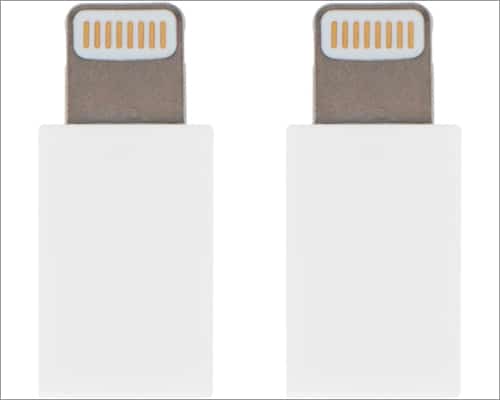 This product from VisionTek comes with two Lightning connectors and is compatible with all the latest iPhones. If it has a Lightning port, this product will work seamlessly with it.
It's small and affordable as well. Moreover, it has the prestigious Apple MFi certification to ensure that your usage of the product doesn't void the warranty or cause any issues with your Apple products.
Unfortunately, the plastic exterior reduces the build quality noticeably.
Pros
Compatible with all iPhones and other Apple products
Aggressive pricing
Apple MFi-certified
Cons
Build quality isn't great
Check out on: Amazon
Connector type – Lightning, Micro USB
Length – 0.5 feet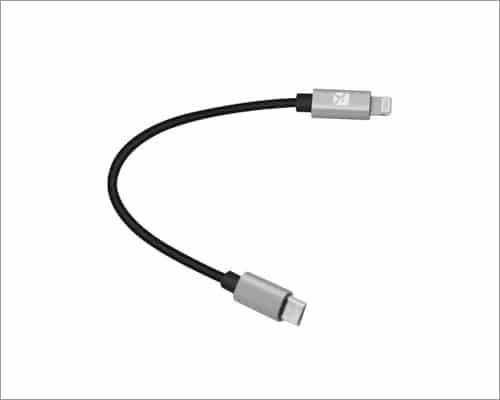 The Meenova Micro USB to Lightning adapter is one of the best that you can get on the market today. The first thing you'll notice after purchasing this product is its quality. It's evident that the company has ensured that the product is worth the money you're paying.
Additionally, it's compliant with the latest CE and RoHS standards. This makes it safe for the environment as well. The data transfer speeds aren't anything revolutionary but should do the trick in most cases.
There are a couple of issues with this adapter, however. Firstly, you can't use it to charge your Apple device. It's only meant for data transfers. Secondly, this product isn't MFi certified.
Pros
Premium finish
CE and RoHS standards compliant
Satisfactory data transfer speeds
Cons
Not MFi certified at this price range
Can't be used for charging your device
Check out on: Amazon
5. Wondrux 1FT OTG adapter – Perfect for drones
Connector type – Micro USB
Length – 1 foot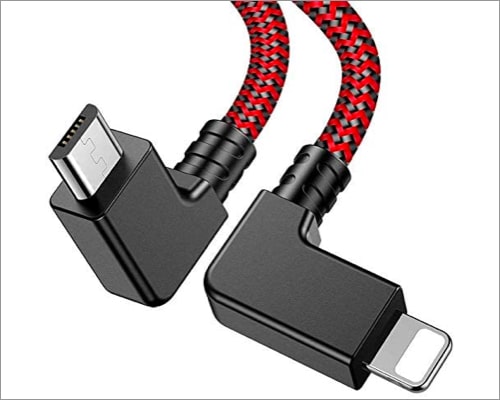 If you want a good connector for your photography and drone needs, this product by Wondrux should be your best bet. The Lightning cables that come out of the box with drones are fragile and tend to be replaced within the first few weeks.
With this offering from Wondrux, you don't have to worry about replacements for months on end. The cable comes in a braided pattern, strengthening the bond between the plug/connector and the cable itself. While we're on the topic, did you know that the wire material on this cable is bulletproof aramid fiber?
Furthermore, the right-angle plug makes it easier to plug into your devices. It's also quite fast in data transmission. According to the manufacturer, it's about 10% faster.
However, it doesn't fit well into phones if you're using a phone case. It's recommended that you remove the case before using this Micro USB to Lightning adapter.
Pros
Excellent build quality
Right-angle plug makes connecting with the device easier
Faster data transmission
Cons
Not compatible with iPhones using cases
Check out on: Amazon
6. HomeSpot converter – Great for charging
Connector type – Lightning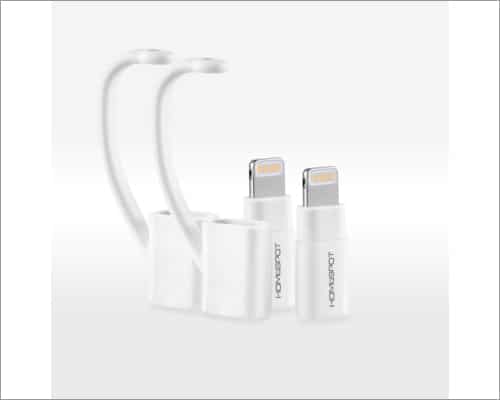 We're all well aware of how bad the situation can get with the Lightning connectors and cables that come out of the box. If you need a replacement, this product by HomeSpot is perfect.
Firstly, the product is Apple MFi certified, implying that it's meant to be used with Apple devices, even though it's compatible with a few non-Apple devices as well. Moreover, the adapter is heat resistant. This makes it an excellent option if you prefer fast charging.
It's quite small, though. So you'll have to keep it carefully, otherwise, there's a chance of losing the adapter.
Pros
Apple MFi certified
Resistant to heat during fast charging
Cons
Small size makes it easy to misplace
Check out on: Amazon
7. ARKTEK micro USB adapter with keychain – Stylish and elegant
Connector type – Lightning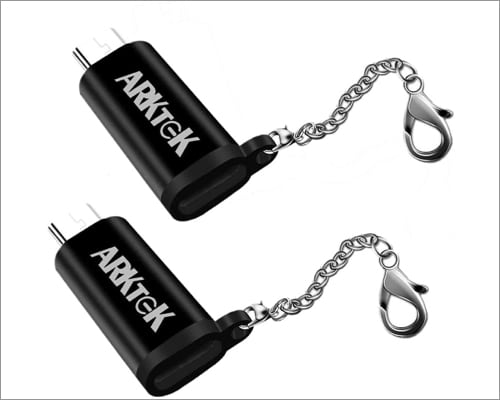 Who knew that a Micro USB to Lightning adapter could be a part of your style? With the ARKTEK adapter, you'll be quite surprised at how elegant it is.
The adapter is made from high-grade aluminum and has a high resistance pull-up resistor for better quality. Essentially, you can use this for fast charging without facing any heating issues. It's also easy to use. All you need to do is plug and play. There's no need for any additional software installation.
Lastly, the keychain style works exceptionally well if you have a habit of losing adapters.
However, you'll have to be careful with the adapter as it isn't too durable in certain situations. The attached clip tends to bend easily.
Pros
Stylish
Keychain adds convenience
No additional software installation required
Capable of handling fast charging
Check out on: Amazon
8. Belkin Micro USB Cable with Lightning connector – 2-in-1 connector
Connector type – USB 3.0
Length – 3 feet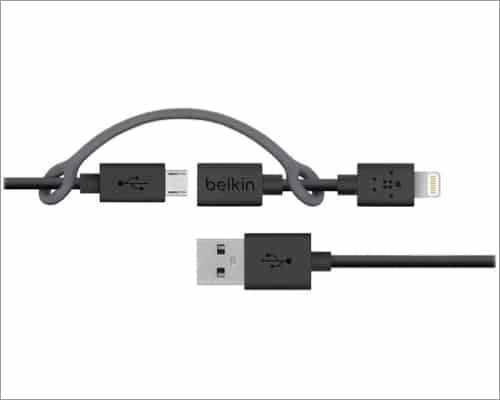 Belkin has been making some of the best Apple accessories for the longest time. With its Micro USB to Lightning adapter, things are no different.
You get quality and the assurance that your accessory is meant to be used with Apple products. With the provided charging cable, you can change from Micro USB to Lightning, and vice versa, without skipping a beat. Moreover, it's compatible with most cases.
However, the only catch is that its connector is USB and not Micro USB. So, if you have a USB connector, this is the perfect product as you can connect the iPhone through its Lightning cable via Micro USB.
Further, the adapter provides a 3-feet cable offering you good reach. You don't have to worry about portability either, as it can be tied up and carried wherever you go.
Unfortunately, some users have stated that it isn't too durable and can break down after extensive use.
Pros
Compatible with many iPhones
Can change from Micro USB to Lightning and vice versa
3-feet cable for reach
Cons
Build quality could've been better
It has the USB connector type
Check out on: Amazon
That's it!
So, what did you think of my picks for the best Micro USB to Lightning adapters? If you're looking for something cheap and convenient, these are the options you can go for. Let me know in the comments if there are other products you've used and liked so far!
Read more:
Readers like you help support iGeeksBlog. When you make a purchase using links on our site, we may earn an affiliate commission. Read Disclaimer.