CD and DVD drives are now considered devices that induce nostalgia. Most major laptop manufacturers now rely on USB ports and drives for transferring data. Moreover, with Apple discontinuing the inclusion of optical drives in their Macs in 2016, you need an external CD drive for Mac to read or write data from CDs and DVDs.
So, if you've been looking for the best external CD drive for Mac, check out this list without further ado!
1. Apple USB SuperDrive – Editor's choice
Hardware interface – USB 2.0
Weight – 335g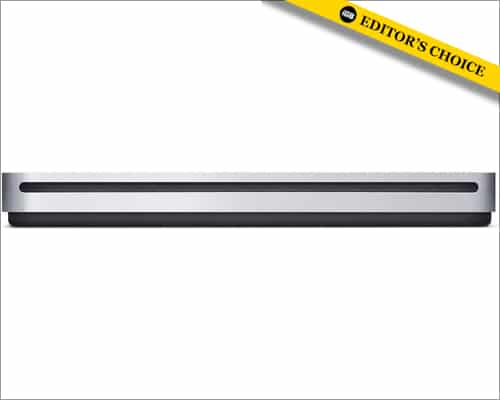 The best external DVD drive for Mac has to be a product by Apple, right? With the Apple USB SuperDrive, you get one of the best optical drives ever made.
First, the drive is sleek and fits the aesthetics of the MacBook. It's slightly larger than a CD drive. This makes the SuperDrive an excellent option if you're traveling, as it can slip easily into your travel bags.
Additionally, you can connect it to your older Mac through the built-in USB-A cable. For the more recent Mac models out there, you'll have to purchase an adapter, however. A major con of this product is its price. Not everyone would be willing to spend this much on an optical drive.
Pros
Excellent design philosophy
Lightweight and portable
Compatible with all Macs
Check out on: Amazon | Apple | Best Buy
2. Gotega External DVD Drive – Value for money
Hardware interface – USB 3.0 Type-A, USB 3.0
Weight – 340g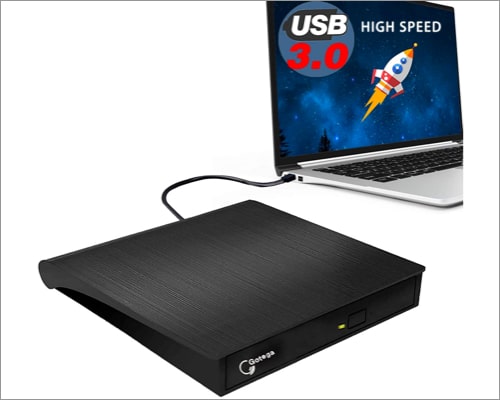 If you're not comfortable willing to spend large sums of money on CD readers for Mac but want your money's worth, this offering from Gotega should be a great choice.
It's got excellent read and write speeds, with 8x speed for DVDs and 24x speed for CDs. This CD drive for Mac is also widely compatible with a range of macOS versions, starting 10.14. Since it works through USB 3.0, it's also easy to use. Just plug it into your Mac, the drivers will automatically be installed, and you can use it!
The provided connecting cord is too short, however, coming at a paltry 8 inches.
Pros
Great pricing
Fast data transmission
Easy to use
Cons
Connecting cord is too short
Check out on: Amazon
3. Amicool External DVD Drive – Elegant design
Hardware interface – USB 3.0, USB 2.0, USB 1.0
Weight – 348g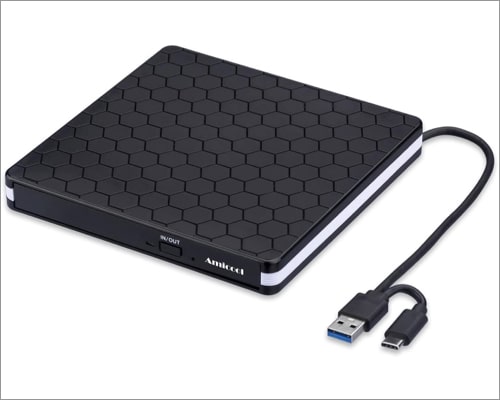 For those who prefer aesthetics on our gadgets, the Amicool DVD and CD reader for Mac is a superb choice. It not only does the job well but also looks good while doing so!
It features a plug-and-play format, meaning you don't have to install additional software to use the device. The optical drive is also backward compatible, with USB 3.0, USB 2.0, and USB 1.0 functionality. A fast data transmission speed of 5Gbps ensures that you're not lagging.
Lastly, the slim design, along with the honeycomb pattern on top, gives this optical drive an elegant aesthetic. However, the build quality seems a bit fragile. So, you'll have to handle this drive with care.
Pros
Superb design aesthetics
Backward compatibility with older USB ports
Excellent speed
Check out on: Amazon
Hardware interface – USB 3.0, USB 2.0
Weight – 198g
SAMSUNG has a penchant for making quality devices. Even for the DVD readers for the Mac segment, the TSST optical drive is one of the best you can find.
Apart from the fact that it looks dashing, the drive is also ultra-slim at just 14mm thickness. The optical drive is even compatible with USB 2.0 and USB 3.0 ports. Additionally, SAMSUNG has provided some extra technologies such as Tilt Actuator Compensation Technology to make this device a delight to use.
Ultimately, while paying a premium for the drive, you're getting your money's worth. The only gripe with this drive is that it takes a while to set up.
Pros
Ultra-slim
Added features like Tilt Actuator Compensation
Backward compatibility
Cons
Software to set up the device feels clunky
Check out on: Amazon
5. Rioddas External CD Drive – For those on a tight budget
Hardware interface – USB 3.0
Weight – 198g
Now, we come to our final entry. This device from Rioddas is perfectly priced for those who need an optical drive immediately and are on a shoestring budget.
It's convenient to use. You don't have to install any additional software to make it work. The drive also comes with USB 3.0 technology for superior data transfer speeds. Moreover, it's backward compatible with USB 2.0. There's also an Eject button for added convenience.
The copper mesh technology inside the drive ensures that your CD or DVD faces no damage. The build quality could've been better, though, even at this price point.
Pros
Affordable pricing
Convenient to use
Backward compatibility
Check out on: Amazon
Summing up
These were my picks for the best external CD drives for Mac. Hopefully, you'll have an easier time deciding which optical drive to pick. While reading and writing discs for photos or movies have gone out of trend, plenty of people still rely on this technology. If you're one of them, these CD and DVD readers for Mac should help immensely.
Let me know your thoughts in the comment section below!
Read more:
Readers like you help support iGeeksBlog. When you make a purchase using links on our site, we may earn an affiliate commission. Read Disclaimer.