Your iPhone is one of the most advanced pieces of technology on the planet. From entertainment to locating nearby hospitals, there's very little that this device can't do. However, to bring out the full potential of the iPhone, especially when traveling, a few accessories are recommended.
These travel accessories for iPhone allow you to keep your phone charged throughout, take better pictures, store cash or credit cards, and even provide better audio experiences. Let's take a look at a few items I believe are excellent additions and travel buddies to your powerhouse of a phone!
Universal travel adapters for frequent travelers
If you travel between continents, such as Europe, Asia, and the United States quite frequently, a universal travel adapter will be your best friend. Moreover, considering the fact that most countries use different socket designs and protocols for electronic appliances, a universal travel adapter saves you the hassle of buying new adapters for each country you visit.
1. EPICKA Universal Travel Adapter – Multiple USB support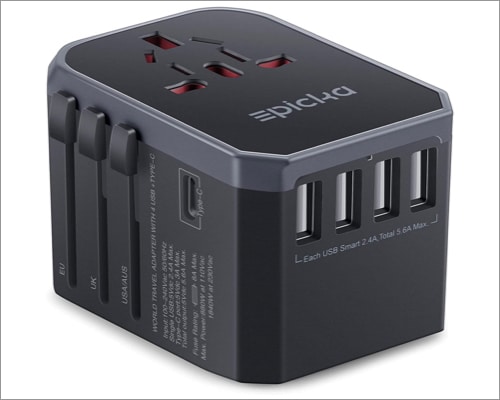 If you see yourself traveling between Europe and the US on a frequent basis, the EPICKA Universal travel adapter is a handy accessory to have. This particular travel adapter supports Type C, Type C2, Type E, Type E&F, Type J, and Type L for European countries. For Australia, you'll find Type I support. If you're visiting the US, you'll have no issues with the Type A and Type B support.
Finally, for the UK, the universal adapter provides Type G support. Basically, the adapter is compatible enough to be used in over 150 countries around the world. Furthermore, the adapter itself is replete with 4 USB + Type C ports, allowing you to charge multiple devices at the same time (up to six).
This product also comes with a few safety nets, such as 8A Overload Dual Fuse, Safety Shutters, and a Plug Lock System. Overall, for the price, there are very few better products available in the market.
The only major con of this device is that you won't be able to use it in African, Asian, and Middle Eastern countries.
Pros
Can charge up to six devices at the same time
Comes with a slew of safety measures
4 USB + Type C ports provided
Cons
Can't be used in certain African, Asian, and Middle-Eastern countries
2. NEWVANGA Travel Adapter – Can be used in over 150 countries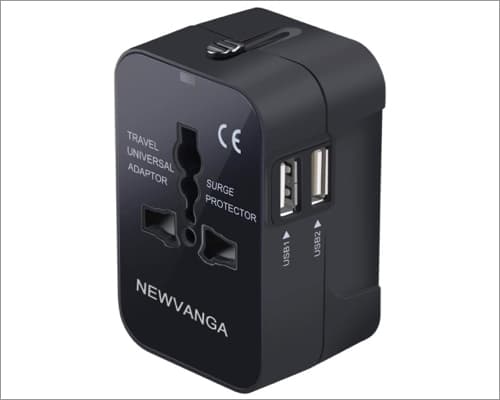 For my second pick of the best iPhone travel accessories, check out the NEWVANGA travel adapter. This device is compatible with sockets in over 150 countries, including Thailand, Hong Kong, India, Israel, Canada, and Australia.
The travel adapter comes in a small, detachable design that includes five unique input plugs. These plugs are all tightly connected into one single adapter, providing an unprecedented level of portability. You won't have to worry about safety either, as the adapter comes with FCC, CE, and RoHS certifications.
Unfortunately, the device does not come with a USB-C port. This could severely limit its usage later on. For now, however, it's a decent and affordable option.
Pros
Compatible with sockets used in over 150 countries
Compact and detachable design
FCC, CE, RoHS certification provided
Cons
Does not come with a USB-C port
Selfie Sticks
The iPhone tends to have the best camera system in its segment. Even some of the older iPhones perform better than other competitor products. However, even having the best camera system won't save you from some atrocious selfies or vlogs if you can't get the angle right. Selfie sticks can be a decent addition to your traveling kit for such situations.
3. Bluehorn Selfie Stick – Extends up to 40 inches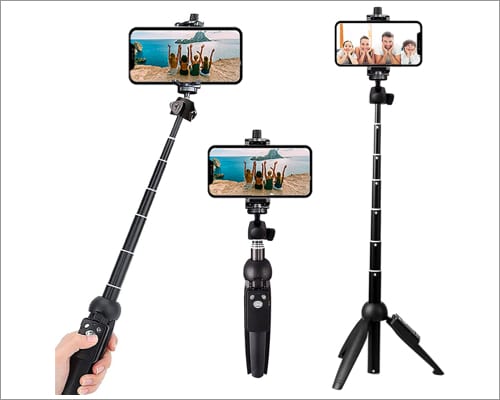 If you're looking for one of the best selfie sticks for iPhone, look no further. The selfie stick can be extended up to 40 inches and is made of aluminum alloy to provide the ultimate durability. You'll also be able to extend the stick's legs to form a tripod whenever required.
Of course, Bluehorn has also added wireless connectivity to the selfie stick, ensuring that your group moments are impeccably easy to capture. With 10 meters of wireless connectivity, your vlogging and photography sessions can be expanded to include new horizons and ideas!
However, one major issue with the selfie stick is that extending it can destabilize the entire ensemble, especially if you use a large phone. So, extending the selfie stick to its full length is recommended only if you're using a smaller phone.
Pros
Can extend up to 40 inches
Made of aluminum alloy to provide durability
Provides 10 meters of wireless connectivity
Cons
Tripod legs aren't very stable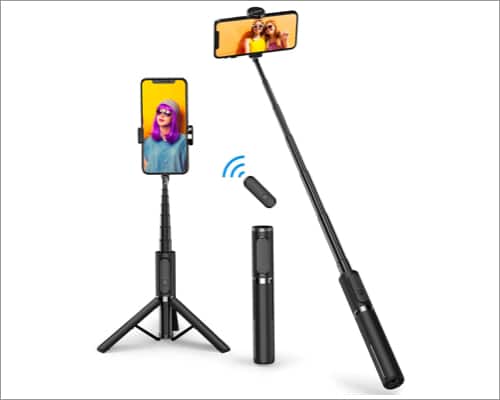 Up next, we have one of the most premium and portable selfie sticks you can purchase today. The ATUMTEK selfie stick is constructed with aviation-grade aluminum alloy and treated with anodic oxidation processes to ensure durability and stability.
Moreover, the selfie stick, without extension, measures only 7.7 inches. However, you'll be able to extend it to over 30 inches quite easily whenever the need arises. Additionally, you'll find a detachable Bluetooth remote with a selfie stick that can take up to 15,000 pictures when fully charged. Finally, with the ability to rotate the phone holder up to 270 degrees, you'll be able to click pictures exactly the way you want!
Unfortunately, using the phone holder's clamp the first few times can be difficult. The springs used in the clamp are quite strong and may require a fair bit of strength to pry open.
Pros
When folded, measures only 7.7 inches
The phone holder can rotate 270 degrees
Made of aviation-grade aluminum alloy
Cons
The phone holder clamp can be rather tight
Power Banks
While the latest iPhones have excellent battery consumption optimization, it's no guarantee that your phone will get through the full workday, especially if you're using it for long periods of time. Moreover, traveling can be pretty difficult if your phone is low on battery. After all, from checking restaurants near you to translating the local language, we use our iPhones for quite a few purposes.
5. Apple MagSafe Battery Pack – Perfect for iPhones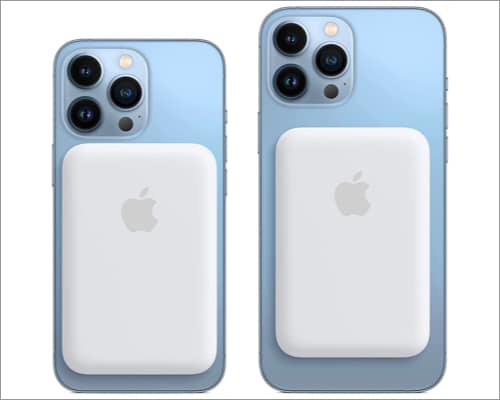 When you're using a new iPhone and are in need of a new power bank, there's no better option than Apple's own MagSafe Battery Pack. With a compact and intuitive design, this MagSafe Battery Pack takes complete advantage of MagSafe technology to charge your iPhone wirelessly.
Moreover, the design ensures that the electromagnetism of the power bank doesn't interfere with your key fobs or credit cards. In fact, you don't even have to switch the power bank on or off. With a Lightning Cable, you'll be able to utilize 15W of wireless charging for your phone. However, I recommend you use a 20W power adapter for better (and faster) results!
While this Apple MagSafe Battery Pack is the best option for iPhone users, it is quite expensive for the features it provides.
Pros
Total compatibility with Apple products
Provides up to 20W of charging output with a power adapter
Compact and minimalist design
6. Anker PowerCore 20100mAh – Affordable and compatible with many products
If the Apple MagSafe Battery Pack isn't what you're looking for, but you still want an excellent value-for-money power bank, check out the Anker PowerCore 20100mAh power bank. Just considering the brand value and the battery capacity together, this is one of the best iPhone power banks in the market today.
Coming to the product itself, Anker states that it is "lighter than a can of soup", despite its high capacity. Moreover, Anker has included its signature PowerIQ and VoltageBoost technologies to ensure high-speed charging. It's also quite durable and can be used with a wide range of iPhones.
However, while you're getting quite a few fantastic features with the product, there's one drawback. The power bank will take a few hours to charge completely, and charging your iPhone can take a couple of hours or more.
Pros
Massive 20100mAh capacity
High-speed charging capabilities
Durable build and design
Cons
The power bank can take a while to be charged fully
Smart Travel Wallets
Smart travel wallets are an efficient (and smart) way to carry all your credit cards. Of course, you'll also be able to put in some notes of money into the wallets, should you ever require them in a state of emergency. These wallets don't add much weight to your iPhone or your overall baggage. This makes them some of the best iPhone travel accessories you can use today!
7. eLusefor Stick-On Phone Wallet – For a minimalist addition
While most stick-on travel wallets can be rather bulky, this product by eLusefor makes for a perfect addition to your travels. The stick-on wallet is installed at the back of your phone and is quite thin. In fact, even when it's full, it only adds 0.5-inch to the overall thickness of your iPhone!
Despite the addition, you'll find no discomfort in carrying this around at the back of your phone for the entire day. The company also claims that the wallet's design and durability are top-notch, even protecting itself (to an extent) from spills.
However, since the fit is quite tight, you might have to work a tad harder to get your cards out of the wallet!
Pros
Very thin and doesn't add too much weight to your phone
Made of durable materials
8. nuoKu MagSafe Wallet – For full iPhone compatibility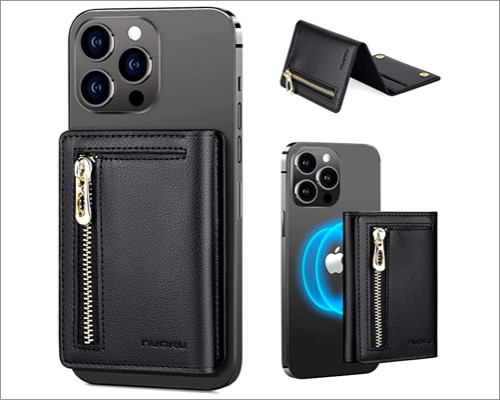 What's better than a thin leather stick-on wallet for your iPhone? Why, a thin leather stick-on wallet that works via MagSafe, of course! This particular smart travel wallet from nuoKu looks gorgeous, thanks to its faux leather lining and PU leather material. Moreover, thanks to 17 strong magnets, it's surprisingly sturdy. The wallet is compatible with all the latest iPhones as well!
In terms of design, you'll find that this folding wallet has 6 card slots, which should be more than enough for daily use. Apart from this, the micro zipper and magnetic buckles allow you to hold a few coins, as well as add to the unique trifold design. Furthermore, the wallet uses RFID (Radio Frequency Identification) material, which prevents your personal information from being stolen.
Pros
MagSafe compatibility provided
Decent design and build quality
Made of RFID material to prevent loss of personal information
Cons
Difficult to stuff cash into the wallet
Noise-canceling earbuds/headphones
Long flights and similar travel situations are often the best to sit back, put on your earbuds or headphones, and listen to your favorite music. However, not all audiophile accessories are made the same. I prefer earbuds or headphones with noise-canceling properties to ensure that my music goes uninterrupted.
9. Apple AirPods 2nd Gen – The best in-ear musical experience
It's no secret that while the first generation of Apple AirPods polarized consumers due to the pricing and design, people have grown to love this accessory. With the Apple AirPods 2nd Gen, you've got better design, innovative technologies, and possibly the in-ear music experience yet.
The AirPods are equipped with Apple's H2 processing chip, providing excellent sound clarity. This results in rich high notes and deep bass, regardless of the genre of music you love listening to. Moreover, with next-generation technologies powering Noise Cancellation, the AirPods Pro 2nd Gen even edges out the AirPods Max!
Apple has also included better battery life, a redesigned case with an in-built speaker, and a Precision Finding mechanism. Of course, the Personalized Spatial Audio feature is the best of the lot, with dynamic head tracking to ensure the perfect sound tuning.
Pros
Excellent audio processing due to the Apple H2 chip
Superior Noise Cancellation properties
Personalized Spatial Audio feature for a customized listening experience
10. Soundcore Anker Life Q20 – Budget Noise Cancellation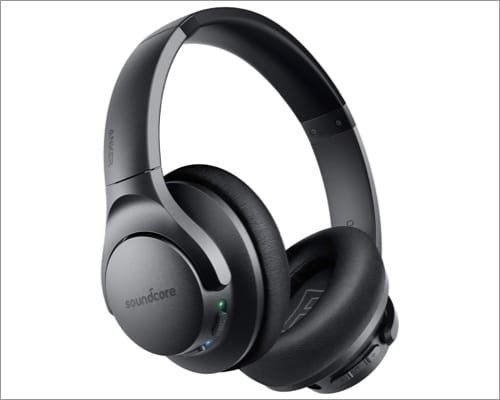 The Soundcore brand comes from the house of Anker, which is already a renowned brand, known for producing some of the best iPhone travel accessories. With the Soundcore Anker Life Q20, you're provided with superb 40mm dynamic drivers that catch higher frequencies of up to 40kHz, resulting in an excellent listening experience.
Moreover, the four built-in ANC microphones ensure that ambient noises are reduced by a significant margin of 90 percent. This ensures that your listening experience isn't interrupted by any outside noise whatsoever. Furthermore, with Soundcore's patented BassUp technology, you'll get stronger bass, which is perfect for genres such as EDM and Hip Hop.
Finally, the headphones come with a 40-Hour non-stop playtime and up to 60 hours on Standard Music mode. It also supports fast charging, providing 4 hours of playback time with just 5 minutes of charge!
Unfortunately, Soundcore hasn't added anything extraordinary in terms of design. The headphones look quite generic for the price!
Pros
Decent noise Cancellation properties on a budget
Up to 60 hours of playback time
Compatible with fast chargers
Anti-Theft Backpacks
Security is of utmost importance when you're traveling. Whether you're using your iPhone, iPad, or MacBook, you need to ensure that all your valuable items are kept safe and secure at all times. What better way to ensure security than to have anti-theft backpacks?
11. MARK RYDEN Anti-theft Backpack – The Ultimate iPhone travel accessory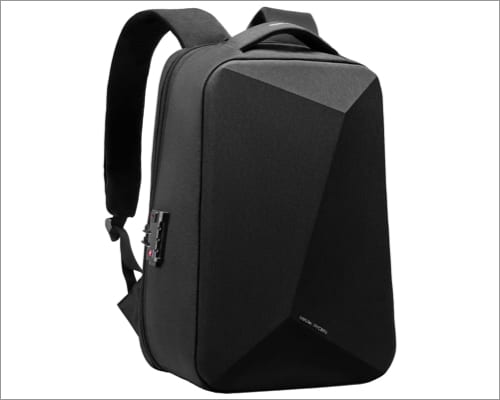 If you're looking for an anti-theft backpack and don't mind splurging slightly, you should check out the anti-theft backpack by MARK RYDEN. This backpack comes with a TSA-approved smart, secure lock, which is crafted with high-strength zinc alloy to ensure durability.
Apart from this, you don't have to worry about space in the backpack either. The backpack's laptop compartment is large enough to fit a laptop with a 15.6-inch screen. Moreover, the main compartment can fit a significant amount of clothing and peripherals. There are also a few hidden compartments to keep your smaller, valuable items, such as Apple AirPods.
The backpack will also be able to charge your iPhone, thanks to a charging port and cable inside that you can connect to your iPhone whenever required. Lastly, the backpack is waterproof thanks to the Oxford and polyester fabric construction and the high-density nylon lining!
The only major issue with the backpack is the top pocket's design, which can be slightly cumbersome during use.
Pros
TSA-approved smart lock made with zinc alloy
Excellent all-round durability
Plenty of space provided
Cons
The top pocket's design isn't the best
12. oscaurt Anti-theft backpack – For travel security on a budget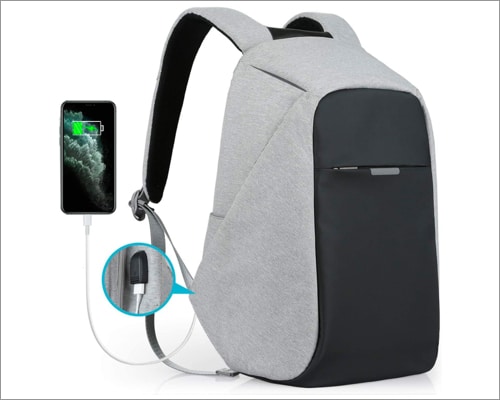 If you can't afford to spend on the MARK RYDEN backpack, don't worry. The oscaurt anti-theft backpack provides plenty of similar features and is nearly half the price. This backpack provides a decent amount of durability due to its fabric-based construction, which ensures scratch and water resistance.
Moreover, you'll find a built-in charging cable inside the backpack for charging your iPhone. There's a USB port on the outside for charging the backpack itself. You won't have to worry about space either, as it can easily fit a 15.6-inch laptop with plenty of room to spare for clothing.
However, the charging cable inside the backpack is rather short. While this isn't a dealbreaker, it can be a bit annoying.
Pros
Decent design and durability for the price
Enough space to fit in clothing and a 15.6-inch laptop
Cons
The built-in charging cable's length is a bit short
Recovery items
We've all been in a situation where we've lost some item or the other during traveling. It's a rather frustrating scene, especially if you cannot remember where you misplaced the item. However, one item on this list can be quite helpful in terms of recovery!
13. Apple AirTag – For keeping track of items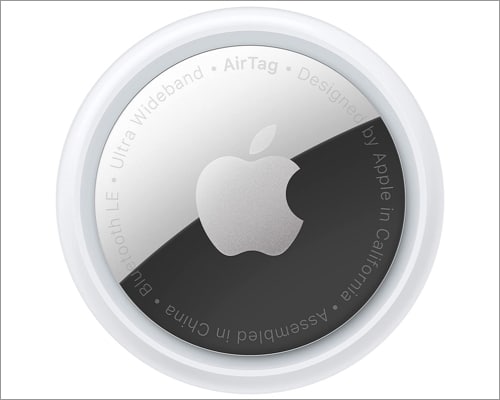 The Apple AirTag is one of the best items you can buy to keep track of all your important items. This device uses Ultrawide Band Technology for the Precision Finding system, leading you directly to your item with the AirTag.
There's also a built-in speaker, which adds an audio element for easier tracking. It's simple enough to use, is compatible with Siri, and instantly connects with your iPhone or iPad. Additionally, all the information sent on the Find My network is encrypted, thereby keeping your information private and safe at all times.
Unfortunately, this device is only compatible with Apple products and isn't always 100 percent accurate. However, it will get the job done!
Pros
Ultrawide Band Technology for Precision Finding system
Built-in speaker to locate the AirTag easily
All information sent on Find My network is encrypted
Cons
Only compatible with Apple products
May not be 100 percent accurate at all times
The takeaway!
As you can see, there are plenty of exciting and important travel accessories that you can invest in if you're an iPhone user. I've included all the important categories and provided two options for the best iPhone travel accessories in each, ensuring that you also have a low-budget option. If you have any recommendations that you'd like to provide, please post them in the comments below!
Read more:
A self-professed Geek who loves to explore all things Apple. I thoroughly enjoy discovering new hacks, troubleshooting issues, and finding and reviewing the best products and apps currently available. My expertise also includes curating opinionated and honest editorials. If not this, you might find me surfing the web or listening to audiobooks.