When life gives you a lemon, we make lemonade. But what happens when Apple gives you two small iPhones? We do a hands-on, detailed iPhone SE 3 vs. iPhone 13 mini comparison to determine which phone is better for you.
What is the difference between iPhone 13 mini and iPhone SE 3?
iPhone 13 mini boasts a bigger and better screen.
While the iPhone 13 mini is smaller and lighter, SE 3 is thinner.
It's a battle of Touch ID vs. Face ID.
iPhone 13 mini boasts a bigger and better battery.
iPhone SE 3 costs $429 (64 GB); the 13 mini comes at $699 (128 GB)
iPhone SE 2022 and iPhone 13 mini: An introduction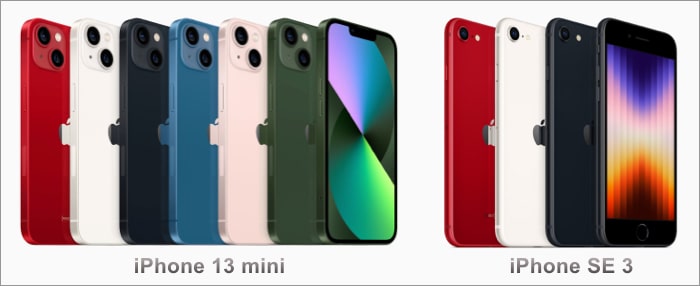 Apple currently offers two small-size, pocket-friendly, and almost equally powerful iPhones, iPhone SE 3 and iPhone 13 mini. Moreover, the dynamic duo shares many similarities, from the A15 Bionic chip and 5G support to the same OS.
However, there are also substantial differences. iPhone 13 mini is the current flagship device (until iPhone 14 arrives), and iPhone SE 3 is treated as an entry-level phone. So, the $270 price difference in the base models is understandable, but that brings us to an important question.
Which small iPhone should one buy? The answer is not so simple, and we'll have to dig deep into both the devices before we dig into our pockets.
Design and basic specs: Which small iPhone looks better?
iPhone SE 2022
iPhone 13 mini
Size (in inches)
5.45*2.65*0.29
5.18*2.53*0.30
Weight
5.09 ounces
4.97 ounces
Build
Glass front and back
Aluminum frame
Glass front and back
(Ceramic shield)
Aluminum frame
Biometrics
Touch ID
Face ID
IP rating
IP67
(max depth of 1m up to 30 min)
IP68
(max depth of 6m up to 30 min)
Colors
Product Red
Starlight
Midnight
Product Red
Starlight
Midnight
Blue
Pink
Green
Storage
64GB
128GB
256GB
128GB
256GB
512GB
Price
$429 onwards
$699 onwards
Round vs. square edges
Though both boast a small form factor, iPhone SE 3 and iPhone 13 mini can't be more different in terms of looks and hand feel.
iPhone SE 3 – Like its previous iteration, it is the Déjà vu of the iPhone 8, complete with Touch ID, Home Button, thick bezels, and rounded edges.
iPhone 13 mini – Adorns a more modern avatar with a notch, squarish edges, and diagonally-placed camera lenses.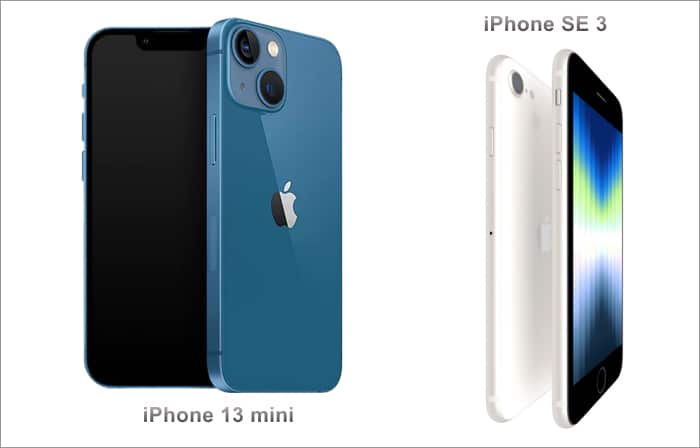 Notably, while the squarish edge helps iPhone 13 mini stand on its own, that's not a skill to boast. In fact, despite boasting a more compact form factor, the 13 mini is thicker than the iPhone SE 3.
Plus, I found SE 3 to have a slightly better hand feel. But if you're going to put a cover on it, that is almost a moot point.
The glass conundrum: Ceramic Shield vs. toughest glass
The iPhone SE 3 is equipped with the toughest front and back glass as per Apple. And while it's not the toughest-ever, Ceramic Shield sported by iPhone 13 mini, the iPhone SE 3 managed to survive the Allstate Protection Plans's drop test almost as at par.
Overall, iPhone 13 mini is a tougher device and boasts a better IP rating. However, that doesn't undermine SE 3's strength, especially when comparing its price.
Note: We'll suggest using a case for whichever small iPhone you buy.
Display
iPhone SE 2022
iPhone 13 mini
Size
4.7″
5.4″
Type
LCD Multi-Touch
OLED display
Tech
Retina HD
HDR
Resolution
1334*750;
326 PPI
2340*1080;
476 PPI
Brightness
625 nits
800 nits (typical)
1200 nits (HDR)
Contrast ratio
1400:1
2,000,000:1
True Tone
✅
✅
Wide color (P3)
✅
✅
iPhone 13 mini is the clear winner in this department. The duo sports the same refresh rate (60hz), True Tone, etc. However, the difference in display type, tech (HDR vs. retina), resolution, and brightness, eventually creep up, especially while consuming videos, playing games, or more.
Here are some snapshots from Tech Spurt's YouTube video to bring the point home.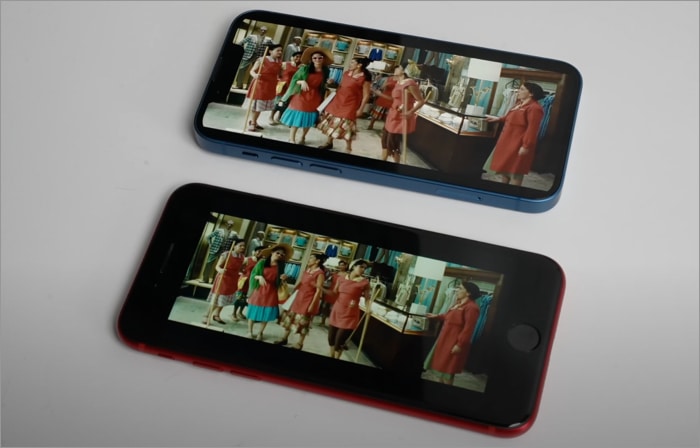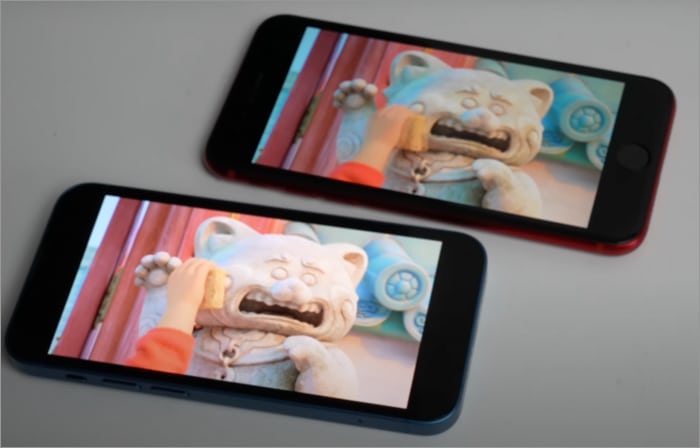 Just to be clear, the iPhone SE 3 display isn't bad. In fact, it is at par, if not better, than other devices in this range. Although, when you compare the display of 13 mini and SE 2022, the former comes out to be better.
Bezels vs. notch
There's another interesting difference here. While Apple's broad notch is a bane for many smartphone lovers, thick bezels and the wasted space in iPhone SE 3 display is banner (if ever such a word exists).
The bezels kill some prime real estate. Despite boasting a smaller size, 13 mini boasts a bigger screen than SE 3 (54″ vs. 4.7″). Quite irritatingly (especially for someone who's gotten used to the edge-to-edge screen design), these bezels also restrict the video/image ratio.
You can't scale it completely; there always be a black area you'll need to bear. The only benefit of the Home Button design is that you can see more items in the status bar and hence, see battery life without invoking Control Center or widget.
Face ID vs. Touch ID
Somehow, this is the crux of this article. Yes, the camera, price, battery, etc., matter, but you can compare these variables and decide what you want. But you don't get that liberty with biometrics here.
There are obviously pros and cons for both ways. Touch ID Is rendered useless via sweaty, dirty, and wet fingers; masks are the arch-enemy of Face ID. While Apple has done some TLC with iOS 15.4, things aren't as smooth.
Overall, it all depends on a personal choice. If you prefer Touch ID, iPhone SE 3 is the best option. And if Face ID is what you're looking at, iPhone 13 mini is the latest and smallest iPhone that has it.
iPhone SE 3 and iPhone 13 mini performance: Who's smarter?
iPhone SE 2022
iPhone 13 mini
Chip
A15 Bionic
A15 Bionic
– CPU
6‑core
– 2 performance
– 4 efficiency
6‑core
– 2 performance
– 4 efficiency
– GPU
4‑core
4‑core
– Neural Engine
16‑core
16‑core
RAM
4GB
4GB
Bluetooth version
5.0
5.0
5G connectivity
Sub-6
Sub-6
mmwave
Sound
– Dolby Digital
✅
✅
– Dolby Digital Plus
✅
✅
– Dolby Atmos
❌
✅
– Spatial audio playback
❌
✅
iPhone 13 mini and iPhone SE 3 are probably the smoothest, smartest, and smallest iPhones currently available, thanks to A15 bionic chips. But that's not all; there's more power and definitely more differences I want to highlight.
5G, but not the fastest
Both SE 3 and 13 mini support 5G, so you're getting the best upload and download possible. However, SE 3 only supports the Sub-6 format and not mmwave (the faster spectrum). For that, you'll have to pick iPhone 13 mini.
It should be noted that currently, mmwave has very limited availability. So, you won't be missing a lot if you're choosing iPhone SE 3.
Power, performance, and heat
Performance majorly depends on the core. And since 13 mini and SE 3 house an A15 chip and similar internals, there is no vast difference in their power and performance.


Source: phonearena
Notably, both the devices became warm during the gaming sessions. Although the iPhone SE 3 became quite hot while testing the camera, even the battery level suffered.
So, I would call both of their thermals average at best. Although, iPhone 13 mini is slightly better than iPhone SE 3.
Software and features
Another criterion where 13 mini and SE 2022 almost stand at par. Both are launched with iOS 15 and are privy to all major features and security updates. Whether it's Live Text, Facetime background blur, etc., all chip-related features are supported on both devices.
Moreover, the A15 chip guarantees that you'll get a minimum of four years of OS updates and five years of security updates.
Please note that the iOS 15 and A15 promise support for all chip-related; some features will be missing that need specific hardware support. For instance, iPhone SE 2022 does not support Cinematic mode, Dolby Atmos, Spatial audio, etc.
Camera comparison
Another section where iPhone SE 3 is a big disappointment. Don't take me wrong, it takes pretty wonderful pictures like any iPhone camera would.
Thanks to A15's Neural Engine and machine learning, it incorporates features like Portrait Lighting, Deep Fusion, Smart HDR, and 4K recording. In fact, the daylight pictures from iPhone 13 mini and iPhone SE 3 are almost similar.
But can the iPhone SE 3 camera really give iPhone 13 mini camera a run for its money?
Main Camera
iPhone SE 2022
iPhone 13 mini
Camera
Single
Dual
Megapixel
12MP
12MP (both)
Aperture
– Wide
– Ultra-wide

ƒ/1.8
–

ƒ/1.6
ƒ/2.4 (120° field of view)
Image stabilization
Optical
Sensor‑shift
Lenses
– Wide
– Ultra-wide

Six‑element
–

Seven‑element
Five‑element
Portrait mode
✅
✅
Portrait Lighting
6 effects
6 effects
Deep Fusion
✅
✅
Smart HDR
✅
✅
Night mode
❌
✅
Cinematic mode
❌
✅
HDR with Dolby Vision
❌
✅
4K video recording
✅
✅
As you might have noticed in the table above, the iPhone SE 22 is a single-camera setup, while the iPhone 13 mini has dual cameras. This gives the iPhone 13 mini an obvious edge over SE 3, as it captures a better depth of field.
Additionally, the 13 mini houses better sensors and image stabilization, which results in sharper images and videos. Notice how cleanly iPhone 13 mini has blurred out the background in the image above.
Plus, how sharp the edges are around the leaf in comparison. And yes, you may prefer the iPhone SE 3 image better, and that's completely your personal preference. ( No judgment there).
Furthermore, it can capture a wider frame than SE 22 whenever you want. Above is an example of the difference between images when the iPhone 13 mini's ultra-wide camera is employed.
Night mode
If I am not a photographer/videographer, the missing features like Cinematic mode and HDR with Dolby Vision recording will not pinch you. So, I'll not compare or complain about them. But not having a decent night mode is quite aggravating.
Agreed, not all of us are planning to capture our night trails. However, we land up in low-light situations too often. Imagine you have an 'iPhone,' but you can't capture a good selfie, groupfie, or foodfie at a restaurant.
Notably, stand-alone, these low-light pictures aren't that bad. But when compared to the iPhone 13 mini, the difference is monumental.
Front camera
| | | |
| --- | --- | --- |
| | iPhone SE 2022 | iPhone 13 mini |
| Sensor | – | TrueDepth |
| Megapixel | 7MP | 12MP |
| Aperture | ƒ/2.2 | ƒ/2.2 |
| Portrait mode | ✅ | ✅ |
| Portrait Lighting | Six effects | Six effects |
| Animoji and Memoji | ❌ | ✅ |
| Deep Fusion | ✅ | ✅ |
| Smart HDR 4 | ✅ | ✅ |
| Photographic Styles | ✅ | ✅ |
| Cinematic mode | ❌ | ✅ |
| HDR with Dolby Vision | ❌ | ✅ |
| 4K video | ❌ | ✅ |
| QuickTake video | ✅ | ✅ |
I confess I have a bone to pick with iPhone SE 3. I understand the sentiments, financial benefits, and target segment for sticking to the Home button, but didn't they put any effort into improving the camera.
All the magic you're seeing is because of a smarter chip and machine learning. And not because of changes in the camera module. The front selfie camera is restricted to 7MP FaceTime HD compared to 13 mini's 12MP TrueDepth front camera.
So while your calls and selfies will be fun and fantastic in iPhone SE 2022, they won't be as impressive as the iPhone 13 mini. Plus, you don't even get to play with Animoji and Memoji.
iPhone SE 3 vs. iPhone 13 mini: Battery comparison
iPhone SE 2022
iPhone 13 mini
Battery
~2018 mAh
~2438 mAh
Video playback
Up to 15 hours
Up to 17 hours
Audio playback
Up to 50 hours
Up to 55 hours
Fast charging
✅
50% in 30 min
✅
50% in 30 min
Qi charging
✅ (7.5W)
✅ (7.5W)
MagSafe
❌
✅ (15W)
Both iPhone 13 mini and iPhone SE 3 boast better and larger batteries than their predecessors (iPhone 12 mini and iPhone SE 2). But when compared with each other, the 13 mini takes the lead. And not just on paper; it survived around 45 mins than iPhone SE 3.
Note: iPhone SE 2022 managed to survive for 5 hours and 16 mins of continuous usage, which is not super-bad for a phone its size and price.
MagSafe vs. Qi Charging
Before I start comparing, I must appreciate iPhone SE 3. Not many phones in that price range currently boast wireless charging; the feature is usually limited to flagship and high-end devices. So, kudos to SE 3 for that!
Although, compared to iPhone 13 mini, the MagSafe compatibility is missing. You can charge the device wirelessly twice as fast. And take benefit of all the amazing magnetic accessories, from car mounts to wallets.
But before you jump to any conclusion, understand that both Qi and MagSafe technology is currently evolving. The fastest way to charge your iPhone is wired. And in that department, the duo stands equal, up to 50% charge in 30 minutes with a 20W adapter or higher (sold separately).
Price
| | | |
| --- | --- | --- |
| | iPhone SE 2022 | iPhone 13 mini |
| 64 GB | $429 | ❌ |
| 128 GB | $479 | $699 |
| 256 GB | $579 | $799 |
| 512 GB | ❌ | $999 |
iPhone SE 3 is an introductory-level device, while iPhone 13 mini is a flagship device, and their cost reflects that. Interestingly, even the 256 GB model of SE 3 is cheaper than 13 mini's 128GB base model.
Budget vs. luxury, which iPhone should you choose?
The first deciding factor between the two is whether you want Face ID or Touch ID. However, if you're neutral toward biometrics and want an iPhone with a better screen, speaker, and battery, iPhone 13 mini is the obvious choice.
Also, if you love clicking pictures and taking videos, iPhone 13 mini is better. But if you have budget constraints or want this iPhone as a secondary device or for your kids, elderly, employee, etc., iPhone SE 3 is also a superbly powerful device.
While iPhone 13 mini is a great small Phone, the iPhone SE 3 stands its ground. It has a decent camera, battery life, 5G connectivity, and the latest iOS compatibility. It will easily survive you for the upcoming 3-4 years.
The ball is in your court now. We have shared the pros, cons, similarities, and differences of both the devices with you; pick the one that suits your utility and pocket. Do let us know your verdict, suggestions, and reviews in the comment section below.
And whether you choose iPhone SE 2022 or iPhone 13 mini, here are the supporting articles to make your move smoother:
Readers like you help support iGeeksBlog. When you make a purchase using links on our site, we may earn an affiliate commission. Read more.
A self-professed Geek who loves to explore all things Apple. I thoroughly enjoy discovering new hacks, troubleshooting issues, and finding and reviewing the best products and apps currently available. My expertise also includes curating opinionated and honest editorials. If not this, you might find me surfing the web or listening to audiobooks.