Until now, widgets were only available in the Today View on iPad. But with iPadOS 15, this changed! After major updates in iOS 14 for widgets, Apple finally brings widgets to iPad and enables you to customize your Home Screen. You can even take advantage of widget stacks to keep your most valued information neatly organized and close at hand.
In this guide, learn everything about how to add and use widgets on the iPad. Let's start!
What widgets can you add to your iPad Home Screen?
A widget is like a snippet of an app that shows you certain information at a glance. The feature is available for both – default and third-party apps. Moreover, the widgets remain in place even when you switch your iPad between landscape and portrait modes. Some of the useful widgets you could add to your screen are:
Contacts: Quickly connect with friends and family from your Home Screen.
Mail: Glance at your latest email and get quick access to your inbox.
Find My: Keep an eye on the location of your friends and personal items.
Weather: Know the weather conditions or forecast at a glance
How to add widgets on iPad
Tap and hold an empty spot on the Home Screen to enter the "jiggle mode."
Tap the + icon at the top left.


This will open the widget selection screen.
Use the left menu to browse different apps that offer widgets. Or, use the search bar to find the widget you're looking for.


Swipe across the widget to see different sizes or styles available.
Tap Add Widget or drag and drop it onto the Home Screen.
How to move widgets on iPad Home Screen
You can easily move widgets on your Home Screen any time you want. For this, just tap and hold a widget and drag it to the position you like.
You can also drop widgets onto each other to create stacks, as explained below.
Customize widgets in iPadOS 15
Most widgets are customizable in size and the information they display. To edit this, tap and hold a widget → select Edit Widget on the popup menu.
Make the changes as per your preference. For instance, in the Weather widget, you can change your location.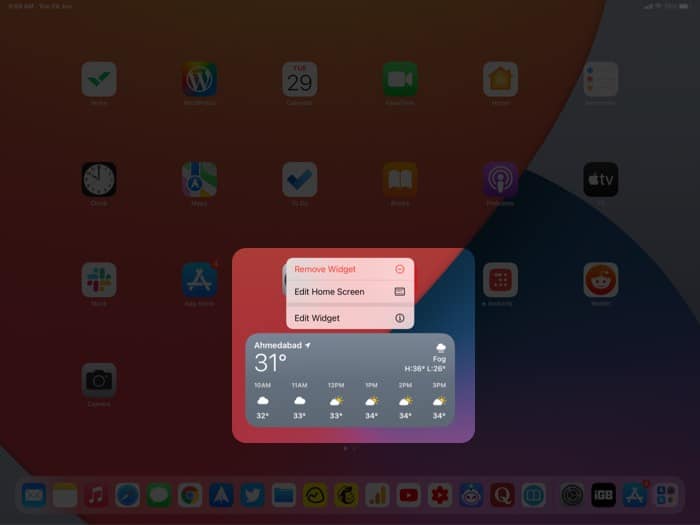 How to remove widgets from Home Screen on iPad
It's super easy to delete a widget from your Home screen. Just tap and hold it → select Remove Widget from the popup menu.
Alternatively, you can touch and hold an empty space on the screen to enter jiggle mode → tap the – icon at the top to remove the widget from the Home Screen.
How to use widget stacks on iPad
To get more out of widgets, you can use widget stacks. A stack is a pile of different widgets in one. You can create your custom stacks or use the preset smart stacks in iPadOS 15.
The great thing about smart stacks is that they will show you relevant widgets automatically at the right time. This is done through Smart Rotate and Widget Suggestions.
Smart Rotate will make your iPad automatically rotate between widgets in a Smart Stack based on various factors such as time, location, and activity.

For instance, in the morning, you might see your calendar widget, and in the evening, when it's time to head home from work, you might see Apple Maps.

Widget Suggestions will automatically appear in your Smart Stack at the right time based on your past activity.

For example, if you have an upcoming travel plan, the widget for that app will temporarily appear at the top of the stack and disappear after it's done. You will get the option to add the widget to your stack, so it's always there when you need it.
Create smart stack widgets
To create a widget stack, simply drag and drop widgets onto each other on the Home screen. You can also add more widgets to the stack anytime, and you're free to create as many widget stacks as you want.
To add a preset smart stack,
Tap and hold an empty spot on your Home Screen.
Tap the + icon at the top left.
From the list on the left, select Smart Stack.
Swipe through the widgets to choose the size or style you want.
Tap Add Widget or drag and drop it in place.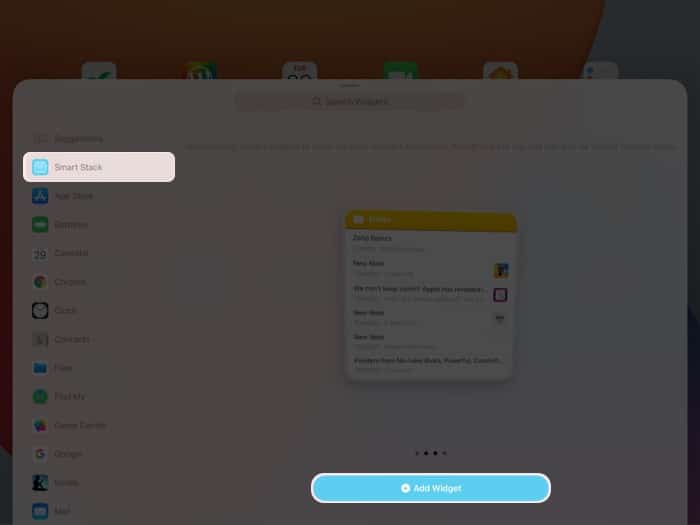 Customize smart stacks
To edit a widget stack,
Tap and hold it.
Tap Edit stack on the popup menu.


Move the widgets to rearrange as you like.
You can also tap the – icon to remove a widget from the stack.
Further, you can disable or enable smart rotate and widget suggestions.
Once satisfied, tap Done at the top right.


How to add widgets on iPad Today View
If you don't want widgets on your Home screen, you can place a few in the Today View section as well. This was the default place for widgets in previous versions of iPadOS too.
Here's how to do it:
Swipe right from the first page on your Home Screen.
On the Today View panel, scroll down and tap Edit.
You can now rearrange widgets by holding and moving them. You can also remove a widget by tapping the minus icon.
To edit the widgets visible in Today View, scroll down and tap Customize.


Tap the green plus or red minus icon to add or remove a widget.
You can even drag the widget using the three bars next to them to change their position in Today View.


Now you know how to access widgets on your iPad Home screen and customize and arrange them as you like. Let me know if you have any other questions in the comments below. You might also like to check out our guide to multitasking on iPadOS 15.
Read more:
Mehak has a master's degree in communication and over ten years of writing experience. Her passion for technology and Apple products led her to iGeeksBlog, where she specializes in writing product roundups and app recommendations for fellow Apple users. When not typing away on her MacBook Pro, she loves being lost in a book or out exploring the world.