Apple offers numerous subscription services to entertain, provide storage and keep you informed. These amenities include Apple Music, Apple Arcade, Apple TV+, iCloud+, News+, and Fitness+. Thankfully, it also offers the Apple One subscription bundle that lets you use your favorite set of services at one low monthly price.
I'll be detailing what Apple One is, its subscription plans, how you can sign up for it, and whether it is worth it.
Things to know:
You can check the availability of Apple Media services in your region using this link.
You'll require iOS 14, iPadOS 14, and macOS 11 (Big Sur) or later are required to subscribe.
All Apple One subscription bundle deals
Apple offers 3 bundle offers. You can go with any of them, depending upon your needs.
Individual plan ($14.99/month)
With the Apple One Individual subscription, you can stream Apple TV+ shows, listen to your favorite music, play games on Apple Arcade and store your files of up to 50 GBs at one low price.

The services will cost you $20.96 if you purchase separately, so you would save approximately 6 bucks/ month.
Family plan ($19.99/month)
As the name suggests, the Apple One family plan lets you share your favorite services ((i.e., Apple Music, Apple TV+, Apple Arcade, and Apple iCloud+) with up to 5 other members of your Family Sharing group. This plan lends up to 200 GB of iCloud storage across your family.
If you share the Apple One Family plan with your friends and family, you can save up to 12$ /month.

Premiere plan ($29.99/month)
The Premiere plan includes ‌all the offerings from the Family plan and adds in 2TB of ‌iCloud‌ storage, Apple News‌+, and Apple Fitness+. Identical to the Family plan, you can share this subscription bundle with six family members (including you). Notably, the availability of the Premiere plan is limited to selected countries.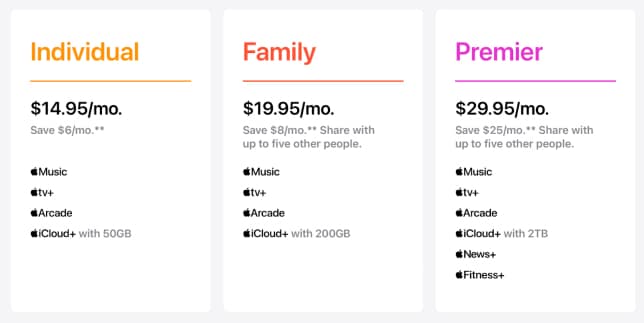 Keep in mind: You don't need the family plan to share across your Apple Arcade or Apple TV+ with your family. You'll be able to do that just finely with the individual plan.
Where to sign up for Apple One
You can start or manage Apple One subscription from Settings or App Store on iPhone, iPad, or Mac. Here's how:
Subscribe to Apple One via Settings app
For iPhone and iPad
Open the Settings app.
Tap Apple ID from the top.
Select Subscriptions.
Tap Apple One under Options.


Choose the plan which suits you the most.
Tap Start Free Trial or Subscribe.
Enter your Apple ID and its password and confirm the payment.


For Mac
Launch System Preferences (or System Settings)
Select Apple ID from the top.
Click on Media & Purchases.


Tap Manage under Subscription.
It will prompt you with an AppStore pop-up, where you can manage your subscriptions and purchase Apple One.
Click on Try it now to start a free trial and follow the on-screen instructions.


Sign up for Apple One through App Store
On iOS:
Navigate to the App Store.
Hit on your Profile from the top right.
Tap your Apple ID.
Scroll down and select Subscriptions.
Tap on Apple One under Options.


Tap to subscribe or Start Free Trial.
On macOS:
Launch App Store.
Click on your Apple ID from the bottom left.
Select Account Settings highlighted in blue text from the top right.
It will lead you to the Account Information page.


Scroll down and click on Manage under Subscriptions.


Select Try it now (or Subscribe), highlighting in blue text, to get the Apple One subscription.
Tip: To save more on an Apple One subscription? Pay via Apple Pay and get 3% Daily Cash/ month.
How to change or cancel your Apple One subscription plan
If you are looking for a way to switch or terminate your Apple One bundle plan, you've hit the right spot.
Open the Settings → Apple ID → Tap Subscriptions

→

Apple One

.

To Change:

Choose your desired plan and Confirm the switch.

To Cancel:

Scroll down and select Cancel Free Trial or Cancel Apple One.
Follow this article for a detailed guide on canceling the Apple One subscription.
Is the Apple One Subscription worth getting?
Well, the short answer is yes, definitely. If you actually use all of the said services, then it's truly worth subscribing to. But the only plan that we would recommend getting is the Family one. If you and your friends (or family members) are already devoted to the Apple media services, it's a no-brainer deal. You would get all the Apple services and the 200 GB of iCloud+ as well.
If you can get at least 3 other friends (or family members) to join you on board, you will be able to enjoy the best of both worlds at only 5 bucks/ person. Of course, the more, the merrier.

Let's break down the individual plans to see what's in it for us:
Apple Music: $9.99 /month
Apple TV+: $4.99 /month
Arcade: $4.99 /month
iCloud Storage: 50GB – $0.99 /month, 200GB – $2.99 /month & 2TB – $9.99 /month
Apple News+: $9.99 /month
Fitness+: $9.99 /month
(These are US monthly prices, and the actual figures in your country or region might vary significantly.)
Bonus tip
Many of these services, like Apple TV+, Arcade, and Fitness+, are already available for free when you purchase a new Apple device. Similarly, in some yearly plans, you get an additional discount. (Like almost $40 off with Fitness+ yearly plan). So, do the math and subscribe to Apple One only if you really require all the mentioned services.
Signing Off…
Well, you know my thoughts on subscribing to Apple One; for an Apple addict like me, it does save some $$. But individual plans might be great if you're someone who does not use all services or seldom uses them. Or becoming part of a Family Sharing group could also be budget-friendly.
Do you think Apple One bundle is worth it? Which plan will you choose? Share your thoughts in the comments.
While you're here:
Readers like you help support iGeeksBlog. When you make a purchase using links on our site, we may earn an affiliate commission. Read Disclaimer.