Our iPhones hold valuable personal information such as contacts, messages, photos, and sensitive data like bank account details and passwords. So, what if iPhone data gets stolen? Thieves and hackers are always looking for ways to gain unauthorized access to devices and data. Therefore, taking the necessary steps to protect your iPhone data from thieves is crucial.
In this guide, I will discuss practical tips and techniques to safeguard your iPhone and its contents from prying eyes. Whether you're at home or on the go, learning how to protect your iPhone data from thieves will help you keep everything secure, providing peace of mind.
What would happen if your iPhone is stolen?
Several potential threats could arise if your iPhone falls into the wrong hands after being stolen.
Financial theft: Thieves could use sensitive personal information, such as credit card details, bank account information, or passwords, for identity theft or financial fraud.
Access to private data: If you have private photos, messages, or documents on your iPhone, they could use the information maliciously.
Unauthorized access to accounts: The stored login credentials on iCloud Keychains would give unauthorized access to your online accounts.
Device misuse: Your iPhone can be used for making calls, sending messages, or accessing the internet, resulting in unauthorized charges.
Compromised security: If you don't use a Lock Screen passcode or Face ID, it allows access to your data, compromising security.
Blackmail or extortion: Thieves could use personal data on your iPhone to blackmail or extort you for any favors.
Also, if the thief knows the passcode of your iPhone, they can change your Apple ID password, remove your trusted accounts or mobile number, and, most crucially, turn off Find My connection. So, you can't delete your data remotely and lose access to your iCloud account. Moreover, they get access to use Apple Pay or send Apple Cash.
These are just some potential data threats that could occur if your iPhone is stolen. It's essential to take immediate action to secure your iPhone and data to minimize the risk of these threats.
What should you do first to protect your iPhone data?
I know it's a very panicky situation, but you must act quickly to stop data breaches. I'd suggest going through our article about taking some strong measures after your iPhone is stolen.
Besides, I strongly recommend remotely disabling Apple Pay. So, you can minimize the risk of data breaches and prevent thieves from accessing your personal information. After you've gone through these details, you must take the following precautionary steps to secure your iPhone in case of theft.
5 Tips to protect iPhone data from thieves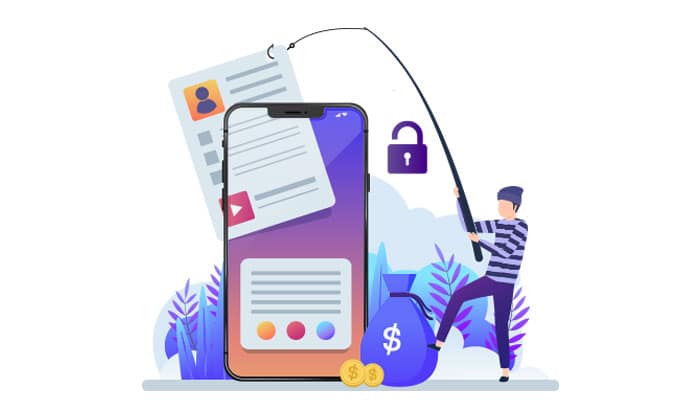 Standard security protocols are easy to tamper with, and basic iPhone features may help criminals steal your entire digital life. So, while you can't always prevent device theft, you must take precautions to save your iPhone from theft and reduce the ease with which criminals may access your data.
1. Use an alphanumeric passcode on iPhone
If you think the Face ID is the ultimate shield for data security, then it's not so. When your iPhone restarts, it requests the passcode instead of the Face or Touch ID. Also, anyone can access the iCloud Keychain password manager, approve Apple Pay or authenticate anything using the passcode.
So, don't stick to your six-digit numeric passcode. Go for longer, trickier alphanumeric passcodes that are more challenging to crack. You can easily set an alphanumeric passcode on your iPhone. Also, you can modify Auto-Lock to 30 seconds under the Display & Brightness settings. It will ensure that your phone is never left unlocked for an extended period. If you are facing issues with your iPhone Auto-Lock , we got you covered.
2. Don't type passwords in public
It may sound creepy, but the thief might be following you. And after understanding your passcode, they might steal your device.
Law enforcement officials claim criminals devise cunning techniques to discover people's passcodes, including photographing them from a distance. Therefore, while in public, cover your screen. Also, use Face ID or Touch ID to avoid passcode snooping while you're out.
3. Add passwords to apps on iPhone
You can add different passcodes to apps like Venmo, PayPal, etc., or lock apps with sensitive data. Don't use the same LockScreen password for any other accounts. Besides, I suggest setting a screen time passcode. Also, choose Don't Allow in the Account Changes section.
4. Don't rely on iCloud Keychain solely
As stated, if the thief knows your passcode, they can access all your saved passwords from iCloud Keychain. It allows fraudsters to access bank accounts on stolen iPhones. So, you must change all sensitive passwords.
For heightened security, use password manager apps that support biometric authentication but request a master password if unsuccessful.
5. Never keep sensitive information as photos
If you ever need to scan crucial documents with sensitive information like passports, licenses, cards, SSNs, etc., immediately delete them from Photos after use. Instead, keep them in the password manager's secure file storage. It immensely helps to protect your iPhone data from thieves.
Stay safe and secure!
You must protect your iPhone data from thieves as it holds so much personal and sensitive information. Besides the tips mentioned above, avoid public Wi-Fi, and use two-factor authentication to secure your iPhone from hackers. Always be vigilant and mindful of the security of your iPhone and its contents.
Explore more…
Readers like you help support iGeeksBlog. When you make a purchase using links on our site, we may earn an affiliate commission. Read Disclaimer.