Every now and then, we have this extremely viral casual game that everyone is hooked to. This time around, it is Wordle. The free-to-play letter guessing game has skyrocketed in popularity. My Twitter timeline is filled with people sharing their Wordle feats. The Wordle tips and tricks in this article will help you crack word of the day in the least possible attempts.
Strategy is essential to make your mark in this game. Newbies might be wondering How to play Wordle? Well, we have come up with practical tips.
What is Wordle?
A US-based software engineer, Josh Wardle, created Wordle as a casual game. It revolves around guessing the five-letter word of the day, which changes every day. Most importantly, you only have six attempts to guess the word. If you can't guess it, you lose.
The user interface is squeaky clean, with no ads or other distractions. The best part is that it can only be played once a day.
Further, if a letter is highlighted in:
Green, the letter is in the right spot.
Yellow, the letter is present in the word but isn't placed properly. You'll have to move it around in the next attempts.
Grey, the letter is not present in the word.
Intrigued and looking forward to playing it? Read on to see how you can play it on your iPhone.
How to get Wordle on iPhone
Unfortunately, there is no app for Wordle. So, you can't download it on your iPhone. You will have to open the webpage and play the puzzle. For the sake of convenience, you can pin the Wordle website on the Safari browser. The next time you want to play Wordle, it is a tap away.
Follow the steps to bookmark Wordle on iOS:
Open Wordle on Safari.
Tap the Share button.
Select Add to Home Screen.
Tap Add.


Once done, Wordle will appear on your Home Screen. Now on, simply tap the W icon to play the game.
Master Wordle with these amazing tricks
1. Pick the first word
Every Wordle is a five-letter word. You must pick the first word properly. It is a good strategy to start with commonly used five-letter words. The majority of words in English contain vowels. Make sure the first guess has a maximum number of vowels in it. To that effect, words like Raise or Arise could help gain momentum.
2. Steer away from grey letters
Needless to say, you have to skip using grey letters in upcoming attempts. On the brighter side, grey letters help in the process of elimination.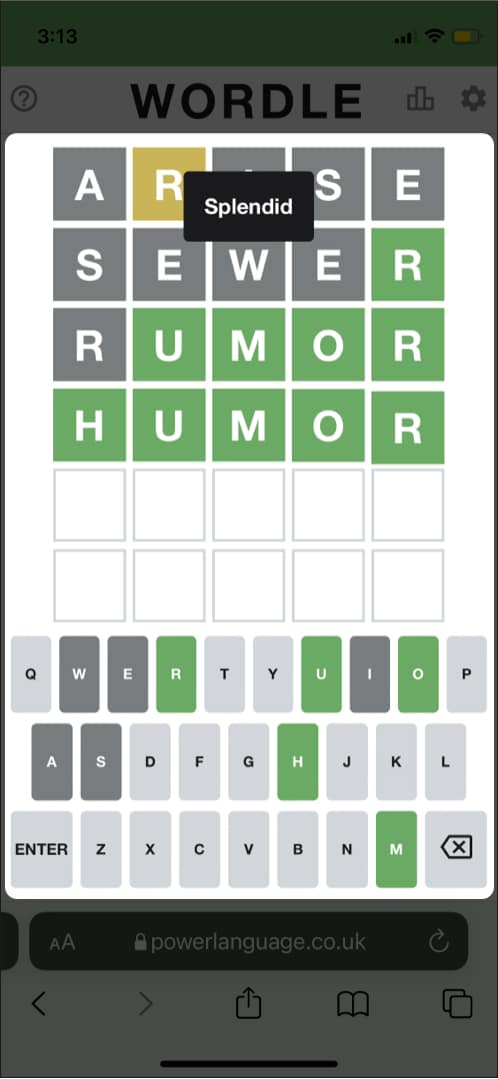 3. Get ahead with digraphs
Choosing digraphs is an effective way to weed out incorrect letters. Digraphs are a combination of two letters that create one sound. This includes words that contain "st-," "ph," and "ey." If the letter turns yellow, try moving it to a different part.
4. Use the same letter twice
There is no restriction on using the same letter twice. If the same letter is highlighted yellow, it might appear twice in the word. If one letter is yellow and the other is grey, the letter appears only once.
5. Have patience
Wordle is indeed a nerve-racking game. Sometimes you might lose your patience. Well, Wordle doesn't have any time limit. I reckon you might as well spend more time on each guess. In other words, patience is indeed a virtue!
Managed to crack word of the day in just three attempts? Well, you can share the feat with family and friends. When you tap the Share icon, Wordle will copy the stats to Clipboard. Next up, you can paste it on Instagram, Twitter, and Facebook.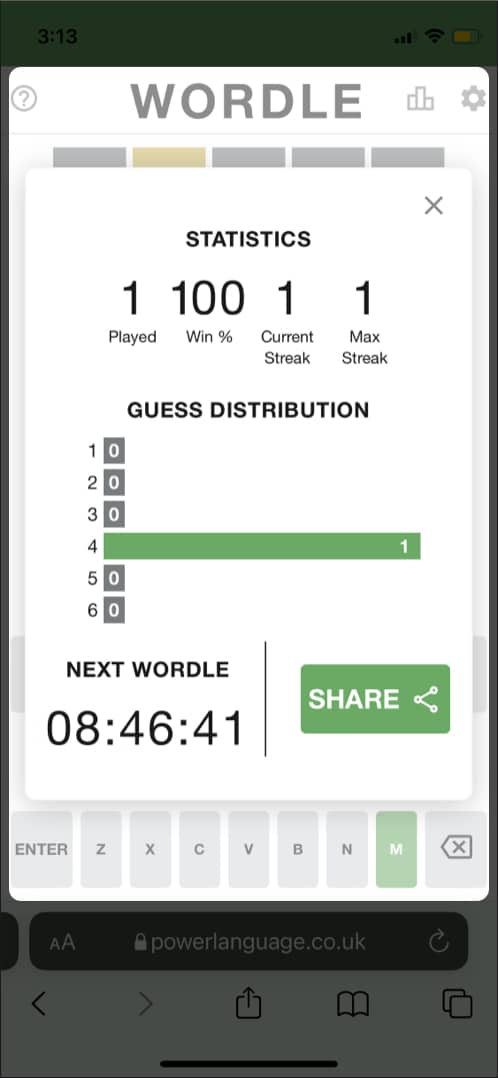 How to play more than one Wordle a day
Officially, it's not allowed to play more than one Wordle a day. However, we have found a workaround to satiate your curiosity. Since Wordle releases one puzzle every day, you can play more games before it is available for all by changing the date on your iPhone. Here's how.
Close the open tab of Wordle in any browser.
Now, go to Settings → General → Date & Time.
Toggle off Set Automatically.


Next, tap the date → select any future date.


Now, simply open Wordle on your browser, and voila! You'll be able to play the next game of Wordle before it's even released for others. Time to flex this?
Can you play older Wordle puzzles?
Initially, it wasn't possible to play any Wordle puzzle other than the day's Wordle. However, it is possible to access past puzzles. There are two platforms for doing so:
1. Wordle Archive
Thanks to Metzger Media for creating a super cool Wordle Archive. The feature-rich platform allows you to access, play, and track all the previous puzzle's scores, including whether you solved it. Additionally, if you are bored, you can also play random puzzles similar to Wordle.
Further, you can even custom create a puzzle and challenge your friends to solve it! Neat, isn't it?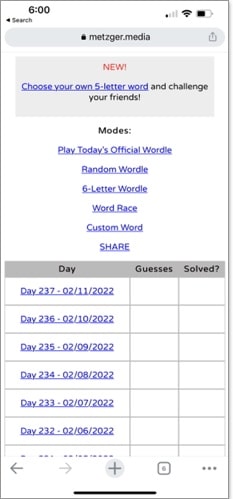 2. Wordle Archive 1
Wordle is an engrossing puzzle game. Part of the charm is that you can play it only once a day. In other words, you will have to wait for the next day for a new word. Thankfully, there is an unofficial way to play unlimited Wordle.
A GitHub project created by Devang Thakkar lets you play a previously released Wordle game. The archive is based on backlogs starting from the first Wordle. Once done, just tap Next and move on to a different puzzle.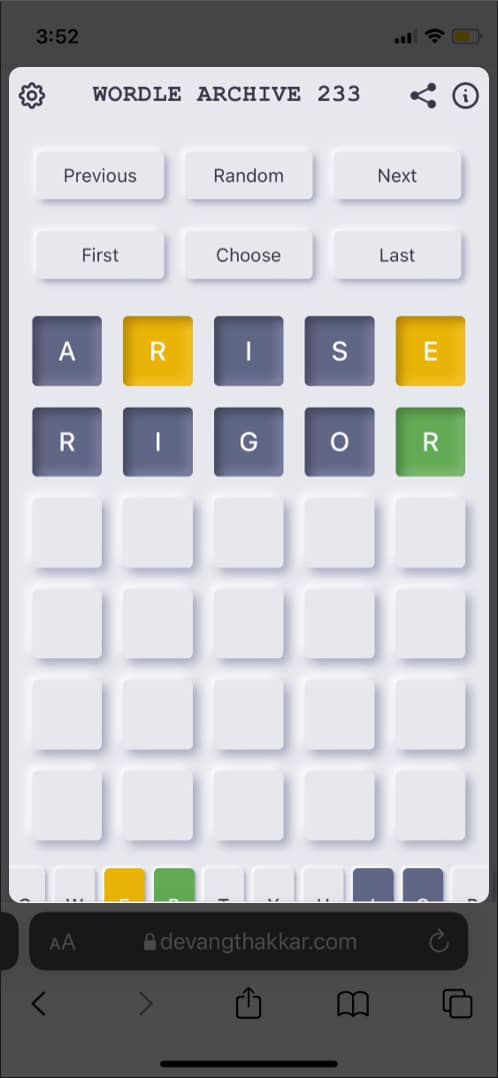 Best Wordle alternatives to play
Nerdle: Wordle with a numerical twist
Powerful vocabulary, not your forte? Worry, not. Nerdle is a number game for math wiz. You have to arrange a series of numbers to crack the puzzle. Each time the tiles change color to show whether your guess was right or wrong.
Nerdle requires you to arrange randomly placed numbers. Unlike Wordle, you can solve the previous day's puzzle. If you love puzzle games, check out our collection of the best puzzle games.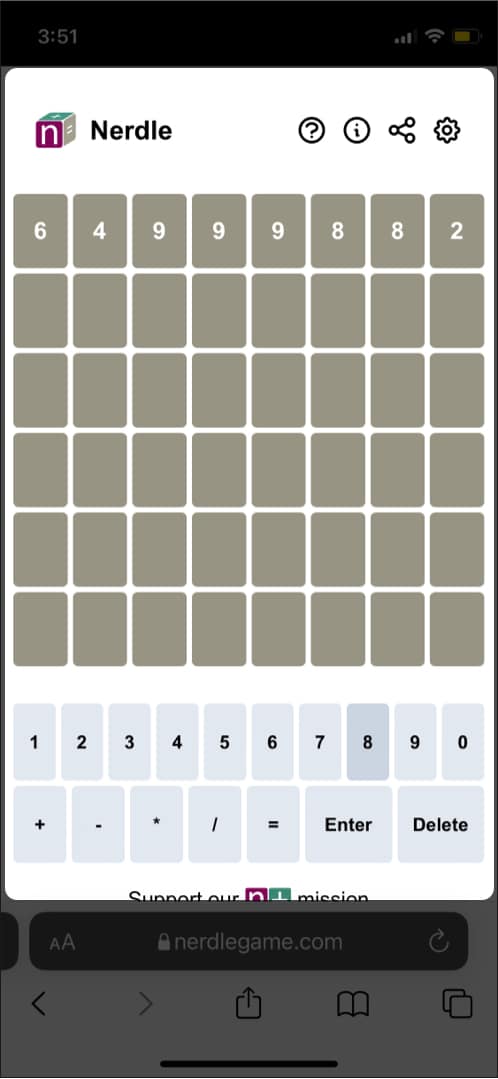 That's it!
This is everything you need to know how to play Wordle on your iPhone and crack the word every day. I hope the strategy has helped up your Wordle game.
Do you play Wordle? Share your Wordle achievement in the comments below!
Read on:
Readers like you help support iGeeksBlog. When you make a purchase using links on our site, we may earn an affiliate commission. Read Disclaimer.