MacBooks come with a superfluid trackpad that readily serves all your requirements. Though efficient, the in-built trackpads might only come in handy for some of us. For the rest, a wireless mouse can be the go-to solution. Comfortable ergonomic design, high sensitivity, and effortlessly smooth working make these wireless mice a perfect substitute for your MacBook trackpad.
Considering the customers' interests, many companies today offer a range of wireless mice with exclusive features. You are most likely to get confused with so many options in hand. But don't worry; I am here to help you. Here is the list featuring the best wireless mouse for Mac in 2023.
1. Apple Magic Mouse – Editor's Choice
Many people using Mac prefer to combine it with Magic Mouse to enjoy a smooth working experience. This is because Apple has put in the best qualities of appearance and battery in its Magic Mouse. A sleek design with many features and a robust battery life makes Magic Mouse a perfect go-to for Apple lovers. Want to get the smoothest gliding experience? Well, then, pair your Magic Mouse with these amazing mouse pads and see the difference it brings to your work.
Apple's Magic Mouse ranks at the top of my list because of its robust Multi-Touch surface, allowing you to perform various functions quickly. For instance, you can switch between simultaneous web pages with a simple left or right-finger swipe on the mouse surface. Easy, right? Also, you can carry the wireless mouse with ease. It is small and lightweight, so it will never trouble you when carrying it around in your hand or backpack.   
The long-lasting, rechargeable internal battery of the Magic Mouse will work for weeks without charging. So, you can continue with your work without bothering about frequent battery refills. In addition, Apple's Magic Mouse has a USB-C to lightning cable that lets you pair and charge by connecting to a USB-C port on your Mac.
Pros
Rechargeable internal battery
Easy portability due to lightweight
Ambidextrous design
Multiple gestures
Smooth gliding on surfaces
Cons
No side buttons
The charging port is at the bottom, making it inconvenient
2. Logitech signature M650 wireless mouse – Seamless scrolling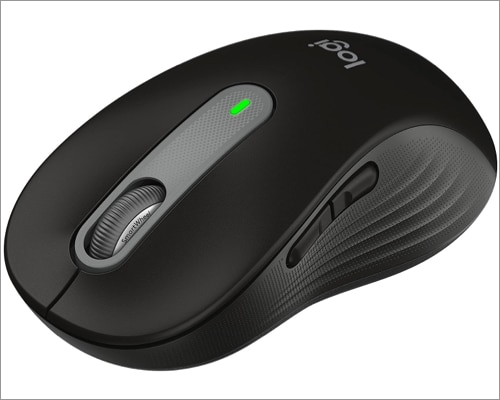 The best wireless mouse for the MacBook list will be incomplete without the mention of the Logitech Signature M650. With this device, you get line-by-line precision for documents and fast scrolling for lengthy web pages. Moreover, you can switch between different modes with a single flick of the SmartWheel installed on the mouse. Not to forget that the SmartWheel offers high precision and speed for optimum experience.
With Logitech's SilentTouch technology, the Signature M650 mouse offers 90% less click noise, so you can focus more on your task. In addition, the Logitech Options Plus lets you customize the button for your preferred shortcuts. This can speed up your work effortlessly. Moreover, Bluetooth Low Energy or Logi Bolt USB receiver grants instant connectivity for this mouse. The device has a single AA battery that works well for 24 months.
You can use the Signature M650 wireless mouse for long hours without any hassle. All thanks to its perfectly molded shape, convenient thumb resting area, and rubber-based side grips. The device works well on multiple platforms, including iPadOS, Android OS, Windows, etc.
Pros
AA battery included
Cheapest wireless mouse option
Suitable for offices
Cons
It might cause trouble for people with big hands
3. SteelSeries – 1-to-1 tracking supported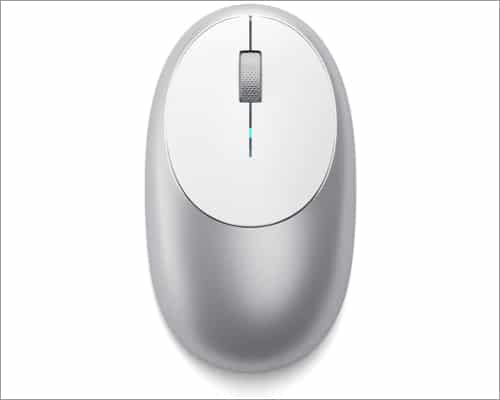 Resting your fingers or palm on the mouse during those intense gaming sessions can leave your hand sore. But, with SteelSeries Rival 600 gaming mouse, you can enjoy online gaming without pain. The eye-catching design of the mouse includes seven buttons for a more precise gaming touch. Also, the silicone-based side grips offer better durability and ease of use.
Rival 600 mouse houses a powerful dual sensor system integrating 1-to-1 tracking and advanced lift-off distance detection. The Optical Depth sensor offers the best precision and lowest lift-off detection. The other one is the TrueMove3 Optical sensor that ensures zero acceleration, lags, or tracking errors for optimized gaming. TrueMove3 is a 12K CPI, 350 IPS optical sensor designed with PixArt.
With these two components, you are always in control, even when you move up or put down your mouse. Exciting, isn't it? Also, the split trigger 60 million click mechanical switches make the Rival 600 a good choice for e-sports fans. So, now you know which is the best gaming mouse for Mac.
The center of gravity tuning solution includes moveable weights and light-to-heavy weight customization. Moreover, the removable sides feature lets you fix the weight, thereby giving you the most comfortable grip for lengthy gaming sessions. However, you must buy SteelSeries' wireless keyboard and mouse for Mac for best results.
Pros
Small size ensures easy portability
In-built, rechargeable Lithium battery
Smooth compatibility with multiple devices, including iPads
Inexpensive
Cons
Less inertia makes scrolling cumbersome
Not suitable for people with large hands
4. CORSAIR Harpoon RGB – For gamers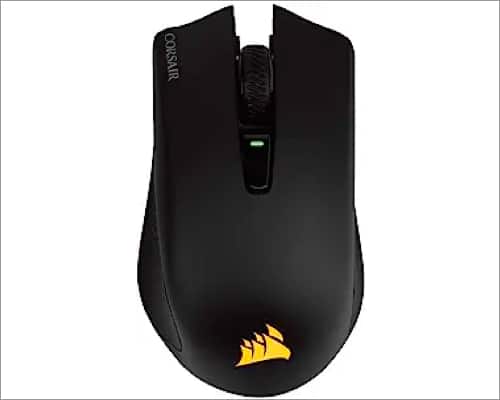 With Corsair Harpoon RGB wireless gaming mouse, you can choose how you want to play online games. Sleek design, easy portability, and superior quality make the Corsair Harpoon RGB Bluetooth mouse a trusted choice for e-gaming fans. The device boasts molded rubber sides, with a scooped-out shape, for a firm grip while gaming. In addition, the sides stretch out towards the bottom for easy resting of your thumb and fingers.
On the mouse, you can find the right-and-left buttons on the top, a clickable scroll wheel, and a DPI settings button right behind the wheel. In addition, the left side houses the forward and back buttons, which are easily accessible. Also, the Harpoon RGB mouse has ultra-durable Omron switches that smoothly offer over 50 million clicks. Furthermore, the 10K DPI optical sensor lets you confidently play your best shot. Moreover, you don't need any additional software or drivers to use this amazing mouse.
It is a perfect choice for gamers because it allows you to play with hyper-fast, sub 1ms Slipstream Corsair Wireless Technology. You can also connect the mouse with Bluetooth or USB. Moreover, Harpoon RGB has onboard memory, so you can switch settings from one PC to another and start playing instantly.
Pros
A budget buy for gamers
Lightweight
Multiple modes for instant connection with PC
6 programmable buttons
Cons
Limited for right-handed users
For best use, you must download the Corsair iCUE software
5. Logitech MX Master 3S- Best battery life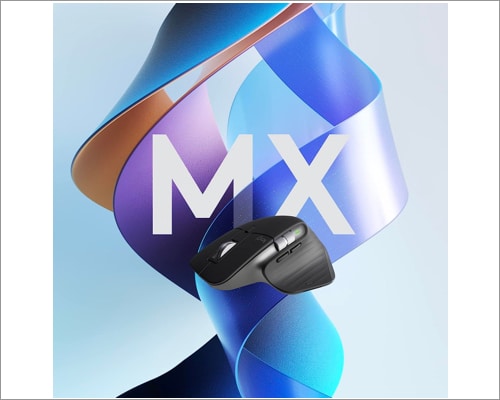 Logitech MX Master 3S is a premium offering for those looking for the best wireless mouse for Mac. With its remarkable MagSpeed electromagnetic scroller, you get the typical mouse click feel with 90% less click sound. In addition, you can pair the mouse with up to three devices using Bluetooth Low Energy or the in-built Logi Built USB Receiver.
The mouse houses the '8K DPI' optical sensor, which proudly thrives as one of Logitech's most powerful sensors. With this sensor, you get advanced responsiveness and precision at work. Try using it on a glass; you will be shocked to see the sensor's power. Moreover, you can adjust the tracking sensitivity at your convenience through Logi Options+. Also, the device stays charged for up to 70 days with one-time charging. An hour-long charging will let you use the mouse for three hours.
Apart from all this, MX Master 3S has superb precision and scrolling capabilities. The MagSpeed Electromagnetic wheel lets you scroll 1,000 lines per second. Oh! Don't forget that all this happens without any audible noise. The scroller's steel structure offers effective tactility and the perfect weight for an effortless work experience.
Pros
90% less clicking sound
Steel-made scroller for high tactility
8K DPI optical sensor
Ergonomic design for easy support for palm and fingers
Cons
Bulky in design compared to other mice
No storage slot for its USB receiver
6. Logitech M170 wireless mouse – Ambidextrous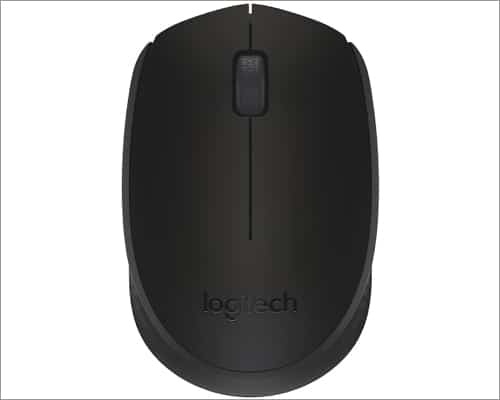 Logitech M170 wireless mouse is a pocket-friendly product that will most likely grab your attention quickly. First, the sleek, comfortable shape of the mouse makes it easy for you to carry around in your laptop bag. Moreover, its ambidextrous design ensures a perfect working experience for both left and right-hand users. All these features save you from straining your hand.
The AA battery implanted in the mouse has a year-long battery life, so you don't have to spend frequently purchasing new batteries. Regarding its connectivity, this 2.4 GHz wireless mouse works effortlessly well up to 33 ft or 10 m distance. Also, you can connect it to your Mac within seconds by plugging its powerful USB receiver into your system's USB port. Check out these useful USB-C hubs for Mac if you want to take your PC's performance a few notches higher.
The Logitech M170 mouse gives you access to seamless optical tracking and line-by-line scrolling. This ensures that you can use your M170 Bluetooth mouse on any surface without any ease. No dropouts from now on!
Pros
AA battery included
Cheapest wireless mouse option
Suitable for offices
Cons
Not suitable for long hours of work
It might cause trouble for people with big hands
7. HOTLIFE LED – Add colors to your desk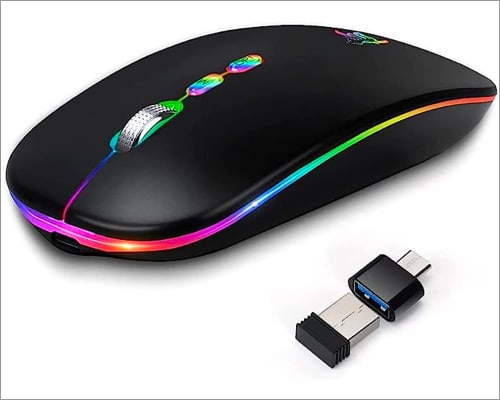 Want to add some zing to your monotonous work life? Then choose the HOTLIFE LED wireless mouse! The device offers easy connectivity to users. You can switch on the mouse button to bring the 2.4G wireless mode to life or use your Mac's Bluetooth to use the HOTLIFE LED wireless mouse.
The tapping sound of the mouse often disturbs your work and those around you. However, with HOTLIFE LED wireless mouse, you get noiseless clicking. It is so silent that it won't even feel like you are using it. Moreover, the Bluetooth mouse has an in-built rechargeable battery, thus relieving you from the constant struggle of refilling your battery stock. And do you know that charging for 2 hours allows you to use the mouse for 8 to 10 days easily?
Here, you get three different DPI levels – 800, 1200, and 1600 – to choose from. Pick either of the options available to fix the speed and sensitivity of your mouse pointer. You can charge the mouse with the included USB cable. Apart from this, the mouse works equally well for both left and right-handed users.
Pros
Multiple color options
Silent click
Rechargeable battery
Automatic sleep mode for power saving
Cons
Some people might not like the flat body design
8. Logitech MX Anywhere 3- Efficient USB-C wireless mouse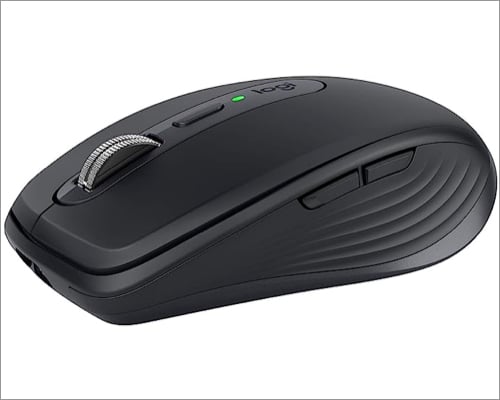 Logitech MX Anywhere 3 can also be a vital consideration in our search for the most compatible wireless mouse for Mac. The mouse is a one-stop package offering speed, noise-free clicks, and precision or high sensitivity. All these features come alive with Logitech's remarkable MagSpeed Electromagnetic Wheel scrolling. In addition, the mouse lets you auto-switch between ratchet and hyper-fast modes, so you always get a comfortable working experience.
Simple design curated to suit your hands will help you use Logitech MX Anywhere 3 on multiple surfaces, including glass, couches, wooden desks, etc. The super-soft silicone sides offer a firm grip even in mobile work conditions. Moreover, the mouse supports button customizations and has predefined profiles for popular portals like Google Chrome, Safari, MS Word, PowerPoint, etc. Easy Switch buttons let you control up to 3 computers.
The USB-C charging support lets you use the device for up to 70 days with complete charging. Just charge for a minute and use the machine for three hours. So, you get a superb design and excellent performance with Logitech MX Anywhere 3 wireless mice.
Pros
MagSpeed Electromagnetic Wheel
Good battery
Small and lightweight
Cons
Right-handed
No dongle storage
Small shape might not impress many people
9. Amazon basics mouse – Budget-friendly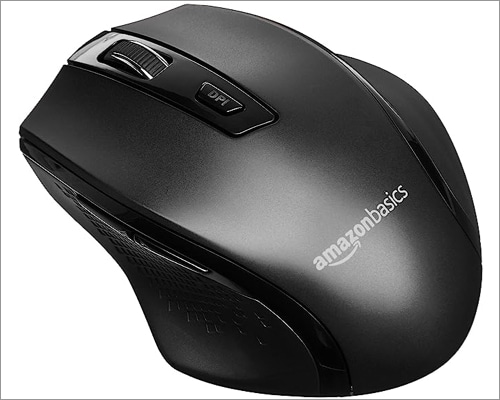 Amazon Basics' ergonomic wireless PC mouse is a must-check offering if you want to indulge in a lightweight expense. The device has a compact design that does not strain your fingers or palm. Further, the ergonomic shape comes with rubber sides for a better grip, irrespective of the surface you use it on.
Its advanced optical sensor makes the Amazon Basics ergonomics wireless mouse slide smoothly on multiple surfaces easily. In addition, the metal-based clickable wheel for scrolling ensures a convenient work experience. The mouse supports a 2.4 GHz wireless connection for a 33-foot-long range. In addition, it houses a tiny USB receiver that you can plug into your computer without hampering the work of other ports.
The ergonomic wireless PC mouse houses an AA battery. You can adjust the DPI sensitivity from 600,1000, 1600, 2400, or 3,600 based on your preference. In addition, the device uses AES-128 encryption to ensure complete safety.
Pros
Cost-friendly
Ergonomic design for hand comfort
Works on all surfaces
Cons
Brittle
No Bluetooth connectivity
10. Tenmos – Style with comfort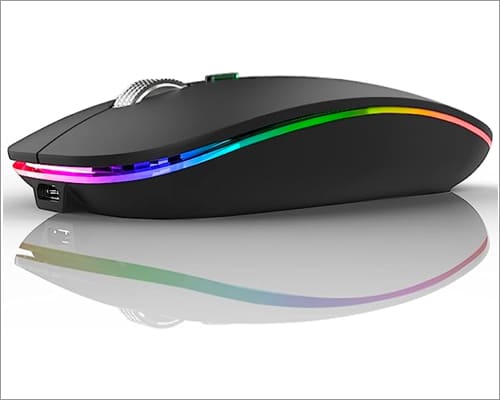 Are you tired of using a simple mouse? Great, TENMOS offers a stylish mouse design featuring seven different color LED lights. The lights change randomly, giving you an excellent and fancy experience while working with it. Also, this mouse supports dual-mode connection, so you can use it for operating two individual devices with a simple switch push.
TENMOS LED wireless mouse has multiple DPI levels of 800, 1200, and 1600, so you can customize them per your preference. Moreover, you can enjoy a soundless working experience with the quiet click feature of the mouse. The device carries a rechargeable battery and a charging cable. Also, it shifts into sleep mode after 10 minutes of no operation to save power and ensure long-term use.
Pros
Compatible with multiple platforms, including Windows, iPadOS, Android, etc.
Cost-effective
Wireless Bluetooth connectivity
Cons
Scroll button can be troublesome
A bit slow compared to other products
Wrapping up!
Working with a wireless mouse can enhance your MacBook usability exponentially. They add a layer of comfort to your working experience by offering quick access to the most common services. All the wireless mice for MacBook included in this list are efficient, cost-friendly, and readily available on Amazon. After analyzing each product's pros and cons, this list will help you get the best wireless mouse for Mac.
Also, don't forget to let me know which wireless mouse you are using with your Mac in the comments section.
Read more:
Readers like you help support iGeeksBlog. When you make a purchase using links on our site, we may earn an affiliate commission. Read more.
Mehak has a master's degree in communication and over ten years of writing experience. Her passion for technology and Apple products led her to iGeeksBlog, where she specializes in writing product roundups and app recommendations for fellow Apple users. When not typing away on her MacBook Pro, she loves being lost in a book or out exploring the world.