You must agree that the iPad Pro has become a go-to device thanks to its sleek design, powerful performance, and range of features. However, using it for extended periods can be tiring, primarily if you use the touchscreen to navigate. That's why you need an iPad Pro-compatible mouse to make your experience more comfortable and efficient and navigate easily and quickly. Here, I will share the best Bluetooth mouse for iPad Pro.
I have considered the factors like compatibility, ergonomics, battery life, and performance while testing the mouse. Whether you're a creative professional, a student, or someone who wants to get the most out of their iPad Pro, choose the one according to your needs. So, let's get started!
1. Apple Magic Mouse – Editor's choice
What could be better than a native Apple accessory for your iPad? The wireless Apple Magic Mouse works seamlessly with iPadOS. It has a flat form factor and minimalist design. Besides, the optimized foot lets it glide smoothly across your desk, thereby increasing trackability. I'd recommend getting a good mousepad for the Magic Mouse to make sure it doesn't catch any dirt.
I liked its Multi-Touch surface that allows you to perform simple gestures such as swiping between web pages and scrolling through documents. Besides, the rechargeable battery will power the mouse for about a month. Also, you will get a woven USB-C to Lightning Cable for pairing and charging.
Pros
Ultra slim profile
Rechargeable battery
Supports mouse gestures
2. Logitech MX Master 3 – Ergonomic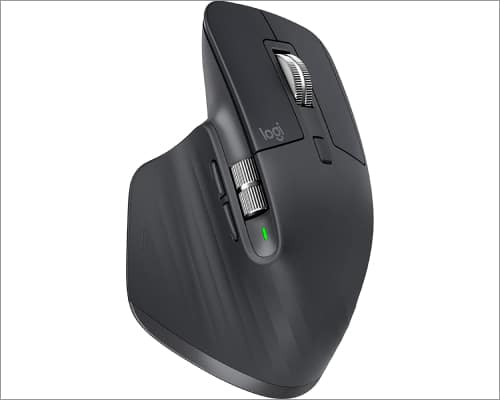 The Logitech MX Master 3 is the best ergonomic Bluetooth mouse for iPad pro without USB. Its 4000 DPI sensor is quick and accurate and works on any surface, even glass. Also, the metallic MagSpeed wheel is tactile and has a built-in magnet and a toggle button on the back, allowing it to go between spinning freely and notched.
It is speedy enough to scroll 1,000 lines in a second and accurate enough to stop on a pixel. Additionally, the mouse supports up to three devices with cross-cursor control and has a USB-C rechargeable battery that lasts up to 70 days on a single charge. You will see 7 buttons, including left, right, back, forward, app, wheel mode, and center click.
The best part is the mouse is designed keeping comfort in mind. It will be gentle on the wrists and provide enough support to the hand. Moreover, the button on the thumb rest launches the last-used app. When you press and hold that button, the app switcher appears.
There are more gestures utilities and unique features for macOS that are not accessible on iPad. Also, the backdated appearance may turn off some users.
Pros
Comfortable thumb rest
Darkfield 4000 DPI sensor
MagSpeed electromagnetic scrolling
Cons
Suits big hands
Noticeable lags
3. Microsoft Arc mouse – Portable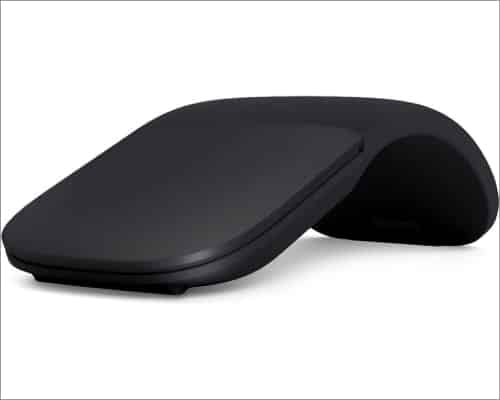 The Microsoft Arc Bluetooth mouse is my daily companion while working on the go. It has a unique design. When switched off, it's flat, sleek, and pocket-friendly. You need to snap it into a bending arc to start using it. So, the mouse is fun to use and offers a variety of colors.
Besides, you will get a soft, comfortable silicone body with a clickable plastic front. Also, the mouse is smooth to the touch and well-built to fit comfortably in your palm. Thanks to the innovative full scroll plane, you may scroll vertically and horizontally and track 30 inches per second.
Moreover, it is powered by AAA batteries providing a battery life of up to six months. Compared to the Apple Magic Mouse, it is smaller and lighter thanks to its slim profile. Nevertheless, the compact design may be unpleasant to users with larger hands. Note that the Arc Mouse lacks a conventional scroll wheel.
Pros
Travel-friendly design
Lightweight and compact
Great hand feel
Cons
Not as smooth as macOS
Over scrolling lags
4. Logitech Pebble wireless mouse – Budget-friendly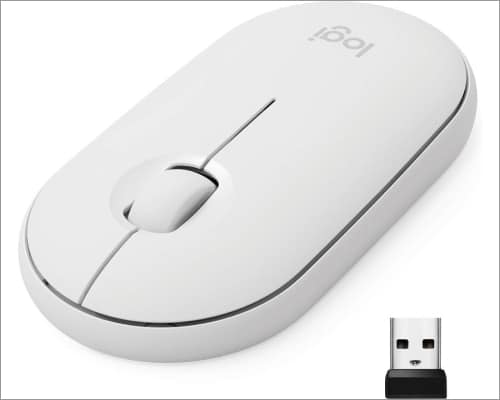 If you are a minimalist like me, you will love to use the Logitech Pebble mouse. It has a flat, pebble-like shape, a silent wide rubber wheel, a magnetic keyplate, soft touch buttons, and rubberized feet on the bottom. Besides, the sleek and ambidextrous form factor is pleasant to grip, comfortably fits into any palm, and makes it portable.
Moreover, the high-precision optical tracking lets you navigate efficiently. The stand-out factor is the mouse runs for up to 18 months on a single AA battery. I like to use it because of the ultra-quiet clicks and scroll. According to the company, it has 90% noise reduction. Therefore, it's a great Bluetooth mouse for iPad Pro deal on a budget!
Pros
Quiet click and scroll
Extensive battery life
Optical tracking
Cons
Slow scrolling
Need to address the ergonomics
5. Satechi M1 mouse – Durable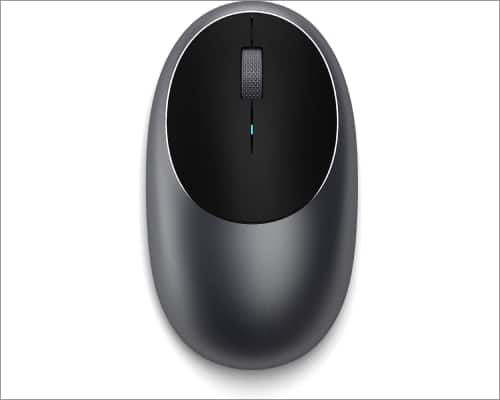 The Satechi M1 mouse, built with aluminum, looks and feels excellent and is durable in the longer run. The curved-shaped body fits nicely in both the left and right-hand palms. Besides, it has a 1200 DPI optical sensor, providing fast and precise tracking and scrolling. You will also get a metal scroll wheel and soft-touch navigation buttons.
Also, Bluetooth 4.0 support has a wireless range of 32 feet. If you don't want to carry additional batteries, this mouse is an option. It's because it has a built-in rechargeable lithium-ion battery. The USB Type-C charging connector is provided with the mouse. However, it only supports this native charger, so you must carry it everywhere you go with your iPad Pro!
Pros
1200 DPI precise tracking
Rechargeable built-in lithium-ion battery
Ergonomic design for both hands
Cons
Connectivity issues have been reported
6. TECKNET Bluetooth wireless mouse – Customizable DPI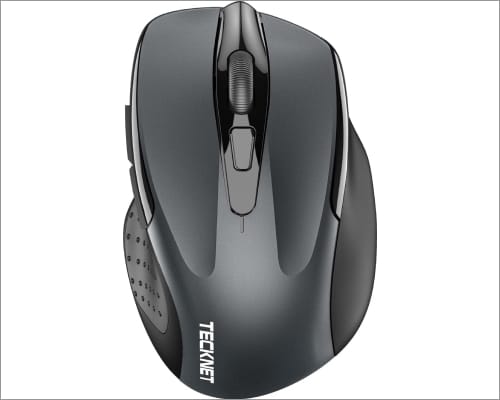 TECKNET wireless mouse for iPad Pro is an excellent combination of ergonomic design at a reasonable price. It has a smooth surface with right-handed ergonomic curves for comfortable usage. Also, you will get six buttons and a DPI changer. So, depending on your needs, you may set 5 DPI levels from a low of 800 to 2600.
Also, the Tru-Wave technology provides accurate and fluid cursor control on several surface types. Moreover, this mouse for iPad Pro connects using Bluetooth 3.0, ranging up to 26 feet without a USB receiver. It is powered by two AAA batteries which usually last for a year. However, the brand has incorporated an Intelligent Power Saving mode.
So, when inactive, your mouse goes to Sleep mode automatically, extending the battery life to 24 months. Additionally, it withstands about 8 million clicks, making it the perfect choice for long working hours. The TECKNET will provide a 36-month warranty so you can use the mouse peacefully.
Pros
5 adjustable DPI levels
24-month battery life
Keystroke tested for longevity
Get the right companion for your iPad Pro!
Using a Bluetooth mouse can make a huge difference in your iPad Pro experience. Before buying, cross-check the compatibility, ergonomics, battery life, and performance to suit your needs. I hope this blog has helped you narrow your options and find the best Bluetooth mouse for your iPad Pro. Which mouse caught your eye? Let me know in the comment below!
Explore more…
Readers like you help support iGeeksBlog. When you make a purchase using links on our site, we may earn an affiliate commission. Read more.
Ava is an enthusiastic consumer tech writer coming from a technical background. She loves to explore and research new Apple products & accessories and help readers easily decode the tech. Along with studying, her weekend plan includes binge-watching anime.