Are you using an iPad but not using its USB-C port to its full potential? Then you are surely missing out on some important advantages your iPad can offer. Apple switched to the USB-C connector port for its iPads in 2018, and things have never been the same. The USB-C port on the iPad provides easy accessibility and compatibility with other peripherals. To enable this multifunctional capacity, you can use a USB-C dock and transform your iPad into a desktop setup.
The market presently has various options for USB-C hubs compatible with iPad, so choosing the ideal one can be difficult. This is why I have curated this list highlighting the best USB-C hubs and docking stations for iPad Pro.
1. Anker – Editor's choice
With Anker's PowerExpand Direct 6-in-1 USB-C hub, you get the best of both worlds- functionality and affordability. This device converts the USB-C port of your iPad into 6 efficient ports for performing multiple activities. You get a USB-C port, HDMI port, USB-A port for 5Gbps transfers, SD/microSD card slots, and a 3.5mm headphone jack.
The PowerExpand Direct adapter supports input of 60W and speedy, pass-through charging for your iPad without disrupting other functions. The simple design includes a matte aluminum exterior that complements the look of your iPad Pro.
Additionally, this USB-C docking system lets you stream videos in up to 4K@60Hz resolution by connecting the HDMI output to a supported monitor. The 3.5mm headphone jack supports 48Hz/16-bit transmission for an unmatched audio experience. Also, the SD and microSD card slots support multiple SD card formats, so you never struggle to access photos and media files.
You can also connect a 38W or above USB-C PD charger and USB-C to C cable to Anker's PowerExpand Direct hub to get pass-through charging for your iPad Pro. Ensure that the adapter supports 15V to access full-speed charging. The hub will do the charging without affecting the functionality of other ports. This USB-C docking station is compatible with iPad Pro 11-inch/ iPad Pro 12.9-inch 2018/2020 and not with iPad Pro 12.9-inch 2021.
Pros
Sleek and stylish design
Aluminum exteriors for quick heat loss
Multiple device compatibility
Supports Ethernet, and HDMI for a high-quality experience
Cons
The audio port does not support volume control for EarPods
2. Belkin – Powerful docking station for iPad Pro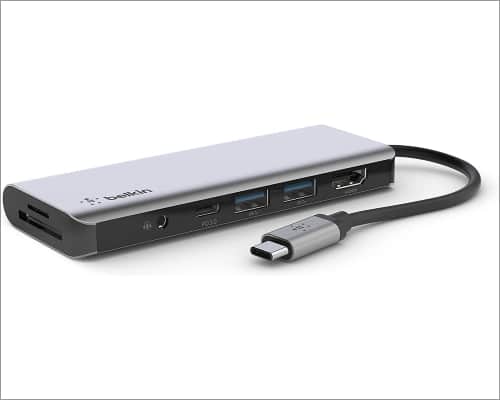 If you are looking for the best USB-C hubs for iPad, Belkin is a reliable option. The 7-in-1 Belkin hub has room for all your peripherals. It includes two USB-A 3.0 ports, one USB-C PD 3.0 port allowing up to 100W charging, SD and micro-SD 3.0 card readers, one 4K 1.4 HDMI port, and a 3.5mm audio in/out. Switch to the Power Delivery 3.0 port to simultaneously charge your phone, tablet, or another device.   
Enjoy 4K@30Hz monitor resolution with Belkin's 7-in-1 USB-C hub by connecting your iPad, MacBook, Windows, and other compatible devices. Just plug-and-play the multipurpose docking station, which requires only 15W of power to support your peripherals constantly. The device facilitates data transfer at 5Gbps while ensuring smooth interconnectivity to your devices.
Pros
Gigabit Ethernet for seamless online surfing
HDMI for high-resolution 4K display
Pass through charging up to 85W to avoid choosing between port expansion and power
Cons
Users have reported occasional glitches
3. Satechi – Innovative adapter for iPad to USB-C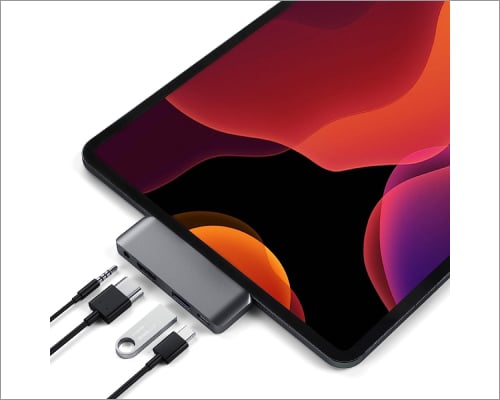 Satechi is a globally acclaimed brand specializing in innovative technology products and accessories. The Satechi Type-C Mobile Pro Hub Adapter thrives as one of the first hubs created specifically for iPad Pro 2020/2018. It comes packed with a USB-C PD charging port and a 3.5mm headphone jack. It also supports 4K HDMI and has USB 3.0 ports. This multipurpose USB-C adapter provides an unmatched work experience by facilitating easy access to all your vital peripherals.
You get access to a seamless 4K HDMI display with a 60Hz refresh rate for all your presentations, video calls, and conference calls. The USB-C power delivery port gives bidirectional charging support for your iPad Pro. You can also use a portable power bank to charge the connected USB-C devices. Ensure to use a 30W or more power adapter for fast charging.
The device is compatible with the 2021 iPad Pro M1, iPad Mini (6th gen), 2020/2018 iPad Pro, and 2020/2018 MacBook Air. It does not support 2017 and earlier iPad versions.
Pros
Aluminum design for quick heat dissipation
Portable and stylish
60W PD charging without restricting other functions
Cons
Does not work for 2017 and earlier iPad models
No SD card reader support
No gigabit Ethernet
4. HyperDrive – Multipurpose iPad docking station
HyperDrive is a recognized brand for electronic products. The company's 6-in-1 USB-C multipurpose charger is a robust tool that ensures connectivity for all your peripherals. This portable hub has 4K @60Hz HDMI support, USB 3.0, a 60W Power Delivery port, a 3.5mm Audio Jack, a 104MB/s SD card slot, and a UHS-I Micro-SD card reader. In addition, you can use HyperDrive's Adapter Dongle on iPad Pro 2020/2019/2018, iPad Air 2020, and M1 iPad Pro.
Rely on HyperDrive's HDMI adapter to view any supported app on the compatible iPad versions at full screen for an optimum experience. The convenient grip of this 6-in-1 USB-C adapter safeguards the hub onto the iPad it is attached to. With this USB-C dock, you can enjoy two times faster refresh rate when streaming your videos and transferring data at 5Gbps. For using the hub with the iPad Pro, you must swap the default grip with the extra grip included in the packaging.
Pros
60W Power Delivery
Replaceable and detachable grip for better security
Global patented structure
Cons
Costly
Bigger in length than other hubs
5. Hiearcool – Climate-friendly 8-in-1 USB-C Hub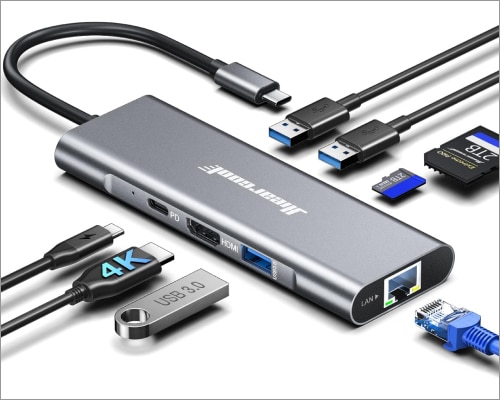 Hiearcool offers an excellent 8-in-1 USB-C hub that caters to all your requirements effectively. This multifunctional hub carries one 4K HDMI, one Ethernet port, one Power Delivery port, three USB 3.0, and one TF/SD card reader. The USB-C hub reduces the clutter on your worktable and eliminates the trouble of adding or removing peripherals to your device. In addition, its latest super-smart chip allows up to 100W of power delivery for quick charging.
The HDMI support is perfect for connecting gaming consoles, TV, projector, or monitor to your iPad and enjoying a 4K vivid display with a 60Hz refresh rate. The SD/TF reader lets you read and write up to 104 Mbps with a simple plug-and-play of the hub. You can share data at high speed of up to 5Gbps using the three USB 3.0 ports offered by Hiearcool USB-C hub for iPad. Hiearcool promotes sustainable products that are certified for a carbon footprint.
Pros
Aluminum exteriors
Ethernet port for superfast online surfing
No lags with 4K@60Hz HDMI
Also compatible with MacOS, Windows, Chrome OS
Comes in multiple colors
Cons
Heating issues during data transfers
Does not support high-resolution monitors
6. UGREEN – Top quality 6-in-1 USB C Hub
UGREEN blesses you with one of the best USB-C hubs and docking stations for iPad Pro through its 6-in-1 USB-C adapter. The device saves you all the trouble of attaching and detaching devices repeatedly. In addition, it comes with a 4K@30Hz HDMI port, SD/TF card slots, and three USB 3.0 ports.
You can extend your screen with a USB-C hub adapter to stream 4K UHD, 1080p HD, and 3D videos to a monitor, projector, or HDTV. So, you can enjoy movies on the big screen or make extensive presentations for a business meeting. The three USB 3.0 ports allow connecting several peripheral devices like keyboards, mouses, MP3 players, hard drives, flash drives, printers, etc. Moreover, the stick supports data transfer up to 5Gbps, so you can share HD movies/files with friends within seconds.
The 104MB/s speed of the USB-C hub HDMI lets you transfer photos or videos from your camera cards to the laptop in seconds so you can view them at your convenience. The USB-C to USB adapter works well with various USB-C devices like MacBook Pro, iPad Pro, iMac, MacBook M1, M2, Chrome Book, Surface, HP, etc.
Pros
10X faster than USB 2.0
Aluminum design for quick heat loss
Lightweight and portable
Cons
No gigabit Ethernet
No USB-C pass-through charging
7. BYEASY – USB-C hub with a stand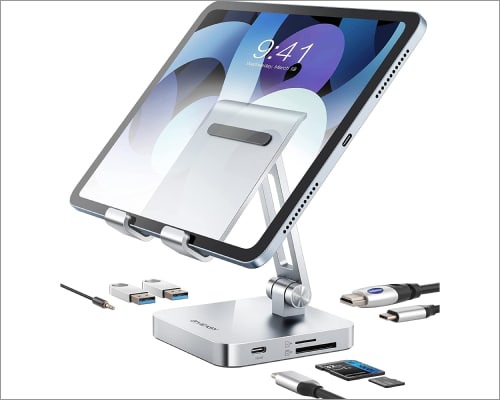 BYEASY launched a unique USB-C hub with a stand that offers a perfect blend of style and functionality. The company's 7-in-1 USB-C docking station for iPad offers 4K@30Hz HDMI, 60W PD charging port, two USB 3.0, and SD/TF card readers. With the hub's HDMI port, you can stream 4K 3840×2160 videos with a 30Hz refresh rate on an external monitor or projector.
Get speedy data transfers up to 5Gbps using the two USB 3.0 ports. You can also connect the USB 3.0 ports with a keyboard, mouse, external disk, USB driver, etc. The easy rotatable stand of the USB-C hub lets you adjust the viewing angle at your convenience. With its cable-free setup, you can enhance your work efficiency and productivity. The USB-C hub is compatible with iPad Pro 2021/2020/2018, iPad Air 2020, MacBook Air M1, MacBook Air 2018, etc.
Pros
Foldable and rotatable stand
Supports high-quality video streaming
Cons
The base isn't steady due to its small size
8. NXPGKEA – 7-in-1 USB-C adapter for iPad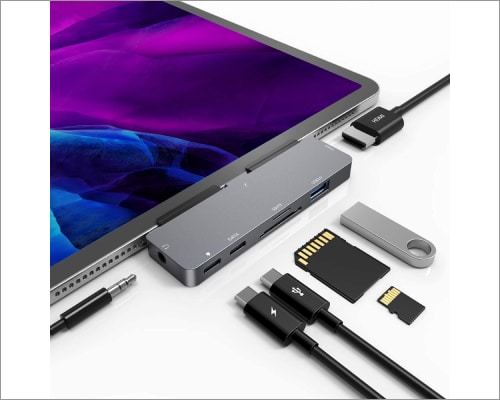 The NXPGKEA 7-in-1 USB-C adapter is a powerful option that lets you access multiple devices simultaneously. This hub comes packed with an HDMI port, USB 3.0 port, SD/microSD card slot, a 3.5mm Audio jack, a USB-C data port, and a USB-C PD port. It works with iPad Pro 11-inch/12.9-inch 2021/2020/2018, iPad Air 5, iPad Air 4, and iPad mini-6.
Extend your screen with 4K HDMI display and stream videos of 4K@30Hz UHD, 2K@60Hz, and 1080P@60Hz quality on monitors, HDTV, or projectors. The in-built DAC audio chip converts a digital signal into hi-resolution audio, up to the 384khz-32bit audio output. Use the USB 3.0 port to connect a USB flash drive, hard drive, mouse, keyboard, and other USB devices to transfer data at 5Gbps speed. The USB-C PD port ensures high-speed 60W charging to your iPad.
Pros
Supports Apple Smart/Magic Keyboard
Fast USB data transfer
60W full-speed charging
Cons
Small USB port
Limited shelf life
9. QGeem – Pocket-friendly 4-in-1 USB-C hub
QGeem's 4-in-1 USB adapter is a perfect partner for iPad users. This USB C to HDMI adapter, supported with USB 3.0, facilitates the easy transfer and backup of your files, images, and videos at speeds up to 5Gbps. In addition, you can use the USB 2.0 port to connect your mouse, keyboard, and many other devices easily. This tool has three USB-A 3.0 ports, an SD/TF card slot, one USB-C Thunderbolt port, and a microSD card slot.
The HDMI port of QGeem's USB-C hub lets you stream 4K videos at a 30Hz seamless rate. You can also enjoy full HD 1080P video by extending your screen to an HDTV, monitor, or projector. Also, the adapter lets you access 3D videos and audio syncs. You don't need an external driver to use this USB-C hub. It features 100W power delivery to the USB Power Delivery laptop and offers extra power to the hard disk, DVD driver, and accessories connected to the USB ports simultaneously. Unfortunately, though, it is not for Apple SuperDrive.
Pros
Different ports offer multiple connections simultaneously
Fast data sharing with high-speed USB ports
Easy portability due to lightweight
Easy-to-carry design
10. Zedela – Budget-friendly docking station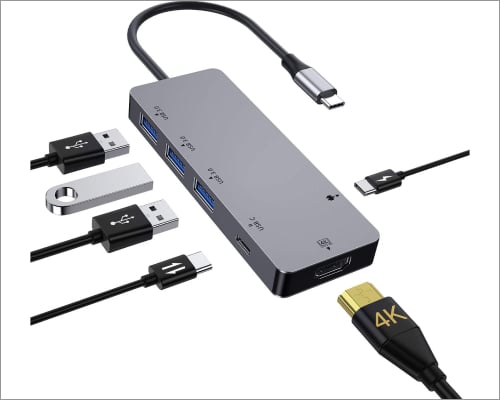 With Zedela's 6-in-1 USB-C hub, you get access to high-quality services at a budget-friendly price. This adapter has six additional ports, including one 4K HDMI, three USB 3.0, and two USB-C. Multiple ports connect your iPad or laptop with several peripherals simultaneously.
The USB to HDMI adapter allows you to extend your screen to your monitor, projector, or TV and enjoy a 4K Ultra High-definition display. It gives wide compatibility that extends to MacBook Pro 2018/2017/2016, MacBook Air 2018, MacBook 2017/2016/2015, iMac, etc. Get super-fast data transfer at the rate of 5Gbps. The device is also compatible with USB 2.0, USB 1.1, and USB 1.0. The PD port can charge your laptop and other Type-C devices.
Pros
Compatible with multiple USB-C devices
12-month warranty
Small size for easy portability
Cons
Connects through a cable with a hanging dongle
No SD or microSD card slot
Wrapping up
With the introduction of USB-C connector support, Apple tried to enhance the operational capacities of iPads. The list here introduces you to some of the best USB-C hubs and docking stations for iPad Pro. All the USB-C hubs mentioned here will amplify the efficiency of the single USB-C on your iPad by converting it into a multipurpose device. You can choose the hub that suits your interests and fit your pockets.
Feel free to contact me in the comments section with suggestions, queries, and better solutions for USB-C products for iPads.
Read more:
Srishti is an avid writer who loves exploring new things and letting the world know about them through her words. With a curious mind, she will let you move through the nooks and corners of the Apple ecosystem. When not writing, you can find her gushing over BTS like a true BTS Army would.