Most modern MacBooks come with a USB-C port for charging and file transfer. So if you want to exchange files between your SD card and your Mac, a card reader with a USB-C cable is what you need. Not a dull, cracky one, though. Your card reader has to facilitate file exchange with lightning speed without friction.
Some basic features you should expect from your card reader include usage security, excellent transfer speed, and zero driver installation. To save you the time and stress of searching, I have compiled a list of the best USB-C card readers for your MacBook.
1. Apple USB-C to SD Card Reader – Editor's choice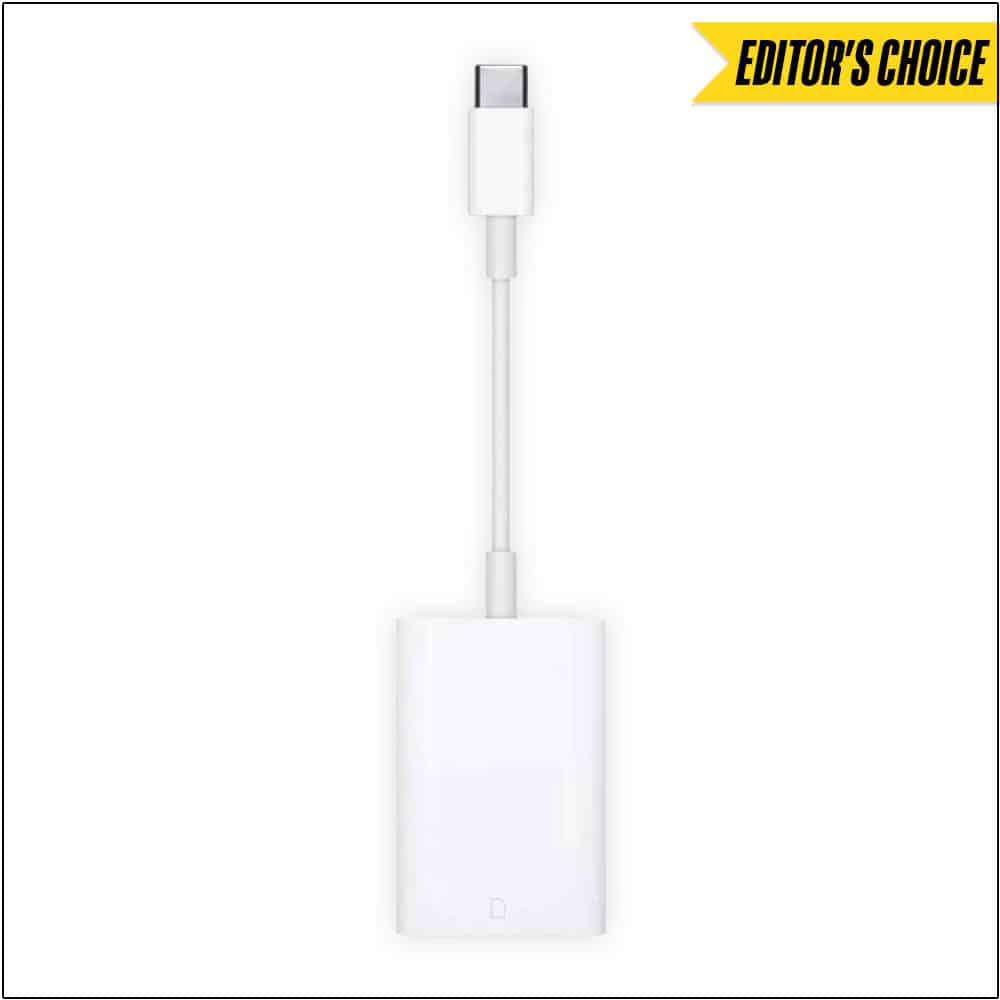 The Apple USB-C card reader is a simple, sleek card reader designed solely for the Mac ecosystem. As I expected, it transfers high-resolution photos and videos using the UHS-II speed standard – so the transfer pace is pretty smooth.
The Apple USB-C card reader is pretty decent for most needs. But the only problem is that it only supports UHS-II SD cards. You might need an extra adapter to read TransFlash (TF) and microSD cards. The card reader is a bit pricey, though. But that's expected since it follows Apple's pricing style.
Pros
Compatible with all Macbooks and iPads
Durable and compact
Cons
It only supports UHS-II SD cards
Check out on Amazon | Buy it from Apple
2. Anker 2-in-1 USB 3.0 SD Card Reader – Read two SD cards simultaneously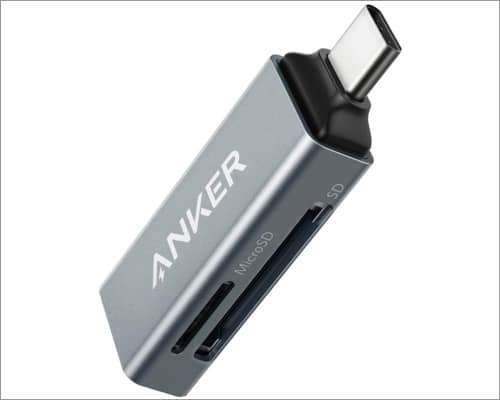 The Anker SD card reader is renowned for its simplicity and compactness. Although it's not packed with many features, it's compact in that it doesn't block the surrounding ports.
It works across multiple devices, from Macs to other type-C-supported devices. Unlike Apple's USB-C card reader, it has a port for Micro cards and can read cards simultaneously. If all you require is a card reader with no additional features that may cause tardiness, this one is a way to go and relatively affordable.
Pros
Has a slot for Micro SD Cards
It can read two cards simultaneously
Cons
You might not find it attractive if you need extra features in an SD card
Check out on Amazon | Buy it from Anker
3. Beikell Dual Connector – Cheap Mac USB-C card reader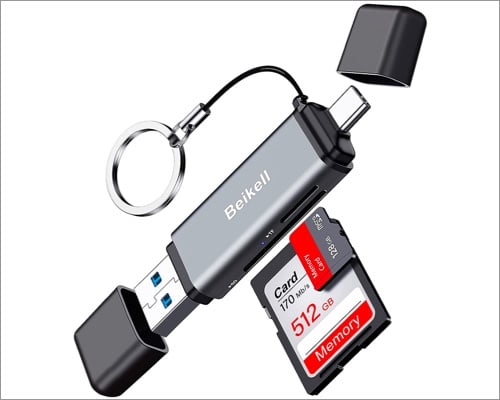 The Beikell Dual card reader takes the lead on cheapness. It has type -C and type-A inputs at either end and looks like a flash drive – so it's handy and easy to slot into your Mac.
However, despite having a micro card and a standard SD card slot, it can only read one at a time—unlike Anker. The Beikell Dual card reader has an excellent transfer speed for files. Besides MacBooks, it is also compatible with Smartphones, as it has an OTG option.
Pros
Has a USB-A port for older devices
Has an OTG option for smartphones
Cons
It can only read one card at a time
4. LENTION USB C hub – Up to 500MB/sec transfer speed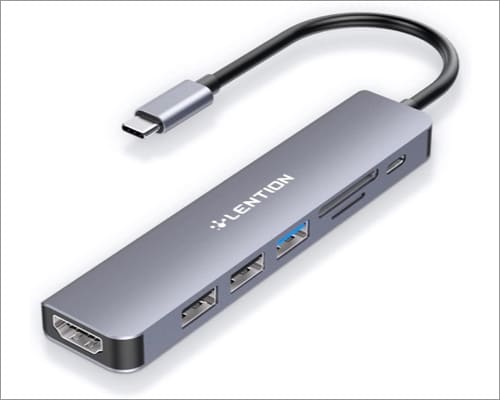 Looking to pair your MacBook with many devices at once? Featuring USB 3.0 and USB 2.0 ports with a 4K HDMI port for facilitating streaming on a TV screen, the LENTION USB C hub is the best USB-C card reader to expand your MacBook's ports by seven more.
Interestingly, it also features a fast-charging outlet that takes up to 100W voltage, allowing you to charge your PC via the card reader while in use. Hence, unlike many conventional card readers that prevent you from charging via the USB-C port while using the card reader, this one doesn't since it's a hub.
Although the LENTION USB C hub features many ports, they do not interfere—if you install the Stable Driver 3.0 that comes with it. However, ensure you plug in the power supply if using all ports simultaneously. Surprisingly, it's relatively cheap despite its value and fast transfer speed, making it one of the best USB-C hubs for Mac. The only limitation is that it can only read SD cards with a maximum capacity of 256GB.
Pros
Charge your Mac while in use
Expand your Macbook USB ports
Transfer speed is up to 500Mb/sec
Cons
Limited to reading 256GB-storage space SD cards
5. Hicober USB-C – 2-year warranty available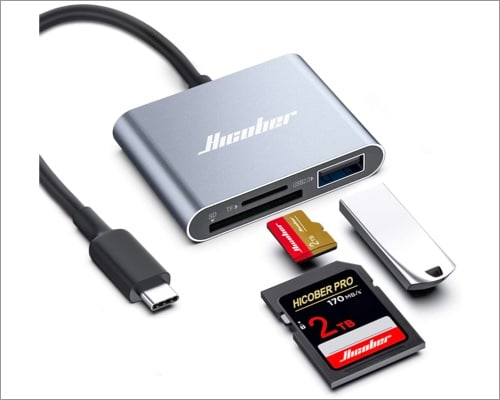 The Hicober USB-C card reader is a durable but simple and compact USB-C card reader. It features a USB adapter for USB sticks, micro and standard SD card slots, plus a standard SD card slot. It also allows reading from all ports concurrently — up to 2TB of storage.
The Hicober brand boasts 5000 Megabits per second and 480 MB per second read and write speed, respectively, on its card reader. When I tested, it accepted a 2GB file in about 12 to 15 seconds. So I say its transfer speed is top-notch with a bi-directional transfer functionality.
Overall, it's a little less pricey for the value. And while there might be occasional hitch when transferring files using multiple ports at once, the company gives a two-year warranty.
Pros
Can be used for cards and thumb drives
2-year warranty
6. Cable matters – True to the name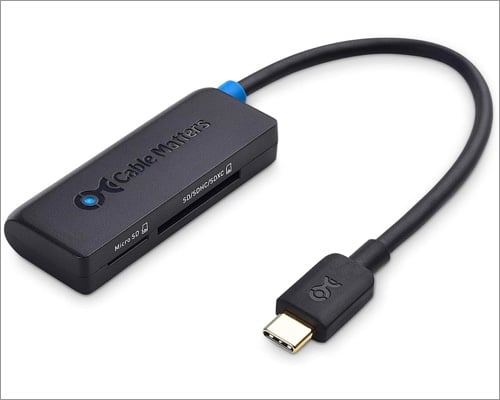 The Cable Matters dual slot USB-C card reader is as simple as they come, offering only card-reading functionality, unlike the LENTION hub. It has a slot for only Micro and standard SD cards and can read both inserted cards simultaneously.
The Cable Matters SD card is lightweight (less than 2 ounces), and it has an indicator that flashes when successfully connected to your Mac. It is highly compatible with different versions of Macs, OTG-enabled smartphones, and other USB-C-compatible devices.
Although the read/write speed of cards limits the card's speed rating, it can read/write up to 5GB/s. The problem with this SD card reader is that it's less durable than most standard SD cards since its body is mostly ordinary plastic—plus, it only supports USH-I cards and not USH-II.
Pros
Lightweight and compact
Impressive transfer speed
Read two cards simultaneously
7. Satechi USB-C hub – Multipurpose peripheral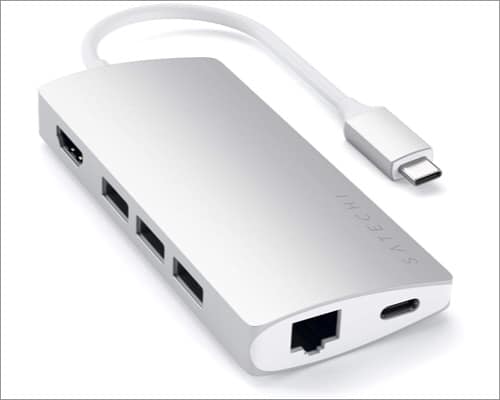 The Satechi USB C hub by the Satechi brand is an excellent choice for a card reader. It features an HDMI port with up to 4K clarity, a USB-C charging port — capable of charging up to 60W, and multiple 3.0 USB-A ports. Its unique feature includes a Gigabit Ethernet port.
It is a durable Aluminum design product, well built, and excellently compact. You can always carry it around with you. Interestingly, the HDMI port does not only allow for mirroring screens but extending screens too. This Satechi brand product comes in different colors, including Silver and Space Grey. It reads/writes USH-II cards but at USH-I limits.
This card reader is highly compatible with different versions of Macs and other devices with Thunderbolt 3 or 4 ports. It goes at a fair price despite its valuable features. The brand has excellent customer support and promises to refund or replace faulty hubs within 30 days of receipt.
Pros
Gigabit ethernet is available for connectivity
It comes with type-C charging port
Impressive customer support and refund policy
Cons
Aluminium component can get hot.
Keep reading…
Choosing a durable, fast, and functional USB-C card reader is easy with the right information. I had fun deciding which one to use. And I ended up choosing a card reader that cuts across the board in terms of pricing, speed, and functionality. Feel free to let me know your choice in the comments section below.
Read more:
Readers like you help support iGeeksBlog. When you make a purchase using links on our site, we may earn an affiliate commission. Read Disclaimer.