Technology has pushed us towards an ecosystem that demands more value against less effort. The notion stands true regarding our iPhones, iPad, and Macs. Luckily, your USB-C port on Mac can help you put your device to multiple uses. For instance, you can connect your Mac to TVs or projectors and enjoy a big-screen experience. And to do that, you need a type-C to HDMI cable.
A single cable can help you stream your Mac content on external display screens while ensuring high-definition video and audio quality. Currently, you can find multiple offerings in this category, but how to find the best pick?
To help you, I have curated this list featuring the best USB-C to HDMI cables for Mac. Each product listed here has premium quality, cost-efficiency, and work capabilities.
1. Anker USB-C to HDMI cable – Editor's Choice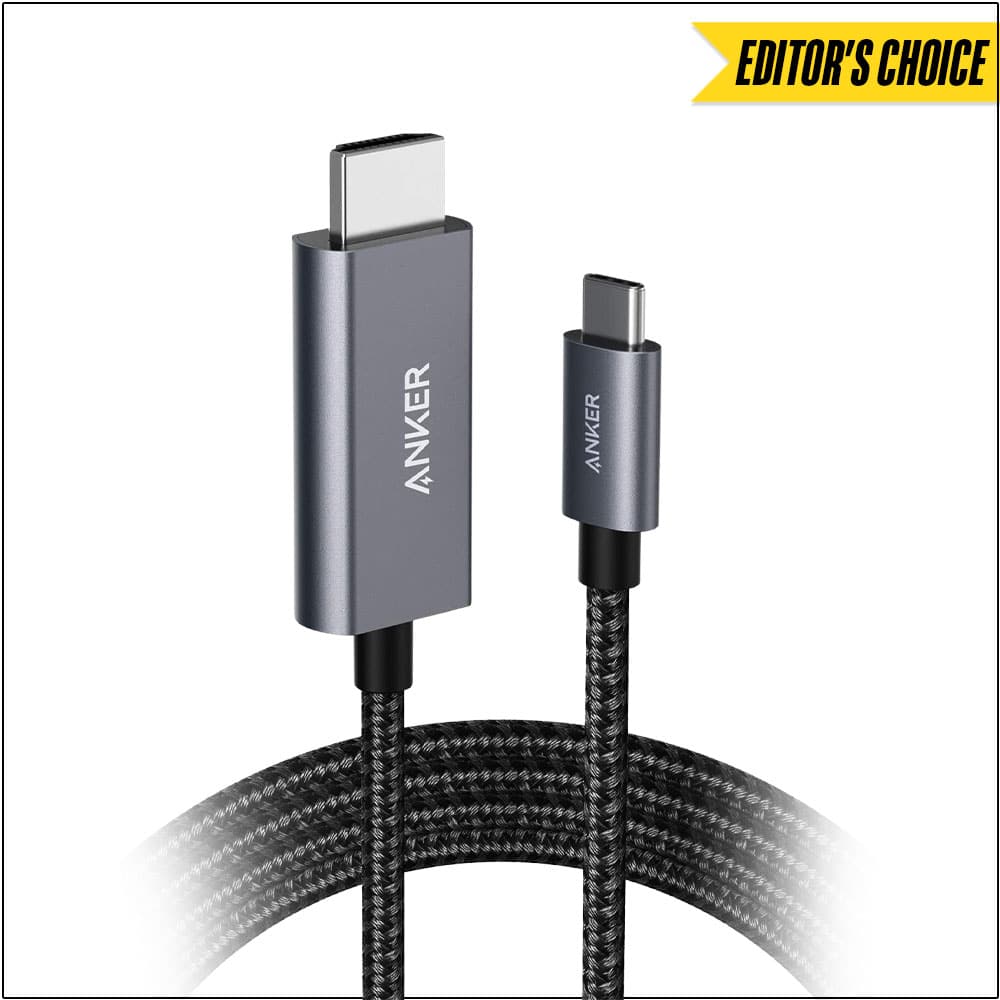 With Anker's premium quality assurance, this USB-C to HDMI cable grabs top points for its outstanding picture quality and audio output. With this product, connecting your Mac to the latest computers, TV screens, or a bigger display is a cakewalk. Apart from this, it even works smoothly with Thunderbolt 3. Now, that's a big win, right?
With up to 4K@60Hz resolution support, you get the best viewing experience every time. Moreover, the cable has a double-braided nylon exterior and rust-safe aluminum alloy connectors. Using nylon ensures your cable is safe from getting tangled or scratched, whereas aluminum connectors facilitate heat dissipation. Also, enjoy seamless plug-and-play up to 10,000 times with this Anker product.
Trusted by over 55 million customers globally, Anker always delivers when it comes to quality and performance. You can trust Anker's USB-C to HDMI cord to access high-definition video quality and smooth audio whenever you use it to extend the display. The cable works well with 16″ MacBook Pro 2020, 15.4″ MacBook Pro 2016-2019, 13.3″ MacBook Pro 2016-2020, MacBook Air 2018-2020, and many other devices.
Pros
Seamless compatibility with multiple devices
Offers 4K@60Hz resolution
Nylon, double-braided cable
Excellent customer support
Cons
Seldom heating at the HDMI port
2. QGeeM – Best for HD Audio and Videos
Add an extra layer of connectivity to your Mac with this amazing USB-C to HDMI cable from QGeeM. It's a simple plug-and-play device without a third-party driver/software. The ports offer 4K@30Hz resolution support to stream your favorite sports championships and movies, play e-games, or view photos on big screens. Make the best use of the clamshell mode using this cable on your MacBook and MacBook Pro.
You can drive one or two HDMI monitors, projectors, TVs, etc., and transfer videos and audio within seconds. Throw away all your Wi-Fi casting issues with this USB-C to HDMI cable. This Type C to HDMI cable comes in a compact and handy design. It is lightweight and carries a non-slip grip structure for smooth plugging and unplugging. Unfortunately, the cable only works in one direction. So, you must connect the USB-C port of your Mac to an HDMI-enabled device.
The braided nylon exterior adds to the cable's durability, while the aluminum casing helps avoid heating issues. Also, the tin-plated copper wires and gold-plated terminals offer the best electrical conductivity. Tangled wires or abrasion will never be an issue here as the cable can proudly complete 11,000+ cycles in the bending test.
You can use this cable with MacBook Pro 2018/2017/2016, MacBook 2017, 2016/2015, iMac 2017, and many others. It has compatibility only with USB-C 3.1 or Thunderbolt 3 port interfaces supporting 'DisplayPort Alternate Mode.'
Pros
Thunderbolt 3 compatible
4K@30Hz resolution
Multiple device compatibility
Supports clamshell mode
Cons
Only works with USB-C 3.1 or Thunderbolt 3 port with DisplayPort Alt Mode
Cannot be converted to DVI or VGA
3. Maxonar – 8K resolution for flawless display
Maxonar's USB-C to HDMI Cable brings you the powerful combination of the next-gen HDMI 2.1 standard and USB-C. With up to 8K@30Hz UHD resolution support, this USB-C to HDMI cable is perfect for all your audio/visual expeditions. It instantly builds a connection between video-enabled USB-C devices and HDMI devices with DisplayPort Alt Mode.
The 6ft long cable has a premium braided exterior, increasing its durability and saving the product from abrasion. Triple shielding and 30AWG copper wires protect the cable against heat. Moreover, you get optimum electrical conductivity with aluminum casing and gold-plated connectors. This, in turn, gives high-speed data transmission without flickers.
One of the best features of the USB-C to HDMI cable is its seamless compatibility with Dynamic HDR. Yes, you read that right. Dynamic HDR compatibility ensures you can access your videos with perfect brightness, contrast, depth, detail, and better color palettes. In addition, you get access to the Auto Low Latency Mode (ALLM), which offers a lag-free gaming flow.
The USB C to HDMI cable works well with your laptop's USB 4 and Thunderbolt 4/3 ports. Switch to this cable if you are using iMac 27″/24″/21.5″ (2021/2020), MacBook Pro M1 16″/14″/13″ (2021-2017), MacBook Air (2020-2018), iPad Pro (2021-2018), Mac Mini M1(2020), and others.
Pros
Up to 8K@30Hz resolution support
Compatible with Dynamic HDR, USB 4, Thunderbolt 4/3
Lag-free smooth connectivity
High durability and heat resistance
Cons
Cannot charge
Cannot be converted to DVI or VGA
4. JSAUX – Best Quality USB-C to HDMI cable
Are you looking for a cable that supports high-end connectivity and fits your budget? Then your search ends here. Directly cast the screen to the TV or projector from your Mac in seconds without any driver or software. An unstable Wi-Fi will never be a hassle for you.
Infused with tinplate implantation technology and anti-interference, JSAUX gives the best quality assurance setup to customers. Notably, wear-and-tear, bending, and abrasion are common in wire cables. But if you use JSAUX cable, you don't have to worry about these damages. However, the cable does not support HDMI to USB-C connectivity.
The unique strain relief design of the cord can bear over 15,000 bends without any issues. So, it won't break or tear apart even if you ever plan to play tug-of-war with it. Its aluminum casing adds points to its durability and tensile strength. The nylon braided cable will give you a smooth work experience for a long time. This cable is compatible with devices carrying DP-Alt mode USB-C port.
Pros
Available in multiple lengths
Backward support for 1080P, 1080I, and 720P is available
Braided nylon cord gives strength
Cons
TV screen flickering is reported by some users
Not bi-directional
5. Anker 8K HDMI cable – Braided nylon exteriors for improved strength
Regarding charging technology, Anker stands out from the league with its innovative and progressive products. For instance, consider this robust type-C to HDMI cable that offers some of the best connectivity features for your Mac. In addition, the cable provides support for 8K@60Hz and 4K@120Hz resolution.
Be it your 4K or 8K content, Anker's Ultra High-Speed 2.3 HDMI port will handle everything swiftly with its 48 Gbps bandwidth. The cable is a one-stop solution for accessing advanced audio and HDR video formats like Dolby Vision, Dolby Atmos, Dynamic HDR, etc. The ultra-durable nylon and carbon steel connectors allow you to plug/unplug the cable over 10,000 times without a single strain.
Anker always satisfies its customers when it comes to quality. This Type-C to HDMI cable is not an exception. The superior quality gold connector pins used here eradicate the issue of screen flickering. Also, high-density EMI shielding stops the cable from interfering with your devices.
If you are an e-game lover, get ready to enjoy one of the best sessions with Anker's USB-C to HDMI cable. Some of the features credited to this cable are no lags, screen juddering, or pixel tearing. In addition, functions like Variable Refresh Rate and Quick Media Switching adjust the quality of your content automatically. Also, this cable blesses you with a highly interactive gaming experience with the Auto Low Latency Mode and Quick Frame Transport.
Pros
Supports 8K@60Hz and 4K@120Hz resolution
48 Gbps bandwidth
Lag-free gaming experience
Cons
Audio issues might arise
Connectivity problem with 4k@60Hz resolution
6. Xumee – Multiple device connectivities
Xumee's USB-C to HDMI cable will let you upgrade to an advanced audio/video experience. With a transmission speed of up to 48Gbps, the cord will likely enhance how you play content on big screens. Ideal resolution up to 7680×43220 coupled with a refresh rate of 8K@30Hz is enough to boost the connectivity of your Mac. Moreover, the cord leverages support for 3D videos, HBR3, Dynamic HDR, and HDCP 2.2.
The braided nylon cover ensures that you can use the cord the way you want without facing any damage. Its aluminum housing and gold-plated connectors resolve heating issues and provide easy electricity flow even after long hours of continuous work. Plug or unplug the cable as many times as you want with ease.
If you are a game lover, you will love this USB-C to HDMI cable. The product enhances your gaming experience by supporting Variable Refresh Rate (VRR), Auto Low Latency Mode (ALLM), Ultra HD streaming, QFT, etc. Regarding compatibility, this USB-C to HDMI 2.1 cable works well with devices housing Thunderbolt 3 and 4 ports and DP Alt Mode.
Pros
High-quality video streaming up to 8K@30Hz
Ideal for e-gamers
Multiple device support, including Mac, iPad Pro, Mac Mini, etc.
Cons
Screen flickering observed at maximum optimization
7. OseTub – Perfect companion for movie nights
The USB-C to HDMI cable created by OseTub comes packed with a plethora of quality features. Strong aluminum casing and braided nylon cover ensure optimum heat dissipation. Also, the nylon covering keeps your cord free from tangles and safe from getting worn out. Thus, high on durability. With gold-plated connectors, you get high-speed data transmission with better resistance to interference.
Connect your USB-C laptops to HDMI-supported displays using OseTub's 10-ft long USB-C to HDMI cable in seconds. With up to 4K@30Hz resolution support, the cord lets you transfer audio and video content on HDMI-equipped TVs, monitors, and projectors. You don't need a separate driver, software, or external power source to use this cord. No extra expenses!
Pick this cable to relish a smooth, high-definition audio/video experience. The cord is ideal for watching movies, streaming gaming events, displaying your iPhone photos and videos, holding conferences in your home office setup, etc. In addition, you can use the cable for MacBook, MacBook Pro, iPad Pro, Mac Mini, iMac, and others.
Pros
10-ft long cord for easy usage
4K@30Hz resolution support
Nylon covering boosts durability
Cons
Not for file transfer or charging
4K@30Hz resolution necessary for both output and input devices
Works only in one direction
8. Manifun – Smooth signal transmission
The need to display content on a bigger screen can be easily met with Manifun's powerful USB C to HDMI cable. This cable offers 4K@30Hz HD resolution and lets you connect your Mac to more extensive displays like TVs, projectors, and monitors. Use this cable to stream live events, shows, sports events, presentations, etc., on a big screen and bring your family together for a fun night.
There is no quality compromise in this USB to HDMI cable by Manifun. While premium aluminum wrap ensures adequate heat dissipation, the gold-plated connectors and three-layered cord shielding boosts signal transmission.
Further, you get high-definition graphics and smooth audio every time you play content using this cable, even if your Wi-Fi connection ditches you. In addition, the nylon braided outer cover ensures extra care from wear and tear. Added tensile strength saves the cable from fraying, twisting, or heating.
The USB-C to HDMI cable is fully compatible with all USB-C products with video output support, DP Alt Mode, Thunderbolt 3 and 4, and USB-C 3.1 Gen 2 or more. All this makes it a perfect companion for MacBook Pro 2016-2022, MacBook Air 2018-2022, iMac 2017-2021, Mac Mini 2018/2020, and more.
Pros
High-quality cable
Aluminum housing avoids heating issues
24*7 customer support from Manifun
Cons
Not preferred for long-term use
9. CableCreation – Perfect for Office Presentations
Do you know you don't have to go out to enjoy a theatre-like movie experience? With CableCreation's USB-C to HDMI cord, you can enjoy eye-catching 4K@60Hz videos right from the comfort of your couch. Yes, you read it right. This amazing product offers instant connectivity to your USB Type-C-enabled products with HDMI-supported devices.
The cable is fully compatible with Thunderbolt 3 and Thunderbolt 4, which eventually makes it a multipurpose choice for users. Feel free to switch between the mirror mode or expand mode using this robust cord and enjoy superior quality audio/video streaming every time. You can use this cable to organize office conferences, learn lessons, display PPTs, play games, and watch movies.
CableCreation's USB-C to HDMI cord works well with 2017/2016/2015 MacBook, 2021/2020/2019/2018/2017/2016 MacBook Pro M1, 2021/2020/2018 MacBook Air M1, iMac 2017/iMac Pro, Mac Mini M1/2018. It also works seamlessly with iPad Pro M1 2021/2020/2018.
Pros
Compatible with Thunderbolt 3 and 4
High-quality 4K@60Hz resolution
Ideal for office purposes
Cons
Not for charging
Not compatible with iPhone
FAQs
Is it better to use HDMI or a component cable?  
HDMI cables are a better option because you get audio and video support in a single cable. Moreover, it supports multiple products, offers HD quality, and has better future compatibility.   
Do you lose quality with USB-C to HDMI adapter? 
No, you do not lose quality with a USB-C to HDMI adapter. Though, you must ensure that the display supports the correct HDMI specifications.  
Wrapping up!
The news about USB-C cables giving direct HDMI output broke out in 2016, and things have never been the same since then. A single USB-C to HDMI cable lets you extend or mirror the display of your Mac to a TV, monitor, and projector. The list mentioned above elaborates such plug-and-play Type C to HDMI cables that offer 4K resolution at budget-friendly prices. I hope you will find your favorite pick from the multiple options given here.
I will be happy to know about your views on these USB-C to HDMI cables for Mac in the comments section here. Do share your thoughts!
Read more:
Readers like you help support iGeeksBlog. When you make a purchase using links on our site, we may earn an affiliate commission. Read Disclaimer.