Gaming consoles have become absolutely essential for gamers. Every few months, big game releases often target specific consoles and target audiences. So, if you want to keep yourself updated in the gaming world and want the best gaming experience, having the right console is of paramount importance.
At the same time, there are far more consoles available in the market today than there ever were before. Gone are the days of having to choose between two or three consoles. Now, consoles bring portability, cloud gaming, and even act as an entertainment powerhouse. So, if you're looking for your next console purchase, I've curated this list of the best gaming consoles you can buy today. Check them out!
1. PlayStation 5 – Editor's Choice
Was any other console even an option as the first pick? Sony's PlayStation console has been at the top of the market for every iteration. Now, with the new technologies and design implemented in the PlayStation 5, it's difficult to find a better option. So, the first and best overall pick for the best gaming consoles in 2023 is the PlayStation 5.
The PlayStation 5 was launched at the tail end of 2020. Almost three years into its release, the console is still the premier option for gamers everywhere. Not only does it provide exceptional gaming performance at 4K resolutions, but it also comes with a host of exclusive titles.
Moreover, considering the new technologies integrated into the newly designed DualSense controller, you've got pretty much everything that you need. It provides a holistic gaming experience that you won't find in any other console. Along with this, the PlayStation Plus catalog is renewed frequently, and you've got accessories such as the PSVR2 for added versatility.
The only major issue with the PlayStation 5 is that the console is quite big in size. So, you won't be able to carry it with you, and you'll require a substantial amount of room to place it.
Pros
Excellent overall performance
DualSense controller adds layers to the gameplay
Superb collection of platform-exclusive games
Plenty of accessories available to add versatility
Cons
Requires a lot of room due to its size
2. Xbox Series X – Versatility champion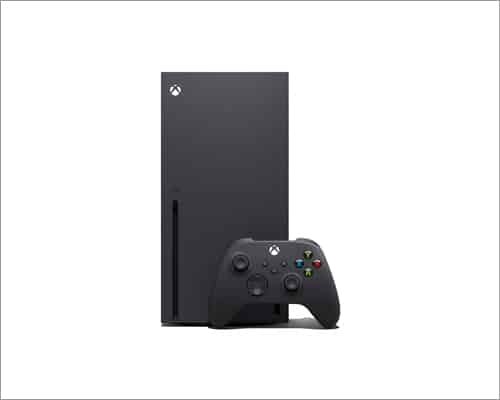 While the PlayStation 5 takes most of the applause for the next-generation gaming experience, the Xbox Series X isn't far behind. It's also one of the most powerful gaming consoles out there, with Dolby Atmos and Dolby Vision support; something that its fiercest competitor lacks.
Additionally, the 16GB of GDDR6 RAM and technologies such as the Variable Rate Shading Technology ensure that your games look and feel great. Apart from this, you'll have complete access to the Xbox Game Pass, which comes at a rather attractive price and features a decent selection of games. Gaming with the Xbox Series X is definitely worth the money, thanks to the visual fidelity that is on offer.
However, it's also quite potent in terms of a well-rounded entertainment center. You'll be able to access all your OTT streaming platforms, such as Netflix and Hulu, as well as other apps through the Xbox Console. So, there's something for everyone in this offering from Microsoft.
Nonetheless, the biggest disappointment for the console is regarding the exclusive games. Microsoft needs to expand its exclusive game library if it wants to compete with Sony's console.
Pros
Extremely powerful hardware
Xbox Game Pass is affordable and has decent games
Can access all entertainment media and apps through the Xbox Console
Cons
Needs better additions to the exclusive games list
Check out on Amazon | Buy it from xbox.com
3. Nintendo Switch OLED – Best handheld gaming device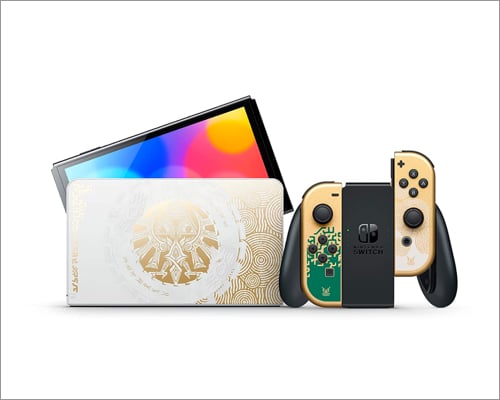 Nintendo has always targeted a different audience than its competitors. From the Nintendo 64 to the Wii U, the company has been rather unique in its approach to gaming. With the Nintendo Switch OLED, you get a powerful gaming device that you can take anywhere, clearly making it one of the best gaming consoles in 2023.
While the first Nintendo Switch variant was good, the OLED version made some noteworthy improvements. It has a large 7-inch screen and a beautiful OLED panel to play the latest games in HD, even when traveling. The console also costs far less than its competitors from Sony and Microsoft. However, the processing power is limited, and you're really paying more for the portability factor.
Nonetheless, it still has an excellent library of games, both Nintendo exclusives and otherwise. Additionally, with the improved design and speakers from the original Nintendo Switch, this hybrid console is a must-buy if you're a gamer who travels frequently.
Unfortunately, the console doesn't come with a 4K upgrade. Instead, you'll have to play games at 720p resolutions, which is a bit disappointing considering the price you're paying.
Pros
Hybrid console with docking capabilities
OLED screen is sharp and vibrant
Complete access to the Nintendo Games library
Cons
Only 720p resolutions supported
Check out on Amazon | Buy it from nintendo.com
4. Xbox Series S – Highly affordable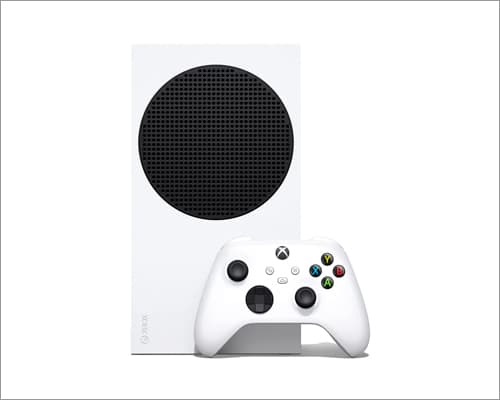 The Sony PlayStation 5 and Microsoft Xbox Series X are two of the premier consoles on the market right now. However, they don't come cheap. If you're looking to spend less without sacrificing too much on the experience, you should take a look at the Xbox Series S. This is basically a cheaper version of the Xbox Series X but has a limited drive capacity and doesn't support 4K resolution.
Nonetheless, considering the price of the console, you won't be having too many complaints. Moreover, you'll benefit well from the Xbox Game Pass, as the console is able to run any game that the Xbox Series X is designed to run. So, you won't be missing out on any games, exclusives or otherwise.
While you won't be able to play these games on 4K, you will get the benefit of 1440p resolution, which works well if you've got a cheaper monitor or smart TV. Moreover, with full access to Xbox Console for streaming apps and the option to expand the storage, you can't ask for much more at this price segment. Overall, the Xbox Series S is legitimately one of the best consoles in 2023, on a tighter budget!
Pros
Cheapest console to offer next-generation capabilities
Complete access to the Xbox Game Pass library
Can do everything that the Xbox Series X can do
Cons
Base storage is limited
Cannot play games at 4K resolutions
Check out on Amazon | Buy it from xbox.com
5. Steam Deck – For all things Steam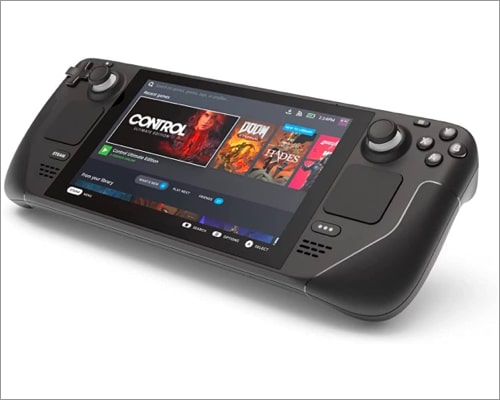 When it comes to gaming, Valve and Steam are some of the biggest names in the industry. Considering Valve's history, it was only a matter of time before the company released its own gaming console. In early 2022, Valve unveiled the Steam Deck, its handheld gaming console.
So, what separates this device from the other handheld gaming consoles in the market? Primarily, the Steam Deck is targeted at PC gamers who want a portable option. Instead of carrying around their entire gaming systems, they'll be able to access their Steam games directly through the Steam Deck.
Moreover, whether you're buying the base version or the high-end version, the Steam Deck features excellent hardware at all price segments. You'll be able to play games like Spider-Man: Miles Morales, Elden Ring, and even The Witcher 3: The Wild Hunt. These games were only available on PC and consoles until the Steam Deck was released. Now, instead of being confined to the limitations of your gaming PC, you can enjoy these games at the tip of your fingers, regardless of where you are.
Not only is the Steam Deck highly durable, but it also features a huge library of verified games. You won't have to wait for console games to be ported to your smartphone or PC either for a console-based experience. All in all, you're paying for excellent portability, superior hardware, and a vast collection of games.
However, it does have a few hiccups. The Steam Deck takes a while to load games, and its battery life is far from perfect.
Pros
Provides the power of a gaming PC in a portable form factor
All major Steam-verified games are available on the console
Super design and aesthetics
Cons
Battery life could have been much better
6. Nintendo Switch – Best for the family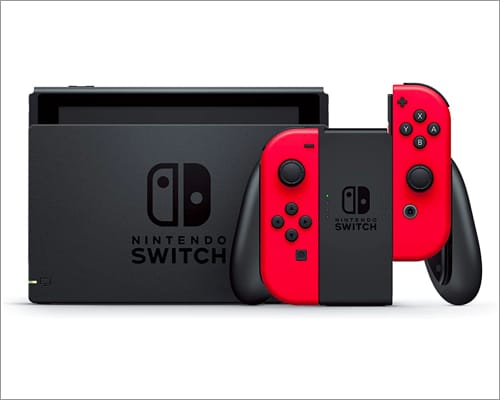 I've already talked about the Nintendo Switch OLED here, which is the higher-end version of the original Nintendo Switch. While a lot of the OLED's traits are already prevalent in the Nintendo Switch, the console is a decent choice if you want to play games with your family.
This hybrid console can either be plugged into a TV or used as a handheld gaming device. Regardless of the way you use it, it's got a good collection of family-friendly games that you can also play with your kids. Apart from this, there are plenty of console-exclusive games you can access, and it has third-party integration as well.
Since the Switch is an older console, with over six years in the tank, its age is starting to show in terms of hardware. However, you'll still have plenty of visually stunning games to play, such as Bayonetta 3. Moreover, the collection of games that provide family-friendly fun on this console is second to none. Basically, this console brings a complete gaming experience for the entire family.
The one major issue with the Nintendo Switch nowadays is that while it's more affordable, it's also quite old. So, it's only a matter of time before games stop supporting the Switch console.
Pros
Decent collection of games for the entire family
Firsthand access to Nintendo's exclusive games
Can be docked to the TV for a complete console experience
7. PlayStation 4 Pro – Still a beast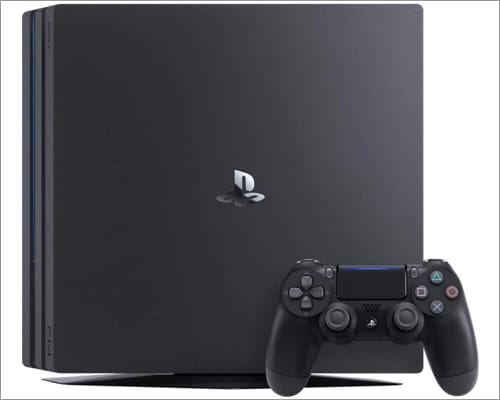 Want to experience what Sony brings to the PlayStation platform without spending an exorbitant amount? If so, you should check out the PlayStation 4 Pro. While this is one of the older consoles on the list, it offers some excellent games and still checks out in the visual department.
The PlayStation 4 Pro was released all the way back in 2016, and it's still going strong. Sure, it doesn't support next-generation graphics and gaming, but it's quite affordable and offers an excellent library of games. This is largely due to the PlayStation Plus support. Moreover, not every developer is solely targeting the next-generation market. Some developers still provide a healthy amount of support to previous-generation consoles.
The main question here is this: should you purchase a PlayStation 4 Pro in 2023? The simple answer is yes, if you want to access PlayStation-exclusive titles but don't want to spend a large sum of money on a PlayStation 5. It's a reliable old beast that can still provide a decent worth today, making it one of the best gaming consoles in 2023.
Of course, you won't get access to any next-generation games or features. So, you'll have to be wary of that when making your purchase. Further, you can read my article on how to play PS5 or PS4 games using Remote Play to have a PlayStation-like experience on iPhone.
Pros
Decently priced when compared to the PlayStation 5
Provides access to Sony's exclusive games through PlayStation Plus
Supports 4K resolution gaming
Cons
Does not support any next-generation games or technologies
8. Nintendo Switch Lite – Most portable gaming console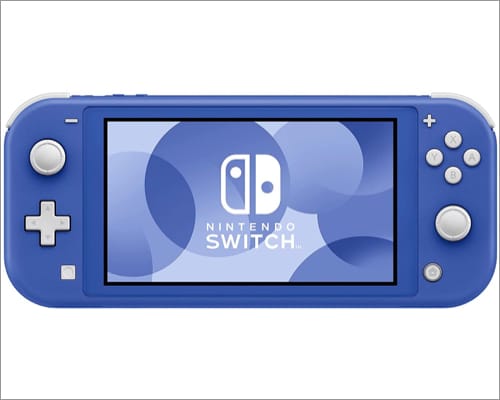 For the final entry on this list of the best gaming consoles in 2023, you have the Nintendo Switch Lite. What's different between this device and its bigger siblings? Simply put, this is purely a handheld gaming device, and cannot be docked into the TV. Moreover, there are no Nintendo Joy-Cons attached to the side. Instead, the control scheme is securely wrapped by the device's body.
Furthermore, the Nintendo Switch comes with a smaller form factor, making it much lighter. It's also perfect for kids or people with small hands, as you won't have any issues holding the console for longer periods. The Switch Lite still provides complete access to the Nintendo gaming library, so you won't have any issues with game compatibility.
Finally, the overall design of the Nintendo Switch Lite ensures variation in color. The device is available in plenty of exciting colors to choose from, allowing you a little bit of personalization. Considering the features and the price this console is available at, you're getting one of the best game consoles at an absolute bargain.
However, the lack of a docking option can be a hindrance for those who want a bigger screen.
Pros
Very lightweight and portable thanks to the design
Provides full access to the Nintendo game library
Available in multiple colors
Cons
No TV docking support
Highest supported resolution is 720p
That's it!
Through this list, I've covered every major video game console available today, along with their pros and cons. This should provide you with enough information when you're on the lookout for a new gaming system. Hopefully, this list of the best gaming consoles in 2023 covers everything that you need to know. In case you have any more questions, let me know in the comment section below!
Read more:
Readers like you help support iGeeksBlog. When you make a purchase using links on our site, we may earn an affiliate commission. Read more.
Anirban is a literature post-grad who delves in philosophy and postmodern novels when not writing on tech and gaming. His love for research is only trumped by his love for chai and heavy metal.