It's one thing to have your hands clamped around the phone playing the latest shooting games, with their fast-paced action and tough multiplayer components. However, you may not always feel like indulging yourself in such games. Instead, there's a certain serenity in playing casual games, using only one hand, especially when commuting.
If this seems relatable, this list of the best one-handed games for iPhone and iPad. Let's dive in.
1. Two Dots – Editor's choice
Two Dots features a remarkably simple system. However, the system has been implemented well and results in addictive gameplay.
The game requires you to connect two dots. Easy, right? Wrong. While it seems easy at first, you will have to deal with different environments, rogue dots, and even comets!
There are over 3,000 levels in this game and feature different environments such as the arctic and jungles. You have to find and connect the dots while dealing with unique hazards thrown your way.
You can also connect the game to your Facebook account and play with friends who have the game. The app provides new rewards and challenges daily, so there's no lack of content.
This game can be challenging, especially if you've made even one wrong move. So, if you're someone who prefers something slightly easier, this may not be the game for you.
Price: Free (In-app purchases start at $0.99)
2. Beat Street – Best action game
When it comes to playing games with one hand, I doubt that you would've ever thought of an action game. Here, I present you with one of the most entertaining action games to play with one hand.
Beat Street is an action, beat 'em up game that will remind you of the older action games. This is even more so when you consider the game's pixel art aesthetics.
You can join with a friend in the co-op mode and beat up the thugs terrorizing Toko City. The controls are simple and one-touch only. As you fight through waves of enemies, beware of epic bosses along your way as well.
As you keep playing the game, you'll be able to unlock new fighters who have their fighting style and special power-ups.
The game suffers from microtransaction issues, however. If you're serious about beating this game, you might have to spend extra bucks in-game.
Price: Free (In-app purchases start at $1.99)
3. Threes! – Best puzzle game
Don't you just love those games that make you use your grey cells without the added effort needed for constant two-handed gameplay? Threes! is a puzzle game that will make you think while also figuring out solutions at your pace.
The objective is simple – you'll have to merge the numbers in front to make the largest possible number. However, you will have to be careful and strategize which numbers to merge. If you make a wrong move, you will immediately block your progress.
If you think you'll get bored by looking at numbers the whole time, don't worry. The game's music is great, and the numbers have some quirky characteristics and personalizations to make it more engaging.
Unfortunately, recent updates have included microtransactions that have warded off long-time players. If you still want to give this game a shot, you will not be disappointed.
Price: $5.99
4. Crossy Road – Best game for kids
Crossy Road's developers may have taken the question "Why did the chicken cross the road?" too literally. So much so that they even made a game about it.
Thankfully, the game is an absolute delight to play. As a game for kids, not only will this game distract them with the cute aesthetics but also improve their hand-eye coordination.
The objective is to help the chicken cross the road, of course. However, the chicken will have to deal with multiple obstacles. As you progress, you can unlock different characters with unique perks.
Since this game is an infinite runner, the main goal is to score as high as possible. It's fun, engaging, and addictive. There's not much more to the game, though. If you're a player who likes challenges and twists, you won't find much variety.
Price: Free (In-app purchases start at $0.99)
5. Temple Run 2 – Endless running, endless content
The first Temple Run game was one of the most entertaining and popular games that graced mobile gaming. Temple Run 2 vastly improved on its predecessor, and even 9 years after its release, it continues to go strong.
The game has been updated to include new characters, visuals, environments, and other gameplay elements. However, the core gameplay remains the same. You'll have to twist, turn, jump, and slide your way through the dangerous environment for as long as possible.
This game challenges your reflexes, and the best part is that all moves can be performed using a thumb. Besides, the character runs faster as you progress, and the challenges and obstacles become more dangerous.
The arrival of the Temple Run franchise into today's gaming scenes means that this game has a lot of pay-to-unlock content as well. If microtransactions are your pet peeve, I wouldn't recommend this game.
Price: Free (In-app purchases start at $0.99)
6. King Rabbit: Puzzle – Best retro-style game
Puzzle games can often get monotonous, with many derivative options online. Fortunately, King Rabbit breaks the monotony with its level design and a horde of content.
The game's aesthetics will be the first thing that catches your eye. It's designed considering the aesthetics of old, retro games. Nostalgia is a powerful tool, and in this case, the tool has been utilized well.
There are different puzzles present in-game, and all require unique solutions that encourage thinking out of the box. Moreover, the game's community has the freedom to design their levels. So, there's no shortage of content either.
If you want to try out the game's main puzzles, you won't be bored as there's a campaign mode with 150 levels. Best of all, when you've mastered the game, you can build your levels for your followers to experience.
The game's user interface isn't very friendly, however. You will have to wade through a clunky interface if you choose to play this game.
Price: Free (In-app purchases start at $1.99)
7. Tiny Wings – Best casual game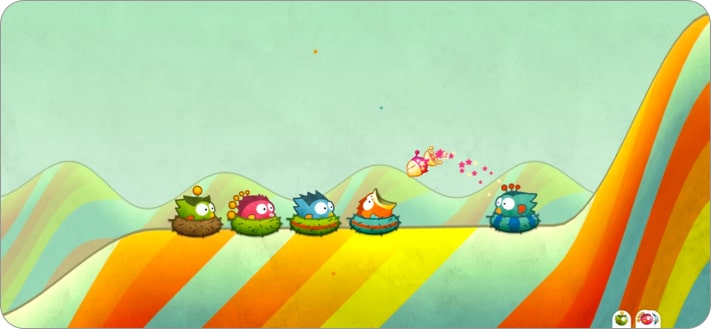 Do you remember Flappy Bird, the viral sensation that broke the internet? Tiny Wings has a similar concept but was available before Flappy Bird.
While Tiny Wings didn't gain much traction at the time, the fun yet difficult gameplay ensures that it's a good casual game if you want to play something for a short while.
The objective is to make the bird cross as many objects as possible by tapping the screen and keeping the bird in flight. However, if you mistime the tap, the bird could hit an object and fall. This may sound boring on paper, but it's fun when you play the game.
You can play as different birds and upgrade your nest as you progress. Moreover, levels are procedurally generated to ensure enough replayability.
My only caveat with this game is that the visuals seem unimpressive. Since the game was released back in 2011, its visuals are in dire need of an overhaul.
Price: $1.99
8. PAC-MAN – Best classic game
Some games never go out of style. PAC-MAN was one of the first games to reach the mainstream audience and has continued to garner legions of fans as years went by.
Even now, the classic 8-bit aesthetics and family-friendly vibes of PAC-MAN on the iPhone are a testament to how timeless this game is. If you're a long-time fan of the franchise, you will need no introduction to it.
However, if you haven't played PAC-MAN before, the premise is simple. As PAC-MAN, you will have to eat all the pac-dots while avoiding the Ghost Gang.
As you progress, you will unlock various level designs, skins, and power-ups. You can also avail the fun Adventure Mode and challenges updated weekly.
Unfortunately, the Story Mode suffers from glitches and design issues. I hope the developers fix these issues as soon as possible so that you can enjoy PAC-MAN the way it's meant.
Price: Free (In-app purchases start at $0.99)
9. Super Mario Run – A trip down nostalgia lane
I remember playing Mario on my Nintendo 64 as a kid, and the franchise has stayed with me all these years. Now that Mario has entered the mobile gaming scene, you must try Super Mario Run on your iPhone.
The level design is similar to the older Mario games. The gameplay has been simplified and stylized for a newer generation, however.
You can tap with one finger on the screen continuously as Mario runs forward. Time your taps to make Mario perform exciting stunts as he tries to gather as many coins as he can.
Apart from the usual World Tour mode of rescuing Princess Peach from Bowser's clutches, you can also play Remix 10 (which is great for a short duration of play) and Toad Rally against your friends.
The camera orientation in Remix 10 mode needs more work, though. Not only can it get disorienting at times, but it also limits what you can see in front of you.
Price: Free (In-app purchases start at $9.99)
10. Pocket Tanks – Best multiplayer game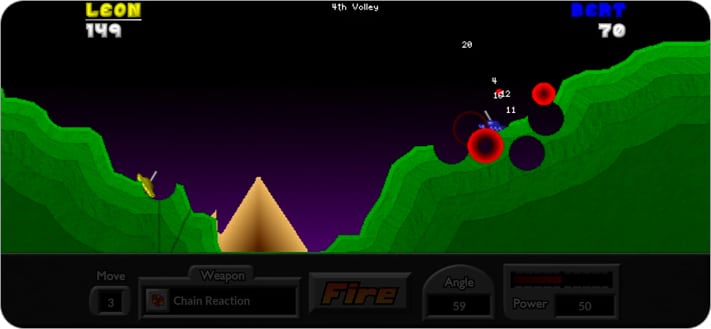 Pocket Tanks is a minimalist, simple game. If you want a laid-back yet fun multiplayer game, this is what you should be playing.
In the game, you can either go against the AI or another player. Before the match starts, you'll have to choose your weapons. Each weapon has a certain number of hit points. The player at the end, with the highest number of hit points after all the weapons have been used, is the winner.
As the player, you will have to gauge the angle, distance, and power you need to apply to hit your target. This takes some practice, but the addictive gameplay makes up for the spike in difficulty.
However, the online gameplay mode would work better if there was a timer for taking the shots.
Price: Free (In-app purchases start at $0.99)
Summing up
While games that you can play with one hand on iPhone and iPad won't provide you with the latest graphics or gameplay innovations, there are many options for all types of gamers.
What do you think of this list? Do you like games like these, or are you more of a hardcore gamer who prefers to immerse themselves completely with two-handed gameplay or even a gamepad? Post your opinions in the comments!
Read more:
Anirban is a literature post-grad who delves in philosophy and postmodern novels when not writing on tech and gaming. His love for research is only trumped by his love for chai and heavy metal.