With the macOS Catalina update, Apple finally discontinued iTunes after two decades (almost) and replaced it with Apple Music, Apple TV, and Podcasts. And Finder took the burden for iPhone management. Undoubtedly, it increased the hassle of managing multiple apps to get the work done. So here are some iTunes alternatives for Mac and Windows to manage your data, music, and more efficiently.
iTunes alternatives for backup management
1. AnyTrans App: Alternative for iPhone backup
AnyTrans is your one-stop destination backup manager. It lets you back up all your iPhones' data and encrypts it for your security. Its compatibility is supreme; you can get your data from iPhones as old as iPhone 3GS (released in 2009).
I admire the AirBackup feature that comes with the tool. AnyTrans creates automatic backups of your iPhone, iPad, or iPod Touch whenever your devices (Mac and iPhone) are connected to the same Wi-Fi. Moreover, you can monitor the frequency and manually change it.
Despite the Wi-Fi or USB transfer, your data is stored locally, ensuring 100% safety. You can check out our full review here.
Supported platforms: Windows, Mac, Android
Pros
Encrypted data transfer
Scheduled AirBackup
Supports 7 languages
Cons
Cannot add/edit iTunes library
Price: Single license – $39.99 | Family License – $59.99
2. DearMob – Best for managing iPhone media
DearMob is an all-in-one tool that easily transfers and backs up your photos, videos, music, and files. The user interface is intuitive and lets you handle the data from the application itself. For instance, if you wish to make a folder of similar photos, delete them, or convert HEIC into JPEC – all of it can be done rapidly with DearMob.
DearMob encrypts your data for added security, and you can also transfer your data to external hardware. That definitely makes it safe and flexible!
I like the software because it is not just data recovery software. It clones your iPhone to a desired device, making the experience surreal. You must get this one if you have an eye for detail and are very peculiar about your data transfer.
Supported platforms: Windows and Mac
Pros
A vast pool of exercises to choose from.
Exercises are simple to understand and follow
Progress tracking is available
Cons
Could include more lessons for kids
Price: Premium – $29.95 | Lifetime – $39.95 | Family – $59.95
3. WALTR Pro: Best iTunes alternative for file transfer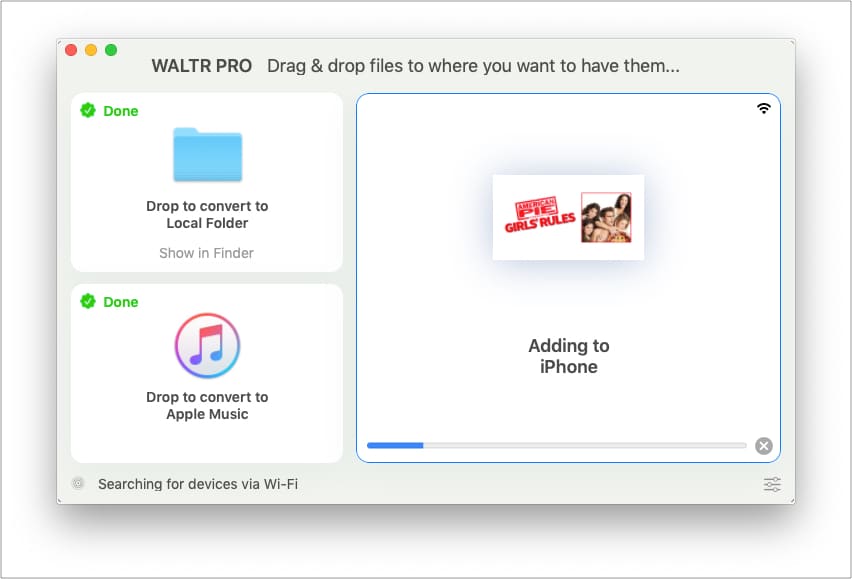 It is an effortless way to convert any file on the internet and transfer it to your iPhone, iPad, or iPod Touch. Gone are the days you will have to rely on 'Phone a friend' to get your desired content. Being a successor to the infamous WALTR, this's undoubtedly the one you should have your eyes on.
After Apple discontinued iTunes, I have been a loyal user of Waltr Pro for my data transfers. Transferring files from your Mac to your iPhone and vice versa has never been this easy. The best part; WALTR PRO automatically changes the file format and makes it compatible with your device.
It also gives you the liberty to transfer files according to the app's destination. For instance, if you wish to see a video using the VLC player and not the Apple TV app, you can always select it from the list.
I adore the simplicity, sleek UI, and clean colors (kudos to the UI designer!). It's a one-stop destination for your data needs. Read our full review.
Supported platforms: Windows and Mac
Pros
Supports iOS 5 and above
Supports almost all file formats
Compatible with many apps
Works with iMessage
Cons
Wi-Fi transfers can be time-consuming
Price: Single license – $29.95 | Family license – $59.95
4. Leawo iTransfer: Automatically converts unsupported formats
Leawo iTransfer is a one-stop solution for backup and data transfer between iOS devices, iTunes, and PCs. It makes it super easy t move various types of files between your devices, including messages, photos, music, contacts, etc.
The app has a simplistic user interface. It looks a bit outdated, but the benefit is that it lays everything out clearly. So, it's super straightforward and quick to use.
After you install and launch the software, it will automatically recognize your iPhone, iPad, or iPod when you connect your devices to your computer.
It displays different kinds of media available such as music, movies, podcasts, books, messages, contacts, ringtones, notes, etc. From there, you can select the files you want to transfer and get the process underway in just a couple of clicks.
I appreciate the flexibility it offers because there's a lot you can do. For instance, you can manage your music playlists and add or remove audio files. Or, you can keep a tab on your book collection and export books to your computer.
Further, you can backup and restore your iPhone contacts, plus manage your Notes and Messages.
What's more? Leawo iTransfer can intelligently convert unsupported file formats to a format compatible with iOS. This saves the hassle of having to use another app. Pretty nifty! Overall, a great tool to move and manage media between your devices.
Supported platforms: Windows and Mac
Pros
Very easy to use
Works quickly
Complete file backup and transfer solution
Intelligently converts unsupported file formats
Cons
User interface could be updated
Price: 1-year license – $19.95 | Lifetime license – $29.95
4. Wondershare by Dr. Fone: Best alternative for data recovery
Losing your iPhone data is a common problem. Wondershare by Dr. Fone is one of the efficient solutions for iPhone data recovery that also lets you back up your data from a broken phone via iTunes and iCloud after putting your gadget in DFU mode.
You also get to preview the files before you restore them. The software lets you recover your contacts, messages, notes, call history, calendar, Whatsapp history, and even Safari bookmarks from your iPhone devices.
It is an easy-to-use software and saves a lot of time. All you have to do is have your iTunes or iCloud open on your Mac and leave the rest to Dr. Fone. It is a little pricey, but I am sure as hell I would pay a few dollars to retrieve those precious memories captured as photographs.
You can always opt for the free trial, make a call, or read our in-depth review to make an informed decision.
Moreover, you can also customize the business package.
Supported platforms: Windows, Mac
Pros
Retrieve data from the last factory restore
Retrieve lost data due to iOS upgrade
Supports iPhone 4 and above
Best for retrieving trivial information
Cons
The yearly plan is expensive
Price: 1-year license – $59.95 ($399 for business purchase) | Lifetime license – $69.95
5. PhoneRescue: Reliable iPhone backup recovery tool
PhoneRescue is one of the more reliable iTunes replacements I have come across. It is a competent data recovery tool on the market and supports more than 25 types of data formats like phones, messages, music, audio, video, and more.
You can Retrieve your data even if it is encrypted by iCloud or you don't have access to your device. The software also lets you fix your broken iPhone from a system crash, making it one of the best in the market.
Read our review of PhoneRescue.
Supported formats: Mac and Windows
Pros
Recovers 25 types of data
Sleek UI
Affordable
Data recovery with system crash
Cons
Lacks organizing files post-recovery
Price: $59.99 for lifetime access
Best alternative to iTunes to manage music collection
1. MusicBee: Best free iTunes alternative
If you are looking for a player as an iTunes replacement and do not want to get into the hassle of data transfers, MusicBee is the one for you. One of the fastest tools to sync your music across all of your devices.
The best part, MusicBee also works with podcasts, web radio stations, even SoundCloud integrations. The software enhances your music streaming experience with tons of advanced features, 15-band equalizer being my favorite.
Other noteworthy features of the app include logarithmic volume scaling, theme support, gapless playback, etc.
Pros
Customizable look and feel
Simple interface
Portable version available
Flexibility in terms of device compatibility
Cons
Doesn't work well with many files
Price: Free
2. WinX Media Trans: Best alternatives to iTunes for Windows
If you are a dedicated Windows user and are looking for an iTunes alternative, this is where your search ends. WinX media supports automatic photo backup, music management, video transfer, ringtone maker, and many more.
When I look for software for my AV data transfer, I look for data encryption. WinXMedia offers it and makes the transition of files as smooth as butter.
The apps work independently of iTunes; this means you don't have to install iTunes on your device. WinX has a sister tool in the market; it is called MacX Media Trans, which handles similar functionalities for Mac.
Pros
Quickest data transfer
Encrypted data
iPhone video converter
Convert eBooks to PDF/TXT/HTML ebook
Cons
Room for improvement in organizing the data
Price: $35.95
3. Tidal: Best for music
If you are an audiophile looking for a music streaming service and are keen on sound quality, Tidal is the best iTunes replacement for you. Launched by Jay-Z in 2015, it gained instant popularity and has also been a formidable competitor to Spotify.
The listeners get a superb CD-quality sound. However, the more money you pay, the better quality you get. Since it is a streaming service, there is no question for supported devices as it is easily accessible.
However, I do not appreciate that it does not support podcasts. Being a creator and an avid listener myself, I have a knack for a platform that supports all forms of content. The sound quality for my music tracks makes up for it, so I can't complain much.
Pros
Exceptional sound quality.
Breathtaking UI.
Supports music videos.
Price: $9.99/month (320 Kbps), $19.99/month (lossless high fiedelity), ($14.99 and $29.99 for family subscriptions respectively)
4. Podtrans: Best iTunes alternative for iPod music
A software that lets you transfer music from your desktop to your iPod, Podtrans surely knows its niche right. The best part, you don't need iTunes installed on your device to make the transfer happen.
Podtrans understands the charisma of those gorgeous iPods with retina displays and has extended its support for managing other media files, including TV shows, iTunes U, movies, videos, and more.
It is also one of the best free iTunes alternatives for Mac and Windows, making it a boon for iPod users. You have to watch Friends with your iPod; it will make the experience worthwhile.
Pros
Works independently of iTunes
Easy file transfer
Supports video transfer
Faster transfer of large files
Cons
Can be a little buggy at times
Price: Free
5. MediaMonkey: Best for large music files
Most of the iTunes alternatives for music have issues dealing with larger files; this is where your search ends. MediaMonkey is an iTunes replacement that supports multiple file formats, even formats like M3U and PLS.
Offering hassle-free navigation, MediaMonkey automatically picks up movies and music missing important information and notifies you. This also reduces the duplication of data and sync tracks.
I like the little customizations I can do to my music library and the smooth experience of transferring larger video files (even movies) with no technical expertise whatsoever.
Pros
Stress-free large files management
Identifies data duplication
Supports multiple file formats
Sleek UI
Price: Free (Subscription starts at $49.95)
I hope this list of the best iTunes alternatives for Mac and windows helps you choose the best to manage music and data on your iPhone and iPad. Which alternative did you like most? Share in the comments below.
Read more:
Readers like you help support iGeeksBlog. When you make a purchase using links on our site, we may earn an affiliate commission. Read more.
Mehak has a master's degree in communication and over ten years of writing experience. Her passion for technology and Apple products led her to iGeeksBlog, where she specializes in writing product roundups and app recommendations for fellow Apple users. When not typing away on her MacBook Pro, she loves being lost in a book or out exploring the world.