I have subscribed to a fair amount of services for movies, books, music, etc. But sometimes, I cannot find a particular movie or song on any of these services. Hence, I download it from the internet or get it from a friend. Most of the time, the format isn't supported by iOS or iPadOS. This is where WALTR PRO for Mac and Windows comes in.
WALTR PRO is an effortless way to convert and transfer almost any file and have it on your iPhone, iPad, and all generations of iPod. Usually, I reserve the verdict for the end of the post. But for this one, let me tell you straight up – WALTR PRO is magical, and being a long-time iPhone & iPad user, I regret not knowing about it all this time!
What makes me adore this app so much? Let me tell you more about it in this hands-on review.
WALTR PRO: An overview
WALTR PRO is an iTunes (or Finder for macOS Catalina and later) alternative that makes file transferring easy, especially after Apple discontinued iTunes. Using it, you can transfer various kinds of files to your iPhone, iPad, or iPod from your Mac or PC.
You do not have to worry about the original file being in an incompatible format. WALTR PRO automatically recognizes and quickly converts it into a format that plays nicely with iOS and iPadOS.
The entire process is effortless. You can count the number of clicks it takes to complete a task on one hand.
What I used WALTR PRO for
1. Video files
As mentioned earlier, I sometimes have to rely on unofficial sources to get a video file. This is often in unsupported formats by iOS or iPadOS (I am talking about you .mkv).
Similarly, I have lots of old (going several years back) movies and video clips that I like to transfer to my iPhone and watch while lying on the bed.
WALTR PRO quickly converted the mkv files and put them inside my iPhone's TV (Videos) app. All this happened without any noticeable loss of picture quality!
2. Music
I cannot find all songs in Apple Music, especially the regional and devotional ones that I listen to a fair amount. So, I used WALTR PRO to transfer my downloaded (and CD ripped) song collection to my iPhone. Everything showed up conveniently inside the iOS Music app.
Being a long-time iTunes user, I know how fiddly it is to add songs to iTunes and sync everything. WALTR PRO makes iTunes (or Music app & Finder) process laughable when compared.
With WALTR PRO, I can locate songs in my Finder and drag & drop them onto the 'Drop to convert & add to iPhone' section. It is hardly a few clicks. You use it once, and you will appreciate the process!
Plus, if the music is in a format that is unsupported by iOS, WALTR PRO will convert and transfer it for you. Superb!
3. PDFs, books, and other documents
The Apple Books app on my iPhone and iPad supports PDFs. But to keep the app clean, organized, and only for reading my favorite novels, I transfer all temporary PDFs and documents using WALTR PRO to third-party apps. The entire process is quick. WALTR PRO gives me the option to choose which app I want to transfer the file to.
Plus, if you use the Kindle app on iPhone or iPad, you can transfer books from your Mac into it. Neat!
I used this app primarily for the reasons mentioned above. However, you can use it to transfer almost any file to the iPhone as long as you have a compatible app on your iPhone that can open it.
Plus, WALTR PRO already supports and converts almost all popular file types into an Apple-supported format. So, the playing field is vast!
Now, let us see the super easy ways to use it.
How to use WALTR Pro
Convert and transfer non-supported files to iPhone and iPad
Suppose you have a video file in the mkv format (which iOS and iPadOS do not support natively. Even Mac's QuickTime Player doesn't support it).
Here is how to use WALTR PRO to convert and have it on your iPhone or iPad quickly. Note: It works for multiple file types. I am taking mkv as an example.
Launch WALTR PRO on your Mac and connect your iPhone via Lightning cable (you can also use Wi-Fi for this).
Select the mkv file at its location and drag and drop it onto WALTR PRO's 'Drop to convert & add to iPhone' tile.




If you do not wish to drag and drop, click anywhere inside the 'Drop to convert & add to iPhone' tile, which opens a Finder screen. Now, select the file and click Open.
Done! The app will search automatically for metadata, convert it, and transfer it to the TV (Videos) app on your iPhone.


Once the transfer completes, you may click 'Where are my files?' to see the iPhone app where the file is.


Quickly transfer supported files to stock apps
In the above steps, we saw how to transfer an unsupported file format after conversion. But what if you have files that are already supported by iOS. Well, WALTR PRO being an iTunes alternative, handles this as a cakewalk.
Let us take songs (mp3) as an example.
Simply select the audio files and drag them onto the 'Drop to convert & add to iPhone' tile.
The files will transfer and show inside the Music app.
Transfer files to third-party iPhone and iPad app
What if you want to watch the video on VLC instead of Apple's TV app? Or, what if you want to transfer books to the downloaded Kindle app? Or, have PDFs inside PDF Expert!
WALTR PRO lets you choose from a list of compatible apps for the particular file. Here is how.
Press and hold the alt/option key on your Mac, and while pressing, drag and drop the file onto WALTR PRO.


Choose the desired app, and you are done! Magical. Right!




Edit Metadata and Cover Art
Old and randomly sourced music files might have no details like year, album, artist name, cover art, etc. This looks unpleasant inside the Music app. WALTR PRO's Metadata Editor makes it super easy to edit or change these pieces of information before transferring the file to your iPhone and iPad.
Let me give you a demo by transferring an audio file to my iPhone with custom metadata.
Press and hold the command key and while you do so, drag and drop the audio file onto WALTR PRO.


It will open the editing screen. Fill in the details or edit it if it is already there. To add or change the cover art, click the Artwork box.




Done! In a few seconds, WALTR PRO will add this song to iPhone's Music app with all the information and cover art.


Other Highlights of WALTR PRO
1. Local file converter
Besides the above functions, WALTR PRO is also a handy converter. For example, if you want to convert a file into an Apple-supported format and wish to save it locally on your Mac, you can do that.
For this, click 'Drop to convert to Local Folder.' Now, select the file, and WALTR PRO will convert it and save it on your Mac (Downloads folder for me)! Nice.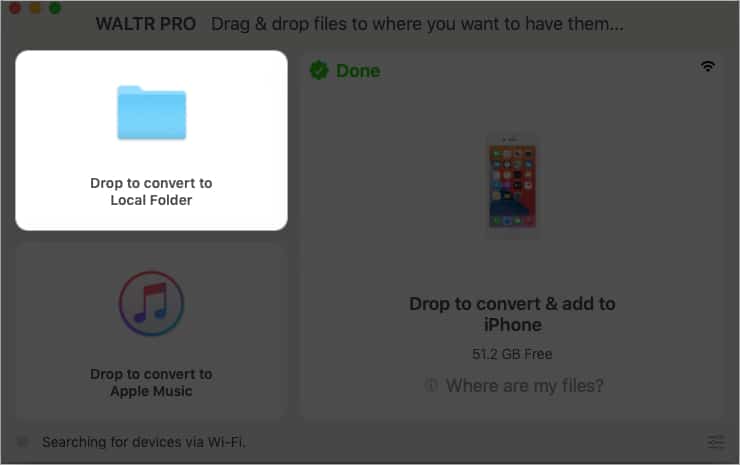 2. Boost Apple Music
With 'Drop to convert to Apple Music,' you can add files to Apple Music. This will add it to iTunes. (If the format is not supported, it will convert the file, say high fidelity tracks in lossless Apple supported format, and add to iTunes/macOS Music app).
If you have an Apple Music subscription and enabled Sync Library, all these songs will be uploaded to iCloud and made available on all your other Apple devices, including HomePod. Fantastic!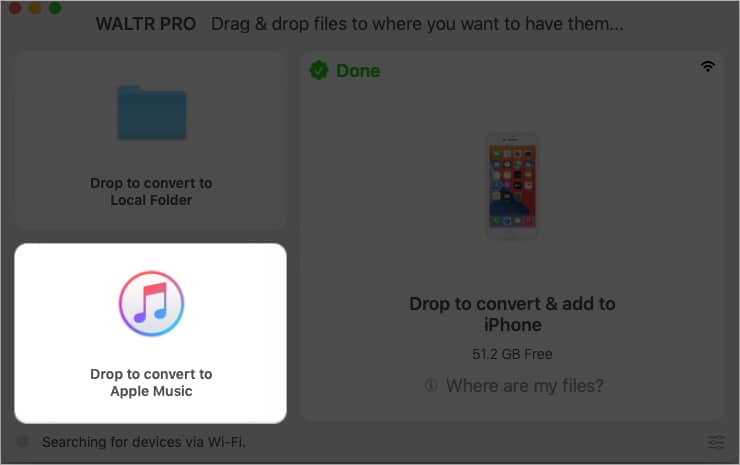 3. For iPhone ringtones
Finder and iTunes make it a pain to transfer custom ringtones to iPhone. But with WALTR PRO, you can easily have ringtones on your iPhone.
Start by changing the extension of the M4A file to M4R and drop it into WALTR PRO. You will find the ringtone inside iPhone Settings → Sounds & Haptics → Ringtone. From here, you can use it.
Sadly, mp3 files aren't supported. It would have been great to have a dedicated ringtone creation option that supported mp3 too.
4. iOS App
The Files by WALTR is a friendly little companion app where you can add files and share them via other apps. For example, you can drag photos to Files by WALTR app and then select them all and add them to the iPhone Photos app. It is also visible in iMessage, making sharing easier there.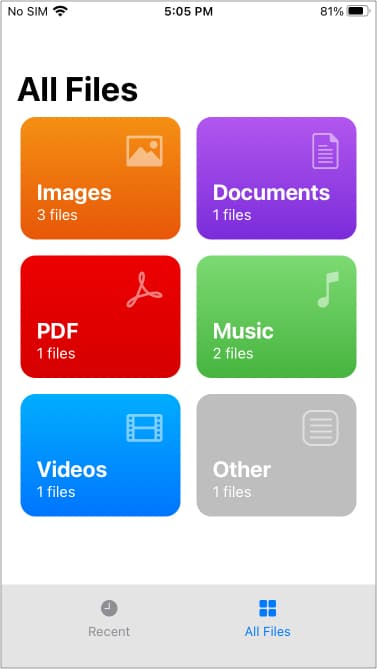 Supported devices and formats
Devices:
All iPhone and iPad running iOS 5 and above.
Every non-iOS iPod ever created! Wow.


System requirements:
Mac running macOS High Sierra (10.13) and above
PC running Windows 7 or above
Supported file formats that can be converted for playback in inbuilt Apple apps:
Video formats: MKV, AVI, MP4, MOV, MPEG, m2ts, 3GP, WMV, H264, H265
Audio formats

: MP3, FLAC, APE, ALAC, AAC, AIFF, WAV, WMA, OGG, OGA, WV, TTA, DFF

Note: WALTR PRO supports high-resolution, lossless audio and up to 4K video.
Have a file in a format not mentioned above? Don't worry. If you have an app on the iPhone that handles the format, you can transfer it to that app, and it will work inside that.
Is WALTR PRO really a pro? Our verdict
Overall, I love WALTR PRO. Having known, tested, and used several such transfer and backup apps, I know what limitations and irritations they carry.
The same goes for iTunes (on my old office Mac) and Finder (on my new personal Mac). To be straightforward, I like iTunes more than Finder as an iPhone transfer tool. Anyway, after using WALTR PRO, I'd rarely ever need them.
I love the simplicity and the clean colors WALTR PRO has. Anybody can use this extraordinarily well-designed app. The interface is super neat as you have just three blocks. Clicking on the Settings icon takes you to preferences where you have additional options.
If you have lots of video and audio files or if you rely on other sources to get media files and want to watch them on your mobile device, WALTR PRO is the tool to have. In the past, I used HandBrake to convert video files. But now, WALTR PRO handles the conversions quicker without heating my Mac insanely!
I cannot believe that I did not use WALTR 2 (its predecessor, now discontinued, but with many similar features) all this time!
Price for one Mac or PC:
1 year: $29.95
Lifetime: $59.95
Note

: If you previously purchased WALTR 2, you can upgrade to WALTR PRO at 50% off.
Readers like you help support iGeeksBlog. When you make a purchase using links on our site, we may earn an affiliate commission. Read more.
I have been an Apple user for over seven years now. At iGeeksBlog, I love creating how-tos and troubleshooting guides that help people do more with their iPhone, iPad, Mac, AirPods, and Apple Watch. In my free time, I like to watch stand up comedy videos, tech documentaries, news debates, and political speeches.