Are you tired of getting fewer likes on your pictures because they are not gram-worthy? Let me help you take your photography to the next level with a curated list of best photography accessories for iPhone.
Get these camera accessories, and say goodbye to mediocre shots! Rock stunning professional-level pictures just like you have always wanted.
1. Xenvo Pro Lens Kit for iPhone – Editor's choice
Are you looking to enhance the quality and clarity of your iPhone's camera without upgrading to a new Pro model? Consider purchasing the Xenvo Pro Lens kit. It's compatible with many devices and all iPhones.
The Xenvo Pro Lens kit has a 15x macro lens and a 0.45x wide-angle lens, providing detailed attention to photos. The 15x macro lens lets you magnify nearby objects for breathtaking close-up shots, while the 0.45x wide-angle lens increases image clarity by 45%. Additionally, the kit also includes a rechargeable glow clip LED fill light, which gives better illumination than your iPhone's built-in flash.
One of the handiest features of the Xenvo Pro Lens is the quick-release lanyard. You can wear this around your neck, giving you easy access to take pictures whenever you want. With an ultra-soft cloth, it's easy to clean the lenses and camera. All these components come in a compact and durable case, perfect for travel or everyday use.
Pros
Lifetime warranty
Portable and protective casing
Made of high-quality, durable materials
Easy to use with a simple and straightforward design.
Cons
To use the wide-angle lens, you need to attach it to the macro lens
2. Sensyne 62″ phone tripod & selfie stick – Best for YouTubers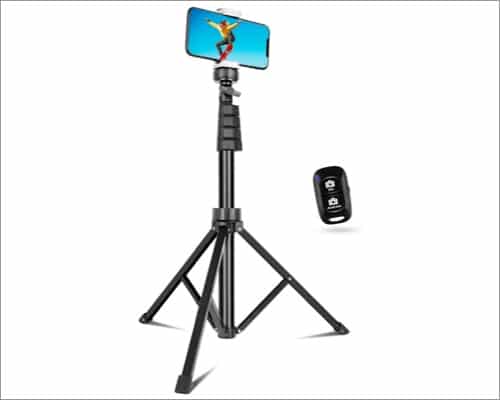 The Sensyne 62" Phone Tripod stand doubles as both a selfie stick and a phone stand. It's compatible with all iPhone and Android models. This one features a universal phone holder, which can rotate 360 degrees. You can also attach it vertically or horizontally, making it an ideal choice for taking different styles of shots.
In addition to the universal phone holder, it also features a GoPro adapter. Keeping your comfort in mind, it comes with a phone model-agnostic Bluetooth Remote Shutter, allowing you to take photos without clicking or touching any button on your phone. The Bluetooth Remote Shutter has a range of up to 30 feet. And the tripod provides a sturdy base and has a locking mechanism for stability and balance.
This iPhone photography accessory allows you to take selfies, record videos for different occasions, and easily capture objects at a distance. Its adjustable 62 inches tripod makes it an excellent choice for live videos, vlogging and recording YouTube videos, even while standing. The package includes an instruction manual for setting up the tripod and Bluetooth Remote Shutter.
Pros
It's durable
Adjustable height
It features a wireless remote
It comes with a one-year warranty
Cons
The wireless remote may sometimes malfunction
3. Sensyne 12" ring light – With tripod stand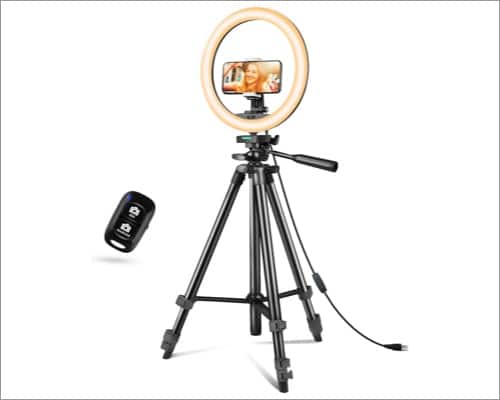 Are you a content creator, influencer, or vlogger struggling to achieve crisp video or photo quality? Look no further, as the Sensyne Ring Light with Tripod covers the flaws in your content. The Sensyne Ring Light with Tripod stand offers an excellent lighting solution by eliminating shadows, giving your videos and pictures a professional touch. It's also compatible with GoPro Cameras.
With this Ring Light, you can choose from 3 different color temperatures and adjust up to 10 brightness levels to suit your preferences. The easy-to-use button controls allow you to switch between lighting modes and turn the light on and off.
The ring light is attached to the tripod stand via a threadable bottom and can rotate 360 degrees. It also has a rotatable phone holder compatible with all iPhone and Android models and can hold your phone vertically or horizontally. One of the setbacks of the ring light is that it requires a power source to work. It would've been better if rechargeable. The product has a wireless Bluetooth remote shutter compatible with your iPhone and allows you to take shots without touching your phone.
Pros
Easy to use
Adjustable brightness
Sturdy base
Cons
Too many screws when adjusting the height of the tripod
Not rechargeable
4. KEYWING 3-in-1 camera lens kit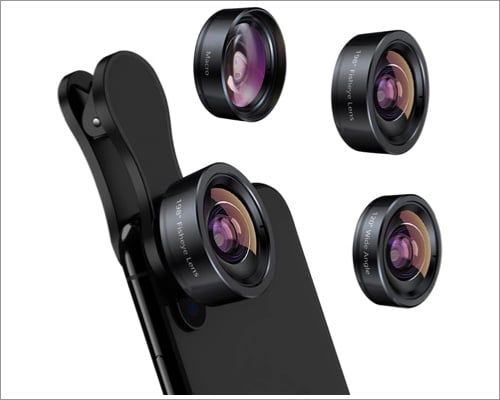 The KEYWING 3-in-1 Camera Lens is a simple gadget that improves your photographic skills. It features three different camera lenses in all. The 20x macro lens allows you to zoom in on objects and reveal intricate details not visible with your phone's camera. There's a 120-degree wide lens; this helps add 10% power to your iPhone camera. And its 198-degree fisheye lens adds professional effects to your images without the need for editing.
The KEYWING lenses are designed with five layers of cinema-quality glass and aerospace metal, conferring durability and high-quality imagery. The lens has a steady clip-on design with soft rubber for easy and firm attachment without damaging your phone.
Furthermore, the KEYWING lens is widely compatible with all iPhone and Android models. The package includes a user manual for setting up the lens and attachment.
Pros
Fisheye Lens for professional effects
Quality design
Compatible with many devices
Cons
The wide-angle lens may not capture as wide of an image as you would expect
You need to take off your phone's case before use
5. Gimbal 3-Axis Phone Stabilizer for Smartphone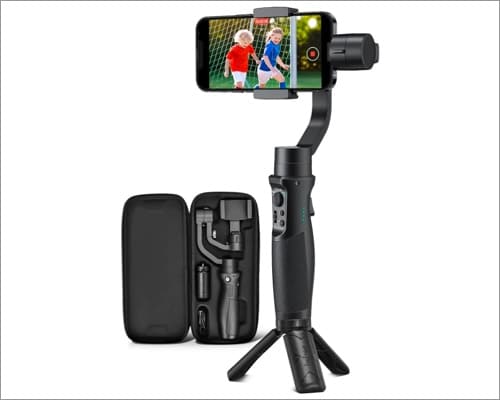 Achieve professional-quality phone videography with the Gimbal 3-Axis Phone Stabilizer. This device is perfect for capturing stunning, smooth shots. The stabilizer holds your phone firmly in place with incredible stability, thanks to its clamp and motor. Your phone can rotate 360 degrees while filming and offers a 600-degree wide rotation range.
Using Gimbal 3-Axis Phone Stabilizer is easy. Download the Hohem Joy app, enable Bluetooth on your phone, and connect to the app. The sport mode allows you to take pictures and record videos while moving at extreme speed or on rough terrain. The app also offers numerous video templates for editing your videos and photos, allowing you to unleash your inner videographer instincts.
The Gimbal phone stabilizer comes in a compact carrying case. This includes a 3-legged tripod stand for stationary shots, a type-C charging cable, and a user manual and quick start guide for easy navigation. With up to 13 hours of battery life when fully charged, the Gimbal stabilizer is compatible with all iPhone models and most Android devices.
Pros
Super easy to use and navigate
Sturdy and stable
Portable
Cons
The app can occasionally be tardy
You have to connect to the app to optimally enjoy the functions
Signing off!
Whether you are a content creator, influencer, vlogger, or just looking to take better photos, these iPhone photography accessories will help you achieve professional-level results. Don't settle for mediocre shots when you can have stunning, memorable ones.
With that said, you may also want to purchase a power bank to keep your iPhone charged throughout a long day of shooting. If you are getting low on storage, we recommend checking out the best flash drives for the iPhone.
Read more:
Readers like you help support iGeeksBlog. When you make a purchase using links on our site, we may earn an affiliate commission. Read Disclaimer.