Fighting games originally started in the early 1970s, with the introduction of arcade games. While the arcades themselves have become mostly obsolete, fighting games have continued to grow and evolve. Moreover, fighting games today have become far more complex and interesting. That being said, here's my list of the best fighting games for iPhones.
Let's have a look at the games below:
1. Beat Street
Beat Street is a callback to the retro, pixelated fighter games we played in the arcade or our Nintendo 64 console. It has just about everything to make it a fighting game that's fun, casual, and can still challenge the best players.
One of the unique things about Beat Street is that you can play this game with one hand. You control your character by moving your thumb around the screen in the appropriate direction. As you near an enemy, tap the screen to see your character unleashing a flurry of punches, kicks, and grapples.
After you've damaged enough opponents, you can unleash a super move to finish them off. While this seems simple, the developers have ensured that this sort of repetition never gets boring.
There are no buttons on-screen to control the character. This makes the game more immersive.
Price: Free (In-app purchases start at $1.99)
2. Real Boxing 2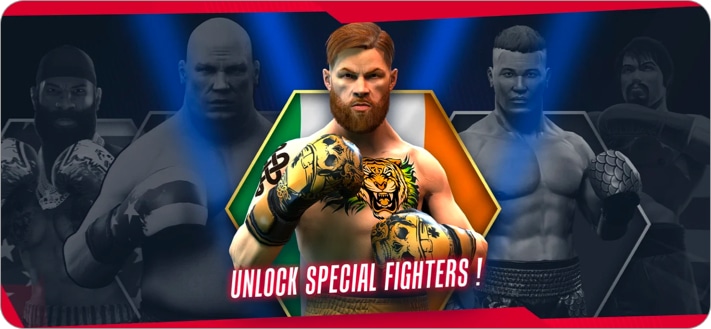 There are two things that Real Boxing 2 gets right. Firstly, it's a compelling sports game – you're not likely to find a more authentic boxing game for your iPhone. Secondly, it's an even better fighting game.
In this game, you can create a character and work your way to become the top boxer in the virtual world. Ever dreamt of becoming a World Champion in boxing? Real Boxing 2 enables you to live that dream.
Once your character has been built and upgraded with substantial experience points, you can play online against other players. Moreover, events and challenges are constantly updated to keep the scores fresh and the leaderboards dynamic.
From uppercuts, dodges, and side hooks to special abilities, you have to learn how to use these moves at the right time to survive against some of the most dangerous fighters.
Want the ambiance of being in a stadium filled with fans chanting your character's name? Luckily, Real Boxing 2 can offer you this feeling through realistic gameplay, graphics, and atmosphere. If you love fighting games, this game is for you!
Price: Free (In-app purchases start at $1.99)
3. Brawlhalla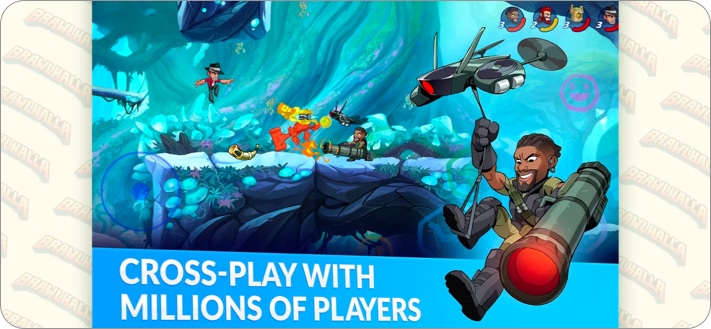 Brawlhalla is essentially a fighting game with a twist – it adds platforming to the mix. This creates a new layer of depth for the gameplay that sets it apart from other fighting games.
Additionally, the game has over 20 different game modes and 50+ unique characters. Another important factor of Brawlhalla is that it adds cross-platform gameplay. That's right – you can play this game with anyone, anywhere in the world, regardless of which platform they're using to play.
You can either team up with other players or participate in the chaos of game modes such as Brawlball and Kung-Foot.
Considering the amount of content that you're provided, it's no surprise that this game is highly rated on the App Store. It also has over 40 million active players. Brawlhalla is worth a try if you're looking for something slightly different in the fighting genre.
Price: Free (In-app purchases start at $5.99)
4. Gods of Olympus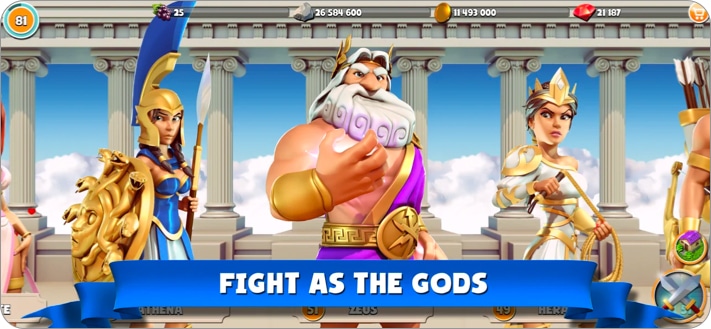 We've all played real-time strategy games. Sometimes, the strategy elements can overtake the combat. In such scenarios, the combat becomes simplistic and often boring. Thankfully, Gods of Olympus changes this.
The game is primarily a strategy game. However, the developers have changed the combat system into something more innovative. There are different Greek deities to take control of, such as Zeus, Athena, Hades, and Hera (among others).
The combat happens in real-time, and you will have to strategize your way through it. While in-game fighting can be brutal, you'll have to think through your moves. Each Greek god comes with its special powers, and the gameplay is balanced as the powers/abilities of one god may be countered with those of another.
Apart from this, you can create your empire in Ancient Greece. For all the history and mythology fans, this itself is a good enough reason to play this game!
Price: Free (In-app purchases start at $1.99)
5. Star Wars: Galaxy of Heroes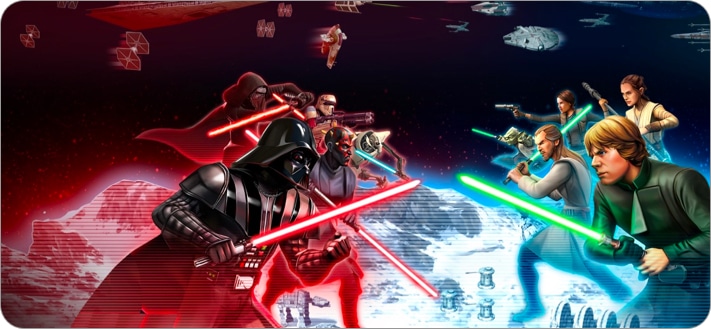 Games in the Star Wars franchise have often been received well. However, most were console releases. Fans of the series were calling for a worthy Star Wars game on their smartphones. Star Wars: Galaxy of Heroes delivers on this call.
The game provides a range of heroes and villains from almost every era of the Star Wars saga. You can choose heroes from The Mandalorian or villains from Star Wars: The Last Jedi, and combine them to create your team. There are no limits to the possible combinations and creating your Star Wars dream team!
This app also has turn-based strategy gameplay, with smaller RPG elements sprinkled on the top. You can customize the characters in your team and upgrade their abilities as you gain experience points and rewards.
The MMORPG elements in the game are deep enough for fans of the genre, and you will have to pick your team based on the strengths and weaknesses of your opponent. Blindly jumping onto a game will most certainly lead to defeat.
There are other activities, such as collecting items iconic to the series and joining Guilds with other teammates to grow your network.
Price: Free (In-app purchases start from $1.99)
6. Marvel Contest of Champions
With Marvel's Cinematic Universe growing bigger every passing day, it only seems reasonable that these characters are put in a game to appeal to an even larger audience. Marvel Contest of Champions brings a Mortal Kombat style approach to our favorite superheroes.
The game has a single-player mode and a multiplayer mode, and the only way to unlock more heroes is to keep fighting. As you keep winning matches, you are awarded a crystal. Whether the crystal leads to unlocking a character is a matter of luck entirely. This is one of the gripes that I have with this game.
Nonetheless, the combat is satisfying. The game has been tailored to touchscreens, and while it may look rudimentary at first, it can get addictive. The gameplay also feels similar for most characters, but the trial-and-error fighting style will keep you hooked.
Unfortunately, Marvel Contest of Champions doesn't have a local multiplayer mode. Nonetheless, you can play with opponents worldwide and experiment with characters to find which suits your playing style the most.
If you're a fan of the MCU, Marvel Contest of Champions is worth the download.
Price: Free (In-app purchases start at $4.99)
7. Mortal Kombat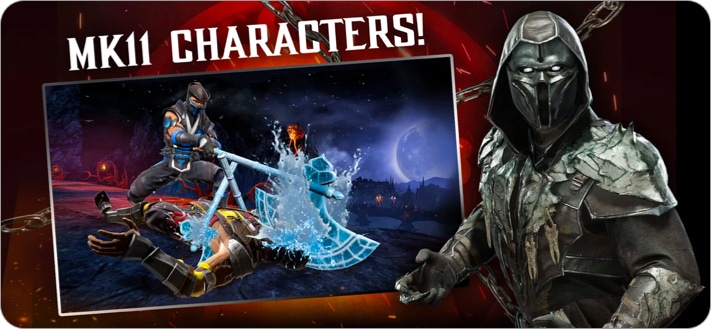 Speaking of fighting games, very few that have set the bar as high as Mortal Kombat. When it debuted in 1992, it showed a more mature side to gaming with its setting and aesthetics. Almost 30 years later, the franchise continues strong. Now, it brings the gritty combat to your iPhone and iPad.
The game has over 130 characters that have been immortalized in pop cultures, such as Scorpion, Sub-Zero, Johnny Cage, and Sonya. Each character has a unique fighting style and abilities. So, there's plenty of room for experimentation to find the character you like most.
You can fight other opponents in 3v3 brawls, teaming up unlikely characters to complement each others' fighting styles. These are known as Faction Wars, and you can complete weekly challenges to earn unique prizes for your fighters.
Other than multiplayer events, you can also send your characters on Quests. These Quests range from the Outworld to the hellish NetherRealm. The more Quests you complete, the more rewards you gain. Mortal Kombat is classic and a must-have.
Price: Free (In-app purchases start at $1.99)
8. Shadow Fight 3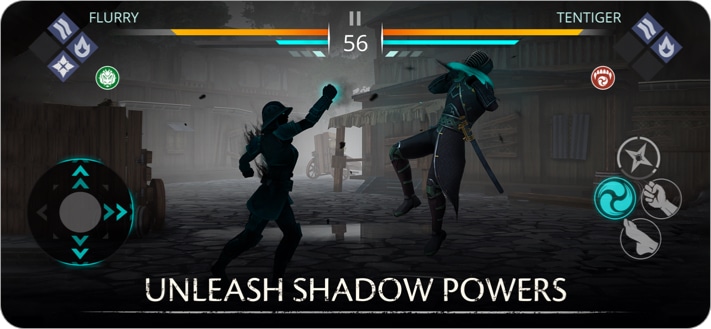 This wouldn't be a proper list about fighting games on iPhone if I didn't mention Shadow Fight 3. The Shadow Fight series has been going strong on mobile devices for many years, and the latest iteration of the game continues to cement the series' place at the top.
The game has a campaign mode in which your character starts from absolutely nothing. You collect armor and weapons as you continue on your dangerous path to face the most fearsome foes.
There are two bars to keep an eye on. The first bar is the health bar, and you have to make sure that it isn't reduced to zero. The second bar is the shadow bar that fills up on your character, landing successful hits. Once the shadow bar is full, you can perform a powerful move to destroy your opponent.
All the equipment that you gather on your journey has specific stats and provides boosts to base stats. This brings an RPG element into the game, as you can decide whether your character will focus on a strong defense and counter-attack or be a fast and aggressive fighter.
Shadow Fight 3 perfects the formula that the previous two games in the series have refined.
Price: Free (In-app purchases start at $2.99)
9. Injustice: Gods Among Us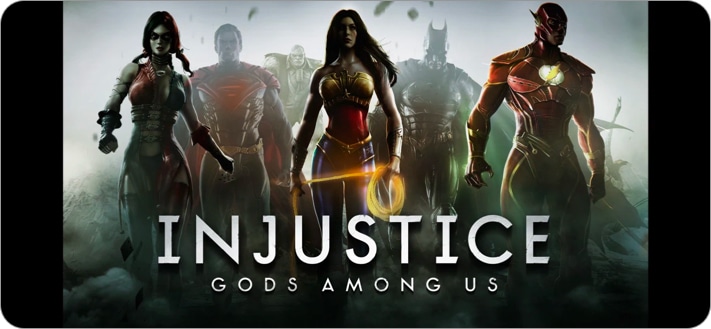 Did you ever think that a Mortal Kombat inspired brawler based on your favorite DC comics characters would be released? Well, neither did I. Fortunately, Injustice: Gods Among Us brings some of the finest combat mechanics you can find in a mobile game.
This game answers the age-old question: What would happen if Superman was a villain? The lines between the good and bad become blurry as a series of unlikely team-ups take place to bring down the opposing factions.
The game's art style is unique as you control three-dimensional characters in a two-dimensional environment. The superheroes and villains are rendered beautifully, with each character having distinct features. They also have unique fighting styles, abilities, and ultimate moves.
Both the campaign and multiplayer modes are very fun to play. As you play through the different modes, you can unlock character-specific gear that boosts certain attributes and stats.
This is a complete fighting game for fans of the DC universe. I think it's a must-try!
Price: Free (in-app purchases start at $1.99)
10. Street Fighter IV CE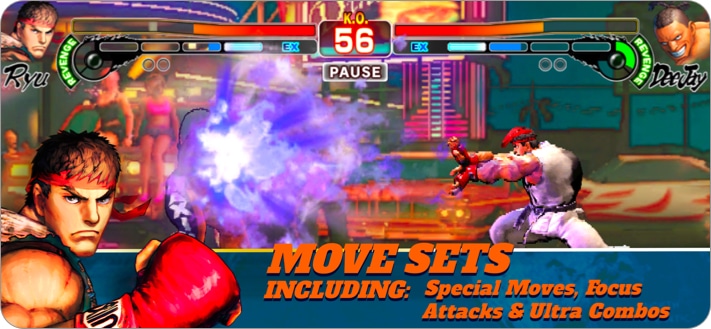 The Street Fighter series has been around since the older days of arcade gaming. This series, along with the Mortal Kombat franchise, have been precursors to the best fighting games we can find in the market today.
The is a free Street Fighter game for iPhone and has over 30 iconic characters to choose from, each with their unique playing styles. The gameplay is refined to bring more flexibility to the fight sequences. The developers have taken the best parts from the console games to produce the best possible gameplay on handheld devices.
There's a single-player arcade mode that's reminiscent of previous games. In Multiplayer mode, you can face opponents from any part of the world. Combine this with a good MFi controller, and you're guaranteed fun and intense fights that rival console gaming.
You can also challenge yourself with the game providing four different difficulty levels. Beat the highest difficulty to take your place at the top of the leaderboards.
The game is welcoming to both casual and older fans of the franchise, and I think it's one of the best fighting games you can find on iPhones today.
Price: $4.99
Ready, steady, fight!
This is my list of the best iOS fighting games. Most of these are freemium games, so you can try them out without having to shell out the big bucks for full gameplay. Have I missed out on your favorite fighting game? Share them in the comments below!
Read more:
Readers like you help support iGeeksBlog. When you make a purchase using links on our site, we may earn an affiliate commission. Read Disclaimer.