The FIFA World Cup 2022 in Qatar is well underway. Considering this, it's only fair that we look at some of the best football apps for iPhone and iPad you can download today. Whether you're looking for an app to keep track of live match scores, play fantasy football, or stay updated with transfer rumors, there's an app for every aspect of the game. Having said that, let's look at these apps now, shall we?
1. FIFA Mobile – Editor's choice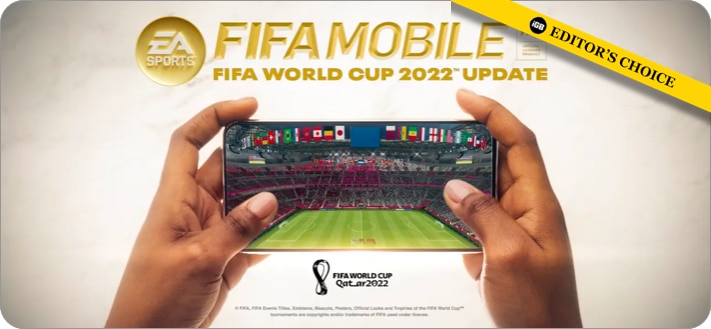 If we're talking about the best football apps for iPhones and don't include FIFA Mobile, the list would be incomplete. When you're looking for a definitive football experience in terms of gameplay and authenticity, FIFA Mobile is at the very top of the list! Also, you should check out our collection of wallpapers for the FIFA World Cup Qatar 2022.
The game allows you to create your own squad with variations of your favorite players. Of course, you'll have to consider their nations and leagues to make them play well in-game. After you've created your squad, you can compete in online matches for excellent rewards.
Furthermore, with the World Cup underway, you can play an authentic FIFA World Cup 2022 Mode, which features all 32 national teams and their latest lineups. Authentic kits and badges are also provided with this update. However, if this doesn't fit your bill, you can always hop into Manager Mode and guide your favorite club to the zenith of the footballing world!
While the game has plenty of content to offer, a lot of this content is hidden behind paywalls. In fact, the game is riddled with microtransactions. This can hinder your experience with the game.
Pros
Polished and refined gameplay
Updated content on a frequent basis
Authentic FIFA World Cup 2022 Mode
Fully licensed players, teams, and kits
Cons
Most of the premium content is locked behind paywalls
Price: Free (In-app purchases start at $0.99)
2. Dream League Soccer – A welcome FIFA alternative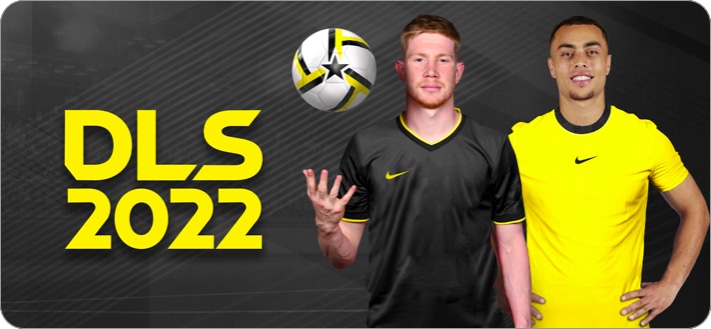 If FIFA's microtransactions and gameplay don't work for you, Dream League Soccer is a decent alternative to the game. This particular game has authentic licenses for over 4000 FIFPRO registered players. For the uninitiated, FIFPRO is the world's largest professional players' governing body!
It's excellent in terms of gameplay as well. Thanks to 3D motion capture, free kicks, tackles, celebrations, goalkeeper saves, and even basic player movements are brought straight from the football pitch to your smartphone's screen.
Furthermore, there are more than 10 cup competitions to compete in. You can also compete against other players online. Additionally, you'll be able to build your soccer empire, improving everything about your club, from the stadium to the medical facilities.
However, the game's matchmaking isn't the best. The developers have to patch the game to ensure that players in opposing teams have similar skill levels.
Pros
Has over 4000 FIFPRO registered players
In-depth upgrades for players, stadiums, staff, and facilities
3D Motion-captured gameplay
Cons
Matchmaking needs to improve
Price: Free (In-app purchases start at $1.99)
3. eFootball 2023 (Formerly PES) – For the purists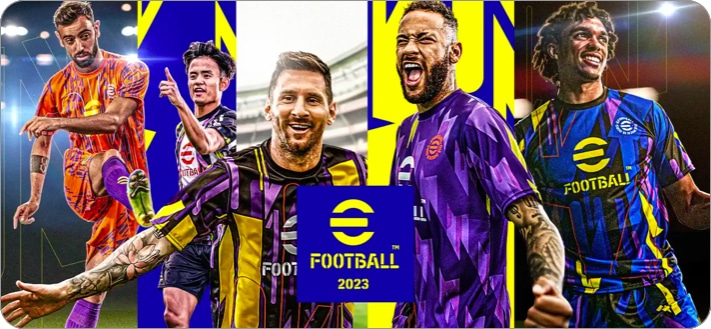 Although football games like FIFA and Dream League Soccer are more accessible for new players, some veterans prefer more authentic and challenging gameplay. If this is what you're looking for in your football game for iPhone, eFootball 2023 could be for you!
The gameplay in eFootball is quite different from its competitors. The developers have painstakingly motion-captured each and every detail of a footballer's movement and added them to the game to ensure authenticity and realism.
However, the other gameplay elements, such as the eFootball League and general matchmaking, remain largely similar to other football games. The idea is simple – build your "Dream Team" by signing and developing your players.
My only gripe with the game is that it lacks more licensed players and leagues.
Pros
Very realistic gameplay
Featured a host of famous clubs from around the world
Content is updated frequently to reflect players' real-life performances
Cons
Needs more licensed teams and leagues
Price: Free (In-app purchases start at $0.99)
4. Premier League App – For all English Premier League updates
From games, we move on to official apps developed and licensed by the top leagues in the world. When talking about the best football apps for iPhone, it's important to acknowledge the Premier League App. This app is one of the foremost apps to follow all the happenings of the biggest football league in the world.
The modern Premier League has officially been around since 1992. So, the developers have ensured that official statistics are available in the game for fans to research or peruse at their leisure. Moreover, you can follow every Premier League match fixture thanks to the Matchday Live feature, which also adds Live Blogging for good measure.
You can also follow your favorite Premier League clubs for the latest news directly through the app. The app has everything from lineups to injury news to transfer rumors. Furthermore, you can also build your Fantasy Premier League team to compete with friends throughout the season. The winner of the season is also presented with some exciting rewards!
However, despite all its great features, users have complained that the user interface isn't on par with other apps.
Pros
Real-time updates
Authentic and reliable news
Fantasy Football for Premier League fans
Cons
The user interface needs to be improved
Price: Free
5. Champions League Official – For the latest UCL news
The UEFA Champions League is the greatest club competition in the history of the sport. Without a doubt, this is one of the most watched competitions all around the world.
If you follow the Champions League closely, then you need to download the Champions League Official app. This app provides you with the latest soccer news, fixtures, and live coverage via blogging. You can also watch the highlights of any Champions League matches that you might have missed. These highlights are available the very next day!
UEFA has also ensured to add live match commentary so that fans can listen to every bit of the action, even if they're unable to watch the match itself. Apart from this, you can dive into the in-depth section of the app, which provides analyses from football experts and statistics or videos of past Champions League winners. Lastly, UEFA has also included a Fantasy Football game for fans to play throughout the entire season!
The only major issue with the app is the highlights section. From the user interface to the overall presentation, the developers need to do better.
Pros
Latest news, updates, and fixtures for UEFA Champions League
Special match analyses by experts
UEFA Champions League-based Fantasy Football is available in the app
Cons
The highlight video section needs to be more intuitive
Price: Free
6. LiveScore – Special match analyses
While there are many football and FIFA World Cup scoring apps available in the App Store, LiveScore is a level above the rest. This isn't due to the multiple-game coverage via statistics, live match updates, or even the fixtures. Instead, the special match analyses by the LiveScore team are what makes this one of the best football apps for iPhone.
The LiveScore team ensures that all major games are covered, whether through insights or post-match interviews. If you're looking for an in-depth football analysis or want to learn more about the game itself, LiveScore is an excellent app.
Moreover, you can customize the interface to deliver you the latest news regarding your favorite teams and leagues. In fact, the app follows over 1,000 matches worldwide for maximum coverage. Of course, with the World Cup going on, the team has gone the extra mile to cover every aspect of each match. This app has been available since 1998 and has only continued to get better with age.
However, the push notifications need to be improved. These notifications only update the scoreline without adding information about the goal scorer or assist provider.
Pros
Covers over 1000 matches worldwide
A special team of experts provides in-depth coverage of major fixtures
In-depth coverage of the FIFA World Cup 2022
Cons
Push notifications need to be improved and show more information to the user
Price: Free
7. FUT 23 Draft, Builder – For FIFA 23 Ultimate Team
FIFA 23 is the latest in a long line of sports simulation games. Moreover, its Ultimate Team, the online gameplay mode which allows you to create your own team and compete online, is one of the game's biggest draws. However, Ultimate Team has plenty of aspects that can be difficult for a beginner to understand.
One of these difficult aspects is the Ultimate Team Transfer Market. Just like in a real transfer market, players can sell or buy players for their team or complete objectives and challenges. More often than not, it's challenging to understand the trend that the market follows. From making a profit on each player sale to building your dream team, FUT 23 app from FUTBIN is the app you need.
The app keeps itself updated with various market trends, new player items, and the prices of each player card. Monitoring these trends is much easier, thanks to the live graphs available for each player card. This app also features a Squad Builder, which will give you information on player stats and chemistry when you put them into your team.
Overall, if you're a FIFA 23 Ultimate Team enthusiast, this is a must-download app for you. However, the player prices need to be updated more frequently in the app.
Pros
Covers every aspect of the FIFA 23 Ultimate Team Transfer Market
Squad Builder feature to see how well your dream team will work in-game
Perfect for beginners who want to understand the FIFA 23 Transfer Market
Cons
In-game player prices need more frequent updates
Price: Free (In-app purchases start at $1.99)
8. UEFA Gaming – Fantasy Football galore
Fantasy Football has come a long way since its initial days. With players all over the world making their fantasy football teams according to real-life matches, the segment has hit its peak. If you're a regular follower of UEFA competitions, then the UEFA Gaming app is worth looking into.
The game gives you a 100 million Euro budget to make a team of 15 Champions League players. These players can be from different teams or leagues. Based on the real-life performances of the players and their teams, you can change your lineup to score the maximum number of points.
Moreover, if you consider yourself a football visionary, you can even use the app's Predictor feature to see how well you'd score during the actual match. This Predictor feature is based on the form of real-life players and their team performances. The user interface is also quite easy to navigate, making the app a very enjoyable experience.
Nonetheless, there are a few issues with the app. Users have stated that changing captains and the transfer system often face glitches.
Pros
Fantasy Football for every UEFA Champions League Season
Player prices are updated based on real-life performances
Beautiful and elegant user interface
Cons
Minor glitches can hinder the user experience
Price: Free
9. UEFA.tv – For all things UEFA
Next on this list of the best football apps for iPhone, we have the UEFA.tv app. For lovers of all UEFA competitions, this app is extremely necessary. Not only does it feature a live broadcast of competitions such as UEFA Futsal, but it also provides match re-runs, live UEFA Draw coverage, and more!
Furthermore, if you want to know more about the competition's history, you can do so quite easily. The app features a vast video archive that provides access to older games. Excellent storytelling of older, classic matches is also provided by this app.
The only issue with the app is that of the push notifications interface. It needs to be more detailed.
Pros
Large video archive of classic matches and documentaries
Post-match highlights of the latest games are available
Covers every aspect of UEFA, from the Champions League to Futsal
Cons
Push notifications lack important details
Price: Free
10. BeSoccer – Worldwide competition coverage
BeSoccer is another football scoring app that will provide you with the usual features. From notifications and updates of live matches to fixtures and lineups, BeSoccer does it all. However, where it differentiates itself is in the sheer depth of coverage.
The app covers over 10,000 competitions worldwide. This not only includes matches, lineups, and scorelines, but also in-depth statistical coverage for each game. You can also follow your preferred teams and leagues. Additionally, this also includes video coverage to cement the stats that are shown in the app.
There's even a budding community for the app. This community comprises users all over the world who share their opinions on matches and provide predictions. Without a doubt, BeSoccer is one of the largest soccer database apps in the world, covering the game's biggest stars and the most successful of clubs. Lastly, you'll also find all live transfer news and updates at the tap of a button!
Although this app is truly filled with data for football lovers, I do have a single issue with it. I think that the user interface, though easy to use, is quite bland. This isn't a dealbreaker, but a bit more of polish could completely change the user experience!
Pros
Covers more than 10,000 competitions worldwide
In-depth statistical coverage for multiple games
Latest transfer news for your favorite clubs and leagues
Cons
The user interface, though easy to use, needs more polish and detailing
Price: Free
Summing up
With this, my list of the best football apps for iPhone comes to an end. What do you think of the list? Did I miss out on any of your favorite apps? If yes, let me know about them in the comment section below. I'll be sure to check them out!
Read more:
Readers like you help support iGeeksBlog. When you make a purchase using links on our site, we may earn an affiliate commission. Read Disclaimer.