With the latest iPhones being released, mobile gamers have been hankering for more gaming accessories to pair with their new iPhones. These accessories are designed to enhance the gaming experience of players. Bearing this in mind, here's my list of the best gaming cases for iPhone 13.
1. Otterbox – Editor's choice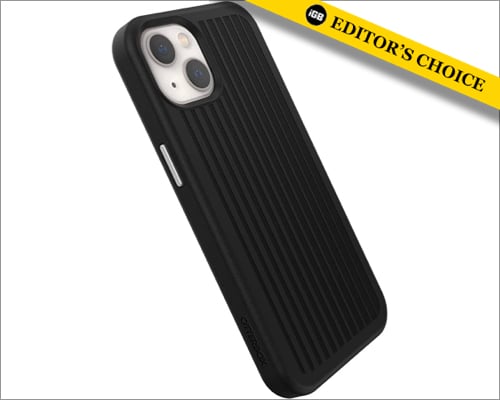 If you play games on your iPhone 13 for hours on end, you know there's a real chance of the phone overheating. This Otterbox gaming case is made especially for such scenarios.
The case has a sleek design that fits iPhone 13's ergonomics. This offers a firm grip and ensures your phone's buttons work as they should, without any extra force.
Further, the case has the patented CoolVergence technology. This makes the case's material perfect for dissipating heat. Hence, you will not face frame drags when playing your favorite fighting games on iPhone.
The exterior portion of the gaming case is also antimicrobial. Hence, the case is resistant to bacteria present on different surfaces, as well as the sweat that is produced when gaming for long hours. However, to take advantage of the case, you will have to spend big!
Pros
CoolVergence technology for heat dissipation
Antimicrobial
Sleek design
Check out on: Amazon | OTTERBOX
2. Razer Arctech – Designer gaming case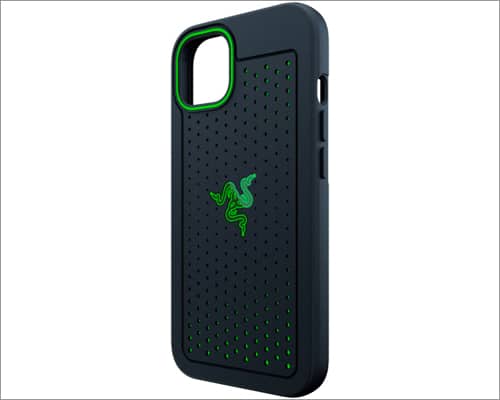 Razer is well versed in creating products meant for gaming, regardless of whether they're for consoles or mobile phones. And Razer's Arctech is a perfect case for the tech-savvy mobile gamer.
Apart from the sleek looks that we all associate Razer products with, Arctech has some serious advantages over its competition. The perforated design of the case allows it to provide better ventilation during extended hours of gaming.
The case also has side buttons that provide satisfying tactile feedback and don't feel mushy. The corners are reinforced with a polymer mix that further enhances the drop protection.
Since wireless charging and 5G phones are the future, the case is also future-proof. It's been designed keeping both aspects in mind, and you won't have any issues charging or operating the phone in such scenarios.
However, there's no raised bump to protect the screen when laying the screen side down.
Pros
Superb design
Perforated back for ventilation
Perfect for 5G and wireless charging
Cons
No raised bump for extra screen protection
3. Speck – Protective gaming case
If you spend hours playing the latest shooting games but suffer from a bad case of butterfingers, I think the Speck Presidio2 Grip could be your best investment.
Presidio2 Grip is made keeping protection in mind. Their patented Armor Cloud technology ensures that your phone is relatively safe even when it suffers a 4-meter drop!
Additionally, the back of the case has ridges that, while feeling comfortable to hold, also provide a good grip.
Even if your hands get sweaty, grimy, and dirty from intense gaming or just general usage, the phone case has Microban antimicrobial protection for keeping dangerous microbes away.
The older generations of this case had far more ridges, however, which resulted in a slightly better grip. This new iteration of the phone case does the job well but isn't as good as its predecessors.
Pros
Premium drop protection
Microban antimicrobial protection
Cons
The grip could've been better
4. CLCKR – Gaming case with built-in stand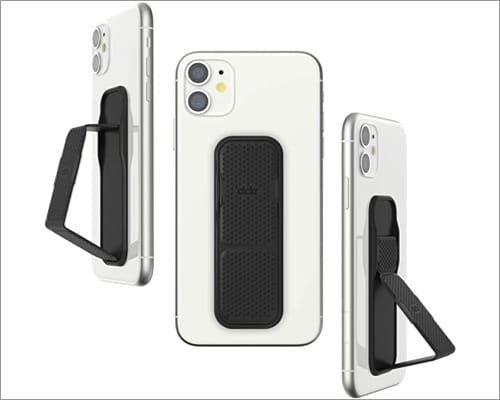 This is another gaming case for iPhone 13 focused solely on providing the best drop protection in case of a mishap.
The phone case comes with a grip at the back that you can strap to your hand. This is especially useful if you're walking on the streets searching for the latest Pokemon or standing in the crowded subway.
It also has a built-in stand to put the phone securely in any position. Now, you can position the phone on a table, attach another gaming accessory such as a screen magnifier, and enjoy your games from a distance that is comfortable for your eyes.
However, the adhesive used by the manufacturer doesn't seem to stay on for too long. I'd recommend using an adhesive of your own to keep the phone grip in place.
Pros
Strap at the back for extra grip
Built-in stand
Cons
Low-quality adhesive for the strap
5. GO-VOLMON – For vintage games lover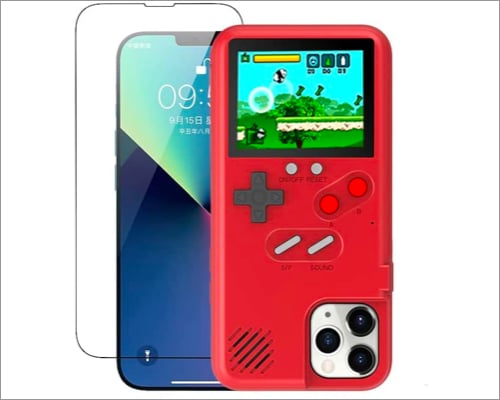 Retro games often bring us to a state of nostalgia, where we return to the roots of gaming. If you're a fan of vintage games and consoles, the GO-VOLMON GameBoy case is for you.
This phone case is different – it takes inspiration from the Nintendo console for 8-bit games. While the case itself provides substantial protection, the real draw is the smaller screen at the back, replete with buttons reminiscent of the classic handheld console.
You can play older games on the screen provided. Further, the case has a built-in battery as well. You will have to charge the case for gaming by using the micro-USB charging port provided.
The case itself is sturdy enough to withstand basic falls and bumps. Moreover, there are 36 vintage games built into the device. Now, you can play the classics that gave you the bug for gaming.
Pros
Retro design
Perfect for playing vintage games
36 built-in classic games
Decent build quality
Cons
Buttons at the back are slightly stiff
Bonus: GameSir X2 – Best gaming controller case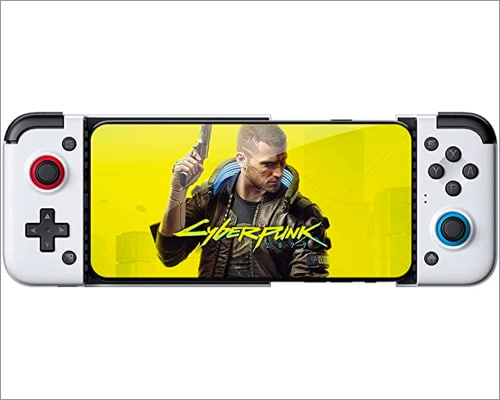 This gaming case is for those who want the best of both worlds. This case provides basic drop protection and is one of the best gaming experiences on the iPhone 13.
The case is mostly meant for gaming. As such, it's got support for most cloud gaming platforms such as Google Stadia and Shadow Cloud Gaming,
The case itself is stretchable and can be stretched to fit the size of most phones. The ergonomic design and soft rubber feel of the joypad on either side make for a comfortable hold as well.
You can connect the case with the Type C plug, which can adjust at acute angles. There's also a substantial gap provided to ensure the heat from the phone is dissipated during gaming.
This case is meant for gaming, so you can't expect it to survive falls from a height. Moreover, it's expensive. I'd recommend this case for those who want some surface-level protection and are looking for a good mobile gaming controller.
Pros
Great as a gaming controller
Has support for Cloud gaming
Good ergonomics
Cons
Provides basic protection in case of drops and bumps
Expensive
Ready, steady, game!
We're now at a point in time, technologically, where our mobile phone cases provide more than just basic protection to our devices. I've tried to include various options for those who want something more specific.
Did you like my list of the best gaming cases for iPhone 13? What list would you like to see next? Let me know in the comment section below!
Read more:
Readers like you help support iGeeksBlog. When you make a purchase using links on our site, we may earn an affiliate commission. Read more.
Anirban is a literature post-grad who delves in philosophy and postmodern novels when not writing on tech and gaming. His love for research is only trumped by his love for chai and heavy metal.