With the rise of mobile gaming, gaming accessories for your mobile phone have also become important buys. There are various accessories available for you to buy in different categories. I understand that this can get confusing, and I have curated a list of the best gaming accessories for iPhone.
The accessories are the best bang for their buck in their respective categories. Let's dive in.
1. Razer Kishi – Best controller for iPhone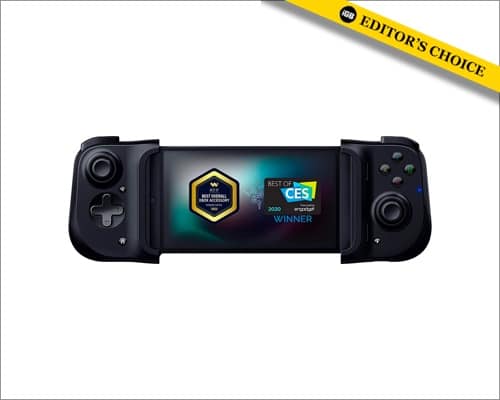 If you're on the lookout for a great gamepad or controller for your iPhone, Razer Kishi is the one!
The design of this controller is future-proof. The two sides are attached to the back panels and are slideable. This means that even if your new iPhone is bigger, you can still use this controller for gaming. Moreover, the gamepad design is inspired by Nintendo Switch's Joy-Con.
The stylizations are similar to the new Xbox controller, and you'll find absolutely no issues adjusting the controller for new games. There's support for Xbox Game Pass as well.
Moreover, the controller is light enough not to add too much weight to the phone. Despite the lightweight, the controller's build is sturdy enough not to feel flimsy or breakable. Also, it's easy to carry around!
With all these features, it's pretty easy to guess that this controller is expensive. This is the only con I could find with the product. However, if you pay the big bucks, you'll be getting your money's worth.
2. Nintendo Switch Joy-Con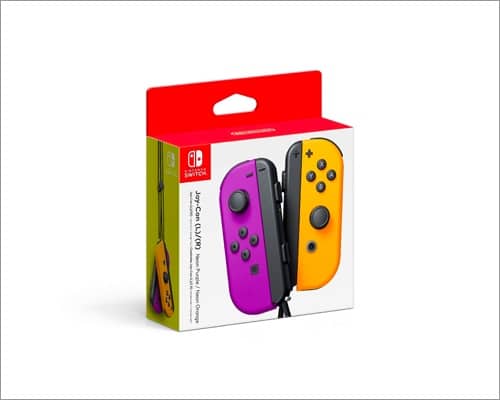 The Nintendo Joy-Cons are dual controllers that are packed together with the Nintendo Switch console. Thanks to the Nintendo Switch's hybrid system, you can either dock the Nintendo Switch for use on a bigger screen, or use its portability factor for fun gaming on the go.
However, quite a few gamers are unaware that with the latest iOS 16 update for iPhones, the Nintendo Joy-Cons can also be paired with your iPhone for gaming. Considering the fact that the mobile gaming scene is getting more advanced with online games such as Call of Duty: Mobile and the Asphalt series, the touch controls for iPhone gaming aren't the most conducive to a better gaming experience.
These touch controls often become an impediment to the graphical fidelity and screen space that's required with the latest games. Moreover, they're not the best when it comes to providing you with a level of control. By pairing one or both controllers to your iPhone, the device will recognize the Joy-Cons as a single controller and allow you to play your games without the impediment of the touch controls.
So, if you've got a Nintendo Switch lying around the house and want to elevate your mobile gaming experience, pair the Nintendo Joy-Cons with your iPhone today!
3. BENGOO G9000 Headset – Best budget gaming headset for iPhone
If you seriously want to get into mobile gaming or want the ultimate experience, you'll need to invest in a good headset. Thankfully, the BENGOO G9000 Headset has you covered.
The first thing that catches your eye about the headset is its design. The headset looks ergonomic, sleek and is made for tech-savvy gamers. The futuristic looks of the headset, including the lighting, enhance the immersion.
The noise isolation, bass, and ambient noise enhancement capabilities of the headset make this a perfect companion for shooter games like Call of Duty Mobile and PUBG Mobile. You'll be able to hear bullets whizz past you and the footsteps of enemies near you.
For more advantages on the battlefield, the noise-isolating microphones will allow you to receive and deliver messages with crystal clarity. Simply said, this headset is almost a cheat code in gaming.
The only caveat is that it's made for beginners or intermediate gamers. If you're an enthusiast, you're better off spending a few more dollars.
4. Merge VR/AR Headset – Best VR headset for iPhone
VR Experiences are still popular, with multiple new games for both consoles and mobiles being released recently. Whether you play the latest fighting games or spend time with your loved ones through family games, Merge VR Headset has you covered.
First off, the design of the headset is user-friendly. It's built of foam, resistant to wear and tear. It's also lightweight, ensuring your kids can experience their favorite AR games easily.
Secondly, there's a neat slot for phones, and it's future-proof as newer iPhones will also fit into this. Two buttons on the sides of the headset control both the lens-eye distance and the interactive experience of games.
Best of all, you can access all the iPhone-compatible apps through the Merge Miniverse, the company's portal for gaming. From education games to the latest mobile games, there's access to plenty of content.
A caveat of this headset is that it may not be compatible with different kinds of spectacle frames. I'd recommend you to try it before you buy it.
5. Serafim Steering Wheel – Best for racing games on iPhone
Racing games on iPhone are aplenty, and some of them provide a proper racing simulation experience. The Serafim Steering Wheel is precisely for these games.
This steering wheel brings everything – from the pedals to a phone holder on the steering wheel. While it also works with major console games, it's also been specifically designed with mobile games in mind.
The steering wheel comes with a one-year warranty. Moreover, its build quality is something to brag about. Don't worry about stepping on the pedals too hard. The entire ensemble is made to be pushed to the limits.
The double vibration motors do a great job of making you feel the power of the in-game car's engines. The X-input and D-input are standardized as well. Overall, this is a steering wheel covering all bases.
However, this steering wheel is good only for entry-level players. Pro-players might not find this to their liking.
6. Dizaul 3D Screen Magnifier – Best iPhone screen amplifier
Screen magnifiers are important for those who want more control in their mobile gaming experience.
Sometimes, the smaller screens of phones don't do a good job of showing the game in all its glory. Moreover, playing mobile games for too long can be detrimental to your eyesight.
The 3D screen magnifier is a good choice for those who want to put less stress on their eyes while enjoying the mobile game as if they were playing a console game.
The screen itself is foldable, which makes it highly portable. It's got a curved shape that works well for panoramic fields of view. The build quality is above average and can sustain a substantial amount of wear and tear.
Unfortunately, the screen magnifier is suitable only for one to two people. Don't expect to watch a movie with your family through this screen.
7. Altec Lansing BattelGrip Mobile Controller – Best for shooting games
Good controllers meant specifically for certain game genres can be difficult to find. If you're into shooting games, the BattleGrip Mobile Controller should be a must-buy for you.
The controller features two triggers on either side for easier control. Triggers can be customized for specific actions, and the placement makes it easier for actions such as shooting and reloading.
There's also a silent cooling fan attached to the controller. Shooting games can be heavy on the phone and lead to heating issues. The cooling fan ensures that the temperatures remain favorable for extended gaming hours.
I wish they bettered the build quality, however. The material, while durable for small knicks and bumps, may be unable to stand bigger falls.
8. Altec Lansing Charging Pad – Best charging pad for iPhones
This is another product by Altec Lansing that can enhance your gaming experience.
We know that gaming can be a heavy task for phones. With the latest games having superior graphics and intense gameplay, the phone may run out of charge quickly.
This is why a wireless charging pad can be a useful tool. The Altec Lansing Charging Pad doesn't take up too much space. Moreover, it's small enough for you to miss it when holding the phone.
This ensures that your gaming isn't interrupted. The suction cup grip allows the pad to stick to the back of the phone, and the material doesn't interfere with charging even if you use a phone case. More importantly, it has a 10W charging capacity. While this doesn't sound like much, the charging is fast and efficient.
The charging pad also features a ring stand that can keep the phone at certain angles. However, the ring stand seems flimsy, so I'd recommend caution when using it.
9. Vakili Touch Screen Joypad – Best on-screen joypad for iPhones
Gaming controllers can be a hassle when you prefer something much smaller. On-screen controllers can be your go-to accessory for gaming if this is the case for you.
The Vakili Touch Screen Joypad is perfect for those who don't want to spend too much on a controller. The small form factor allows you to attach the controller to the screen, especially in those areas where the on-screen controls are present.
There's no additional pattern to increase the size of the joypad, and it can stick to the surface of the screen without causing any damage.
It's especially useful for racing and shooting games as you have to control the direction.
Unfortunately, you cannot add any more functionality to this controller. You cannot sprint with this controller in games where the sprint function is present.
10. MGC Clawsocks – Best finger sleeves for iPhone gaming
When you play competitive online games, especially the likes of Call of Duty Mobile, you'll notice that there is a lag when you drag the camera from one extreme angle to another.
Often, this drag can cost your gaming experience. This is why the MGC Clawsocks are an important buy for you. Not only do they protect your fingers, but also reduce this lag to an almost frictionless situation.
It's also thin enough to have sensitivity in your fingers and does not interfere with the mobile screen's sensitivity. Even if your fingers have dirt or oil, these finger sleeves will ensure that you have smooth gameplay with uninterrupted touch sensitivity.
My only issue with the sleeves is that the strings may unravel after extended usage. While this doesn't impact the gameplay much, it can be annoying.
11. IFYOO Z108 Mobile Controller – Best budget alternative for shooting games
If you want to improve your experience at shooting games and have budget restrictions, the IFYOO Z108 controller is a good alternative.
The controller uses a clip-on system that protects your screen from scratches. It's also compatible with a variety of screen protectors and phone cases.
Apart from the fact that the controller uses the lowest amount of your screen space, it also helps you avoid accidental button presses on the side of your phone. Moreover, the buttons are customizable.
The low latency feedback allows you to exercise quicker reactions when you're in the middle of an intense gunfight.
My only issue with the controller is that it isn't durable. The ABS plastic material may not withstand high wear and tear.
12. LucBuy Mobile phone case – Best phone case for retro games
Retro games can transport us into the past, into an era of vintage gaming. If you want the truest feel of playing these games, you have to try the retro phone case by LucBuy.
The phone case is designed to represent the classic GameBoy cases. There's plenty to choose from, depending on the device you use.
There are 36 categories of retro games to choose from. Whether you prefer Mario or Sonic the Hedgehog, there's content for everyone to try. All these games can be played at the back of your phone, as the case comes with a colored screen and the usual GameBoy button design.
The case itself is stated to be dustproof, shockproof, and scratch-resistant. It also comes in a variety of eye-catching colors.
You can also power the case by connecting it to your phone. The case will draw the battery from your phone. This guarantees extended gaming times. If you're a connoisseur of older video games, this phone case is a must-buy.
A con of this phone case would be that it adds a fair bulk to the phone. So, if you don't like a phone case that weighs too much, you might have to sacrifice the retro gaming.
Summing up!
Mobile gaming is now considered a serious e-sporting phenomenon. If you're an aspiring or budding mobile gamer, I hope you've liked this list of the best gaming accessories for the iPhone.
Since we're on the topic, where do you think mobile gaming is headed? Are there going to be new games or genres apart from the usual shooting games and MMORPGs? Let me know what you think in the comments!
In case you missed!
Anirban is a literature post-grad who delves in philosophy and postmodern novels when not writing on tech and gaming. His love for research is only trumped by his love for chai and heavy metal.