Apple's over-ear headphones, AirPods Max, have created quite a stir since their launch. While the headphones offer a high-end listening experience, you can further optimize and make them even better with their unique accessories.
If you are wondering which ones are right, this article is for you! Check out my top picks for the best AirPods Max accessories.
Headphone stands for AirPods Max
1. Uppercase Zero – Minimal stand for AirPods Max
Whether you're a music lover, gaming enthusiast, or home decor fan, this headphone stand is for you. It tidily holds your AirPods Max to keep things organized and add a refined touch to your workspace.
Moreover, there's no assembling required, and it's got a sturdy build that won't tip over. Designed and made in California, it consists of premium matte anodized aluminum and a silicone grip that stays in place and does not scratch surfaces.
Overall, it's an ideal addition to your studio, office, or living space.
Check out on: Uppercase | Amazon
2. Anchor Pro – Under-desk headphone mount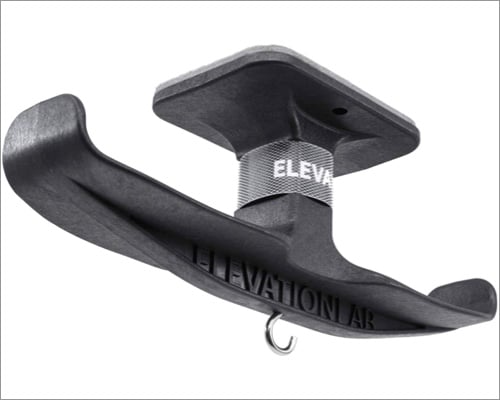 When you have too much clutter on your desk and no space for your AirPods Max or its stand, the Anchor Pro mount is the way to go. Thanks to an ultra-strong custom 3M VHB adhesive, it firmly sticks to the desk.
The premium glass-reinforced composite body can easily manage the weight of your headphones. Plus, the built-in velcro StowStarp enables mess-free cord management. And if the adhesive is not your jam, it also includes an optional screw mounting.
Check out on: Elevation Lab | Amazon
Cases for AirPods Max
3. WaterField Shield case – Luxe cover for AirPods Max
The Shield case is one of the best AirPods Max cases. It looks luxurious, offers a soft cashmere-like lining, three-layered protection, and even a magnetic butterfly tab that seamlessly puts the headphones in low-power mode.
There's also a smart zipper pocket on the outside and an inside mesh pocket to store your charging adapter, cable, and other accessories. Best of all, it is available in various colors and even non-leather, vegan-friendly variants.
4. co2CREA hard case – Travel-friendly AirPods Max case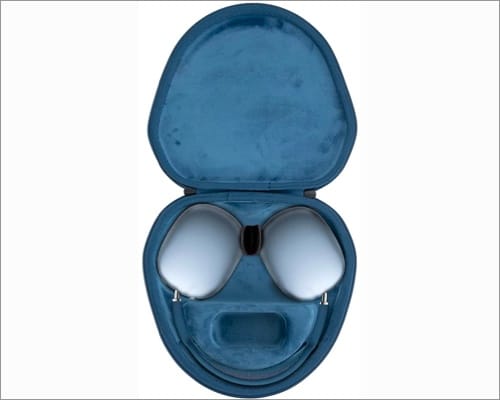 co2CREA is designed for users who travel or commute a lot and love to carry their AirPods Max with them. The outer EVA shell is shockproof, dustproof, water-resistant. Further, it boasts a strong zipper and soft anti-static lining.
So, you don't have to worry about drops, scratches, bumps, splash, or dust. And since it is an AirPods Max-exclusive case, we also get a magnetic tag for low-power mode, similar to the original Apple case.
5. Geekria UltraShell case – Budget-friendly cover for AirPods Max
Carry your AirPods Max or other headphones with ease in this engineered ultra-hard shell case that protects against drops, impacts, or crushes. It's got a handy interior mesh pocket to store cables, cords, chargers, adaptors, etc.
It's been carefully designed to fit your AirPods Max with Smart Case. Plus, the grey color looks sleek and classy. Moreover, the brand promises a return or refund if there are quality issues.
Check out on: Amazon
Headband cushions for AirPods Max
6. Seltureone silicone headband cushion – Sweatproof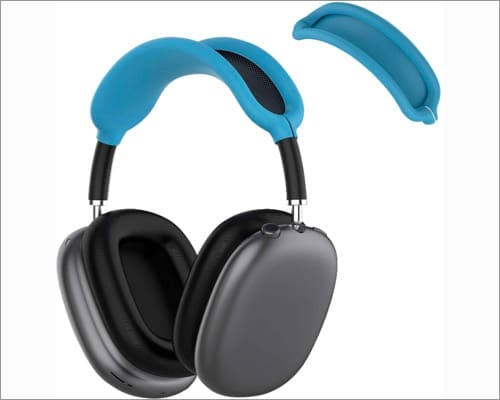 Crafted from super strength silicone rubber, the Seltureone headband cushion protects the AirPods Max's knit mesh from dust, dirt, and sweat. It also keeps scratches, dints, and other wear and tears at bay.
It is super easy to install and remove, durable, and won't deform in the long run. Moreover, it is completely washable, so whenever there is some dirt or to avoid germs, you can clean it up easily.
Earcup cushions for AirPods Max
7. Apple AirPods Max ear cushions – Best of the lot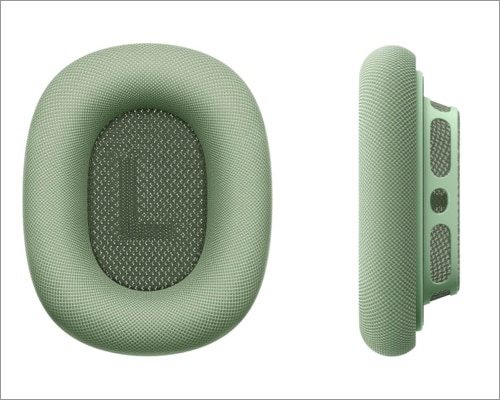 While there are a few great options but ain't nobody like Apple's original, for one, you'll get the exact matching color, and most importantly, there won't be any compromise whatsoever in sound output or noise cancellation.
The only issue here is the price point. But if you are ok with some compromise in sound, check out our list of ear cushions replacements for a more budgeted option.
8. Seltureone earcup cover – Protective cover for your existing cushion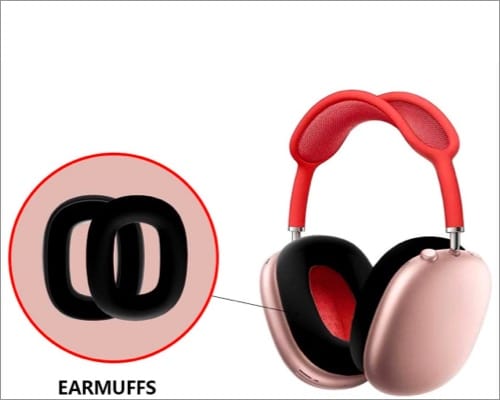 Ear cushions are probably the weakest point of over-ear headphones. They collect dust, dirt, sweat, germs, and more. Further, regular use takes a toll, wearing and tearing them. And the best way to protect is to put a ring on them.
An earmuff-like ring that will protect them from all the evils mentioned above. And since it is easily and completely washable, you can get rid of dust and germs regularly. Most importantly, it's way cheaper than investing in new ear cushions.
Earcup covers for AirPods Max
9. Spigen Urban Fit – Knit covers for AirPods Max earcup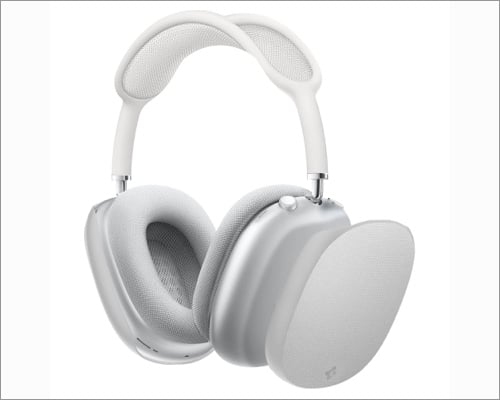 While I love the metallic feel of earcups, it is prone to scratches, scuff marks, and more. So it's better to cover them. Spigen's knit design covers are amazing, from texture to protection and application.
The simple snap-on design is easy to install. The precise cutouts ensure the noise control and digital crown functions are not hampered. And best of all, the lightweight cups do not add any bulk and minimize daily scuffs.
10. QingQing silicone earpads cup – Add some funk to your AirPods Max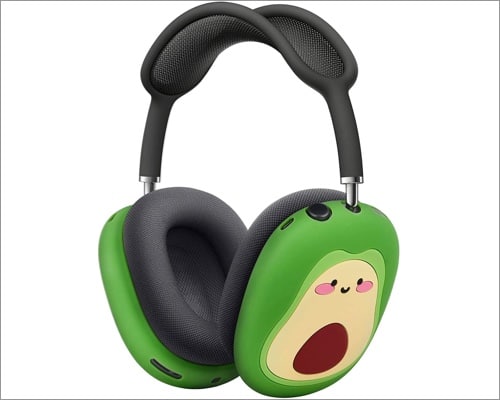 When covering AirPod Max's earcup, you can either choose a matching color, transparent case, or take the high-way with a funny, cute, and certainly attractive case like this one. And whether there's avocado toast on the menu or not, there's surely avocado on your headphones.
And if that's not your jam QingQing has some fun gaming console-inspired designs that you can bag. Moreover, the soft silicone promises protection against drops and scratches and easy access to the digital crown and all ports.
Charging accessories for AirPods Max
11. Apple USB-C power adapter – Budgeted AirPods Max charger
The premium AirPods Max comes with a lightning charging cable in the box but not with a power adaptor. So, if you need it, grab this 20W one from Apple that's super handy. It offers fast, efficient charging at home, in the office, or on the go.
It's small and portable to carry wherever you go. Moreover, since it is from Apple itself, you can rest assured about quality and safety. Therefore, it's an essential accessory to add to your collection for reliable charging anytime.
Check out on: Apple | Best Buy
12. Anker PowerCore power bank – For on-the-go users
Check out one of the slimmest and lightest 10,000mAh portable chargers for your AirPods Max. The exclusive PowerIQ and VoltageBoost technology combine to deliver the fastest possible charge for your headphones.
Further, it boasts an 11-point safety system, providing superior protection for you and your devices. With a sleek matte exterior and cool-blue LED light to report battery level, PowerCore Slim 10,000 is premium both inside and out.
13. Anker PowerLine II – 6ft USB-C to lightning back up
You get a lightning cable in the box, but it's always good to have a spare one. This sturdy cable from Anker is six feet long and MFi-certified. It withstands over 12,000 bends in strict laboratory tests to the last 12× longer than other cables.
In fact, it comes with a lifetime warranty so that you can buy it with confidence. MFi certification and strict quality testing ensure your Apple devices are charged safely, at their fastest possible speed, without any risks of damage.
Bluetooth dongle for AirPods Max
14. Twelve South AirFly Pro – Best accessory for frequent flyers
Here's a higher-end option for those who need to connect their headphones into 3.5mm ports. The AirFly Pro wirelessly connects to your AirPods Max for a cable-free, efficient listening experience on any audio system.
It boasts a battery life of 16+ hours to come in handy even on the longest flights. Moreover, if you forget to charge before taking off, this nifty little gadget can also be used while charging with the included cable.
Check out on: Apple | Amazon | Twelve South
AUX cable for AirPods Max
15. Apple lightning to 3.5mm audio cable – For a wired experience
Here's a nifty little device for when you need to connect your AirPods Max to a 3.5mm port on an airplane or someplace else. And while there might be a few budgeted options, Apple's original undoubtedly performs the best.
Simply plug the cable's lightning end into your headphones and insert the 3.5mm jack into the port on any audio output system. Then, enjoy a premium listening
So these were the essential AirPods Max accessories that you need to make the most of your premium headphones. Don't forget to check out our comparison of the AirPods Max with other premium frontrunners.
Do you know your AirPods Max inside out? If not, read these articles:
Readers like you help support iGeeksBlog. When you make a purchase using links on our site, we may earn an affiliate commission. Read Disclaimer.