Apps are an integral part of our smartphones. Over time, they generate valuable data like chats, your game progress, etc. When we switch to a new phone, the usual backups may not include all data. It especially stands true for WhatsApp. This is where AppTrans comes in as a savior.

Developed by iMobie, AppTrans claims to be the world's first free data transfer solution for iOS & Android app data transfer. We have reviewed multiple apps by iMobie like PhoneTrans previously and generally loved their products. But will AppTrans continue the legacy?
Let's find out!
AppTrans: A multipurpose app for data transfer
AppTrans is a pretty nifty and powerful tool that works cross-platform. It comes in handy when switching from one iPhone to another iPhone or Android handset and vice-versa.
Besides, if you have ever felt an app misbehaving after an update or the developer removed a particular feature that you loved, AppTrans offers a way out! It lets you easily back up the app installation package, which can be used to install later.
Let us learn more about all the features and briefly see how to use them.
Primary features of AppTrans for Mac
When you launch the app, you see four options neatly mentioned in the left sidebar – App Transfer, App Restore, App Backup, App Install. Here's more on them.
Transfer apps effortlessly
When you select this, you have two options:
Transfer apps and their data to another phone (iPhone to another iPhone. Or Android to another Android).
Transfer apps and their data to your computer.


App Transfer ensures that you save time, internet data, and efforts involved in searching your favorite apps individually. Simply initiate the app data transfer process from the old iPhone to the new, and you are good to go.
The process is straightforward.
Select App Transfer from the left sidebar.
Next, choose one of the two options.
Click Transfer Now, and choose the apps you wish to transfer.
If you wish to transfer the app data, check the App Data box at the bottom right.
Finally, authorize securely using your Apple ID when prompted and turn off Find My iPhone.
Back up apps and restore when needed
We often mention that regular backups provide peace of mind and come in handy during unexpected device failure, reset, erase, etc. AppTrans takes it further by letting you backup all or selected apps and their data to your computer. This can be used to restore when needed.
Here's how you can do it.
Choose App Backup at the left sidebar.
Ensure the connected source device is correct.
Click Back Up Now, select all, or desired apps (and their app data).
Click Back Up Now.
Restore Backup: The App Restore tab lets you restore AppTrans Backup made using the steps above. You can also use iTunes or WhatsApp backup from Google Drive.
For this, choose App Restore at the left sidebar → Restore (below one of the three options. I am choosing AppTrans Backup) → select a backup and click Restore → Restore → select all, or desired apps and app data → follow the popups (saying turn off Find My, etc.) and initiate the restore process.
Use AppTrans for app installation
Another handy trick that AppTrans has is it can install .ipa files on your iPhone and iPad. This means if your favorite app is removed from the App Store (like Flappy Bird or AdSense), you can use AppTrans to install it as long as you have the .ipa file of that app.
For instance, in my country, TikTok is not available on the App Store. I downloaded its .ipa file from the internet and used AppTrans to install it on my iPhone. The process was quick.
Go to AppTrans → select App Install at the left sidebar → click Install Now → add files → select the .ipa file from your computer → click Open. AppTrans will install the app on your iPhone in no time.
But that's not it! The app has another lucrative option – transferring WhatsApp chats and data to cross-platforms. Let's look at it.
Supercharge your WhatsApp chats and data transfer
More than a billion people actively use WhatsApp, making it one of the most popular messaging services. We often have essential conversations on this platform worth preserving for memory, proof, or just revisiting sometime later.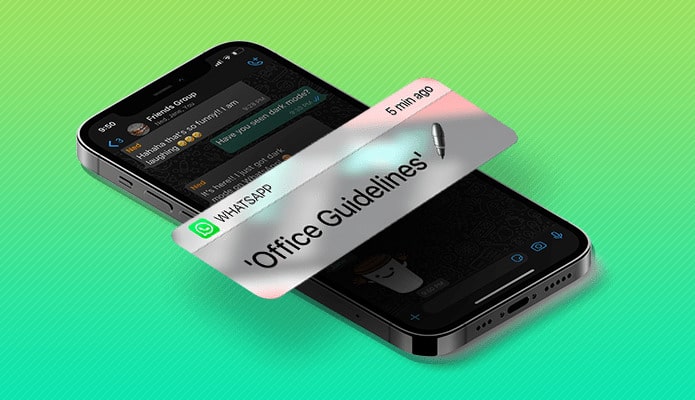 Hence, it is vital to ensure that the chats and data are safe if you switch phones. And by phones, I mean even if you migrate from iPhone to Android or vice versa!
Officially, WhatsApp does not let you restore cloud chat backups on a different platform. But, surprisingly (and unheard before), thanks to AppTrans' cross-platform support, you can easily transfer as well as restore WhatsApp data backup from one OS to another!
Additionally, the restored chats do not overwrite the data but merge them with existing conversations. Further, you can preview and print this data. Super thoughtful!
Note: If you use 2FA for Google Account, you will have to turn it off temporarily.
Some other noteworthy highlights of AppTrans
In addition to the above feature set, here are some other noteworthy features that make AppTrans an excellent piece of software.
Your backup files are saved locally on your computer. This ensures that none of it is backed to the cloud or compromised in any way.
When you log in to your Apple ID (needed for some tasks), AppTrans supports two-factor authentication for added protection.
AppTrans protects you with SSL-256 encryption right from when you begin using it. Neat!
And finally, it is worth mentioning that the creators of AppTrans are Certified Developers recognized by both Apple and Microsoft.
Note: Some features related to Android phones, like support for other apps' backup, are coming soon. Check out their app homepage to learn more about this.
Is AppTrans worth it? Our verdict
Let's be honest! Despite being an essential task, backing up is not something that you or I enjoy. But AppTrans tries to simplify the process and ensures that even a novice can back up their app data.

The moment you launch the app, you will be pleased with its simplicity. Clean feature icons on the left, nice animations during ongoing tasks, ease of use, instructions when needed (for example, how to trust or turn off Find My iPhone), etc. All these exhibits that the developers have put in a lot of thought to build this software.

Suggestions: AppTrans can improve by cutting down the time it takes to transfer or make backups. Secondly, on rare occasions, the task fails. I have to retry. It would be excellent to see these two queries addressed via an update.
Final words: In addition to being a fine app manager, the ability to transfer WhatsApp chats and data even across operating systems is what makes it worth investing in. We often get various questions on our social channels from first-time iPhone users who are switching from Android. Now, there is a service worth recommending to them.

Price: Free
For cross-OS app and data transfer, you must buy a pro plan;
3-Month Plan (2 Devices/1 Mac): $35.99
1 Year Plan (5 Devices/1 Mac): $39.99
Lifetime Plan (5 Devices/1 Mac): $69.99
You may also like to read:
Readers like you help support iGeeksBlog. When you make a purchase using links on our site, we may earn an affiliate commission. Read Disclaimer.