iOS 17 offers a handful of new features alongside useful upgrades to system apps including Phone, iMessage, and FaceTime. Apart from that, Apple has also rolled out many new user-requested features for Apple Music in iOS 17.
If you're an avid Apple Music user, it's natural to be excited about these new features in iOS 17. So, here's everything that you need to know about them.
How to use Crossfade in Apple Music in iOS 17
One of the first major new features introduced to Apple Music with iOS 17 is the ability to use Crossfade. It facilitates smooth transition from one song to another and is a highly sought-out feature already offered by Spotify and many other music streaming services. Apple states that Crossfade will let users smoothly transition between songs so that the music never stops.
It's very easy to enable crossfade from the Settings app on iPhone or iPad models that supports iOS 17 and iPadOS 17. However, if you still need help with enabling crossfade on your device, follow the steps mentioned below.
Open the Settings app on your iPhone.
Tap Music → Toggle on Crossfade.
Use the slider to adjust the length of crossfade between songs.
You can go as low as 1 second or as high as 12 seconds.


Collaborative Playlists in Apple Music
Yet another new feature mentioned by Apple, which will become available in Apple Music later this year, is the ability to create Collaborative Playlists with your friends and family. However, details relating to this new feature are still scarce, as Apple has only revealed a single screenshot of it.
A closer look at the aforementioned screenshot reveals four people working on a Collaborative Playlist. It shows a handful of tracks and a profile picture of the person who added the track. Moreover, there's also a button-up top, which could be an option for adding and removing people in the playlist.
There's also a new update to ‌Apple Music‌ that will revamp your SharePlay and CarPlay music listening experience. With iOS 17, SharePlay is now built into CarPlay, allowing even the passengers in the backseat to add tracks to a queue or play/pause and skip a track, quite reminiscent of the AUX cable.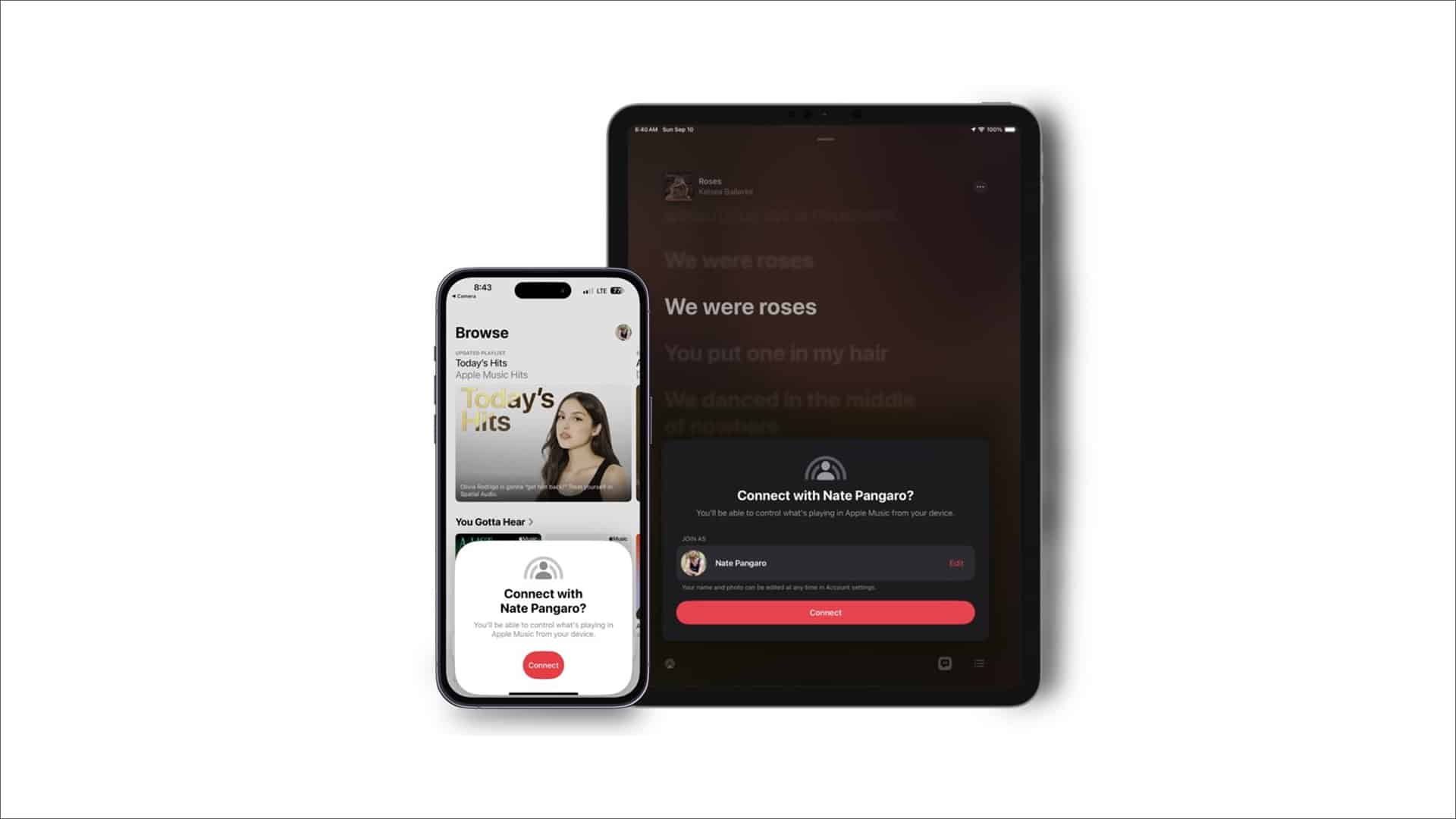 Whenever you start a SharePlay session with CarPlay, other nearby Apple devices running iOS 17 or iPadOS 17 can join the session by simply tapping a notification on the lock screen or scanning a QR code. Moreover, this even works when the passengers don't have an active Apple Music subscription.
Ability to view song credits in Apple Music
Yet another useful feature that any music aficionado would appreciate in Apple Music app on iOS 17 is the ability to view song credits. The new Credits page displays information about all of the performing artists, composition artists, producers, lyricists and sound engineers who worked on the song.
Here's how you can view song credits in Apple Music on your iPhone or iPad:
Open the Music app on iPhone or iPad.
Tap the three-dot icon next to the song in question.
From the pop-up menu that appears, select View Credits.


Other Apple Music features and UI changes
Besides the changes listed above, Apple has also silently rolled out other minor features and UI improvements for the Music app. Apple Music has updated AirPlay to support Dolby Atmos for high-fidelity streaming. Plus, there's also a new star icon on the Artist page that offers a way to favorite the artist and receive notification about new release, live shows and more.
As far as the new UI changes are concerned, the music player now features a full-screen, animated album artwork, and the tracks that used to offer lyrics that aren't time-synced now feature a bigger and more legible font. Moreover, the minimized version of the music player now floats over the ‌Apple Music‌ interface, unlike iOS 16, where the two elements were merged.
Wrapping up…
All in all, iOS 17 doesn't bring a drastic overhaul to the Apple Music interface. Instead, Apple has focused on quality-of-life improvements that enable a better listening experience for users, sprinkled with subtle visual changes. Let us know which feature did you liked the most in the comments section.
Read more:
Ayush is a tech enthusiast turned tech journalist and how-to writer with a knack for explaining complex topics clearly and concisely. When he's not writing, you can find him studying the latest trends in consumer technology, binge-watching videos from his favorite tech YouTubers, or diving into immersive open-world games.