The GPS navigation app is among the most used applications daily. So, all information must be accurate, reliable, and easy to access. There are two big players in this vertical: Apple Maps and Google Maps. I have used and analyzed both apps and made a detailed comparison of Apple Maps vs. Google Maps. Let's see who wins!
Key differences between Apple Maps and Google Maps
Online maps provide suggestions for exploring new places, avoiding traffic jams, finding the right public transportation, etc. We're comparing the two most popular navigation apps out there. However, neither of them can be deemed perfect. Therefore, it's tough to decide: is Apple Maps better than Google Maps for iPhone users?
Apple Maps made its debut in 2012 and failed to merge different data sources into a single map app initially. However, after much trial and error, it has started challenging Google in terms of user experience, feature set, and map detail. Though it comes pre-installed on iPhones, Google Maps has the first-mover advantage. In fact, it's an endless debate.
So, before taking a deep dive, let's get an overview of what both apps offer and where they can improve upon.
Apple Maps
Google Maps
Pros
✅ 3D Look Around feature
✅ Effective lane guidance and speed limit display
✅ The navigation screen is free of distractions
✅ Check the air quality and temperature
✅ Privacy focused

✅ Advance voice search
✅ Accurate directions
✅ Real-time traffic updates
✅ Good for online usage
✅ Explore local places of interest
✅ Download offline maps and directions


Cons
❌ Can't download maps offline
❌ No internal location directions
❌ Doesn't offer much information on locations
❌ Lack of data privacy
❌ Offline maps need ample storage
❌ Street views not updated regularly

Quite a tug of war between both, isn't it? Let me break it down and help you decide. Keep reading!
1. Map design and interface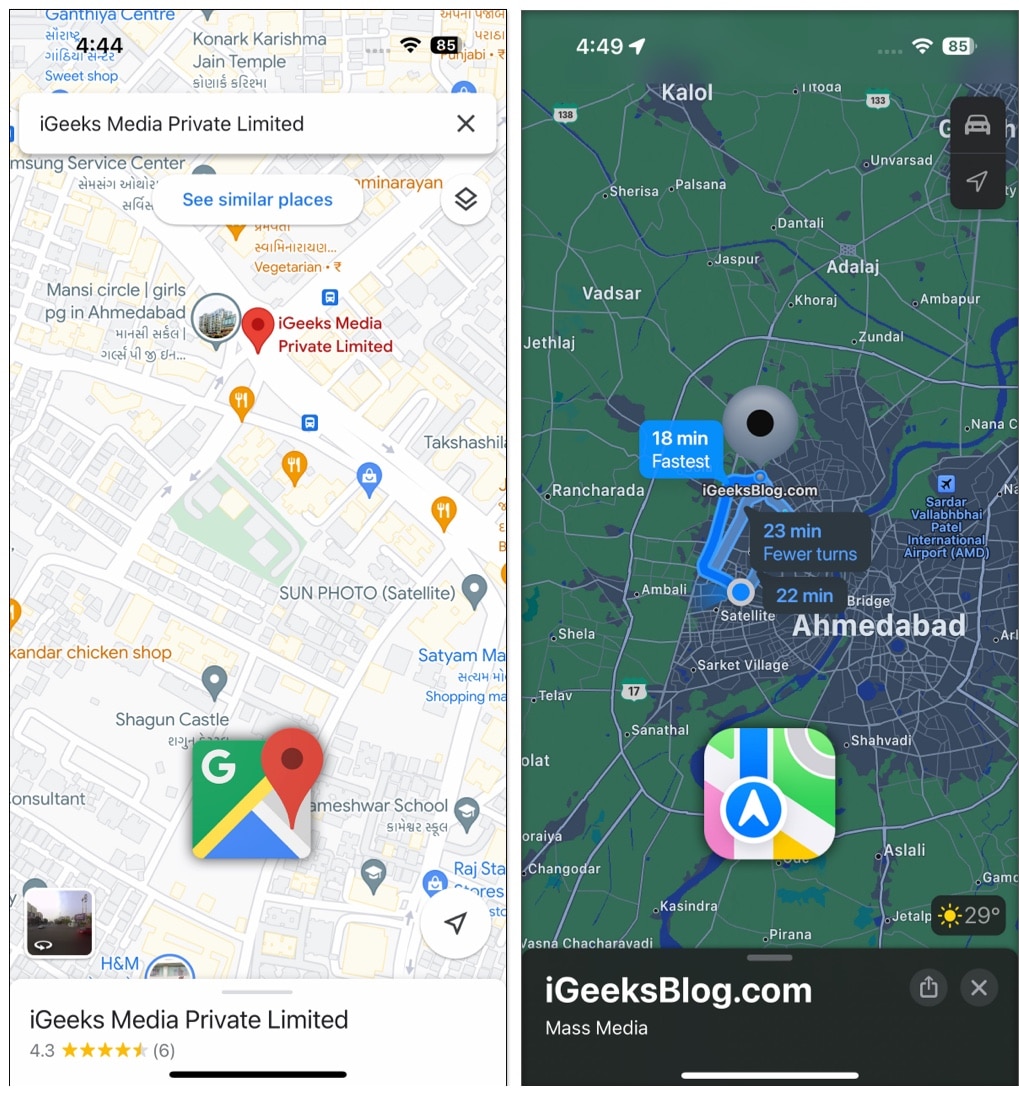 It goes without saying that a navigation app should be clean, simple, and easy to read so that everyone can understand the directions and instructions properly. In this term, Apple Maps is the clear winner. Let me tell you why.
Apple Maps offers a straightforward and clear interface. All the features are concealed under the search bar at the bottom. Furthermore, the UI has subdued tones for the backdrop, highlighted routes, and a distinguishing Go button that makes it stand out. On iPhone 14 Pro models, it shows instructions on the new always-on-display and Dynamic Island.
On the other hand, Google Maps has a lot on its interface that blocks the actual map view. Also, all the features placed here and a bit are confusing. You will notice streets and backdrops are more vivid. It uses greens and greys to differentiate between nature and urban regions. Yellow and red colors highlight key roads and busy areas.
The shortcuts, like Restaurants, Shopping, etc., under the search bar, are helpful. You'll find a menu of the Explore and Contribute tabs at the bottom to discover new areas. Additionally, the Lock Screen widget allows for pinning trips and quickly searching. So, if you want a wholesome experience jam-packed with features, Google Maps is for you.
The only significant difference is the amount of extra information shown, including businesses, minor road names, etc. So, both applications provide the necessary information, but Apple's less-is-more approach is considerably easier on the eyes. Also, the additional information and vibrant icons in Google Maps may sometimes be irritating.
2. Accuracy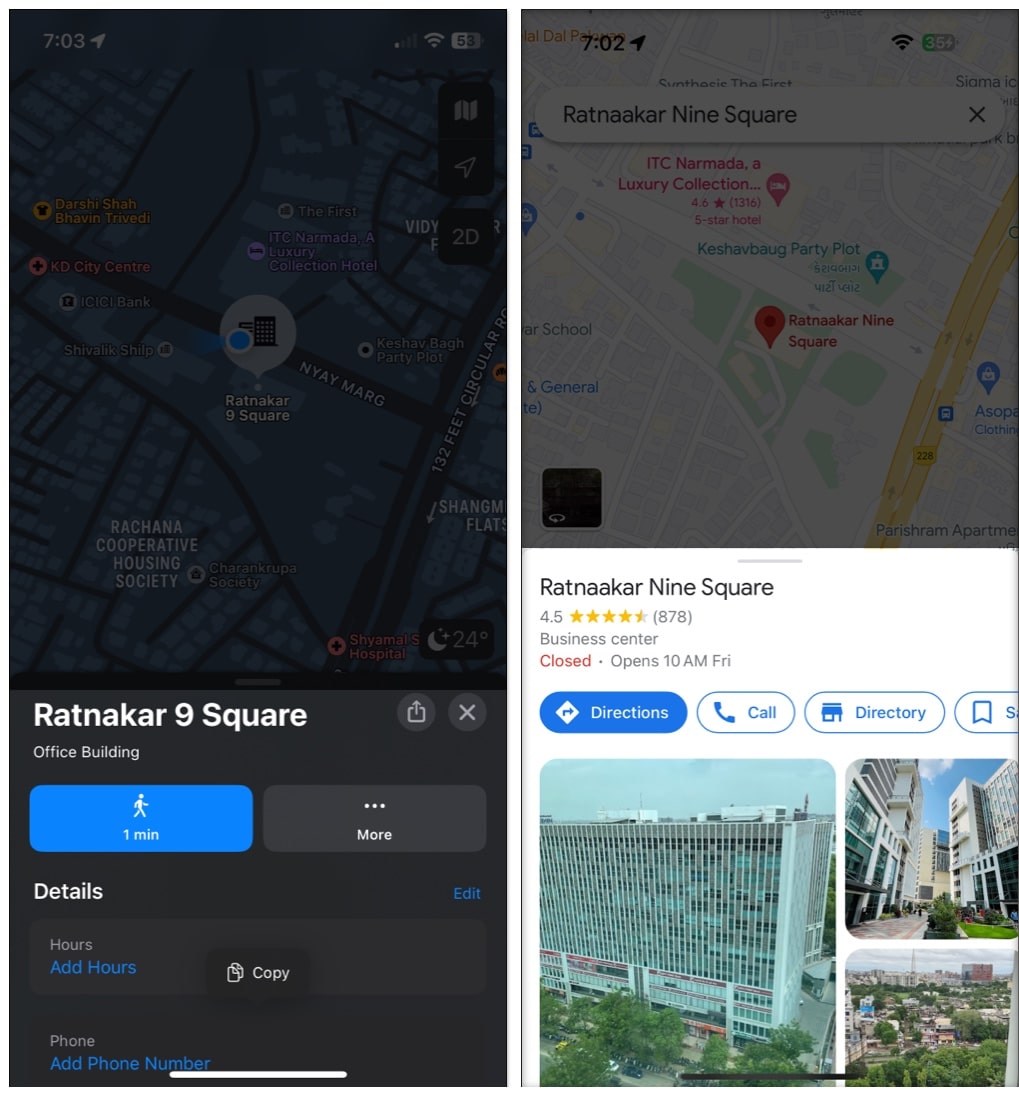 The first question that strikes me while choosing is: which is more accurate, Apple Maps or Google Maps?
When Apple Maps first launched, it had complications with faulty maps labeled inaccurately. So, it was difficult to trust its traffic or mapping data for navigation. Thankfully, after significant improvements, that is no longer the case.
Now both Apple Maps and Google Maps are about equal in terms of accuracy. There is a minor difference in terms of convenience. Google Maps seems well-equipped to meet various demands and efficiently show the best feasible route. Apple Maps takes a few seconds more and sometimes suggests longer ways.
Besides, whenever a new road is in operation, any active construction, or a local business's information changes, Google Maps updates its information in real-time. Again, it's possible because of Google's large user base that crowd-sources and validates data rapidly. Also, it delivers accurate arrival estimates, whereas Apple Maps, funnily, seems to rely on guesswork.
Moreover, Google Maps is a business directory with information like the company's address, service hours, contact information, ratings and reviews, website link, etc. Apple only offers basic information. So, it is up to you to choose which app to use depending on the amount of information you want. However, both are error-prone and have missing or incomplete data.
3. Navigation
Apple and Google Maps both offer turn-by-turn instructions. So, there is little difference between how they show directions and navigation for cyclists, driving, walking, and public transportation. In addition, both track your trip progress, including traffic, travel time and distance, your current ETA, and the most relevant information.
Oddly, both apps give comparable core routes with different route choices. However, Google Maps allows you to plan a trip and add many stops to the itinerary. So, you may use Google Maps as a trip planner on your iPhone. Apple Maps also has a multi-stop routing feature mainly to grab petrol or eat something. But you can't take a route to location A and continue your trip without establishing a new route.
You may view and share your estimated arrival time from both apps, but Apple Maps' Share ETA option is perplexing. Besides, Google Maps has also started prioritizing safety and reducing fuel usage. So it analyzes real-time traffic data to find an efficient route less likely to cause an accident. You can also use excellent voice capabilities using Siri to give directions while driving.
If you commute using public transport, both platforms feature data from different transportation agencies, schedules, ride-sharing providers, and status updates. But there's a catch. You can see how crowded public transportation or a specific place is at any given moment on Google Maps. But Apple Maps only shows the location of a bus or train on its way. Here are some possible solutions to help you quickly fix the Apple Maps Voice Navigation issue.
4. Real-time traffic data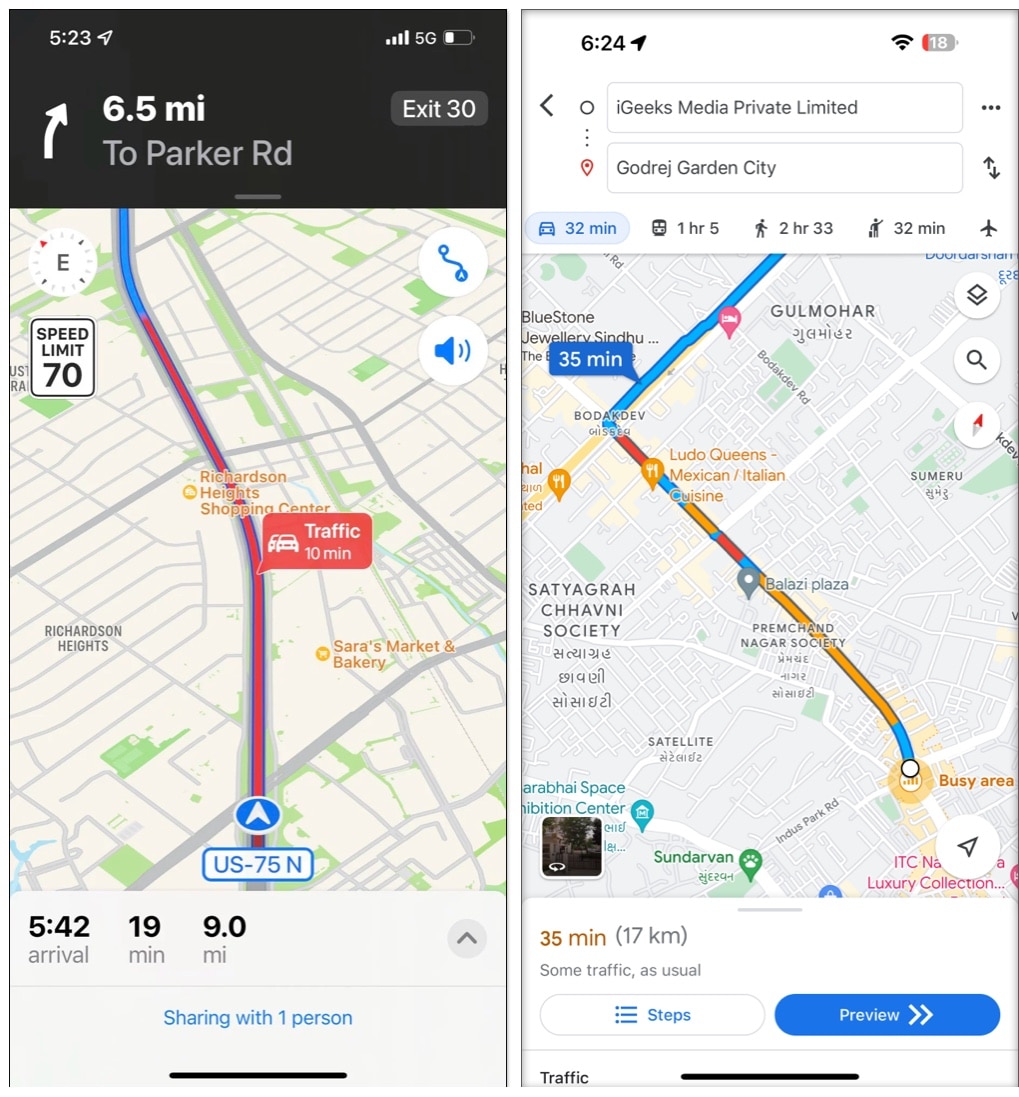 Both Google Maps and Apple Maps have access to real-time traffic data and can alert you if there are any road closures, high traffic, etc., on your route. So naturally, both applications allow you to report roadside issues, such as accidents, speed cameras, or general dangers that may impair travel times. Google has an advantage here due to its "Commute" tool.
Google Maps also allows you to change your departure or arrival time, while Apple Maps does not. The Apple Calendar offers a "travel time" function that can perform similar things, but you must enable it and create a calendar event. So, it's a cumbersome procedure for iOS users. Google also benefits from all of that additional historical and real-time data.
5. Privacy
Apple is always on top in terms of users' privacy. You may delete your data anytime as it's saved on your iPhone. Furthermore, Apple does not share your whereabouts while requesting directions. Instead, it sends out several queries with various IDs. After 24 hours, the app transforms your specific location into a less precise one. Also, it doesn't keep any information about your location.
Apple has privacy-focused features such as dependable app tracking, increased control over location monitoring, preventing an app from picking up your actual position, etc., to protect your privacy throughout the Apple ecosystem. However, the most significant advantage of Apple and its maps app is its consistent track record of protecting customers' privacy.
On the other hand, Google Maps saves all data on a distant server that is not associated with your Apple ID. And as we know, Google uses a lot of your data to show area-specific ads. Therefore, I always use Incognito mode in Google Maps for iPhone. However, it is still not as private as what Apple provides.
6. Places of interest
Nowadays, navigation apps help explore an area. Google Maps and Apple Maps show what's nearby, like restaurants, petrol stations, parking spaces, and other businesses or sites of interest. Google Maps has an Explore tab with multiple options with precise suggestions.
You will find images, chat options, contact information, opening hours, expected crowd, COVID-19 measures, and other business-related information. Also, you can share your pictures and leave a review on the Contribute tab. But Apple Maps gives little info as it collaborates with third-party services like Yelp, Foursquare, and TripAdvisor.
To help you explore, it offers a unique feature called Guides. It imports relevant journalistic information to help you get acquainted with any particular location. Those are automatically updated, ensuring that you are always up to date.
Google is working on something similar under the name of Vibe Check. It will provide a crowd-sourced tool to assist you in uncovering hidden treasures in an unfamiliar location. In addition, it promotes activities to see and do based on the local residents given information. However, Google Maps has yet to implement the function.
7. Unique features
Aside from the essentials of navigation, both Google Maps and Apple Maps include a variety of unique functionalities.
Look Around vs. Street View: Apple Maps' Look Around feature lets you explore your favorite places in 3D landscapes of models of buildings and structures. It also has a city tour option for various local sights and a 3D Flyover mode. With the Street View feature, Google Maps shows user-contributed panoramic views of different global locations and allows you to blur your home.


Offline vs. Data-saving mode: Google Maps allows you to download a map and navigate offline. Note that this mode lacks transportation options, navigation instructions, traffic information, alternative routes, or lane assistance. On the other hand, Apple Maps uses vector graphics, which consumes less mobile data. But you can't save any map.
Final verdict
Apple Maps initially had insufficient data, wrong instructions, and blurry images. Apple has built on that, becoming an excellent alternative to Google Maps for iPhone users. Apple's service is superior if you value your data more than anything else. Also, it focuses on detailed maps with dynamic trees and buildings, while Google offers 3D maps of building interiors.
Google Maps is ideal if you need a range of information for your travel requirements. It offers improved accuracy, more tailored recommendations, and many helpful features. But it gathers your actual position, which will be too much for those who value their privacy. So, it boils down to personal preference.
If you reside in a region where all Apple Maps features are accessible and value privacy, it may be a better alternative. However, if you choose Google Maps for your daily commute, you must download it on your iOS device. Also, you may make Google Maps default on your iPhone. Besides, non-Apple users can also use Apple Maps on Android and Windows PC.
FAQs
Q. Is Google Maps better than Apple Maps CarPlay?
As Apple Maps is the default across the Apple ecosystem, it seamlessly works with CarPlay. If you want, you may download Google Maps to use on CarPlay.
Q. How many people use Google Maps compared to Apple Maps?
Google Maps has acquired 70% of the mapping and navigation apps market share. According to Statista, 25.4 million US residents downloaded Google Maps in 2021.
So, that's all for today, folks!
I hope now you understand the purpose behind Google Maps' popularity and why many stick to Apple's native map app. Which one do you prefer? Let me know in the comments!
Explore more…
Readers like you help support iGeeksBlog. When you make a purchase using links on our site, we may earn an affiliate commission. Read more.
Ava is an enthusiastic consumer tech writer coming from a technical background. She loves to explore and research new Apple products & accessories and help readers easily decode the tech. Along with studying, her weekend plan includes binge-watching anime.