Voicemail is great for when you're unavailable to answer your phone or unreachable. It lets the caller know you're busy, and can store a response from the same. This way, you can return calls promptly as soon as you can. But calls that go directly to the voicemail instead of making your iPhone ring can cause you to miss something important.
If all your calls go to voicemail, below are several steps to fix iPhone calls going straight to voicemail and getting your device ringing again in no time.
1. Find a stable internet connection
Before you panic, check if you're connected to a cellular network with a stable signal to receive calls. It's also possible that you're in a dead spot, which causes your iPhone calls to go straight to voicemail when someone calls.
2. Disable Airplane Mode
Airplane Mode cuts off your phone's connection to all wireless and cellular networks. This means it won't be able to receive any voice calls. So be sure to check if you simply forgot to turn your Airplane Mode off.
3. Turn off DND or Focus Mode
In most cases, the culprit of calls going straight to the voicemail is Do Not Disturb or Focus mode. Focus removes distractions by temporarily blocking out calls, alerts, and notifications.
When enabled, they still let you get calls, but your phone doesn't ring, vibrate, or light up, so they eventually go to your voicemail. An easy way to turn it off is to head to Control Center and tap the icon beside the Focus mode currently enabled.
4. Customize Call Settings
If you want to keep the Focus mode turned on to prevent notifications from bothering you but still want to be reachable — at least to certain people — you can do so. Here's what you need to do:
Open Settings → Focus.
Select any focus mode → tap People.

Choose Allow Notifications From → tap Add → select the people you don't want Focus to block.
You might also want to toggle on Allow Repeated Calls. This makes sure iPhone won't silence a second call from the same person within the next three minutes.

5. Enable Announce Calls
It's common for iPhone users that set their phones on silent or vibrate mode to miss calls, especially when in busy environments. In such cases, ensuring that notifications are audible can prevent you from missing your calls.
When enabled, the Announce Calls feature on the iPhone announces incoming calls so you won't miss them. You can specify if you only want your iPhone to announce calls when in your car, using your headphones, or all the time.
Just go to Settings → Phone. Tap Announce Calls, then select when you want your iPhone to announce your calls.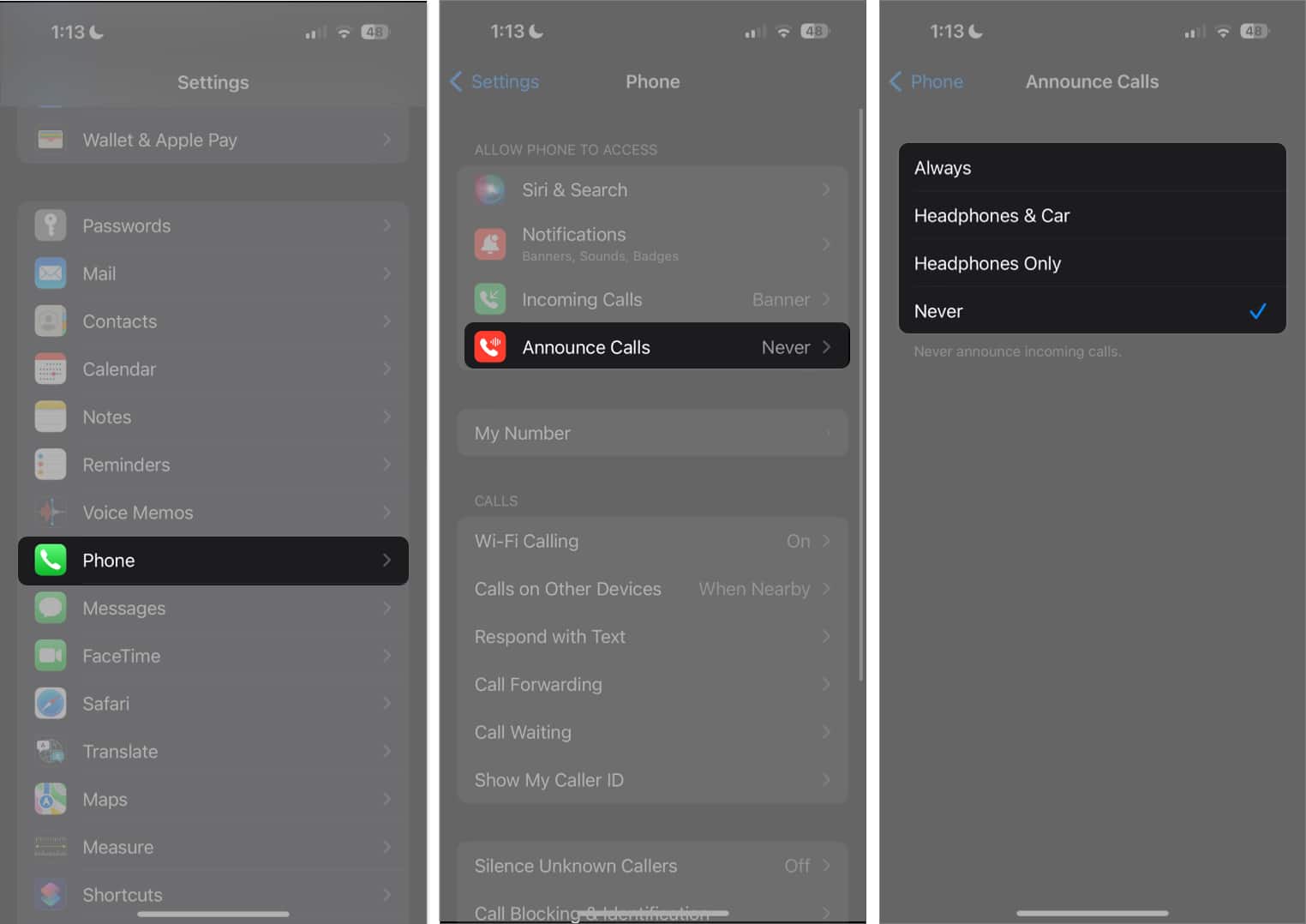 6. Disable Silence Unknown Callers
If calls in your voicemail only consist of people you don't know and those not saved in your contacts list, it's possible that the Silence Unknown Callers feature is enabled. To turn this off:
Open Settings → Phone.
Tap Silence Unknown Callers → Toggle off Silence Unknown Callers.
7. Turn off Call Forwarding
Setting up call forwarding on your iPhone lets you redirect incoming calls to another number.
Your iPhone may instantly transfer the calls that your device won't even ring. If you're using the feature, try turning it off to see if it solves the problem.
8. Check for Carrier Settings Update
Outdated carrier settings may prevent you from connecting to your carrier's network, which can cause your calls to go straight to voicemail. Try manually updating your iPhone's carrier settings to see if this improves your voicemail situation.
9. Update your iOS
If you've tried the methods above, but all calls still go straight to your voicemail, a glitch or bug may be responsible. If you're in for an iOS update, it's best to update your iOS to the latest one. Sometimes, a software update is all it takes to solve minor glitches.
Open the Settings app → Tap General.
Tap Software Update → Download and Install if you see a pending update.


10. Uninstall Spam blocking apps
Sometimes, spam-blocking apps may also interfere with your calls by mistakenly tagging calls as spam and blocking them from reaching you. Try changing its settings or uninstalling it to see if it's the culprit behind calls going straight to voicemail on your iPhone.
11. Reset Network Settings
If you're guilty of tinkering with your network settings or have been in situations that may have altered this, such as traveling abroad, resetting your network settings is another quick way to restore your network settings to their default. Here's how:
Open Settings → General.
Scroll down and select Transfer or Reset iPhone.


Select Reset → Reset Network Settings.
Enter your passcode.


This will restore all your network settings to default, including your Wi-Fi, Bluetooth, and cellular settings.
12. Other things you can do
There are other reasons your calls go to your Voicemail. Here are other things you can do to ensure you hear your calls on your iPhone:
Move the Ring/Silent switch forward so the orange line isn't showing.
Check Call Audio Routing and ensure it's directed to your iPhone's speaker, not a Bluetooth headset. Go to Settings → Accessibility → Touch → Call Audio Routing. Choose Speaker. Below this, toggle Disable Auto Answer Calls off.
Contact your carrier
If nothing above helped, the issue might be with your carrier. Contact your carrier to know if any network-related issues affect your number. If you're not the only one in the area having the issue, you can ask your carrier if there's a problem with a nearby tower.
Wrapping up…
Most of the time, it's the iPhone's own features that prevent users from answering their calls, leading them to be forwarded to your Voicemail. Did any of the troubleshooting tips above help? If so, feel free to share your experiences below.
Read more:
Readers like you help support iGeeksBlog. When you make a purchase using links on our site, we may earn an affiliate commission. Read more.
Rachel loves anything Apple —from iPhones, to Apple Watches, to MacBooks. She is also a medical writer and a ghostwriter for various publications.