Apple unveiled an all-new M1-powered iPad Air at the Peek performance event, the same chip that powers iPad Pro 2021. But is this diversion from A14 Bionic featured in iPad Air 4 actually useful for Air users? Or is it a little too much? Let's find out in this comparison between iPad Air 4 and iPad Air 5.
iPad Air 5 vs. iPad Air 4: Hardware specifications
Specifications
iPad Air 5
iPad Air 4
Dimensions
9.7 x 7.02 x 0.24 inches
9.7 x 7.02 x 0.24 inches
Weight
1.02 pounds (461 grams)
1.0 pound (458 grams)
Display
10.9-inch Liquid Retina
10.9-inch Liquid Retina
Resolution
2,360 x 1,640
2,360 x 1,640
Brightness
500 nits
500 nits
Processor
M1 SoC
A14 Bionic
RAM & Storage
8GB RAM, 64GB Storage
8GB RAM, 256GB Storage
4GB RAM, 64GB Storage
4GB RAM, 256GB Storage
Rear Camera
12MP camera
ƒ/1.8 aperture
12MP camera
ƒ/1.8 aperture
Front Camera
12MP Ultra-wide camera
ƒ/2.4 aperture
7MP camera
ƒ/2.2 aperture
Biometrics
Touch ID
Touch ID
Ports
USB-C
Smart Connector
USB-C
Smart Connector
Sensors
Three-axis gyro
Accelerometer
Ambient light sensor
Barometer
Three-axis gyro
Accelerometer
Ambient light sensor
Barometer
Apple Pencil Support
2nd Generation
2nd Generation
Going through the above table clears the "Air" that both these products are quite similar with incremental updates to the iPad Air 5. The first similarity you'll notice is physical dimensions. Everything from the body to display is exactly similar.
Apple has always followed the approach, "If it ain't broke, don't fix it." And iPhone SE 2022 and iPad Air 5 are manifestations of this approach. The iPad Air 5 has the same battery, ports, rear cameras, and sensors as the iPad Air 4. It also begins at the same price as the iPad Air 4.
So, what are the differences, and should you get iPad Air 5 over iPad Air 4? Let's find out!
Processor and performance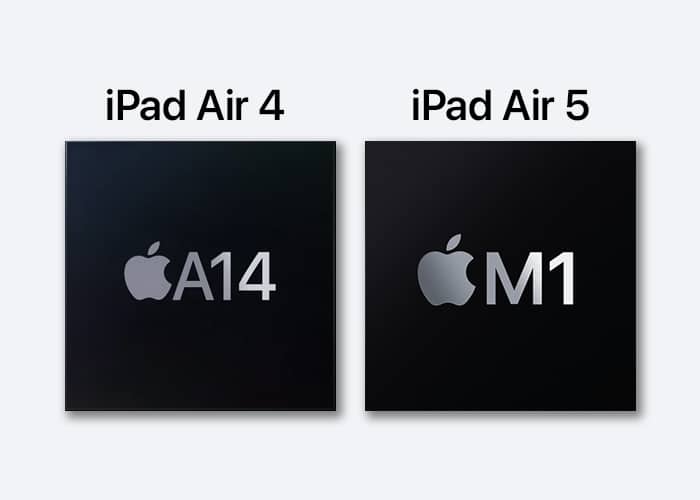 M1 is Apple's first in-house desktop SoC. Apple has come a long way with these custom silicon and is leagues ahead, especially when looking at the M1 Ultra. While the iPad Air 4, powered by A14 Bionic SoC, is powerful enough for many users, the M1 is in a league of its own.
However, the iPad Air was never targeted towards power users. But the addition of M1 provides an option to draw from a well that, for most users, I doubt would run dry on an iPad.
An iPad Air with an M1 SoC opens numerous doors for users who want to get started in the realm of creative suite apps. One can argue that the same tasks can be carried out on the A14 SoC too, and I agree, but it's taxing, and the time difference will be easily noticeable.
Front camera
Another improvement with iPad Air 5 is the front camera. It now uses a 12MP Ultrawide sensor, whereas iPad Air 4 uses a 7MP wide sensor. The field of view increasing with the new iPad also brings Center Stage.
One thing I can tell you is, it's AMAZING!! It works flawlessly, and if you attend meetings, classes, etc., on the iPad, the difference will be so good that you won't be able to go back to a normal camera without missing Centre Stage.
Double RAM on the iPad Air 5
The optimization of RAM on iOS or even iPadOS is quite ahead of the competition. iPad Air 4 has 4GB RAM, and if you're an iOS user, you are aware that iOS uses RAM efficiently. Now, put the M1 SoC and 8GB of RAM in the mix on an iPad Air.
The product of this combination is a powerhouse that can cater to numerous needs. But do you need the powerhouse? Is the target audience of the iPad Air, a power user?
Connectivity: 5G Support
The iPad Air 5 comes with the support for the 5G network in its LTE version. Support for 5G is spreading like wildfire among several products across the board. Several devices launched last year support the 5G network. Sadly, 5G isn't as mainstream yet.
The iPad Air 5 comes in new colors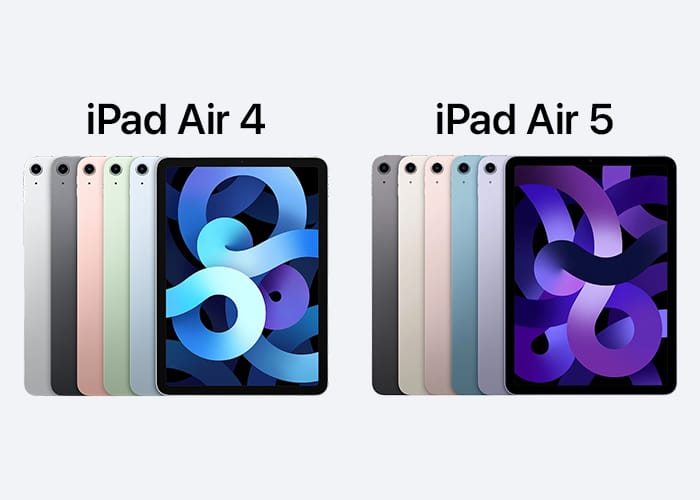 Apple emphasizes a lot on colors as it adds personality to the devices. That's one reason why we see mid-cycle color refreshes from Apple. The iPad Air 5 comes in 5 color options, just like its predecessor. But colors are different.
With the iPad Air 5, you can select from Space Gray, Starlight, Pink, Purple, and Blue color options. On the other hand, you can buy the iPad Air 4 in Space Gray, Silver, Rose Gold, Sky Blue, and Green colors.
iPad Air 4 vs. iPad Air 5 Price
The prices of the iPad Air 4 and the iPad Air 5 have been kept the same.
| | | |
| --- | --- | --- |
| Configuration | iPad Air 5 | iPad Air 4 |
| 64GB, Wi-FI | $599 | $599 |
| 64GB, LTE 5G | $749 | $749 |
| 256GB, Wi-FI | $749 | $749 |
| 256GB, LTE 5G | $899 | $899 |
Which iPad Air should you buy?
Simple answer? Get the M1-powered 11-inch iPad Pro! Wait, hear me out. iPad Air 5 comes in two storage variants, beginning at $599 for the 64GB storage and $749 for the 256GB storage. The base storage will not be enough if you plan on carrying out tasks like editing videos, etc. And the potential of the M1 SoC will be hampered if you get the 64GB variant.
The iPad Pro 11-inch is available for $749 and has overall better specs like the display, cameras, LiDAR sensor, etc., compared to the iPad Air 5. It will definitely serve as a better tool for work.
However, if you've made up your mind to get the iPad Air 5, try and get the 256GB variant. The 64GB iPad Air 5 will suffice if you want it for general use, such as streaming movies, songs, attending meetings, etc.
At the end of the day, you have to base your decision on your use case scenario. While the iPad Air 5 is an excellent offering, adding a little more money can get you an overall superior device. Which iPad are you planning to buy? Share in the comment section below.
Read next:
Readers like you help support iGeeksBlog. When you make a purchase using links on our site, we may earn an affiliate commission. Read more.
Consumer Technology and Motorcycles are the two things that excite Darryl the most. Why? Because Tech helps better people's lives, and solving people's problems related to tech is something he enjoys. And what about bikes, you ask? Well, drop a gear and disappear.