It is effortless to install iOS software updates on iPhone over-the-air from the Settings app. However, sometimes you cannot download the iOS 13 update as it gets stuck, and all you see is 'Update Requested…' This can be considered normal if you are seeing it on the first day the update is released as there's a huge number of people trying to access the iOS file at once. But if your iPhone is stuck on 'Update Requested' for a long time, then here are some ways to fix it.
How to Fix iPhone Stuck on Update Requested in iOS 13
Check Wi-Fi Connection on iPhone
You can not download iOS 13 updates over cellular data. For iPhone software updates, you have to connect your device to Wi-Fi. For this, open the Settings app and tap on Wi-Fi to connect to a network. Next, open Safari and try to visit a page. If it loads, that obviously means your device has a functional Wi-Fi connection.
If you do not have Wi-Fi, but have a Mac and enough cellular data allowance, then you may take a look at how to install iOS updates using cellular data.
Charge your iPhone
Your iPhone needs to have over 50% battery (80% in some cases) to download and install an iOS update. So, make sure you have sufficient battery on your device. Or, the best step is to plug in your iPhone to a power source. Take a look at if your iPhone stuck on charging screen.
Restart your iPhone
You can restart your iPhone using the buttons as you normally do. You may also open the Settings app, tap General, and tap Shut Down to power down the device. After 30 seconds, switch on your iPhone. This will hopefully fix the Update Requested issue.
Reset Network Settings
Network reset will erase all Wi-Fi settings, VPN configurations, Bluetooth settings, and more. However, this won't delete any personal data like apps, photos, music, etc. Still, make sure you have a backup before proceeding.
Step #1. Open the Settings app on your iPhone.
Step #2. Tap General.
Step #3. Tap Reset.
Step #4. Tap Reset Network Settings.
Step #5. Enter the passcode and confirm.
After the reset completes, connect to a Wi-Fi network. Hopefully, the 'Update Requested' issue will get solved, and the iOS download will begin.
Hard Reset Your iPhone
After hard reset either the Update Requested changes to Downloading. Or you get to start all over again by tapping Download and Install. Here are detailed posts to hard reset your iPhone model.
To Reboot your iPhone 8 or later, press and release the Volume Up button, press and release the Volume Down button and finally, press and release the Side button, until Apple Logo appears on the screen.
For iPhone 7 or 7 Plus, press and hold the Volume down button and Power button until you see the Apple logo on the screen.
For iPhone 6s, iPhone SE, or Earlier, press and hold the home button and Power button.
Delete Software Update on iPhone
At times, deleting a downloaded iOS file might help with the 'Update Requested' error. Now, this will work only if the iOS file has been downloaded partially or wholly; but still, due to an error, you continue seeing the Updated Requested issue.
Step #1. Open the Settings app on your iPhone.
Step #2. Tap General.
Step #3. Tap iPhone Storage.
Step #4. Tap on the iOS update file.
Step #5. Tap Delete Update and confirm.
Next, restart your iPhone. After that, head over the Settings app → General → Software Update. Most likely, the Update Requested error will no longer be there. You can tap Download and Install to get iOS 13 on your device.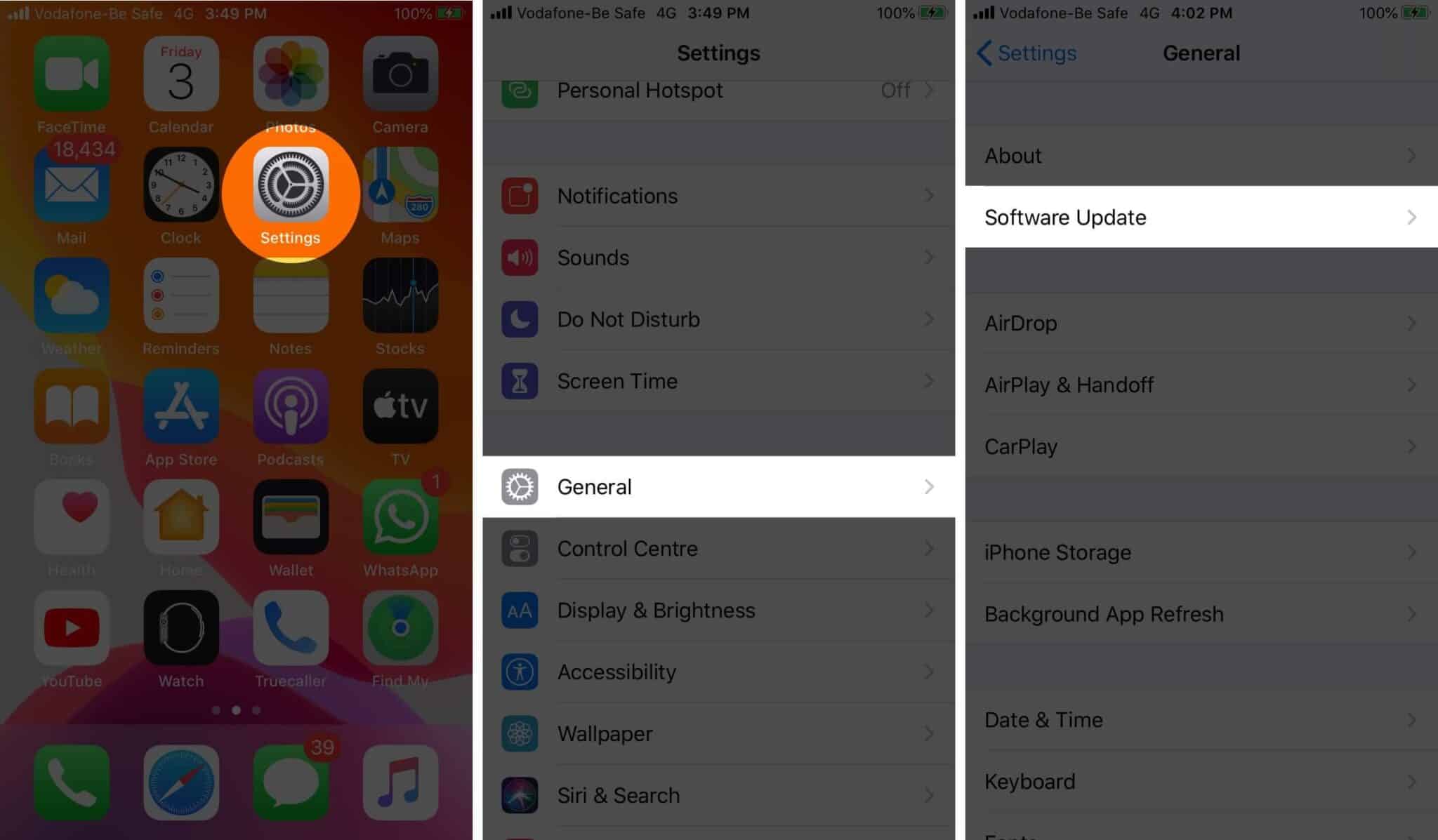 Update via iTunes or Finder with Mac
At last, if nothing helps, you may use iTunes on Windows PC or Finder on Mac to update the iPhone to iOS 13.
Step #1. Unlock and connect your iPhone to your Mac using the proper lightning cable.
Step #2. Open Finder and click on your iPhone's name.
Step #3. Click Check for Update.
Step #4. Next, click Download and Install.
That's all, folks.
These are the ways to fix the Update Requested issue on your iPhone. I hope one of the solutions listed here worked for you. In the comments, do mention which method was successful for you.
You may also like to read: