iMessage and SMS are the two primary messaging services available on your iPhone. They both have their own pros and cons depending on your needs. Are you confused about which one is the best to use? I will share a detailed comparison of iMessage vs. SMS services in this post. Let's get started!
What is iMessage?
iMessage is the exclusive messaging service of Apple. It's lightning-fast and works only on Apple devices, like Macs, iPhones, iPads, and Apple Watches. You can send iMessages using Wi-Fi or cellular data networks.
Advantages of iMessage on iPhone
End-to-end encryption: iMessage encrypts the message from the sender's device to the recipient's device. So that third parties cannot intercept or read it.
Cross-platform compatibility: Apple devices, including iPhones, iPads, Apple Watches, and Macs, can use iMessage to send and receive messages.
Rich media support: You can share many media files, including photos, videos, documents, and location data.
Advanced messaging features: iMessage offers features like read receipts, typing indicators, and group messaging. So, you can track your conversations and ensure the intended recipients see your messages.
No international charges: You don't have to pay international charges as the messages are sent online.
Better data compression: iMessage compresses messages efficiently. So, you can send more information without using less data.
More stickers and effects: You can choose from various stickers and effects to add more personality to your messages.
What is SMS on iPhone?
SMS, or short message service, is a standard way to send short text messages between mobile devices. You can only write up to 160 characters, including spaces. If your message exceeds that length, the system will split it into smaller messages.
Advantages of using SMS
Reach: SMS is the most widely used mobile messaging service. It's because users don't need an internet connection to send the text.
Speed: They are delivered quickly and reliably. In most cases, texts are delivered within seconds.
Cost-effectiveness: It is very affordable as most cellular plans include free SMS services.
Flexibility: You can use SMS texting for more than just one-on-one conversations. It's famous for marketing, customer service, and sending notifications purposes.
What are the differences between iMessage and SMS?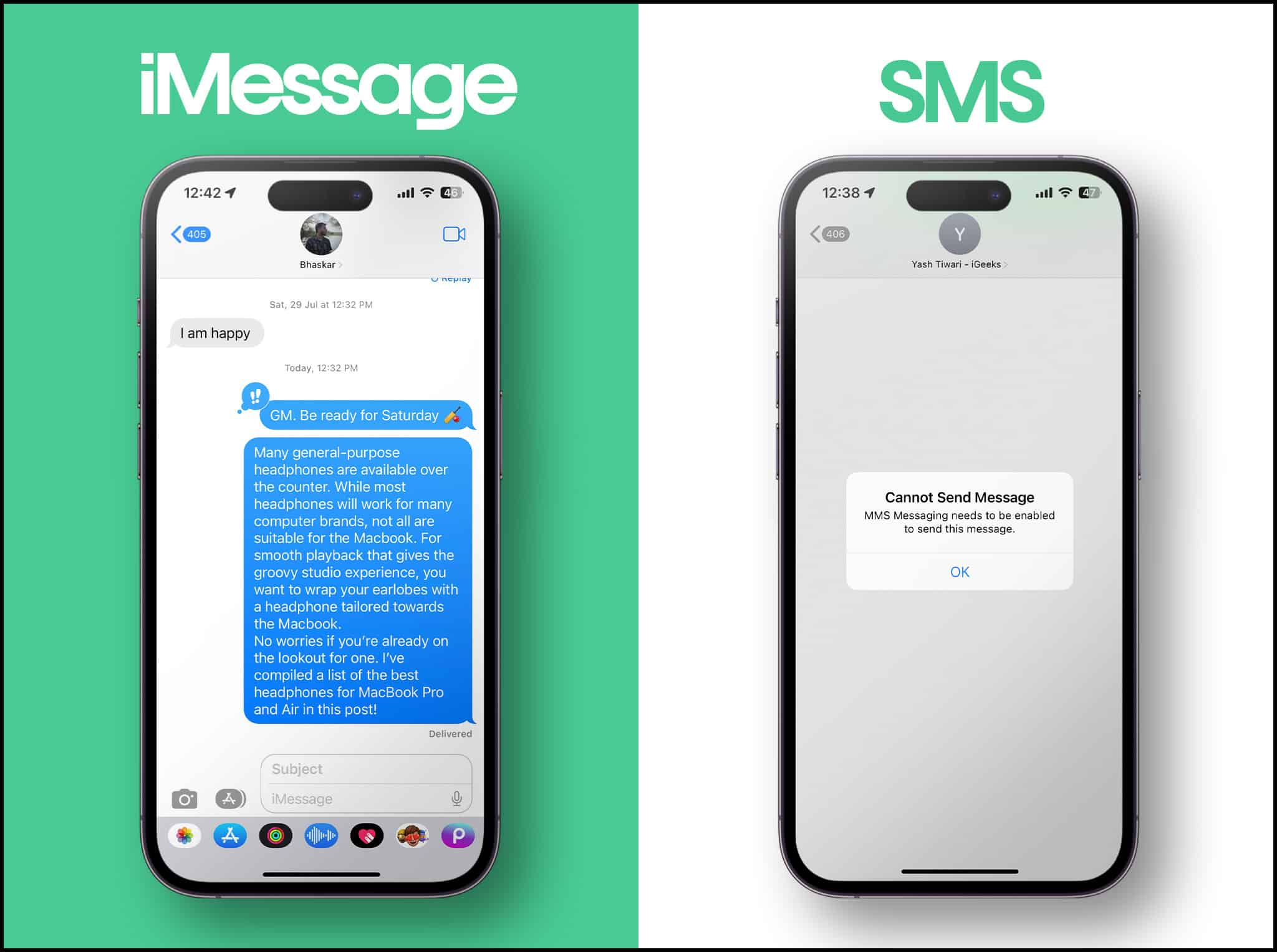 When it comes to modern communication, the battle between iMessage and SMS is an ever-growing discussion. Now you know the advantages of both services, let's go through the key differences of iMessage vs. SMS.
| | | |
| --- | --- | --- |
| Features | iMessage | SMS |
| Compatibility | Only works within the Apple ecosystem | Supported all devices |
| Security | End-to-end encrypted | Not encrypted |
| Character count | Unlimited | 160 words |
| Edit or unsend messages | Possible | Not possible |
| Features | Text, photos, videos, stickers, and other media | Text only |
| Cost | Free over Wi-Fi; may be charged for cellular data | Charged by the message |
| Message bubble color | Blue | Green |
Because of iMessages' advanced and interactive features like Check-in and Stickers, I prefer sticking to Apple's native messaging service. Another best thing is all my messages get seamlessly synced across my Apple devices. Also, iMessage is more secure than SMS service.
iMessage vs. SMS text message: Which should you use?
SMS and iMessage both have their strengths and weaknesses. So, the choice between them depends on what you need and prefer.
If you are running low on cellular data or don't have a Wi-Fi connection, you may go for SMS services. However, SMS has limitations in terms of features and multimedia capabilities. It primarily supports plain text and basic emojis, lacking advanced features.
On the other hand, if you often communicate with other Apple users, iMessage is a good choice. It offers a dynamic and engaging messaging experience. Also, iOS 17 offers new message features to share real-time locations, create stickers from your photos, and check in with friends and family.
However, if you encounter the issue of 'iMessage needs to be enabled to send this message,' or if you need to text someone not part of the Apple ecosystem, fret not. Learn how to send text messages (SMS) instead of iMessage on your iPhone.
FAQs
Can I use iMessage on an Android phone?
The Android devices do not currently support iMessage.
What happens if I send an iMessage to someone who doesn't have an Apple device?
If you message someone not using iMessage, you will send the text as an SMS.
How do I know if I am using iMessage or SMS?
If the message you send delivers in a green bubble, you are using an SMS service, whereas you are using iMessage if it has in a blue bubble.
Will you switch to iMessage?
Although it might appear at first glance that the two messaging services are only visually different, they have many differences. If you need to communicate with people who don't have Apple devices, you must use SMS. However, you should use iMessage for a more versatile messaging service.
Read more:
Readers like you help support iGeeksBlog. When you make a purchase using links on our site, we may earn an affiliate commission. Read more.
Bhaskar is a tech guru who turned wordsmith. Hiding his B.Tech degree in a closet, he ditched the corporate path to simplify tech for everyone. For the past 5 years, he's been dishing out how-tos, reviews, and sharp insights. But there's more! He's a witty interview champ and has been sharing his wisdom for 3 years. Furthermore, he has honed his editing skills for 1.5 years and is now delving into marketing to assist newcomers. When not jamming his fingers on those mechanical keyboards, you may find him on strings or engaging in sports. And by evening, his quotes will be appearing on your Instagram feeds.